Tips and Tricks for Overlanding on Sand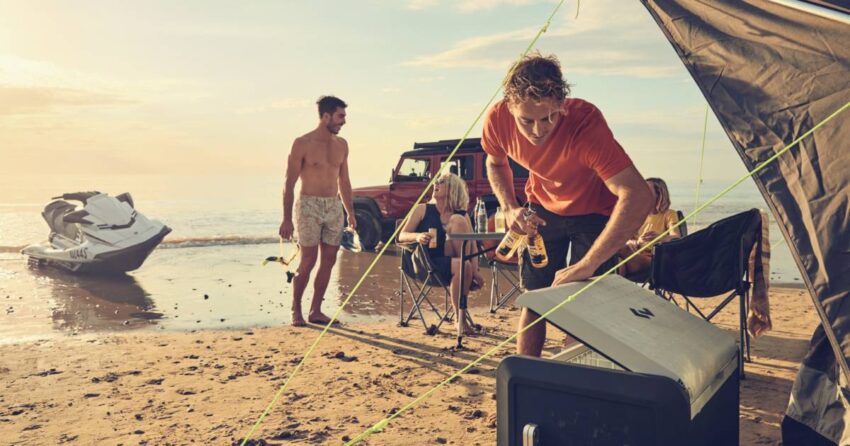 This article was produced in partnership with Dometic
At some point in your overlanding life, even if you don't live near the beach or desert, you'll encounter sand. It can be intimidating for a newbie, and even a little anxiety-inducing for the seasoned off-roader, but if you follow some simple rules and tips—along with carrying the right gear—ripping through sand can be a fun, rewarding, and welcome change from slogging through mud or traversing rocky trails.
How to Drive on Sand
So you've decided to brave some sandy "roads" way out there, either at the beach or in desert dunes. What do you need to know about those swiftly shifting conditions that await you—and how do you deftly navigate this soft, potentially unforgiving terrain safely? Thankfully it's more straightforward than it looks. First things first, don't even think about it without a 4×4 vehicle—whether an all-wheel-drive SUV/CUV or a legitimate off-roading truck.
Once you have your rig parked where the pavement ends and the sand begins, air down your tires before rolling any farther. This measured deflation, usually down to around 15 or 20 psi, increases the amount of surface area for your treads and provides essential traction in unstable terrain, like sand, mud, or even slippery surfaces like ice or rock.
After airing down, it's time to hit the sand. Some modern trucks and SUVs/CUVs now feature a special "Sand" or equivalent setting on their fancy drive mode selectors. If you have that, engage it. Beforehand, take the time to specifically look at how the manufacturer suggests you drive your modern vehicle on sand before heading out. Most suggest turning off traction and stability control, which hold back wheelspin, for added momentum on sand. If you're an old-school overlander rocking a body-on-frame truck or SUV, just put it in four high on the 4×4 selector (whether a knob, stick, or good ol' locking hubs) and you're good to go.
Once on the sand, it's all about driving style to ensure you don't get stuck or, worse, totally embarrassed. Remember to take it slow and steady, using the throttle to maintain a constant momentum. See all those ruts or pre-broken trails from other rigs driving the sand, especially on beaches? Stay in those when possible to aid traction and control while reducing strain on the engine and transmission. When you reach your destination, try backing in so you'll leave a set of ruts ready to help you drive out when taking off. A big caveat to beachgoers: Do not park below the high tide mark. You don't want to be caught off guard by suddenly softening sand fed by incoming surf.
Other important tips: Avoid any spots that look like deep sand—like backsides of dunes, water's edge, anything that looks like a hole. Refrain from any sharp turns that'll cause the front wheels to dig into the sand. If you start to feel serious wheelspin, stop! Trying to spin yourself out at this point will dig you and your wheels into an even deeper fix. At this point, you'll need to employ some of the gear listed below which, of course, you wisely packed.
Overlanding Gear to Safely Navigate Sand
Before treading on sand, stock your rig with essentials to ensure you don't get stuck—or to unstick yourself if you do. Veteran overlanders accustomed to forest roads or swampy areas probably have most of this gear already (or should!). Newbies—here's what you need.
Sand is unforgiving, and there's enough of it to make a trip pure misery to the unprepared. Proper tire deflation and inflation tools are essential to prepare for these "roads," optimize your chances of not getting stuck, and make necessary adjustments along the way if you do.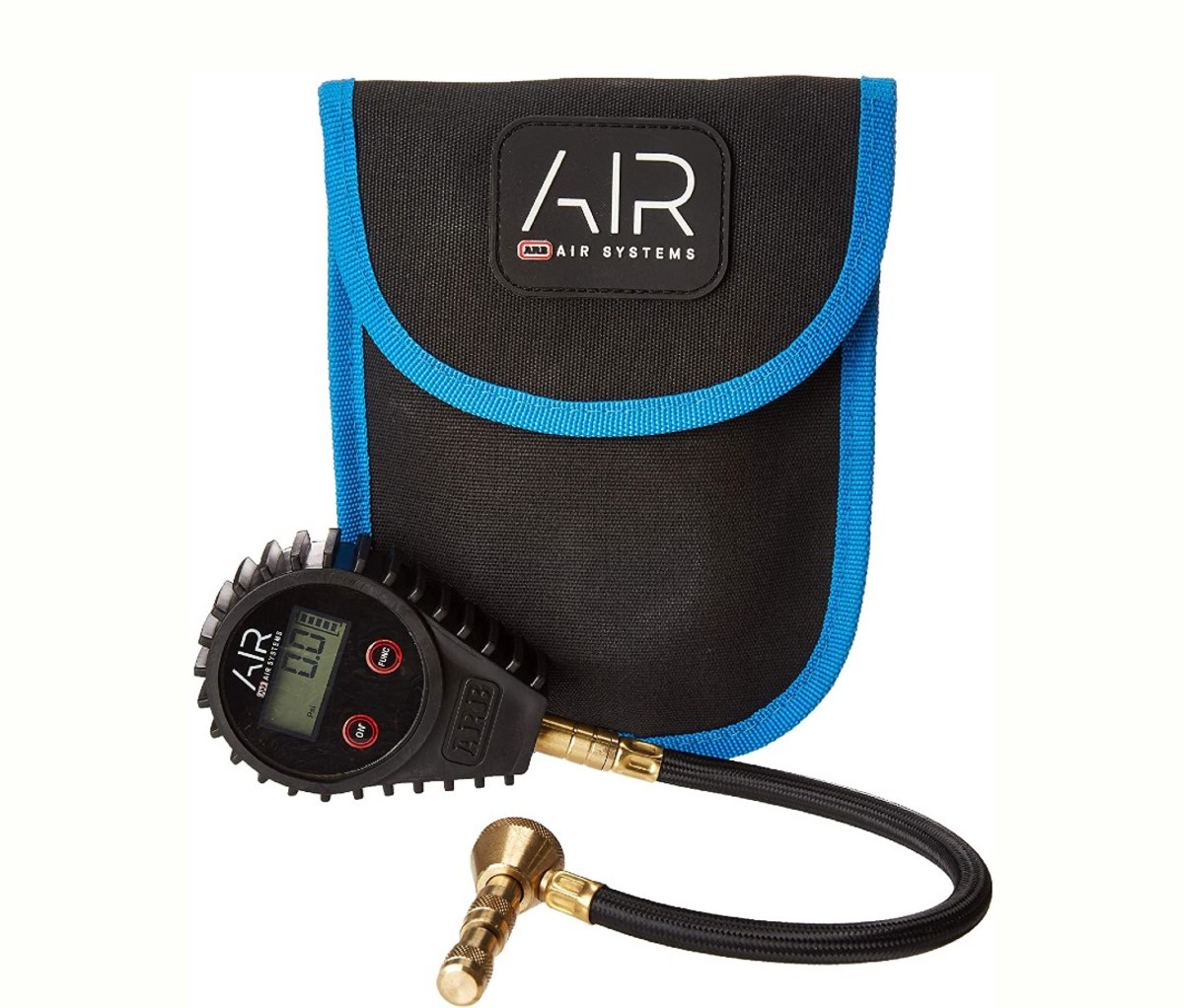 Courtesy ImageARB EZ Digital Tire Deflator + ARB High Output Portable Air Compressor
We like the ARB EZ Digital Tire Deflator ($79) and ARB High Output Portable Air Compressor ($392) as two essentials for getting your tires quickly deflated, then properly pumped back up once you're off the sand. The Digital Tire Deflator uses a neat mechanism that partially unscrews the core from your tire valve stem, allowing air to release at a rapid pace until it hits a predetermined pressure. This is way easier and more accurate than squatting and depressing that little core button until you think the pressure is about right.
When exiting the sand and returning to the pavement, you'll need an inflator like the High Performance compressor. Some off-road trailheads have an in-ground compressor available, for a cost, and you can usually drive to a gas station nearby for airing up. But it's far more convenient, reliable, and cost-effective to have your own onboard. The ARB compressor has long-lasting features like a hard anodized cylinder bore and Teflon-impregnated, carbon fiber piston seal for reduced wear and higher efficiency. That and the accessories store in a handy plastic bin that's sealed to keep out moisture and dust while conveniently housing the 19-foot hose, inflation fittings kit, and battery clamps.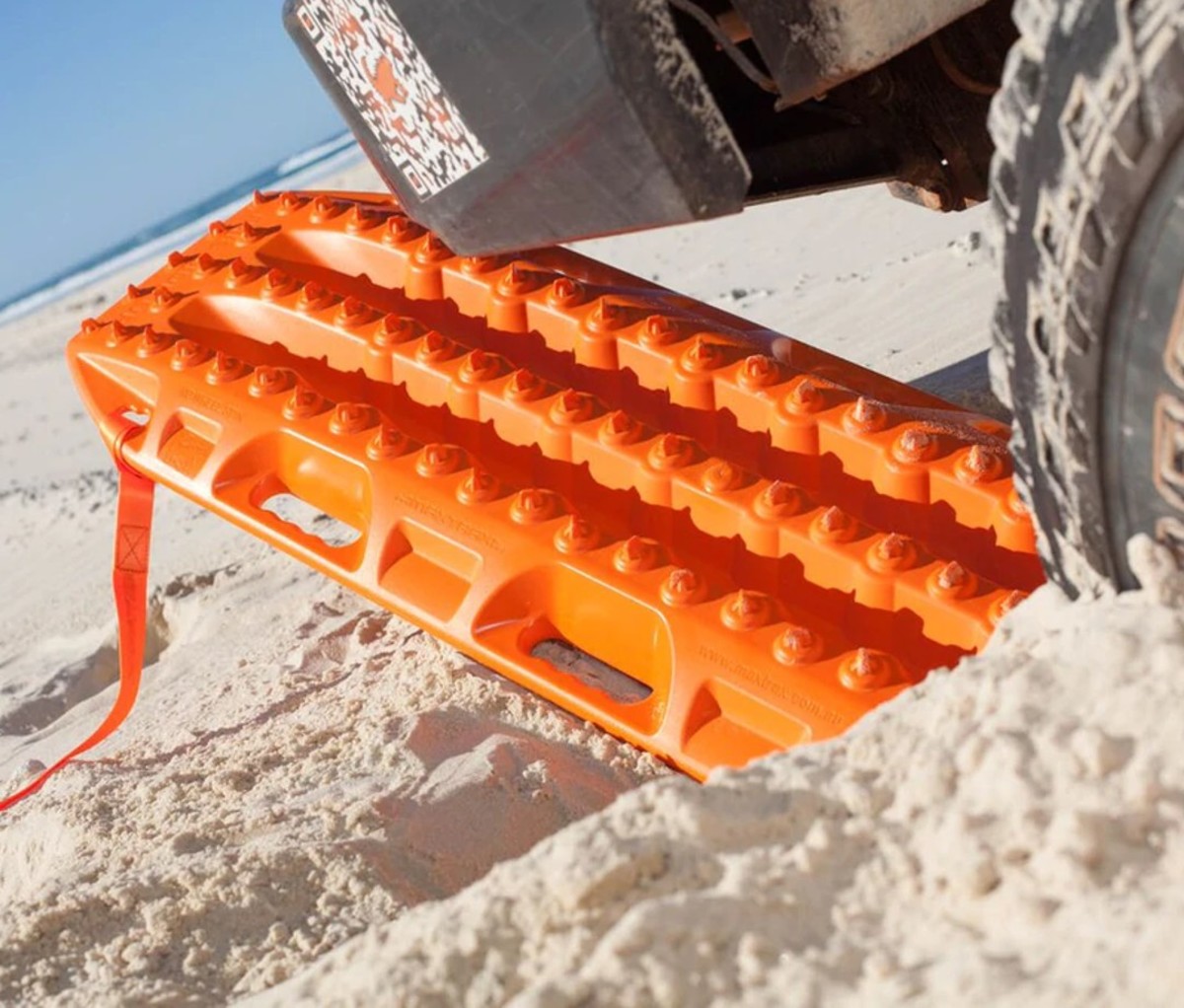 Courtesy ImageMaxTrax MKII Recovery Boards
Recovery boards are hands down one of the best inventions for off-roaders in recent years, and can be a true lifesaver in the sand. These lightweight, durable nesting slabs of reinforced nylon use large protruding cleats along their surface to provide added traction when stuck under tires in dicey situations. MaxTrax (the recovery board originators) still make the best and sturdiest around. The newest version, MaxTrax MKII ($299.99), features upgrades like six integrated carrying handles with a shovel at each end for digging, plus two leashes for either finding buried boards or fastening two together for maximum length.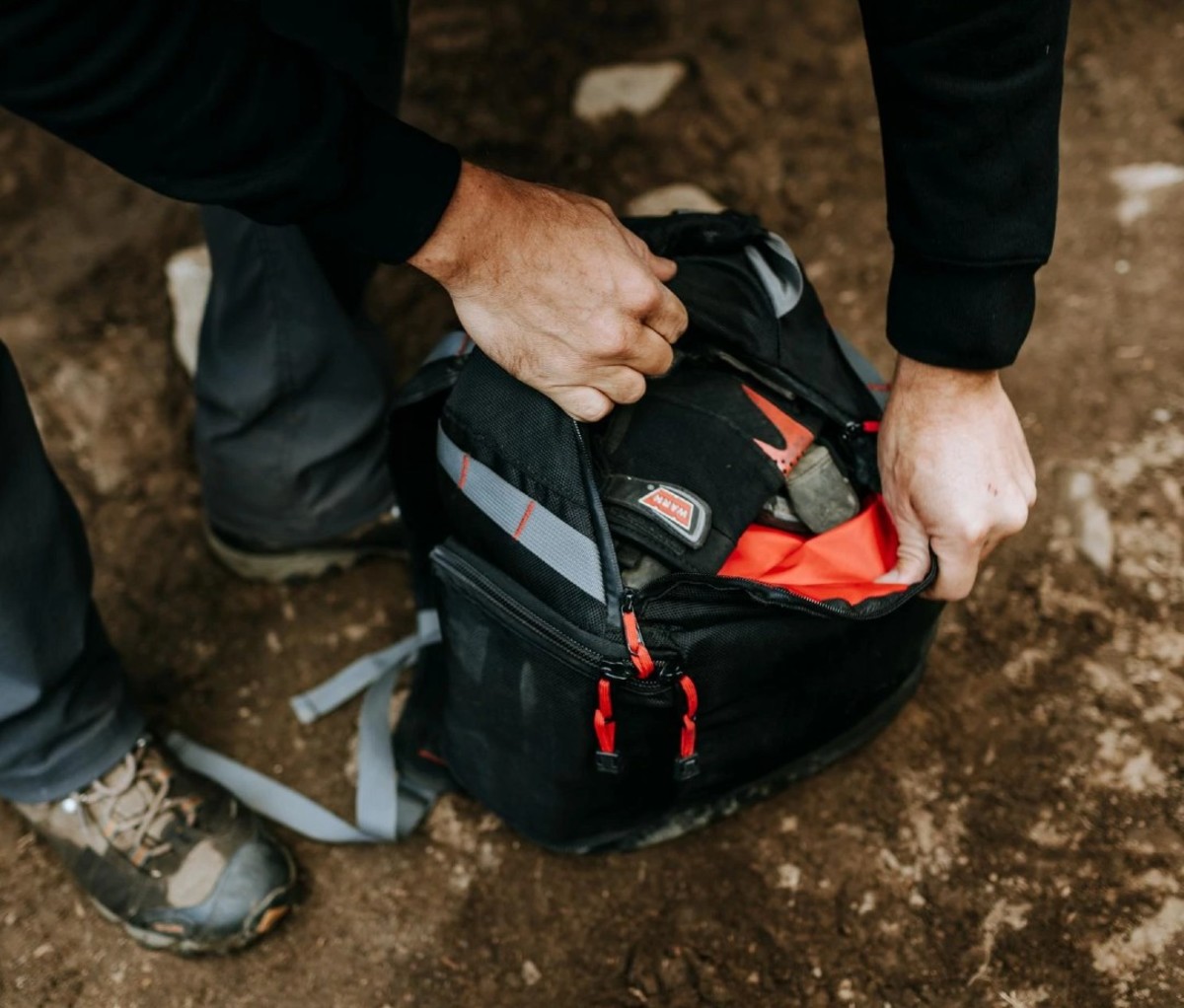 Courtesy ImageWARN Medium-Duty Epic Recovery Kit
Finally, a solid, all-purpose recovery kit is essential for off-roaders—whether it's a store-bought one like WARN Medium-Duty Epic Recovery Kit ($514) or something you've cobbled together yourself. WARN makes it easy for newbies who don't already have this stuff from years of off-roading, or for anyone looking to upgrade or consolidate their existing recovery kit into one bag. It comes with proven WARN gear like a 14,400-pound rated recovery strap, tree trunk protector, 12,000-pound snatch block, Kevlar-reinforced winching gloves, and forged shackles.
Recreational Overlanding Gear to Maximize Fun on Trips
You've found your choice spot in the sand. Now it's time to set up camp and enjoy the sun, wind, rocky vistas, or ocean water. These essentials will make your time more enjoyable and stress-free while protecting you from those strong UV rays.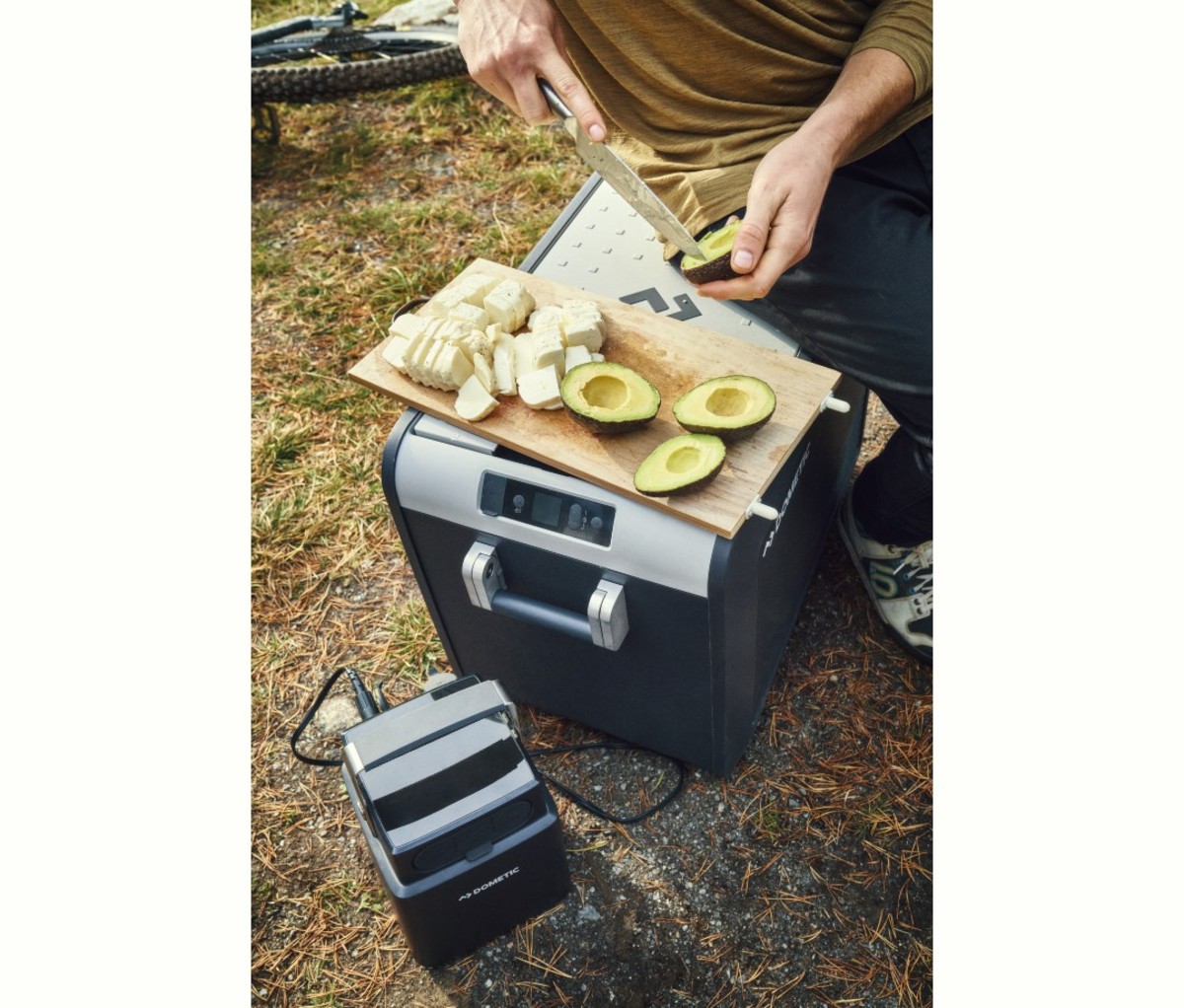 Courtesy ImageCFX3 55IM Powered Cooler
Electric coolers are a lifesaver for overlanders, whether on day trips or longer ventures. Developed and refined by Dometic, the mobile living masters, the CFX3 55IM Powered Cooler ($1,199.99) is like a small fridge, but shaped like a cooler. Part of the wide range of CFX3 products—which go from a cute 25-liter model all the way to a behemoth 99 liter—they offer tough, reliable cooling and freezing capabilities in the outdoors.
The 55IM will hit the sweet spot for most overlanders. It can fit 83 cans (53 liters) in its interior—fully protected by a burly ExoFrame built for taking off-road knocks. Control is easy with a downloadable app (through Wi-Fi or Bluetooth) or on the weather-proof, high-resolution display. An integrated battery protection system keeps it from draining your rig's battery. Plus, there's a bonus ice-making compartment, which makes cubes in a few hours.
Pair any Dometic cooler with the PLB40 Battery to keep it running without having to rely on your vehicle's battery. Specially designed to power electric coolers, the lithium ion phosphate PLB40 offers 40 amp hours of power and has three inputs for charging (solar, 12 volt socket, and home AC power) plus three outputs (one 12 volt and two USB—one for Dometics two-pin threaded plug). This compact 10x8x8-inch, 16-pound unit is designed to run a Dometic cooler for up to four days.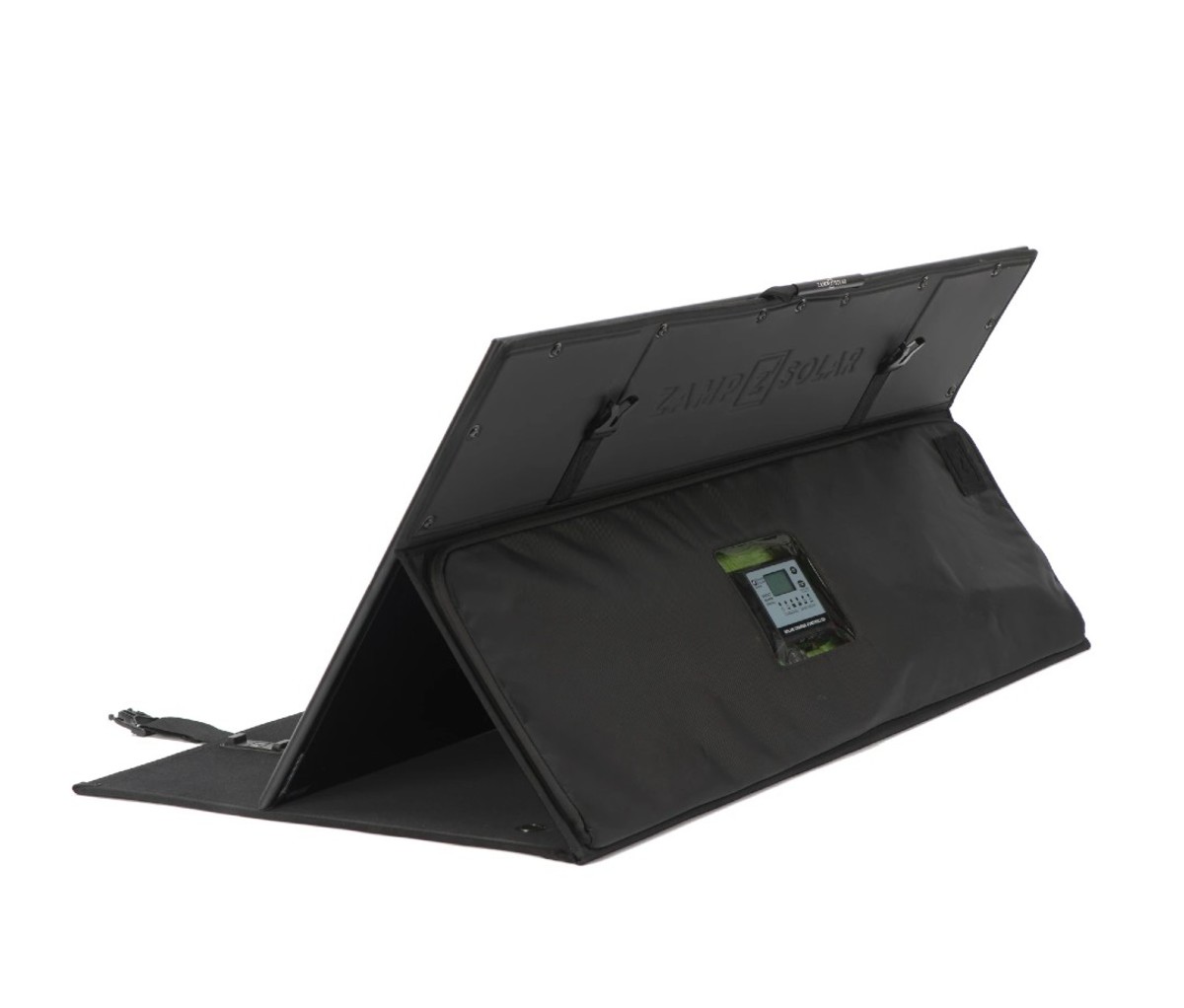 Courtesy ImageZamp Obsidian Series 100-Watt Portable Kit
To put the cherry on top of your sandy, off-the-grid electrical party, add the Zamp Obsidian Series 100-Watt Portable Kit ($649.99). This slim, sleek, foldable solar panel kit has an integrated stand and an accessory pocket to hold the 15-foot cable; alligator clamps and an adapter; and a magnetically mounted charge controller, which ensures you don't overcharge your 12-volt battery and gives you power usage data. Set it up in the sun and enjoy power—and cold food and drinks—for days with your PLB40 battery and CFX3 cooler.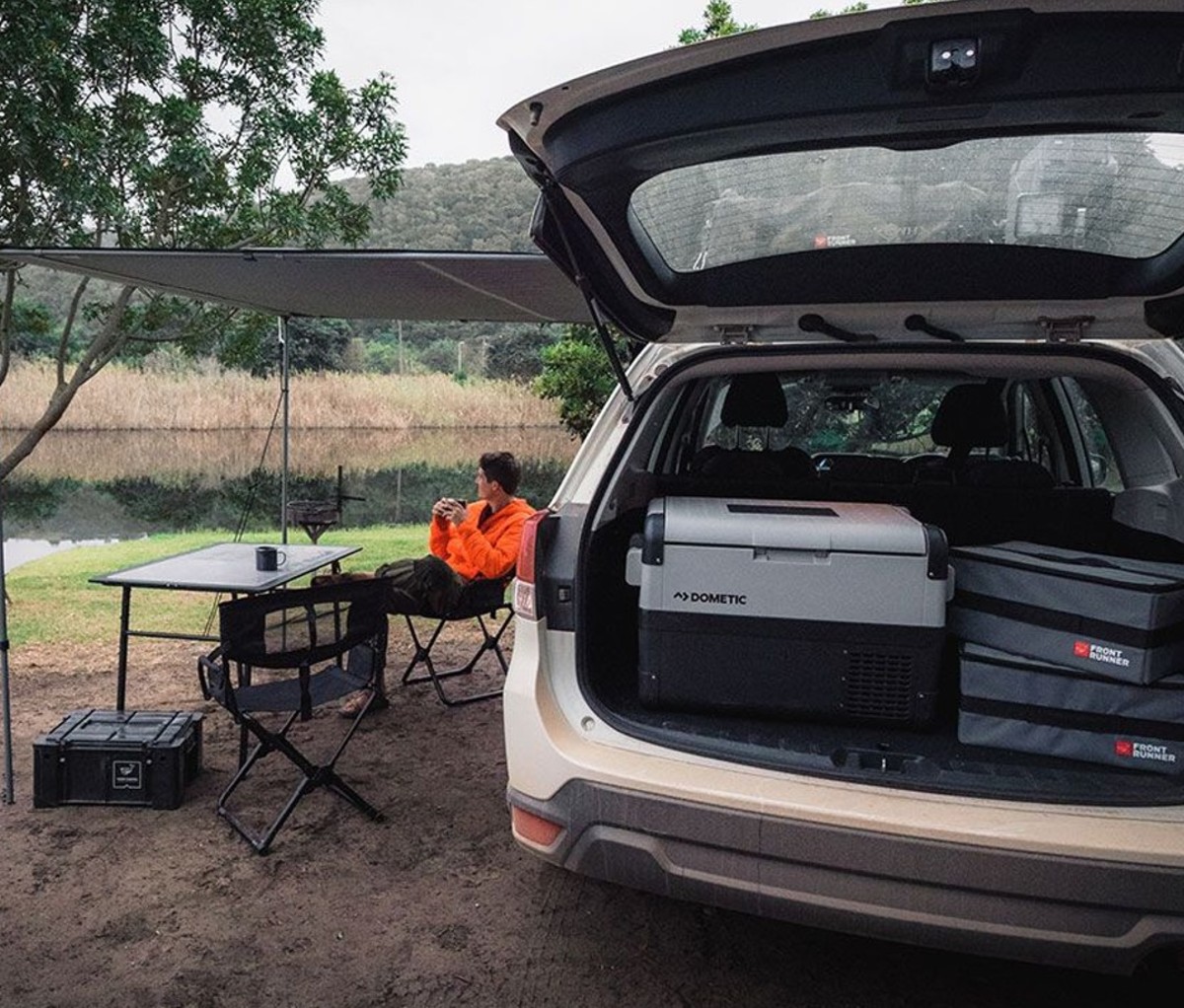 Courtesy ImageFront Runner Easy Out Awning
On the beach or in the dunes, shade is a premium out there on the sun-baked sand. An easy, on-the-go skin-saver is the Front Runner Easy Out Awning ($376). These roll-out-style, UV-resistant, water-repellent awnings attach to your rig's rack, offering respite from solar rays with 8 feet of width and almost 7 feet of length that set up in 60 seconds. Twist lock aluminum poles and reflective guylines allow infinite adjustments to counter windy conditions.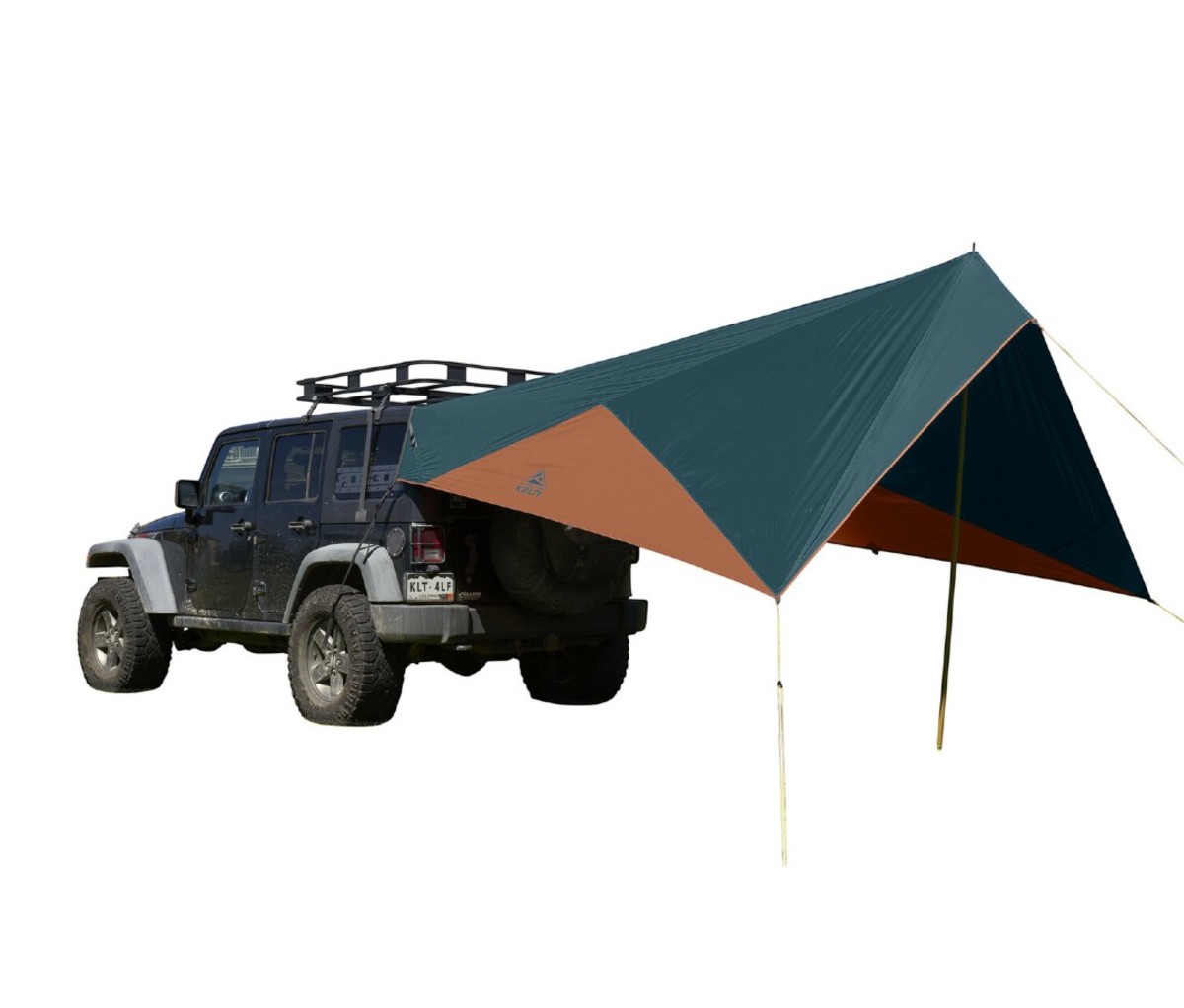 Courtesy ImageKelty Waypoint Tarp
If you're out with a bigger group, or just want to make sure there's ample shade to cover all the angles, consider tossing the Kelty Waypoint Tarp into your sand exploration kit. This rear wheels-and-roof mounted tarp adds another 120 cubic feet of coverage off the back of your rig. A sturdy steel, one-pole design gives you multiple mounting options and the included steel stakes and guylines will help it weather almost any sudden storm.
Taking on a sandy situation while overlanding doesn't have to be a stress-inducing endeavor. Learn some smart sand-driving techniques, pack the right gear to keep you cool, calm, and hydrated, and you can conquer any gritty beach or desert locale in your four- or all-wheel drive vehicle.