Test Ride: Royal Enfield Classic 350 Is the Best Starter Bike for Your Buck
If the pandemic taught you anything, it should be to stop putting off the adventures you've been delaying. Possibly, one of them has been riding a motorcycle or getting back on a bike if you used to ride. If the price tag's a concern, Royal Enfield—the oldest motorcycle brand still in production (since 1901)—has your affordable answer in the Classic 350. With a proud lineage dating back 74 years, this machine is also very much of the moment—and our vote for the best "starter" bike for your buck.
Newly revamped with a retro veneer, the Classic 350 now has a fully modern, fuel-injected engine with ABS braking and a smooth-shifting, five-speed gearbox. It's one of the coolest motorcycles for the price you can find. Here are three reasons why we love it—especially for any new or returning rider.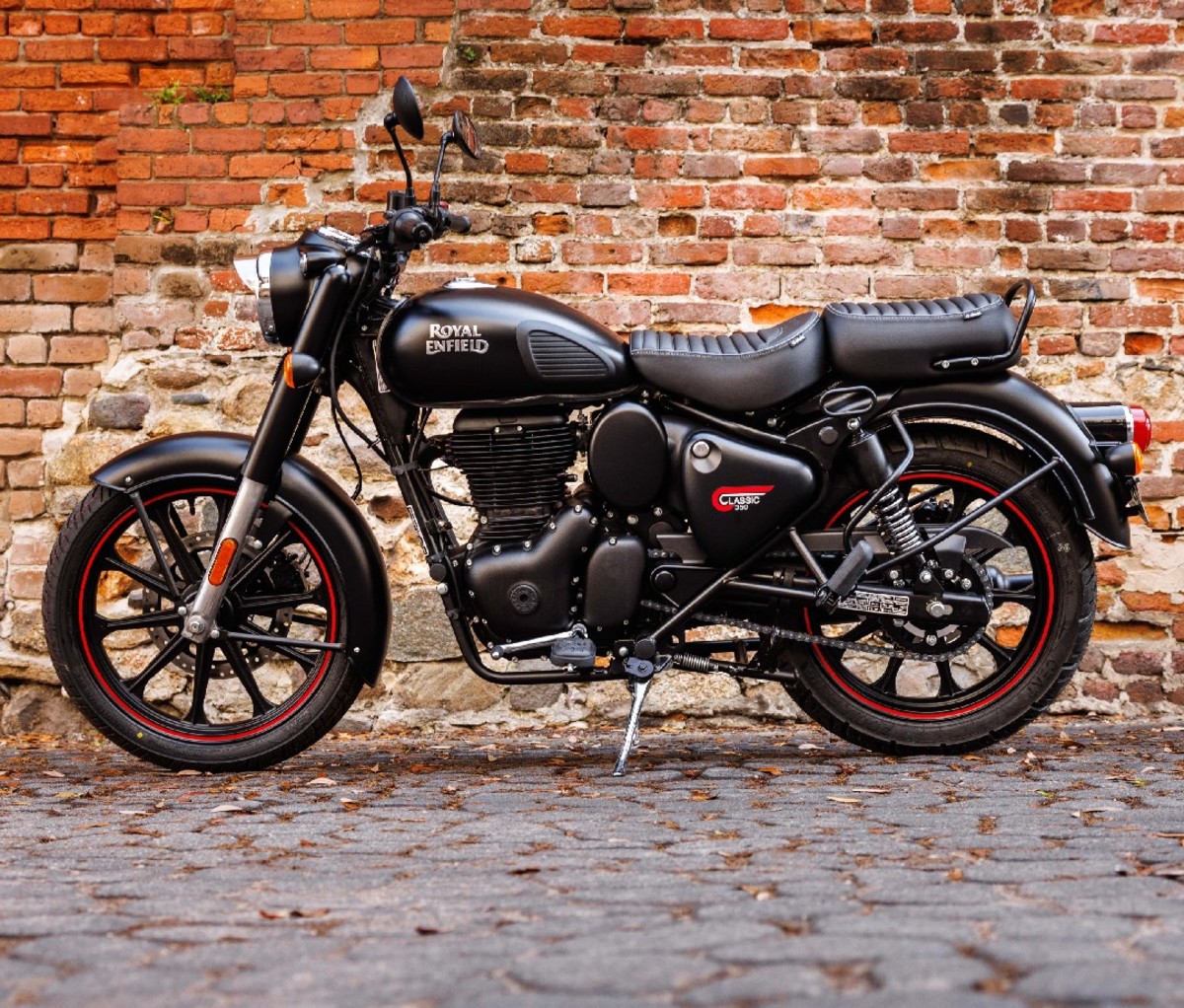 Courtesy ImageNailing the Torque Sweet Spot
While the Classic 350 isn't exactly a light bike, at 430 pounds, its other numbers seem mild at a glance—20.2 horsepower and 19.2 lb-ft of torque. But we've tested a few other Royal Enfield single-cylinder bikes and the company knows what matters: torque. The key to making a lower-powered moto (or car for that matter) feel peppy is to give it flexible grunt. So the Classic 350 doesn't have to be wound violently to peel away from its own shadow. While you have to work the gearbox, especially for passing, the operation feels fluid and low stress. Let the revs build as you accelerate, sense when that torque peaks (around 4,000 RPM), and shift again. Now, you won't mistake the Classic 350 for a massive, multi-cylinder triple, but we were able to maintain 70 mph on a bike with no front fairing—so it gains no aerodynamic benefits. And if you want to add that front fairing accessory, Royal Enfield can provide it.
Would we like more power? Maybe—and if you're only logging highway miles you'd definitely want more muscle. But if you're buying the 350 Classic as an urban commuter, you'll be pretty darned happy. You also be thrilled by the fuel economy. The Meteor we tested last summer shares the same powertrain and gets a claimed 67 miles per gallon. We expect about the same frugality from the Classic 350, and that's hard to beef about.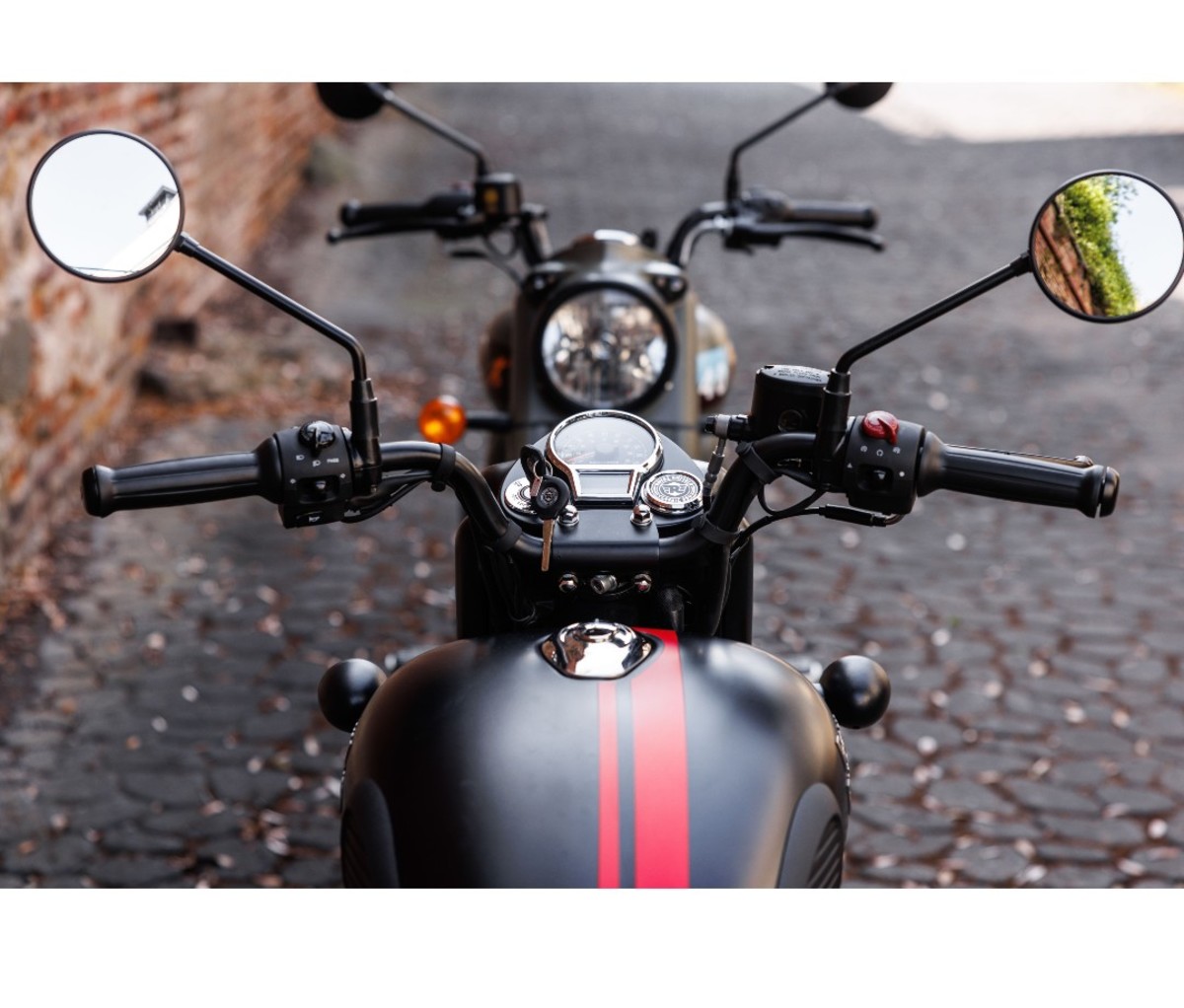 Courtesy ImageA Perfect Riding Position
Some makes take the retro vibe way too far, forcing your arms and knees high and stretched out. You can't ride in that position for very long before your shoulders and hips tap out.
It's also not as safe, because the best riding stance is one that allows you to counterbalance the weight of the bike below you, or stand up and absorb bumps with your quads. Stick your limbs straight out ahead of you and that's really hard to achieve. 
Courtesy Image
The Classic 350 leans into its classic-ness by going the other direction: toward a perfect riding posture. You're gifted a gentle sweep and a tall-ish rise to the bars, pegs well positioned for both taller and shorter riders, and a low-ish 31.7-inch seat height that makes it easy for most riders to stand flat-footed at a stoplight. Speaking of seats, this one is all-day comfortable. You get your Classic 350 with a rear seat for a passenger, or you can omit that and replace it with a single seat and a longer rear fender.
Stock features and controls are dead straightforward and purely old school: There's an oversized analogue speedo; reach-adjustable clutch and front brake; a rear brake pedal that's meaty and oversized—and, speaking of that, the Bybre stoppers provide plenty of confidence and are very easy to modulate. Despite all the old-timey-ness, nothing here translates as rickety. For instance, that round compartment at the front doesn't hold a weak incandescent beacon. There's an LED torching the roadway ahead. And the suspension never felt overmatched during our test ride on some bumpy city streets in Savannah, GA. That's thanks to a reasonable 5.1 inches of travel up front and dual, pre-load adjustable shocks in the rear.
About the only chin scratch to the experience is that the Classic 350's engine is quite smooth at speed—but then reminds you that it's a single cylinder "thumper" at idle. It's hardly unpleasant, but you may be apt to forget that fact until you come to a stoplight.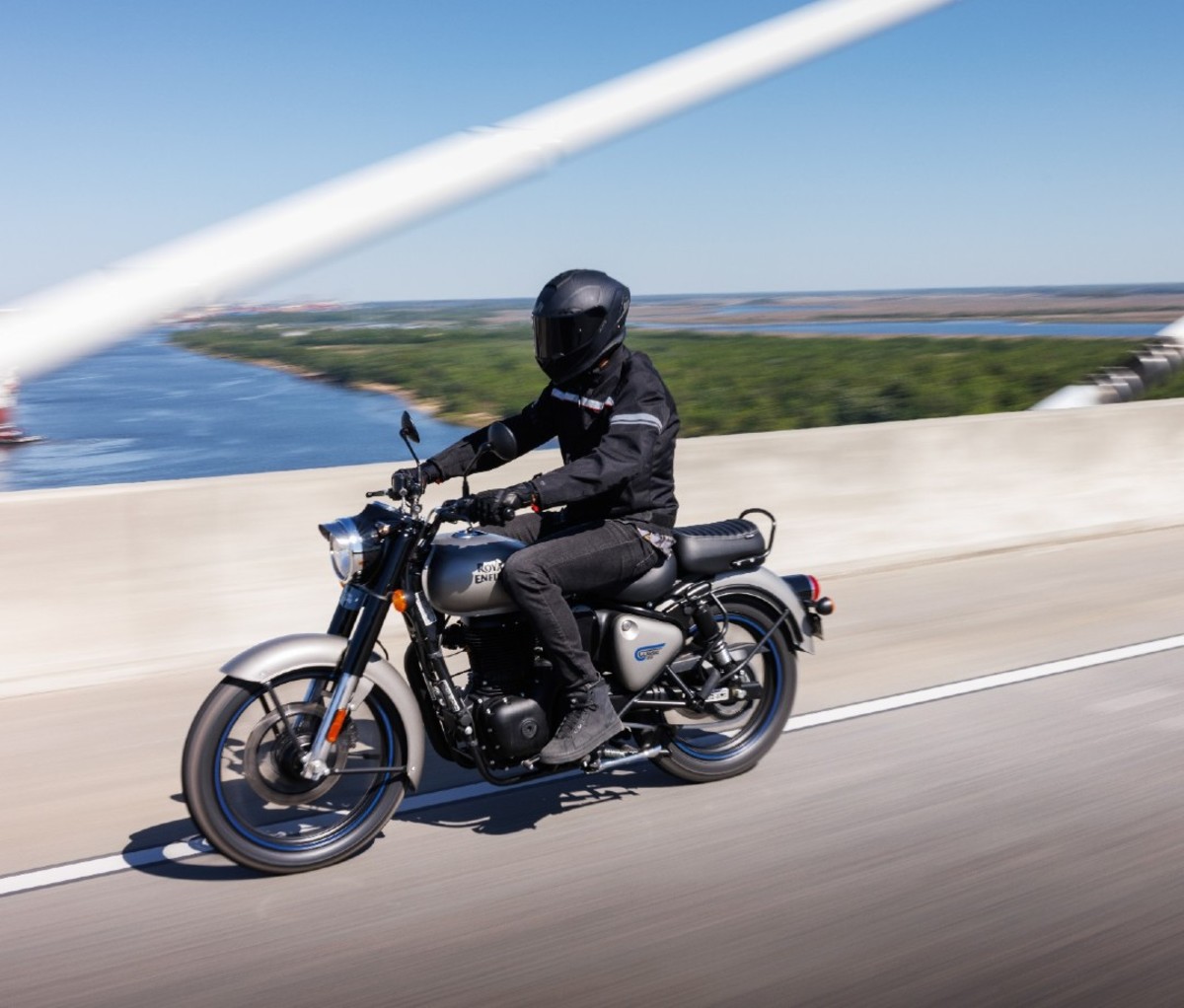 Courtesy Image All the Right Cues
One of the most clever innovations you're not expecting to find on the Classic 350 is where they parked the battery, toolkit, and air filter. You'll see two locked compartments (use the ignition key to open them) on either side of the bike, with the battery and tools on the right and the air filter on the left. Most brands make you remove a bunch of panels, wrestle off a fistful of screws, and skin at least one knuckle to reach this stuff. Royal Enfield's approach is clearly driven by and for riders (not engineers), so they're trying to make regular maintenance easy, not difficult, and as approachable as riding the bike itself.
Then there's the overall aesthetic. Royal Enfield is producing the Classic 350 in nine colors and several finishes. There are so many options, in fact, that this is far more like what you'd see from a carmaker than a modern moto brand—which, if you're lucky, sells a bike in two to three hues.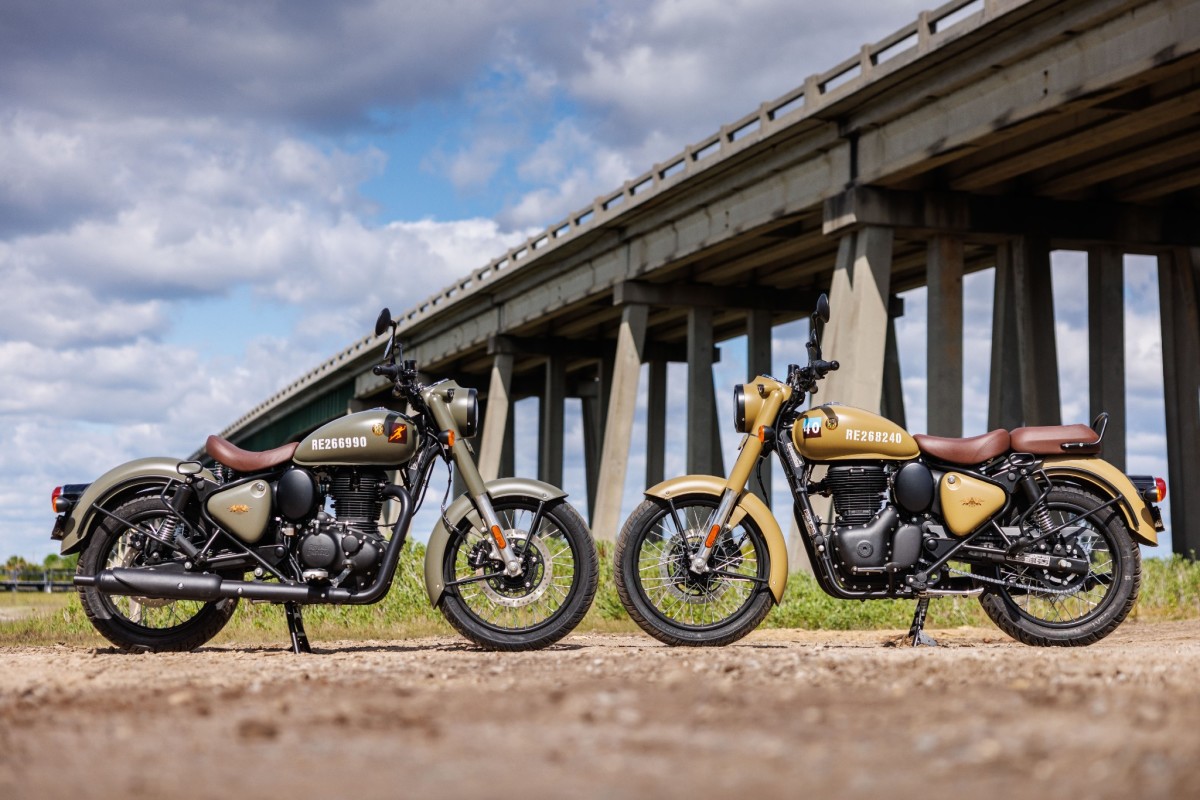 Courtesy Image
You can get your Classic 350 in two different military-styled Signals models (a hat tip to the brand's relationship as a supplier to India's armed forces), in Sand or Marsh Grey, with 1950's livery and a tank "RE" insignia emblazoned with the motto: "Made Like a Gun." This pair costs $4,599, as do bikes in non-military paint, wearing either Dark Stealth Black or Dark Gunmetal Grey. The only difference is the latter get alloy wheels and tubeless tires, while the former wear spoked wheels with tubes.
A trifecta of "Halcyon" models arrives later this summer with a very cool vibe: All three have saddle-leather look seats and come in a 1950s-era Forest Green, Halcyon Black, and birds-eye Halcyon Blue. Despite the killer colors, they actually cost less, at $4,499.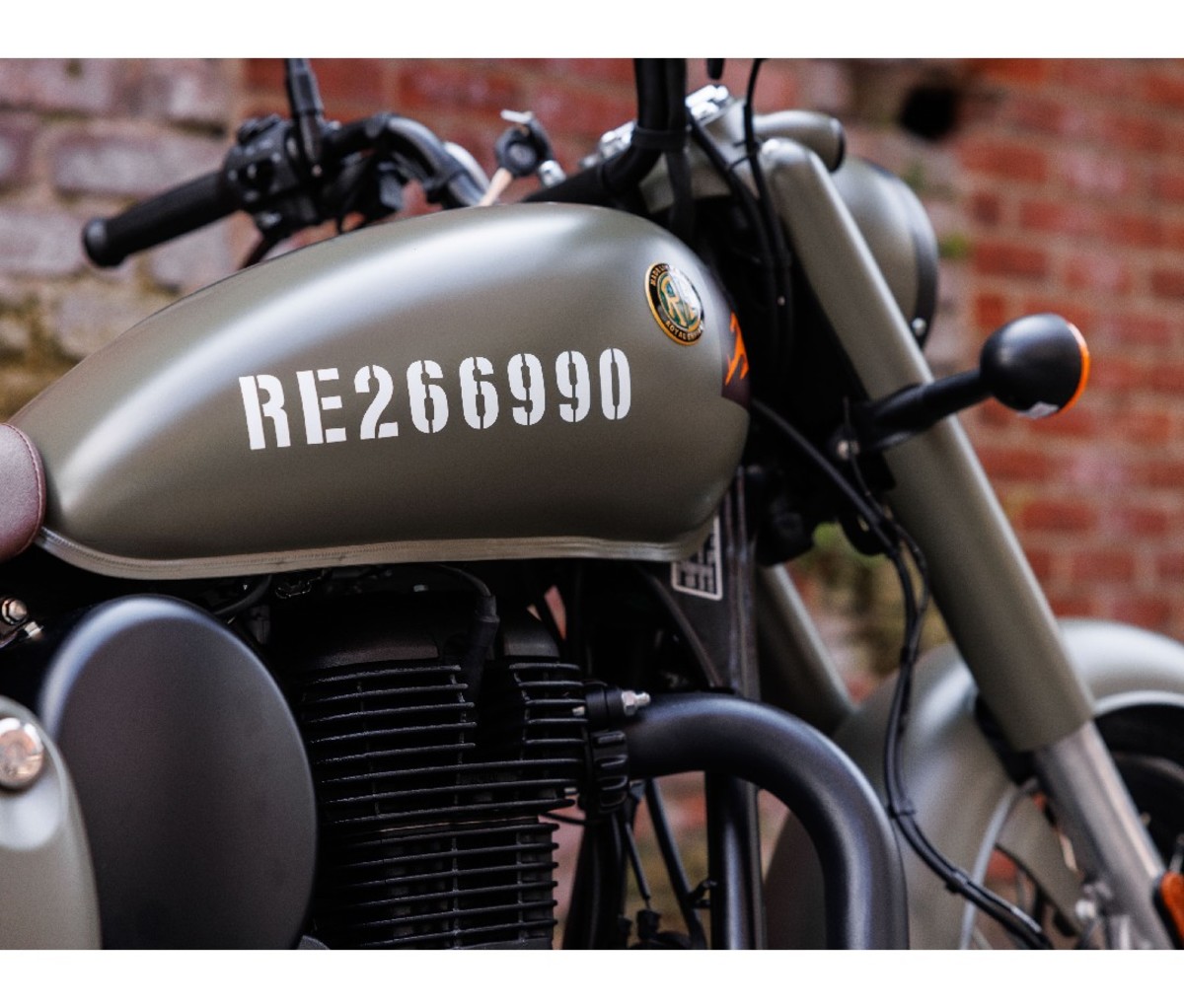 Courtesy Image
The bling-y-est outfits: Either Chrome Red or Chrome Brown. Both run $4,699 and have silver tanks, engine cases, signal housings, and front fender reminiscent of 1950's Vespas.
With so many looks and so much to love, the Classic 350 is a hard bike not to want—whether you're just getting back on a bike, or have to shift another ride in your garage to the side to squeeze in this Royal Enfield.
[From $4,499; royalenfield.com]