Steven A. Smith Reveals Why Shannon Sharpe Really Left 'Undisputed'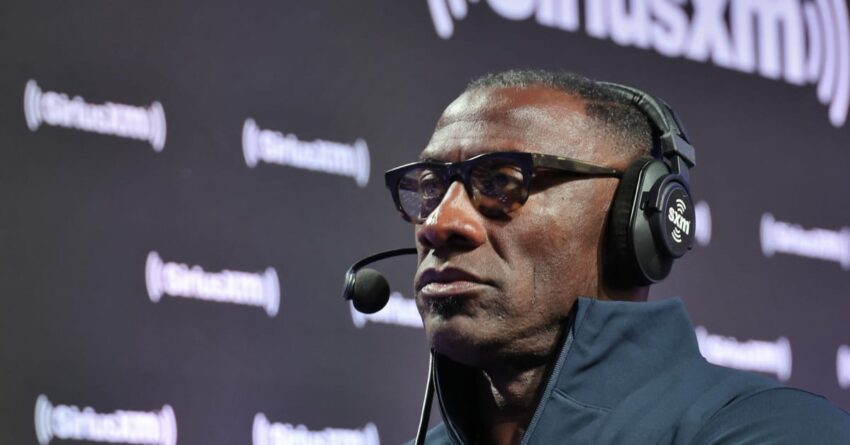 Shannon Sharpe's repeated misidentification of Stephen A. Smith has become a running joke for the new co-hosts, but it's also led to some new information about Sharpe's exit from FS1's Undisputed.
For nearly a month, new twice-weekly First Take co-host Sharpe has been calling Smith "Skip," after his former co-host Skip Bayless. Appearing on The Joe Budden Podcast, Steven A. felt compelled to clear the air after Budden saw the gaff as a slight, expressing discomfort that Sharpe would "go after you so soon."
Once again, Steven A. claimed to take no offense. "I didn't look at it that way. I would've if Shannon left [Undisputed] of his own volition. I'm telling you he didn't. He was pushed out," the opinionated host asserted. "They can deny it. He wouldn't, I can promise you that."
He continued: "[Sharpe] didn't want to leave. He was notified that 'Your services would no longer be needed.' That's his story to tell. I'm telling you what I know. I'm giving you facts."
Smith explained that Sharpe's unceremonious exit reminded him of his own experience being "left for dead" by ESPN in 2009, when those in the media were calling his career finished. He felt it was his "responsibility" to speak up for Sharpe and offer him a landing spot after Fox.
An anonymous source "with knowledge of Skip Bayless' thinking" told The New York Post that Skip Bayless enjoyed the chemistry he and Sharpe shared, and apparently fought to keep him on the staff. However, he sensed that his co-host wanted to pursue other opportunities. However, the source couldn't detail specific interactions between Fox execs and Sharpe. 
A network spokesperson told the outlet: "We have nothing but love and respect for Shannon and we remain grateful for his contributions to Fox Sports. We wish him continued success in his new chapter."
Stephen A Smith said that Unc Shannon sharpe didn't want to leave undisputed

He was "Pushed out" pic.twitter.com/JlX4wY5IAK

— Shannonnn sharpes Burner (PARODY Account) (@shannonsharpeee) September 13, 2023