NFL Player Has Best Surprise for Kid Who Went Viral in His Jersey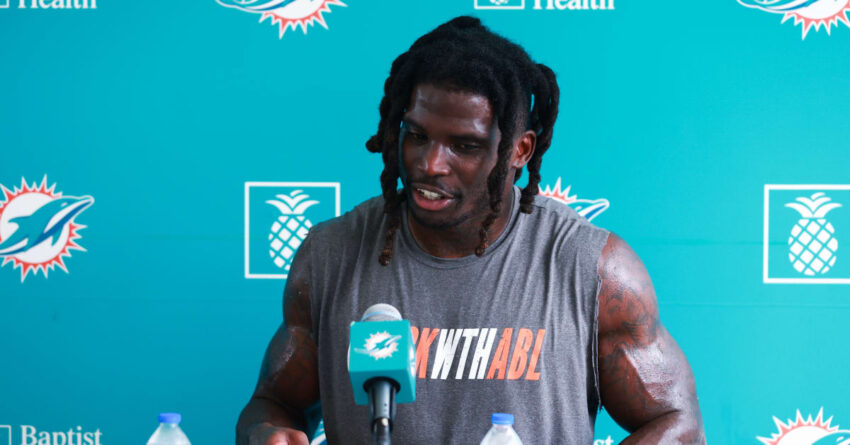 Tyreek Hill paid a visit to a young fan after a video of the pint-sized phenom, decked out in Hill's jersey and imitating his moves, went viral.
The clip which first captured Hill's attention features the young boy performing a series of remarkable stunts, outpacing his friends by some distance before rolling over the back of another in an impressive maneuver. Video taken by the Miami Dolphins shows their wide receiver being embraced by the imitator and his friends, before challenging the group to a race.
"The real reason I'm here is because of him," Hill said as he pointed to his young fan. "I've seen the video online, so I came all the way here to give you this jersey personally." After a photo op, the Dolphins star offered some words of encouragement to his apprentice. "I'll see you at the next level. I'll be coaching you, alright?"
Commenters on X were quick to recognize the young player's talent. "Bet I see this footage again when that young man has his pro debut," one weighed in, while someone named Mei Mei wrote: "The future NFL is bright." User @DefiSamurai opined: "You can't teach instincts, and that kid obviously has them! Would be amazing to watch that journey!"
Hill has previously said that he's hoping to hit 2,000 yards receiving this season. He posted 215 yards against the L.A. Chargers in Miami's opening game. In order to hit his goal, he needs to average 111.5 yards per game for the remaining 16 weeks. The Dolphins will face off against the New England Patriots at Gillette Stadium on Sunday night.
.@cheetah went to go meet the young football player who went viral wearing his jersey. ?

Mini Cheetah ? Big Cheetah (via @MiamiDolphins) pic.twitter.com/fg15VW9VLL

— NFL (@NFL) September 14, 2023