Best International Castle Hotels to Travel Like Royalty
You've slept in hotels, motels, lodges, B&Bs and a yurt or two. Isn't it high time you checked into an actual medieval castle? (Jousting optional.) Here are the best castle hotels around the world.
Parador De Cardona Catalonia, Spain
Spain was a major crossroads in the Crusades, leaving a variety of well-preserved castles. But if you prefer yours as solid and foreboding as a sorcerer's stronghold, aim for Cardona. Above the medieval town at the Pyrenees foothills looms ninth-century Parador de Cardona, an imposingly beautiful mix of Romanesque and Gothic architecture boasting so many vaulted passageways and squared parapets that you can easily picture men-at-arms boiling vats of oil to repel an onslaught. Accommodations are more hospitable, appointed with canopy beds and tile floors. (Pictured above)
Royal treatment: Guests likely dine better than the castle's original rulers, choosing from chefy Catalonian specialties such as barbecued lamb shoulder and eggplant terrine with pig's feet. More vino!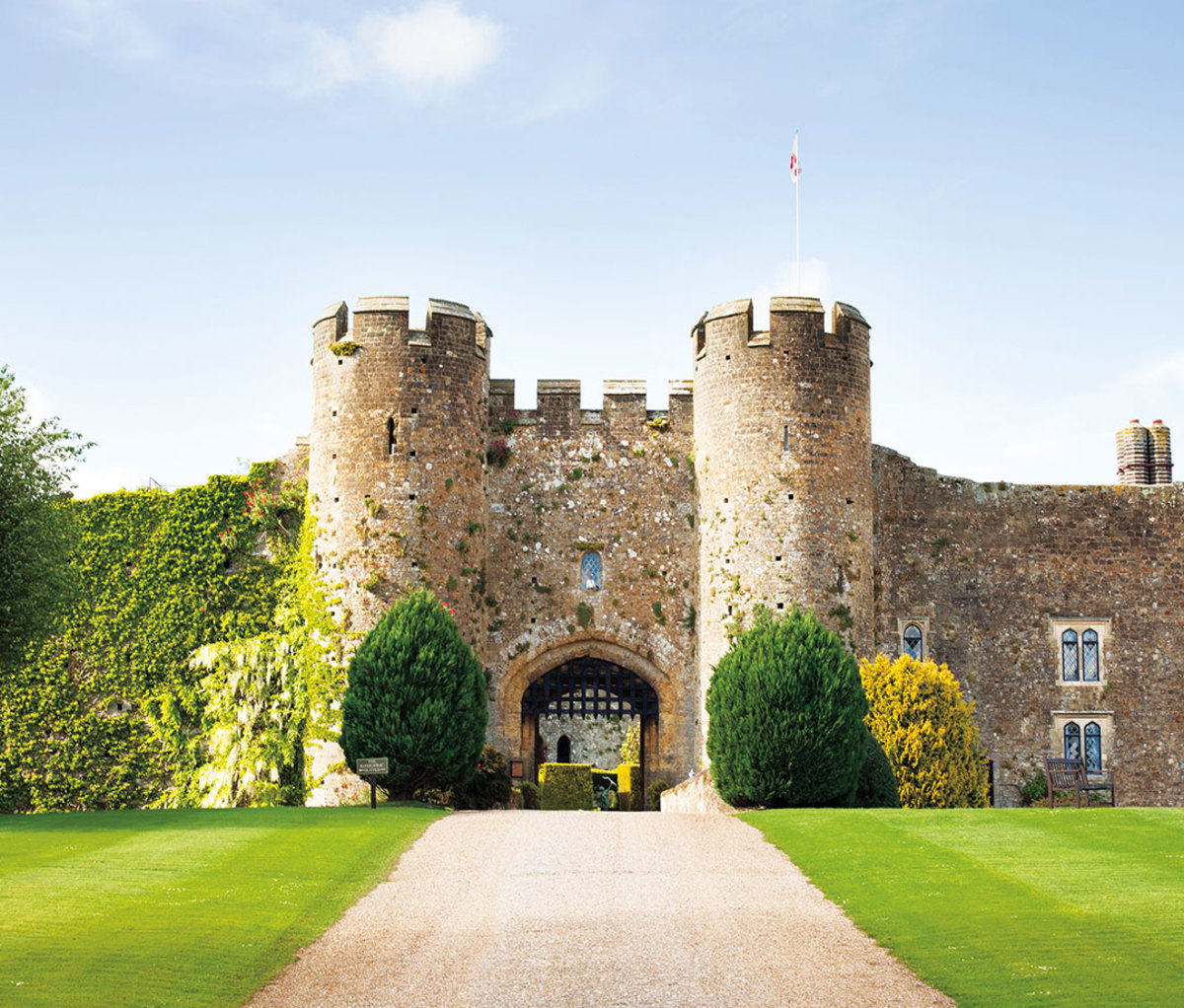 King Henry VIII passed through Amberley's twin tower gatehouse in 1526 when he visited the resident bishop to seek advice on shedding his first wife. Courtesy ImageAmberley Castle Sussex, England
This site so resembles a movie set, you half expect French knights to taunt you from the parapets. But its long history is thoroughly English, dating back to a King of Wessex granting land to a powerful bishop in 683. A fortified manor house was recorded in the famed 1086 Domesday Book census, then sacked by anti-royalists during the English Civil War. A series of lord-and-duke types supervised upkeep until full restoration as a hotel in 1989.
Royal treatment: Though the hospitality drips English countryside (afternoon tea! scones with clotted cream!), every nook and cranny holds medieval accents such as exposed stone and suits of armor—and there are lots of nooks and crannies.
Some linger here longer than others. Catacombs hold mummified remains of past barons and baronesses, one of whom possibly was entombed alive. Courtesy ImageSchloss Sommersdorf Saxony-Anhalt, Germany
If you think a proper castle should be surrounded by a moat, make this stop along Germany's Castle Road. Schloss Sommersdorf's 14th-century battlements rise from water on all sides, protection which likely helped it survive the plundering and plagues of the Thirty Years' War (1618–48) that ravaged the local village. Inside ivy-draped stone walls, castle meets cozy B&B, with descendants of the same family that has resided here since 1550 renting only seven rooms to their guests. (Opt for a moat view!)
Royal treatment: If you want to chat up the old fellow tinkering on the castle's impressive collection of classic cars, mind your manners—that's likely the proprietor himself, Baron Manfred von Crailsheim.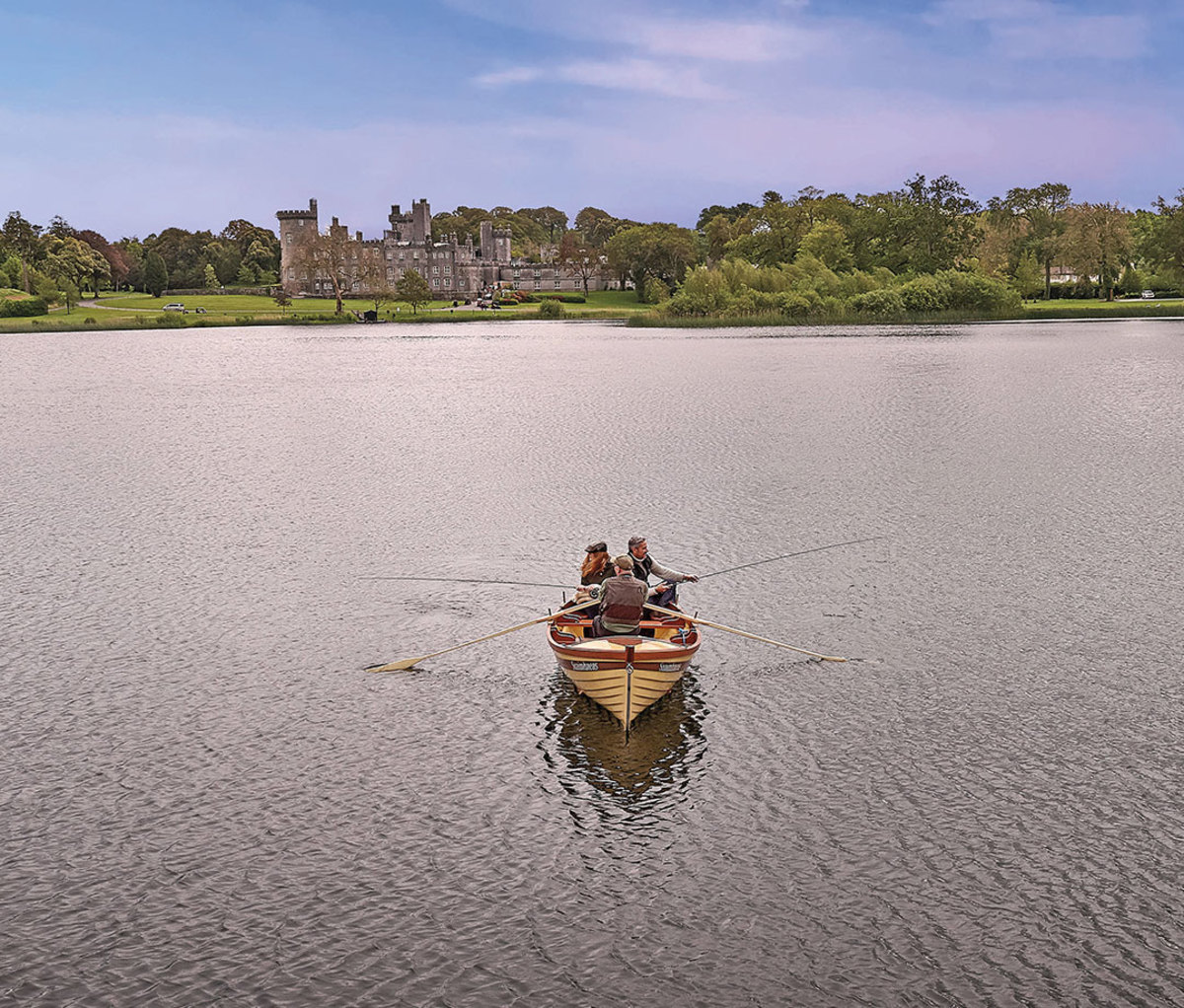 There goes the castle: While lodging at Dromoland for Easter 1964, John Lennonand George Harrison borrowed swords from suits of armor and staged a mock battle. Courtesy ImageDromoland Castle County Clare, Ireland
For 900 years prior to becoming a posh playground, Dromoland served as the domain of the O'Brien family. Established in 1064, the grounds steadily expanded with Ireland's history as a backdrop; notably, while many other showplace manors were razed during The Troubles, local IRA leaders spared Dromoland because its lords had a reputation for dealing fairly with tenant farmers. In 1962, it was sold to an Irish-descended American industrialist who rehabbed it into a hotel resort, including the conversion of the lord's octagonal study into a spiffy cocktail bar.
Royal treatment: The estate's 450 acres offer "country pursuits" from fishing to archery to clay shooting—or go full noble with a falconry experience.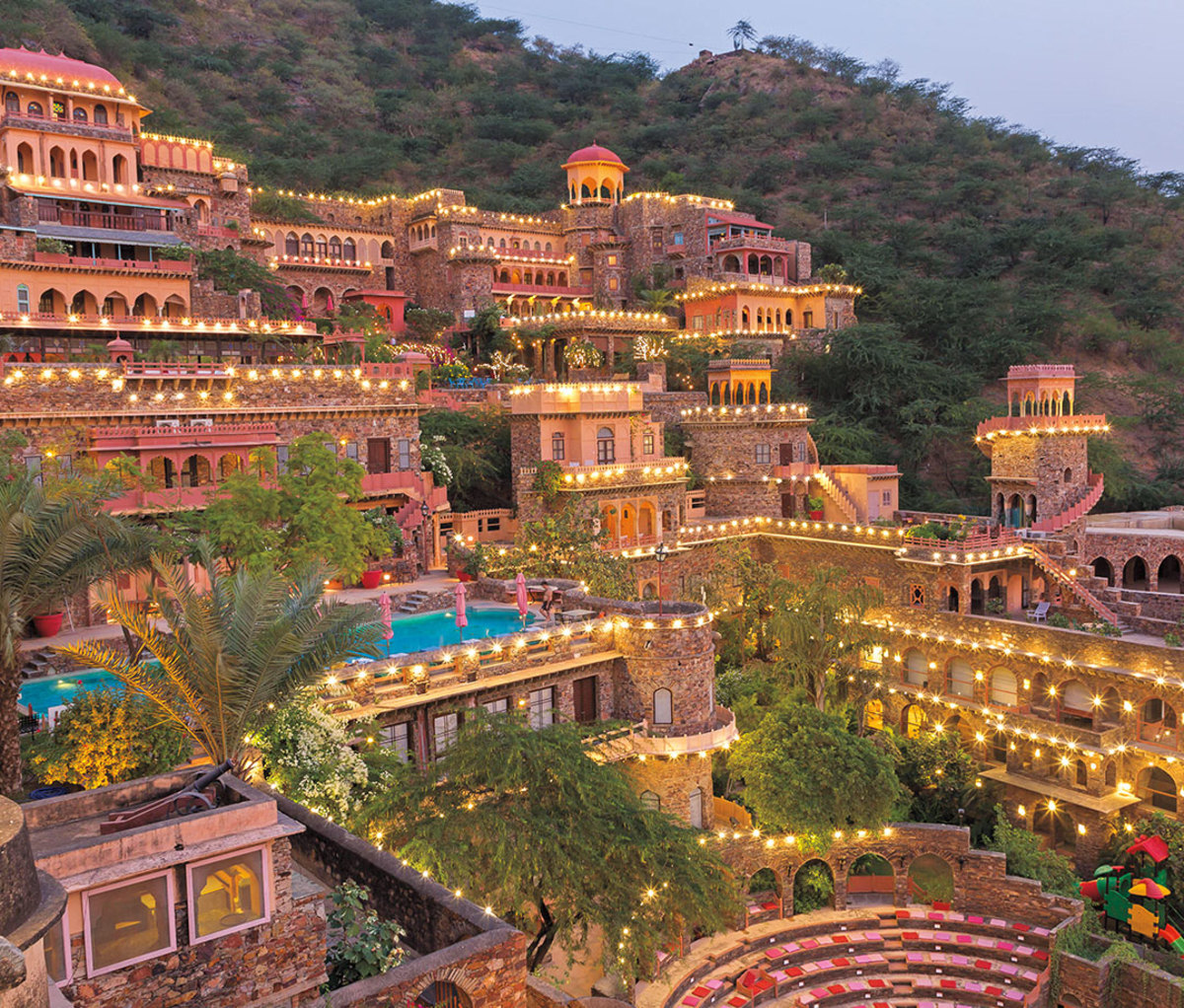 Not too surprisingly, Neemrana Fort-Palace has served as the lavish setting for more than a few big Bollywooddance numbers. Courtesy ImageNeemrana Fort-Palace Rajastahn, India
The West doesn't hold a monopoly on awe-inspiring fortresses. Witness this 15th-century jewel box built into a commanding hillside by descendants of a dynastic king following an invasion by Muslim Ghurids. Astoundingly, the lavish, 14-level spread was a crumbling, abandoned fixer-upper by 1947, leading to its rehab as a resort in 1991. Today, the glittering labyrinth (seriously, one can get lost) includes a huge pool, hanging gardens, several eateries and even an amphitheater that hosts music and dance performances. If that's not enough, tour the nearby village via a camel-pulled cart.
Royal treatment: Looking for a romantic getaway? Choose the Sutra Mahal room, decorated with Kamasutra-inspired erotic paintings consulted by past randy royals.