Why You Should Choose a Pickup Truck for Your Overlanding Rig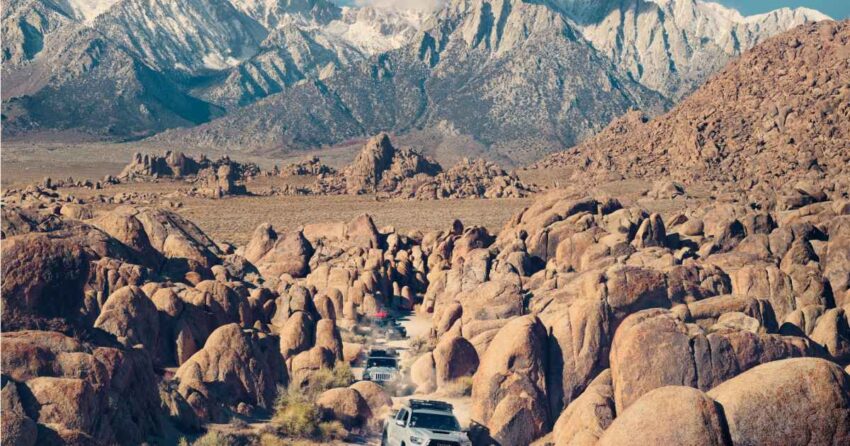 This article was produced in partnership with Dometic 
Rather than count sheep to drift off to sleep, we like to imagine our ultimate overlanding rig floating over undulating terrain: Toyota 4Runner, Land Cruiser, Jeep Wrangler. One by one, cool, capable off-road SUVs go by…lest we forget the humble pickup.
Pickup trucks have long been the workhorse of choice for tradesmen, contractors, ranchers, and farmers. They also make an incredibly reliable base when constructing your own badass backcountry rig.
Why Pickups Are the Superior Overlanding Vehicle
Though the tried-and-true, four-door SUV gets all the off-road attention, there are many advantages to making a pickup your chariot of choice. Cost is a big one.
Getting into a used pickup that meets your initial needs is going to be much cheaper than starting off with a popular, low-miles SUV in good condition—potentially $20K in savings.
Another great perk is the versatility of having a separate cab and bed. If you get a truck with a crew cab—or even one that's extended—you'll have lots of interior space for keeping you and your climate-sensitive stuff at the right temperature, depending on the region and season. Plus, you'll have the advantage and utility of the bed for tossing in wet, dirty, and/or bulky gear; adding on a protective topper; or bolting down a slide-in camper.
Another often-overlooked benefit of choosing a pickup for your off-the-grid adventures is the powertrain—engine, transmission, differential, etc.—is usually more powerful and has a highly rated payload and towing capacity compared to SUVs, which means you can carry more gear and tow a bigger trailer. All that extra power translates to better fuel economy if you end up hauling a heavy trailer.
Cool Overlanding Gear to Pack in a Pickup
All these perks provide their own bevy of benefits. Take cost savings, for example. The lower bar to entry is going to allow you to spend more money on the inevitable gear, gadgets, and tools you'll need to make your overlanding trips safe, fun, and unforgettable. That alone should be enough to prompt you to seriously ponder a pickup.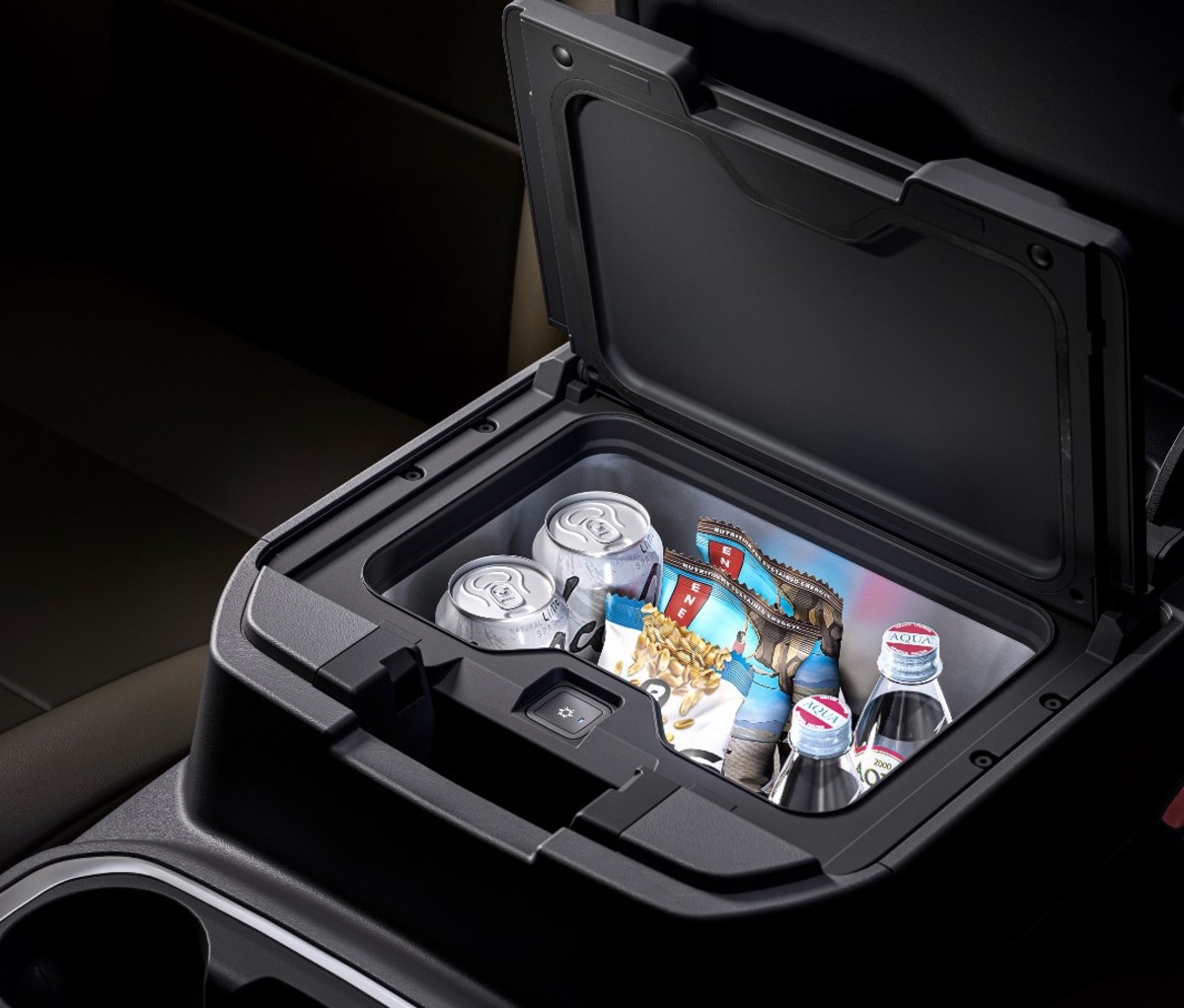 The Dometic CCF-T is a nifty center-console fridge to keep all your favorite bevs within reach. Courtesy ImageOutfitting Your Interior
First off, it's worth thinking closely about the cab. Whether you get one that has a crew cab—meaning four doors—or an extended, you're going to have a comfortable space for long trips. And, depending on your budget, the options for your level of creature comforts in that cab range from the spartan digs of a base model to the full-on luxury of a top-spec truck like a Ford F-150 Limited. We recommend the former.
Most of us aren't going to convert a $75,000 truck into an overlander. That's where going with a lower model and adding interior-enhancement components like the Dometic CCF-T comes into play. This neat little center-console fridge seamlessly integrates into Ford F-150s from 2015 to 2020, Ford Super Dutys from 2017 on up, and Ford Expeditions from 2018.
More Dometic models are coming out soon that'll be compatible with Chevrolet Silverado 1500* (2019+ model years), Chevrolet Silverado HD 2500/3500* (2020+ models), GMC Sierra 1500* (2019+), GMC Sierra HD 2500/3500* (2020+ models). The refrigerator easily plugs into the truck's available 12-volt socket, turns on with a unique soft-touch power button, and runs quietly and efficiently with its automotive-approved compressor. Plus, it'll hold up to 12 cans of your favorite beverage, which translates to 7.5 liters of chilled goodies.
* With floor-mounted center console and without Bose® Premium Sound System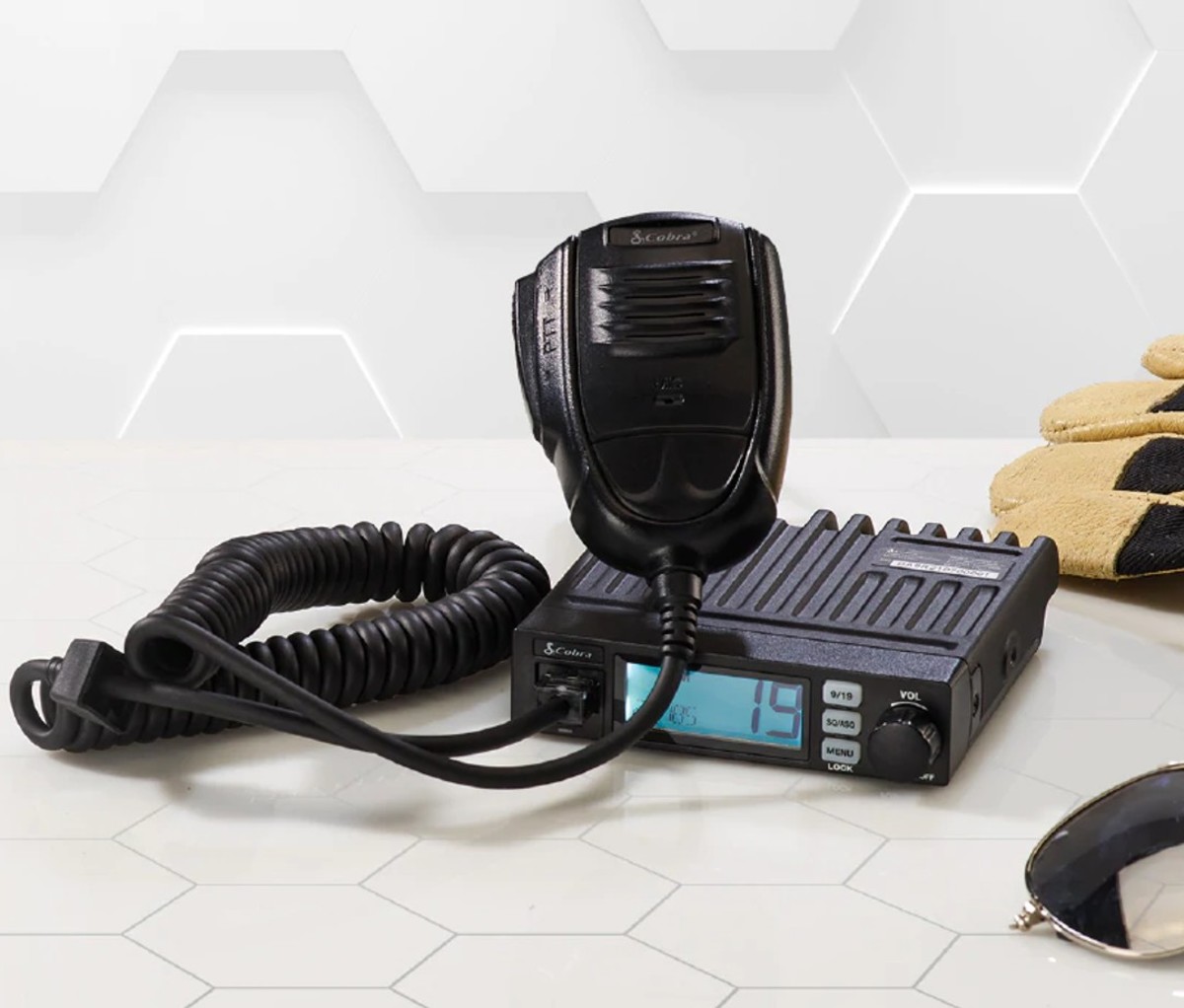 Courtesy Image
Another great interior upgrade is installing a solid, long-range communication system before heading out on the trail, especially when rolling with others. The new Cobra 19 MINI is a spectacular CB radio option; the pint-sized unit can be inconspicuously mounted under your dash, but packs a lot of power and features. It offers 40 4-watt channels, hands-free operation, gain sensitivity adjustment and auto squelch, external speaker jack, and auto shut-off. Add in the magnetic 18.5-inch antenna for shorter range and more versatility, or go for the 4-foot fiberglass antenna for maximum range and durability.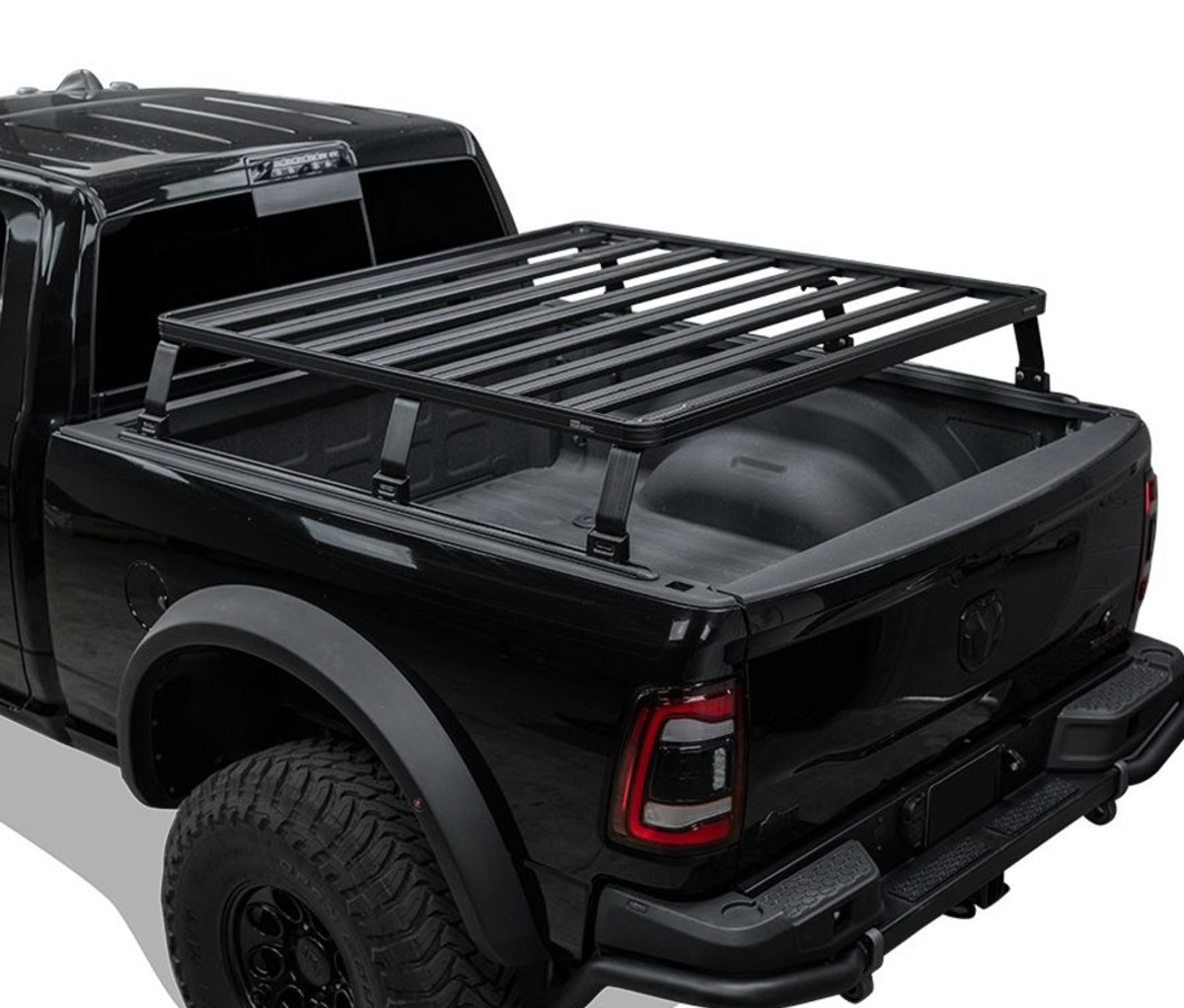 Ram 1500/2500/3500 6'4″ Slim II Top-Mount Load Bed Rack Kit Courtesy ImageBehold the Bed!
The advantage of having the bed space available means you have multiple options on how to configure it, depending on your specific overlanding needs. If you want to keep it open for storing bulky items and dirty gear, adding a pickup bed rack system like the Front Runner Slimline II Load Bed Rack Kits gives you lots of utility. It creates a raised platform that's ideal for mounting a rooftop tent like the iKamper Skycamp Mini, which we'll discuss in a bit. Because the overall profile brings the top of the folded-up tent close to the roof of the cab, it provides better aerodynamics (read: it won't tank gas mileage), plus you don't get a hit on clearance like mounting a tent on top of an SUV. These powder-coated rack systems fit a wide range of trucks, from Rams to Tacomas, and offer lots of great storage and stowing options for everything from bikes to boxes.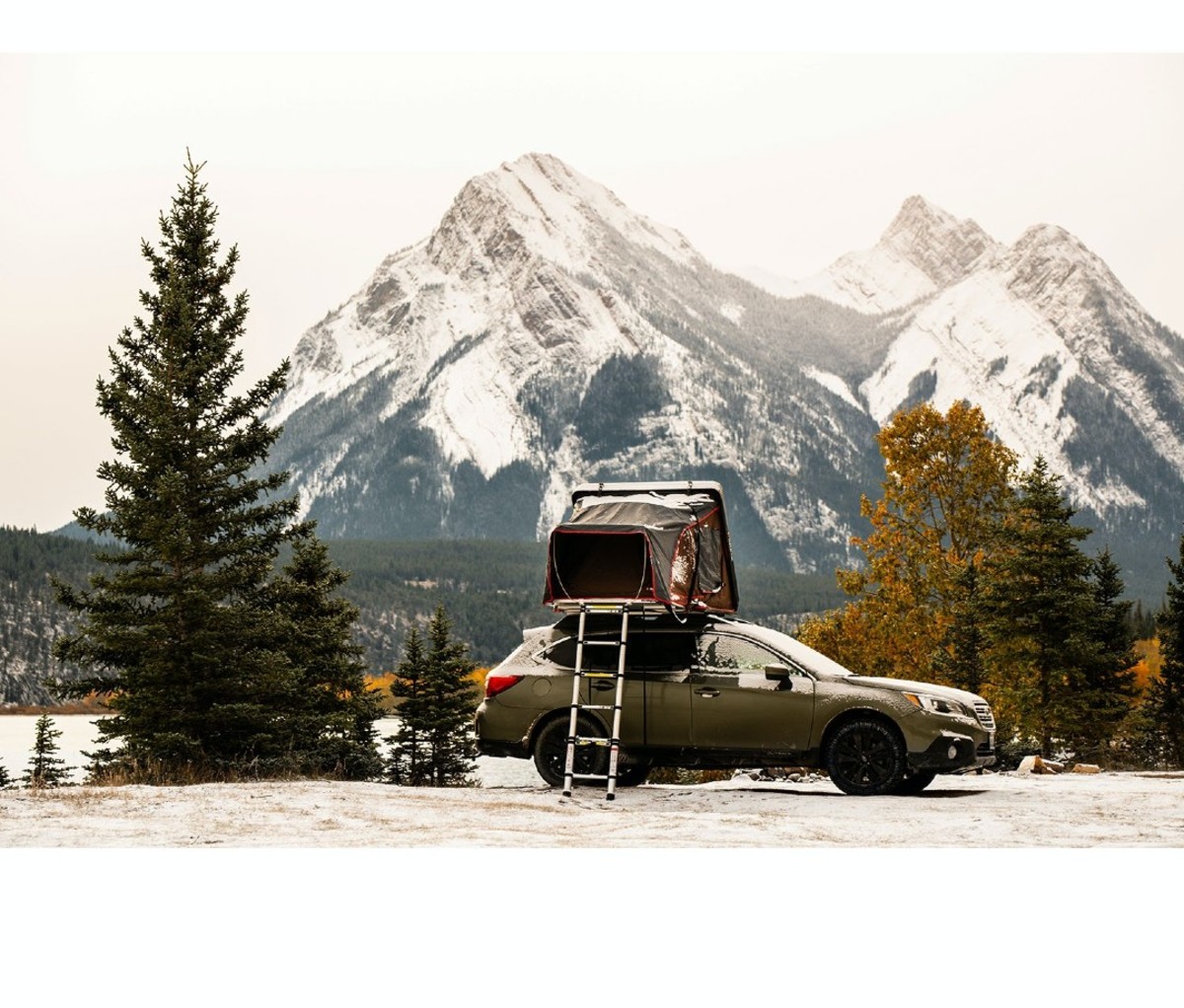 This compact roof top tent sets up in one minute and comfortably sleeps two. Courtesy Image
Back to the iKamper Mini. Now that you've got a new bed rack, you'll want to slap a rooftop tent on top. Truck beds don't quite give you the length of a full-size SUV roof, so you need to spring for a compact tent. The iKamper Mini is contained in an aerodynamic hard shell and only weighs 125 pounds. It sets up in one minute and features a high-density foam mattress that sleeps two adults, thick blackout canvas walls that offer insulation, a skylight window, waterproof zippers, and three windows for max airflow. Plus, it's all mounted on a super-strong honeycomb aluminum base.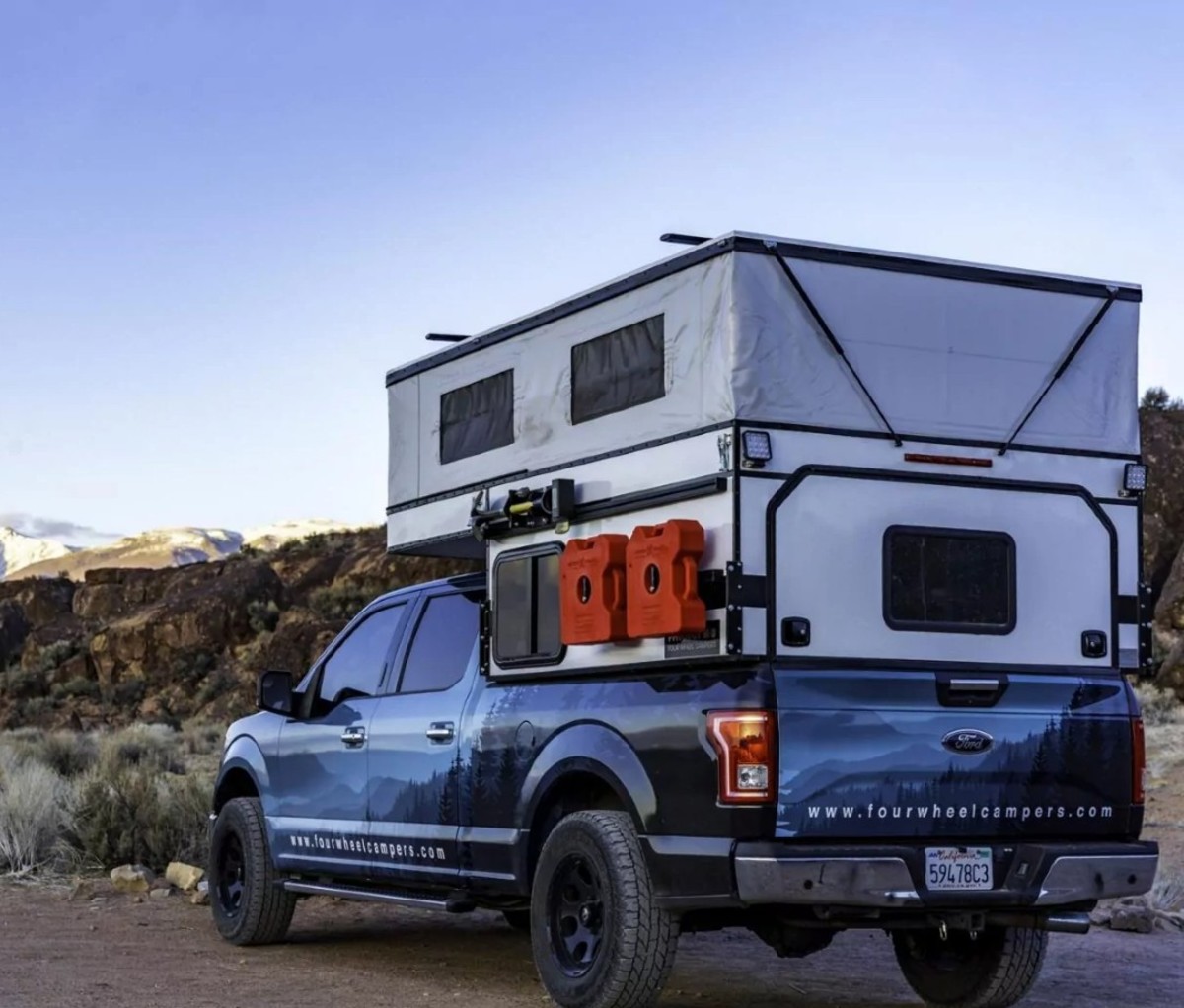 Light yet rugged, the Project M large cabover is a stellar place to catch some zzz's. Courtesy Image
If you want to amp up comfort with some of that extra dough you saved, consider springing for a truck bed camper, like one of the legendary pop-up versions from Four Wheel Campers. They have two options for beds, Project M and Slide-In, in a variety of sizes that can fit short-, medium-, and long-bed pickups—and can either be clamped to the bed rails or bolted in.
Project M is a barebones version of the camper that starts at $10,000; it's basically a bed topper with a pop-up roof that has mattress space over the cab, leaving the truck bed wide open for hauling gear or overlanding customizations. The standard Slide-In starts at $15,000 for the shell model, which gives you a great starting point to build your own interior. Or, for $24,000 and up, you can build your own full-camper model.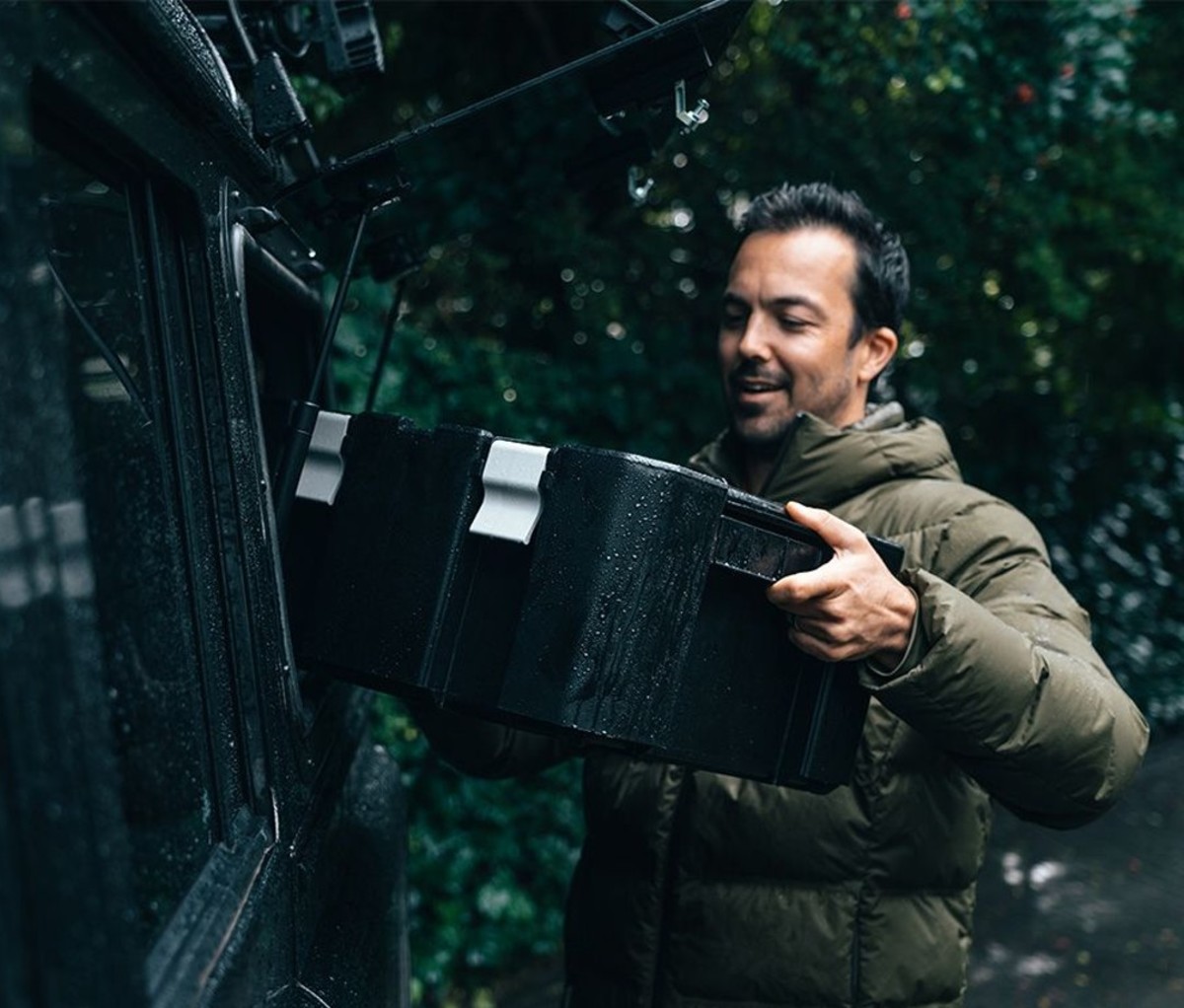 Wolf Pack Pro storage boxes are durable, stackable, and virtually impenetrable. Courtesy ImageRig Your Roof
Another smart storage option a pickup provides is you can utilize the space on the cab roof. Something like Slimsport Racks gives you even more options for mounting useful items including waterproof Wolf Pack Pro storage boxes, water/fuel tanks, spare tires, recovery brackets, and more. The low-profile aluminum and steel racks have slotted cross bars that accept standard 8mm bolts and front wind deflectors.
Another great addition is a rigid solar panel kit. Though you should always stow flexible, folding solar panels for deploying around camp, it's nice to have one mounted to your roof so you're charging and juicing up all your essential batteries while you wheel around from campsite to campsite. Since figuring out what solar panel system you need is daunting for most, we like the Go-Power Overlander Solar Charging Kit. Everything (but the battery) is included to get you up and running and making power: 190-watt aluminum framed solar panel; 30-amp, dual-bank Bluetooth solar controller; output cables; and mounting hardware.
There are many compelling reasons to make a pickup your next overlanding rig, as outlined above, but there are a few downsides to consider as well. Pickups have a longer wheelbase in general, so maneuvering around tight trails and over larger obstacles may become trickier. And even if you get a truck with a crew cab, you'll lose some of the climate-controlled interior space you get with an SUV, which is great for housing kids and pets. But overall, a pickup is an excellent—and in many ways the better—choice for first-time overlanders and even off-road veterans.