This Fearless Free Diver Befriends Sharks in the South Pacific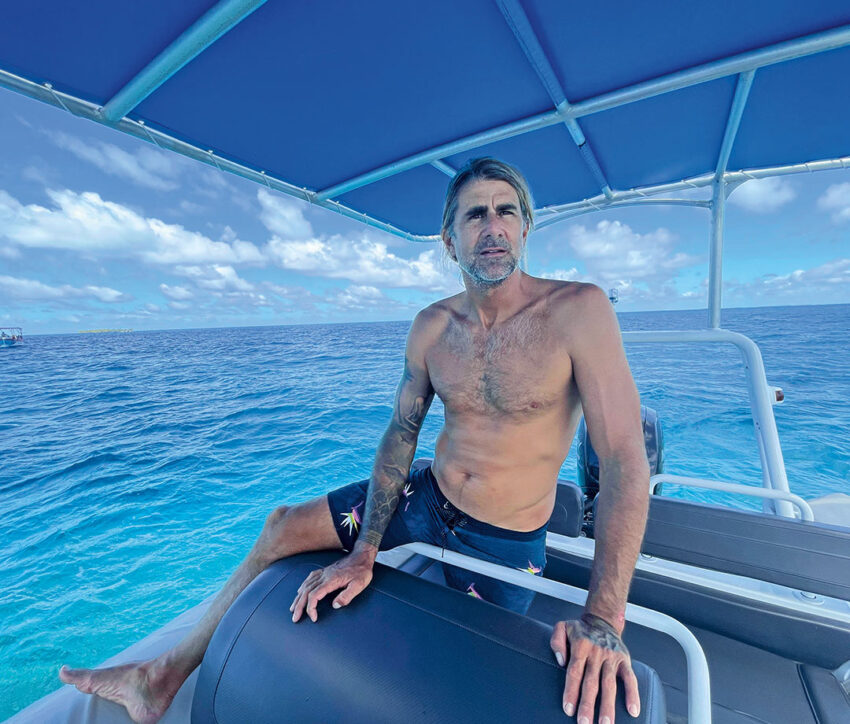 Four thousand miles west of Los Angeles and 200 miles north of Tahiti in the South Pacific, a ring of white coral atolls surface out of warm turquoise waters. Here, in Tikehau, French Polynesia, looking out his thatch house, shark swimmer and free diver Denis Grosmaire watches over migrating whales and, by his estimation, 30 black-tipped sharks.
"I like to dive barefoot with tiger sharks," says the 44-year-old Grosmaire, describing the day this photo was captured in Tikehau in November 2021. Thirty feet down at the edge of a coral reef that drops thousands of feet into the Pacific, he was swimming with two other tiger sharks when an unfamiliar 1,100-pound tiger shark appeared out of the blue.
"She is a female, young, less than nine feet and pregnant. I will have some nephews soon," the Frenchman says with a grin.
Grosmaire grew up spearfishing and making four-hour open ocean swims in French Polynesia—he's lived here since age 2—and he knows the dangers of swimming with sharks, which kill 10 people each year worldwide. Tiger sharks, his favorite, can grow up to 15 feet and 1,400 pounds, and they're the second- or third-most predatory fish behind bull sharks and great whites.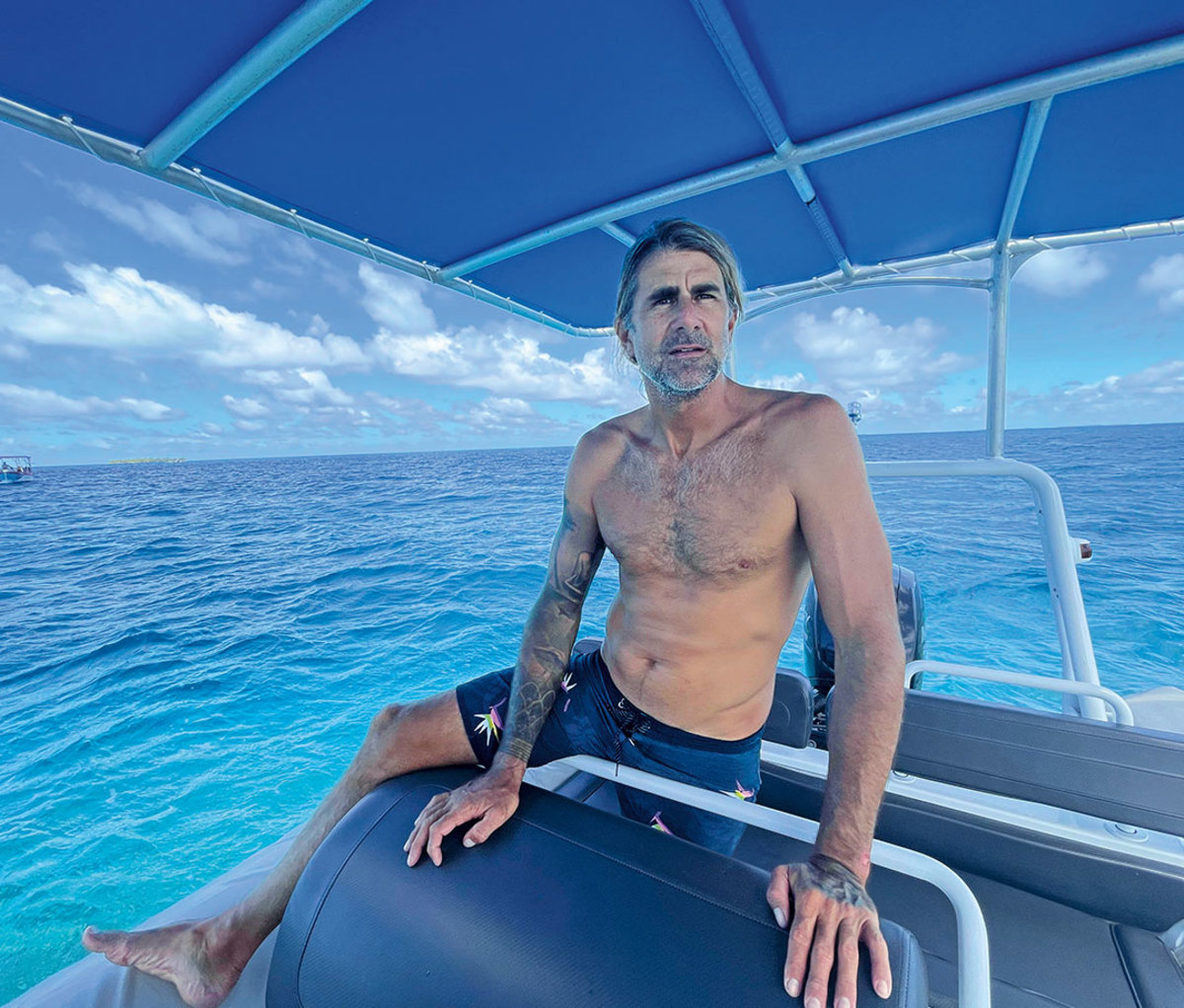 Shark swimmer Denis Grosmaire. Chris Van Leuven
"There's a common misconception from movies that sharks are the most dangerous creature in the world, but they're not," he says. "We can co-exist with sharks." He hugs and kisses them. And he studies their personalities and moods.
Things don't always go as planned. During a guided tour with Grosmaire earlier this year, he sat down next to me on a boat and shared a video showing himself meeting a massive tiger shark face to face. As he went in for a kiss, the shark opened its mouth around Denis' mask and snorkel before Denis pulled away. "That was last week," he said. "I fucked up. Had I not reacted so quickly, I wouldn't be here today." Once his head was clear of the shark's teeth, he gently pushed its face back with one hand. "This was the shark I swim the most with," he said. "She didn't mean to almost bite me."
"There are specific things to do and not to do," says Grosmaire, founder of the Association Tore Tore, which protects the 16 different shark species found in French Polynesia. He's also the founder of Tikehau Ocean Tour, which offers outings including diving with blacktip, hammerhead, reef and tiger sharks. He instructs guests to hold themselves tall, remain still and keep an eye on sharks and other divers when in the water.
"The beauty of this animal will touch your heart," he says. "But don't touch the shark [unless necessary], don't grab the dorsal. Keep your distance. Don't swim with panic, and just be cool in the water. And if it comes very close, you redirect the shark by pushing it away. Even if it's a 750-pound animal, it's still effortless to redirect.
"For many people, this is the best experience of their life."
When Grosmaire isn't leading ocean tours, he free-dives to extreme depths—he's a Tahitian free-diving champion—including one to 345 feet that required him to hold his breath for seven minutes.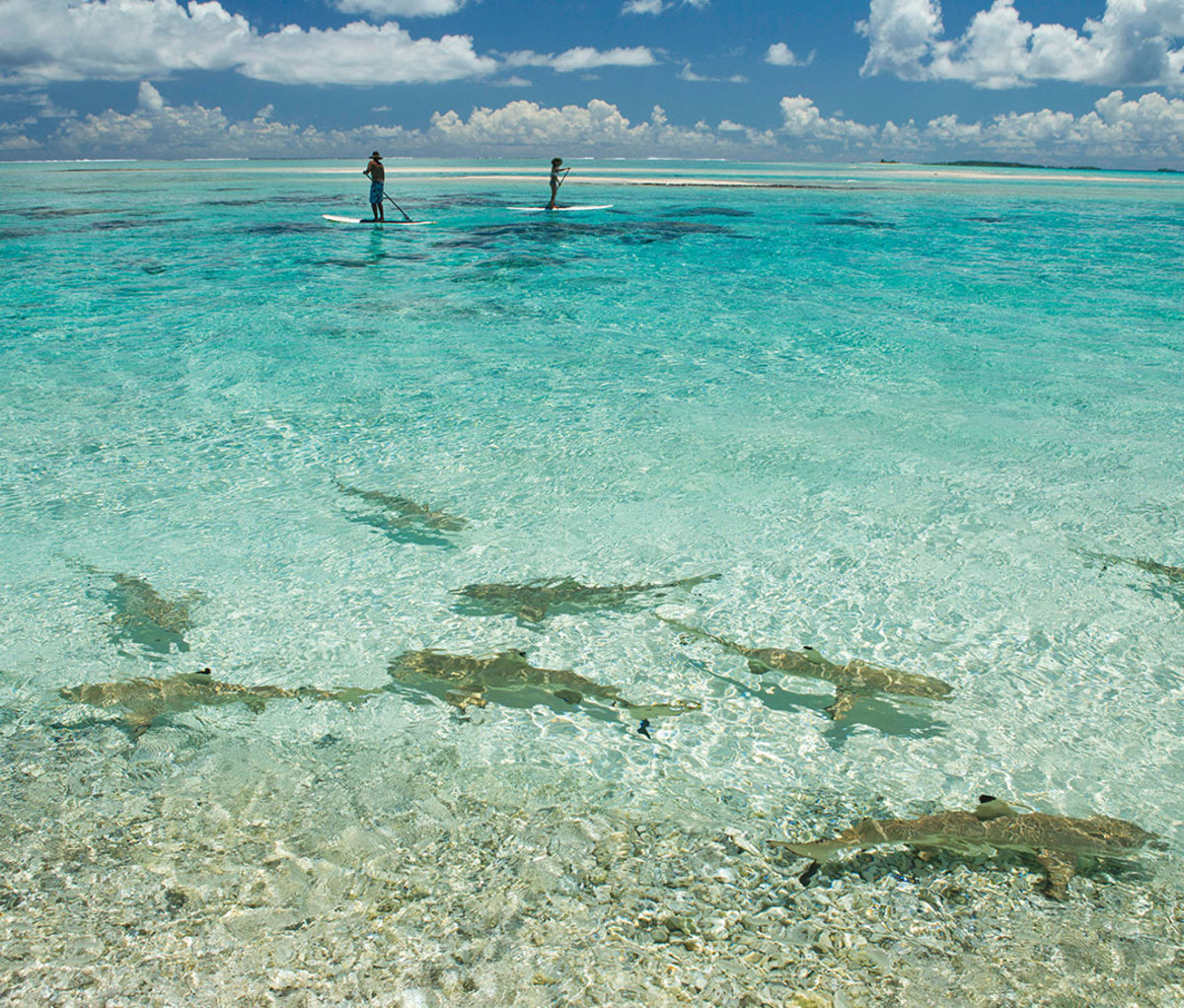 Formed by a near unbroken ring of coral, Tikehau lagoon teems with sealife. ©TAHITI TOURISME/GRÉGOIRE LE BACONVisiting Tikehau
It's a hike to get there and even harder to leave.
An eight-hour red-eye flight from L.A. to Tahiti followed by an additional one-hour, 30-minute flight north brings you to Tikehau, home of Tikehau Ocean Tour. Lodging includes overwater bungalows and luxury accommodations set among coconut trees and white coral beaches. To book a private half-day ($600) or full-day ($1,000) ocean tour, including snorkeling with manta rays over coral reefs, free-diving and spearfishing, or swimming with sharks, visit tikehauoceantour.com. Full-day tours include lunch made on a tiny island and served with fresh-caught fish and other seafood, cooked over a coral fire.