Sustainable Innovation Is the Name of the Game for Goldwin
This article was produced in partnership with Goldwin
Slipping into a flow state is like athletic nirvana. Carving the perfect line down a mountain, where your skis all but disappear and the effort feels akin to flying—that's Shangri-la for big-mountain athletes. You're one with the world around you, but it takes a perfect storm of elements to get there. It demands mental acuity, laser focus, and minimal distractions. That means everything you're wearing needs to be dialed in and perfectly executed, which is exactly what Goldwin strives for with its impeccably designed, highly technical gear.
Philosophy in practice
Based in Toyama and Tokyo, the 70-year-old Japanese heritage brand is one of the most revered outfitters in the world, dressing the likes of Japanese and British Olympic skiers and everyday adventurers.
While most companies try to disrupt the sportswear space by making a big-name athlete the face of its apparel or overcomplicating silhouettes, Goldwin looks to nature. It creates apparel that has as little an impact as possible on the environment. It's a guiding principle. So is design defined by intentionality, minimalism, and attention to detail. Free of distraction, Goldwin apparel leaves space for you to find your flow.
Creating durable duds in timeless styles that stand up to the rigors of sport is easier said than done, but Goldwin's delivered some mainstays, like the Gore-Tex Fly Air Jacket and Pertex Shield Air Pullover.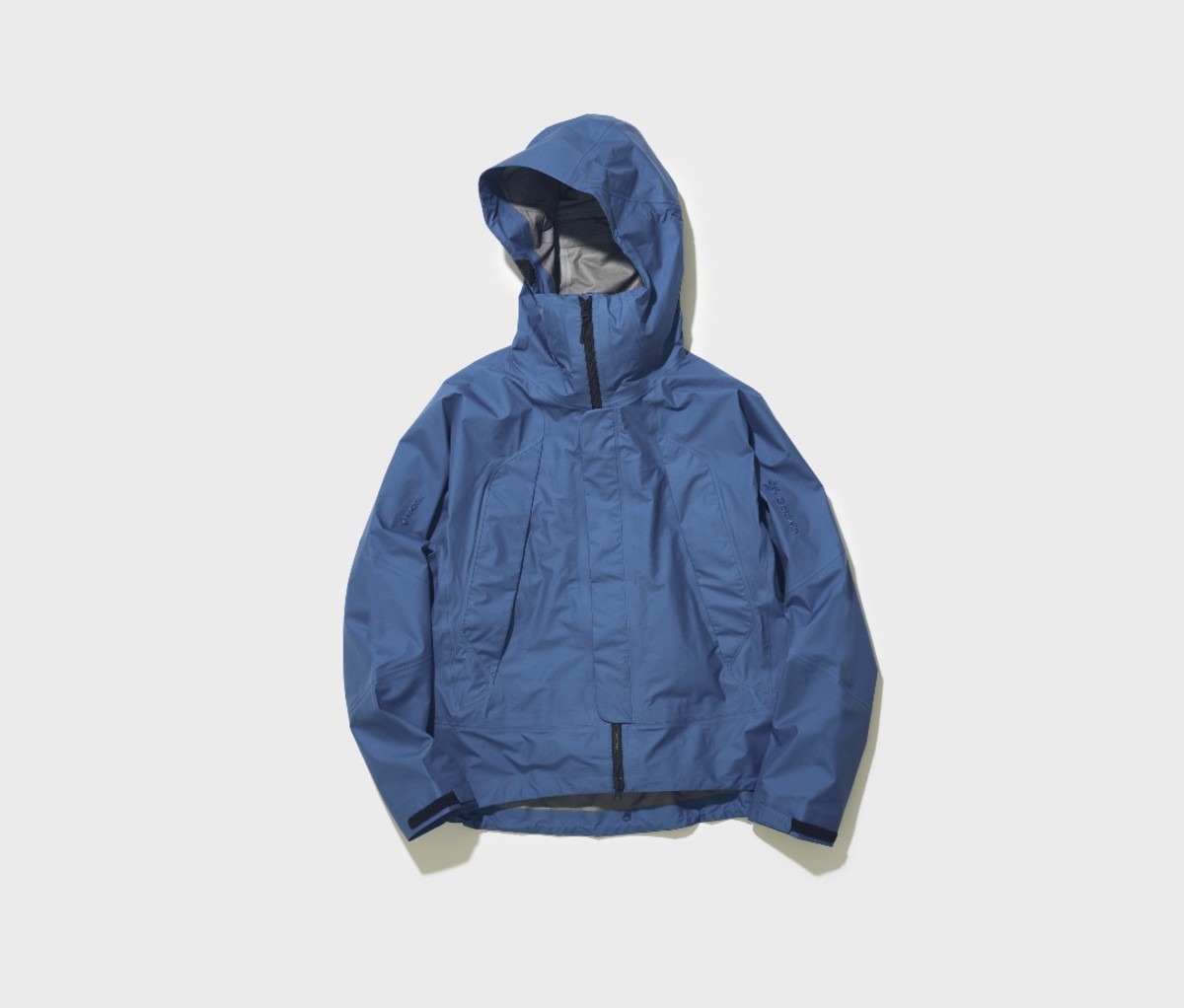 Courtesy Image GORE-TEX Fly Air Jacket
Subtle and unobtrusive, this jacket provides thoughtful technical features for winter and wet weather. It's one of the lightest waterproof, breathable Gore-Tex jackets available thanks to a veil that keeps moisture out while letting sweat evaporate. Its distinctive silhouette was inspired by the eye-catching acrobatics of flying squirrels as they soar through the trees—the same unfettered movement of a freestyle skier carving down a mountain. Goldwin's Fly Air is equally at home backflipping off a snowy pillow as it is summiting an alpine peak. The front of the jacket is subtly shorter to free your legs from encumbrance, and the neck is high to lock in heat when it's cold. Broad, flat-lying flaps divert water from the jacket's pockets; and pocket flaps cleverly fold back and Velcro open to provide venting on warm days.
[$730; usshop.goldwin-sports.com]
Get it
Courtesy Image PERTEX SHIELDAIR Pullover
This ingenious jacket allows a small amount of air to pass through the fabric, channeling excess heat and moisture from the inside out. By precisely controlling the structure of the membrane and lamination process, the PERTEX SHIELDAIR Pullover approaches an age-old issue from a different angle. It allows sweat to escape, maintaining wind and waterproofness, without jeopardizing the jacket's soft, stretchy feel and silent fabric. It's loose fitting for full mobility. Elbow-to-waist zippers on each side of the pullover snap at the bottom to block wind, as does a high collar with an asymmetrical zipper to minimize interference in front of the face. Sizeable mesh storage pockets stash essentials like fuel for the day. Split velcro at the wrist is flexible and comfortable worn over or under gloves. It's a thoughtful detail that's easy to miss until you slip the jacket on.
[$450; usshop.goldwin-sports.com]
Get it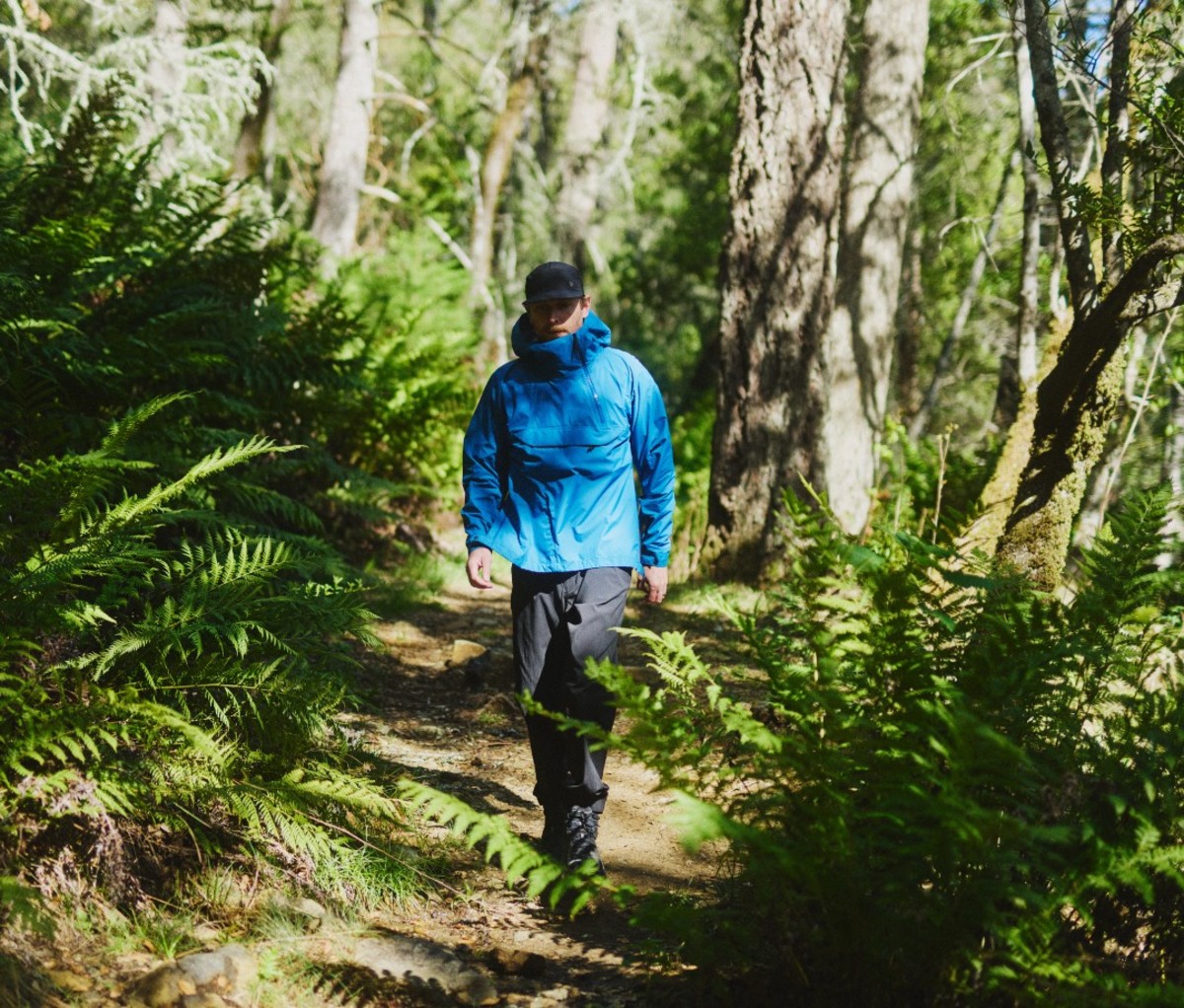 Courtesy Image
Both the fully waterproof Fly Air Jacket and breathable PERTEX SHIELDAIR Pullover are four-season jackets that seamlessly adapt to your activities, pursuits, and preferences.
Of course, a jacket isn't meant to be worn alone. Goldwin crafts its shells as the outer layer of an ecosystem that includes a baselayer and midlayer so you can dial in protection and comfort no matter the activity level, temperature, or weather.
Typically, you want to start with a technical baselayer that can assist with moisture management, drawing excess heat and sweat away from your body. A midlayer should be insulating while further dissipating excess heat. And an outer layer should keep weather at bay. (Refer to Goldwin's layering guide for greater intel.)
On an alpine ski day with sub-freezing temps, layer Goldwin's Polartec Delta Long Sleeve Tee under the Fly Air Down Jacket; you'll be cozy on the lift ride without overheating on the ski down.
For trail running up a peak, or laps around your local trails, start with the Stretch Melange Tee Shirt. If you run cold, add a midlayer like the Stretch Grid Zip Hoodie, then top off your kit with Goldwin's Pertex Shieldair Jacket. Pertex is air permeable, which suctions excess heat and sweat out faster during high-output activities, keeping you dry and comfortable for longer.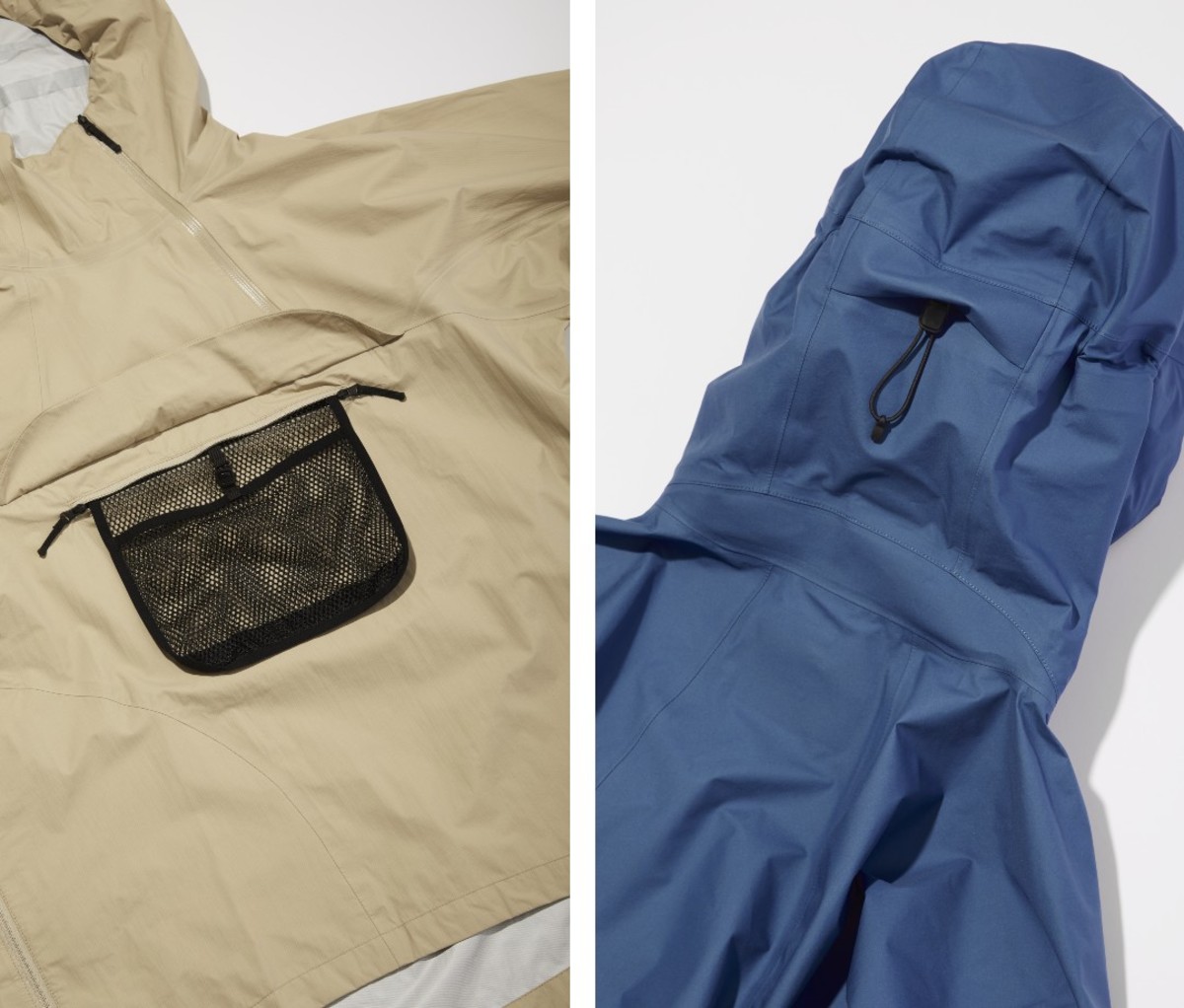 Courtesy Image An eye for innovation
Smart membranes and next-level waterproofing aren't the brand's only innovations. When you've been around for 70 years, you learn a thing or two about thinking big. You also keep in mind the future matters.
You may not know, but foodstuffs like onion skins and avocado peels have natural (somewhat surprising) pigments. Goldwin uses the root vegetable to make its aptly named Yellow Onion dye. Similarly, its Light Indigo colorway comes from indigo leaf, Black from bamboo charcoal, and clay beige and khaki green from olives. These jewel-toned natural dyes are used to create recycled nylon coats, windbreakers, and caps.
And just recently, Goldwin announced its latest approach to performance-enhancing, planet-saving technologies with Goldwin 0, a new experimental platform consisting of functional clothing for both men and women that exists beyond categories, labels, and borders. The line includes WHOLEGARMENT, the world's first seam-free wool ski sweater.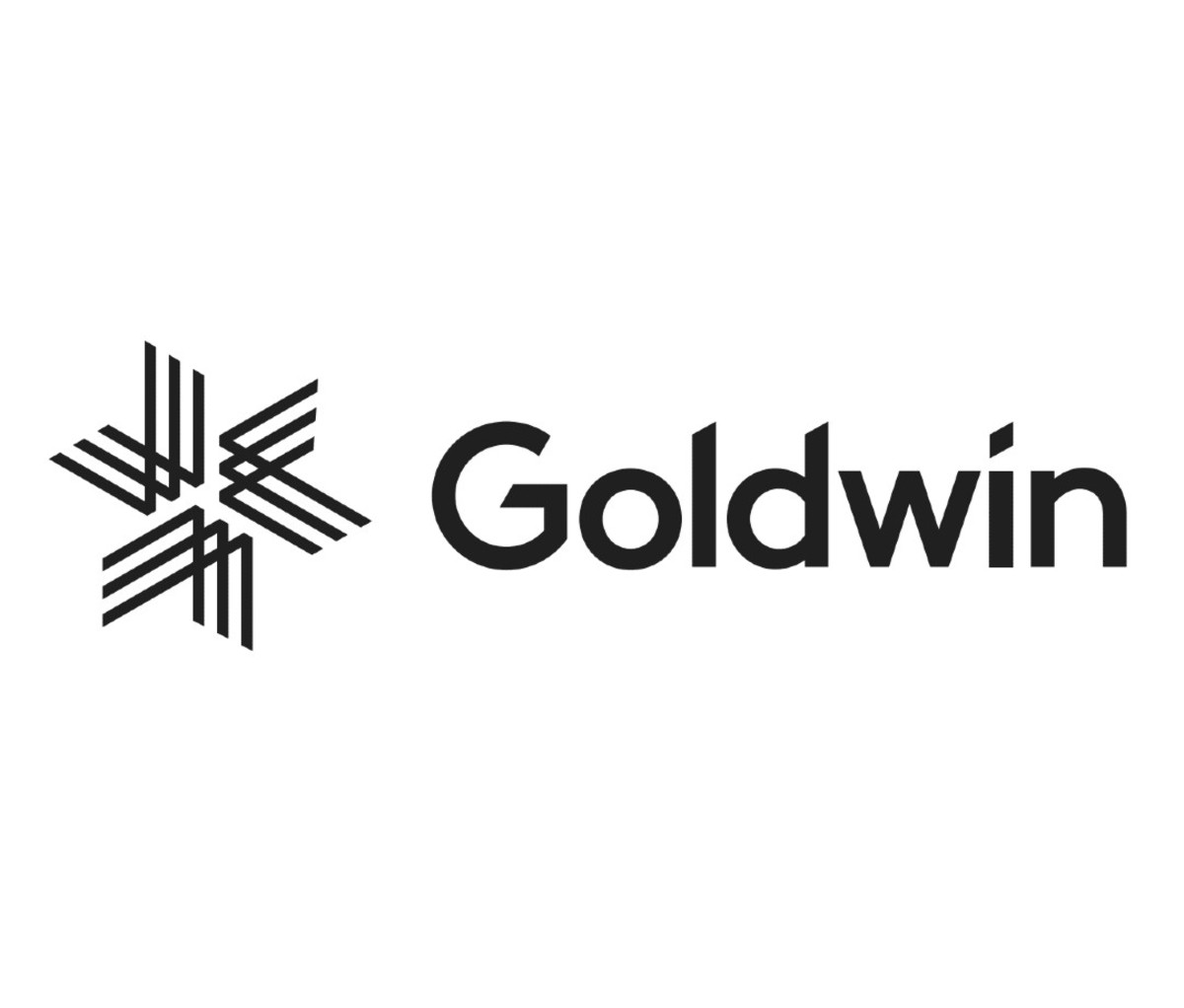 Courtesy Image
Goldwin's logo depicts the "shape and magnificent scale of nature," as well as the dynamism of the athletes who wear their apparel. Whether they're making gear for world-class athletes or weekend explorers, Goldwin strives for the same purity of experience and exceptional performance. Because only when gear performs seamlessly does the line between man and nature truly disappear.
Learn more and shop products at goldwin-sports.com.