Motor Sports Take on the Future
Off-road rally racers whine wheel-to-wheel in clouds of desert dust, scrambling past rocky outcroppings, catching air over the peaks of wind- swept dunes and, at times, colliding and crashing. The scene might sound otherworldly—like Star Wars podracing—but the event in Al-'Ula, Saudi Arabia, in April 2021, was the inaugural race for a new series called Extreme E, which bills itself as "a radical new concept of electric racing, in the most remote corners of the planet."
Now Extreme E is back for a second season, kicking off in February in Saudi Arabia, followed by a provisional event calendar that includes races in Senegal/Egypt (May), Greenland/Iceland (July), and Chile (November). Each event highlights desert, ocean, glacier, Arctic, Amazon or other stunning landscapes, and offers a "legacy program" such as, in Senegal, mangrove restoration.
Extreme E was created by Spaniard Alejandro Agag, named Motorsport Hero for 2021 by the U.K.'s Autocar magazine. Agag is also founder of the Formula E series that took F1-style racing all-electric starting in 2014. Extreme E is now sanctioned by FIA, the juggernaut that runs Formula 1 and Formula E.
Fans currently aren't allowed to attend the "leave no trace" races. Courtesy Image
Extreme E wears its scout badges openly. It chooses venues already altered by climate change and says it's an "all-electric racing series with a purpose—to raise awareness of climate change." Its intended audience is Gen Z and millennial "electric car buyers of tomorrow." Teams start with a 536-horsepower, all-wheel-drive racer made by Spark Racing Technology called the Odyssey 21, powered by a 54-kilowatt-hour battery pack. Green hydrogen—made via solar panels or wind, depending on location—is used to charge the cars.
There's another noteworthy twist: gender-equal racing. Each team has a male and a female driver, each taking a lap apiece. Extreme E says the traditional gender split in motorsports has been 90 to 95 percent male. The goal is to increase female participation.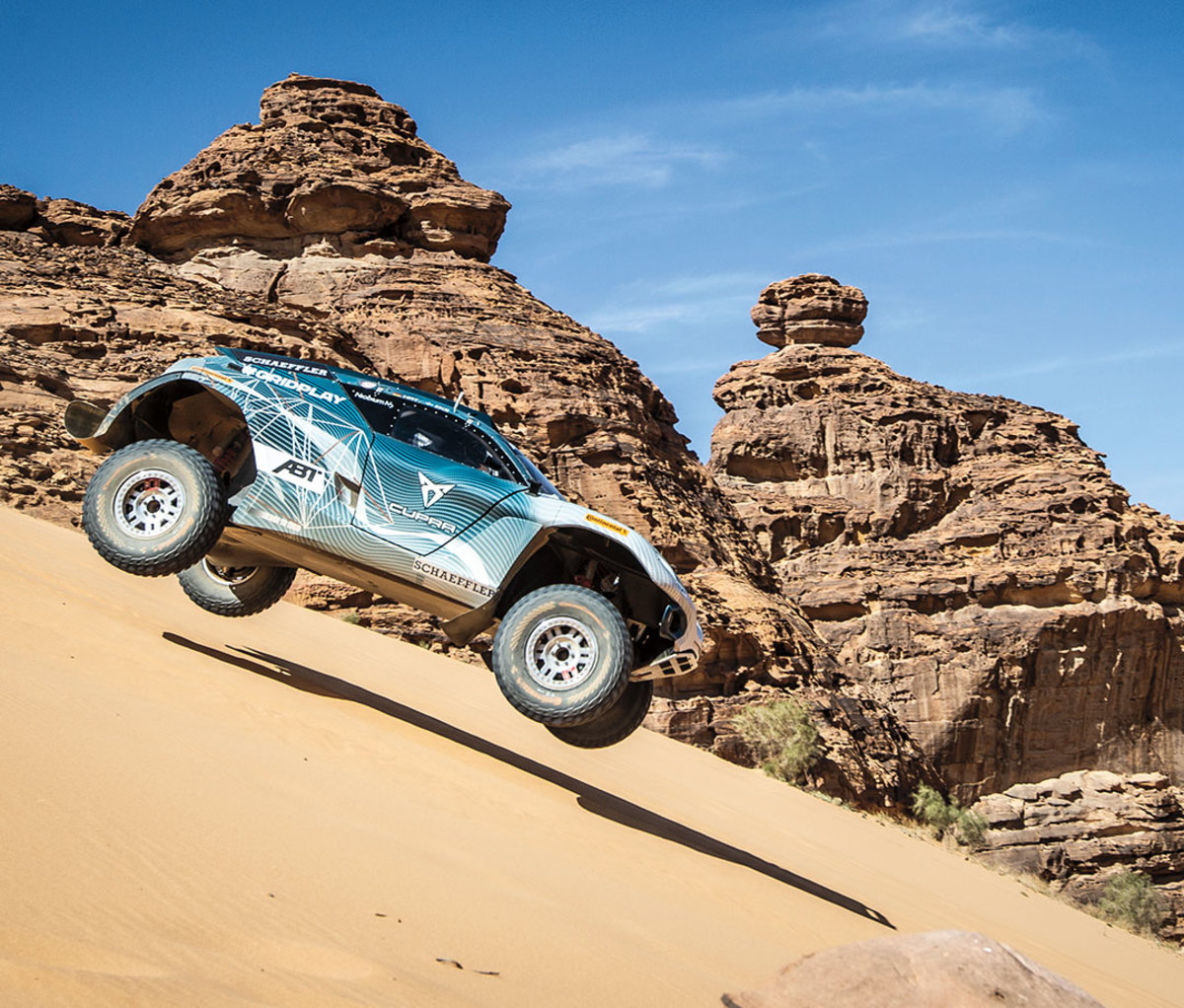 Courtesy Image
Although Extreme E might connect on a lot of issues, it doesn't yet offer much of a thread to production of EVs. GM, for instance, confirmed its relationship is marketing-related—bringing the look of the GMC Hummer EV to the Chip Ganassi Racing team's car. "We hope as the series develops more manufacturers come on board so they can use Extreme E as a test bed for consumer-facing technologies," says Agag.
The 2020s will be a time of climate reckoning. E Extreme thinks it may be racing's best gambit to remain relevant while reinvigorating a new generation's excitement for cars.