Healthy Millet Recipes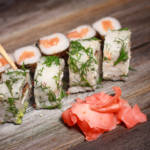 Healthy Millet Recipes HealthifyMe HealthifyMe – The definitive guide to weight loss, fitness and living a healthier life.
The uses of millets are diverse. You can cook them for breakfast, lunch or dinner. Use millet rice instead of white rice in your recipes, and your dishes will be significantly healthier. Given below is a rice-substitute millet preparation recipe.
Print #1 Vegan Millet Sushi with Roasted Root Vegetables and Broccoli Cream
Course Appetizer
Keyword broccoli cream, rolls, vegan millet
Servings 5 sushi rolls
Ingredients
For the Roasted Root Vegetables
1 tbsp oil
1/4 tsp salt
100 g each of carrot, turnip, root celery, and beet strips
For the Broccoli Cream
50 g each of peeled sunflower seeds and broccoli florets
180 ml cold water
1 tbsp soy sauce
For the millet
250 g uncooked millet
1.2 litre water
1/2 tsp salt
You will also need 5 nori sheets and tamari sauce for serving.
Instructions
Bake the vegetables first. Preheat the oven to 400F, put your vegetable strips onto a covered baking tray with a sprinkle of oil. Add some salt over the vegetables and bake them in the oven for 35 minutes or lightly browned. Take the tray out of the oven and allow the baked vegetables to cool.

Now, mix the millet with water and salt and bring it to a boil. Boil this mixture on medium heat for about 15 minutes. Once it has softened, keep it aside and let it cool down.

Boil the broccoli florets and sunflower seeds in water for 15 minutes and then drain and rinse these boiled vegetables with cold water. Add this cooked broccoli and sunflower seeds to a blender with cold water, soy sauce, and vinegar. Blend for a handful of minutes until you obtain a smooth mixture and set it aside.

Take a rolling mat and your nori sheets and prepare to make your sushi. First, add about a tablespoon of millet and spread it out. Then add some roasted veggies and a little of that broccoli cream.

Moisten the top of the nori sheet with some water and roll it into a tight sushi roll. Repeat the same process five times and then use a sharp wet knife to cut the sushi into pieces. Serve this sushi with leftover broccoli cream and tamari sauce. Enjoy your millet rice sushi.
The post Healthy Millet Recipes appeared first on HealthifyMe.