Esmé Brings Old-School Charm and Panache to South Beach
The hospitality industry can feel trite as a frequent jetsetter. Chain hotels' corporate gyms, sprawling lobbies, and impersonal design often give the perception of Groundhog Day, distilling your experience into something lackluster. Even if you don't travel often, there's a world to be gained by booking a boutique hotel. Case in point, Miami might be your destination, but a stay at Esmé, a Preferred Hotels & Resorts property, transports you beyond. It delivers travelers to a bygone era.
You might overlook the property amid diners eating al fresco on Española Way, but when you pass through the threshold into the 145-room boutique hotel, it feels as though you're slinking through the best of the Mediterranean over the decades. It's not distinctly Spanish or French, but the sentiment is unmistakable as you meander through white-washed Spanish-style paseos and Art Deco-designed rooms that imbue France's Années folles ("the crazy times" of the '20s).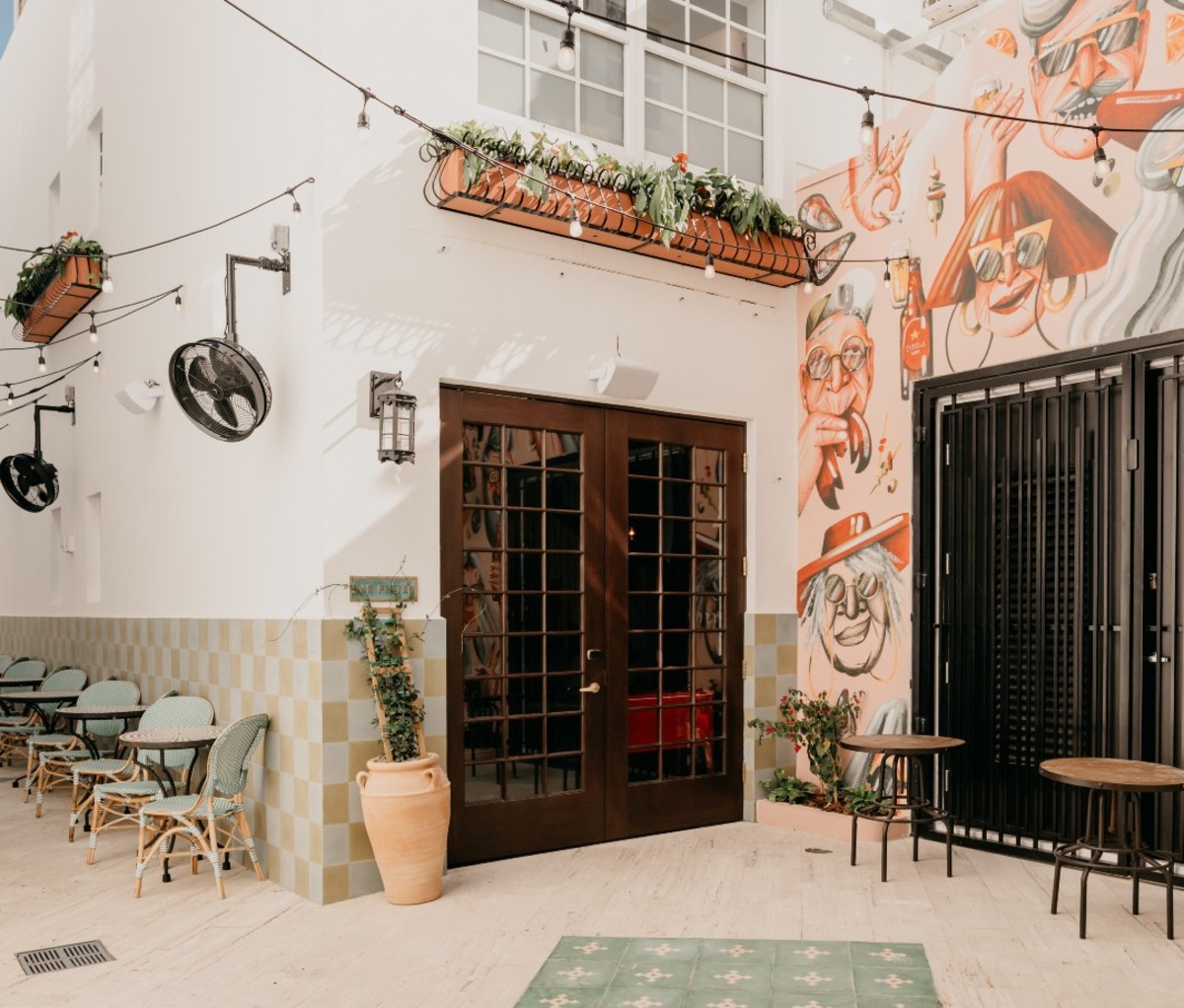 Stroll down Spanish-style paseos to enjoy tapas from Bar Pintxo. Jen Castro
In the 1930s, what's now the hotel's main building served as Al Capone's underground gambling syndicate. Later, actor and bandleader Desi Arnaz (I Love Lucy) was known to frequent the spot and get a little rowdy. Jessica Schuster Design was tasked with reinventing what was formerly a youth hostel known as The Clay Hotel into what you see here. The renovation took five years and a whopping $40 million, drawing inspiration from the energy of hustlers, vagabonds, icons, and creators of all crafts,
A tribute to the past with an eye on the future
Getting here from Miami International Airport (MIA) is a breeze; it's just a little over 10.5 miles away—a 20- to 25-minute drive.
Esmé's location puts you right in the middle of South Beach, a paragon of entertainment. You're a five-minute walk to Miami Beach, a quick stroll to Lincoln Road for shopping, and in the midst of the Art Deco historic district—fitting as Esmé's stomping grounds used to be an artists' colony coined "Historic Spanish Village." Nights out often run into mornings for tourists and locals, so if you're seeking a quiet respite and seclusion, North Beach might be the better alternative.
While it's not a sprawling compound, you're definitely not confined. The property comprises Esmé Village, home to 145 rooms and suites; a roof-top bar and pool with sun loungers; and five on-site bars and restaurants: El Salón, Bar Pintxo, The Drexel, Tropezón, and The Roof. Across the street, you'll find Casa Matanza with 42 additional bedrooms and suites. Let's start with your accommodations.
Where to Stay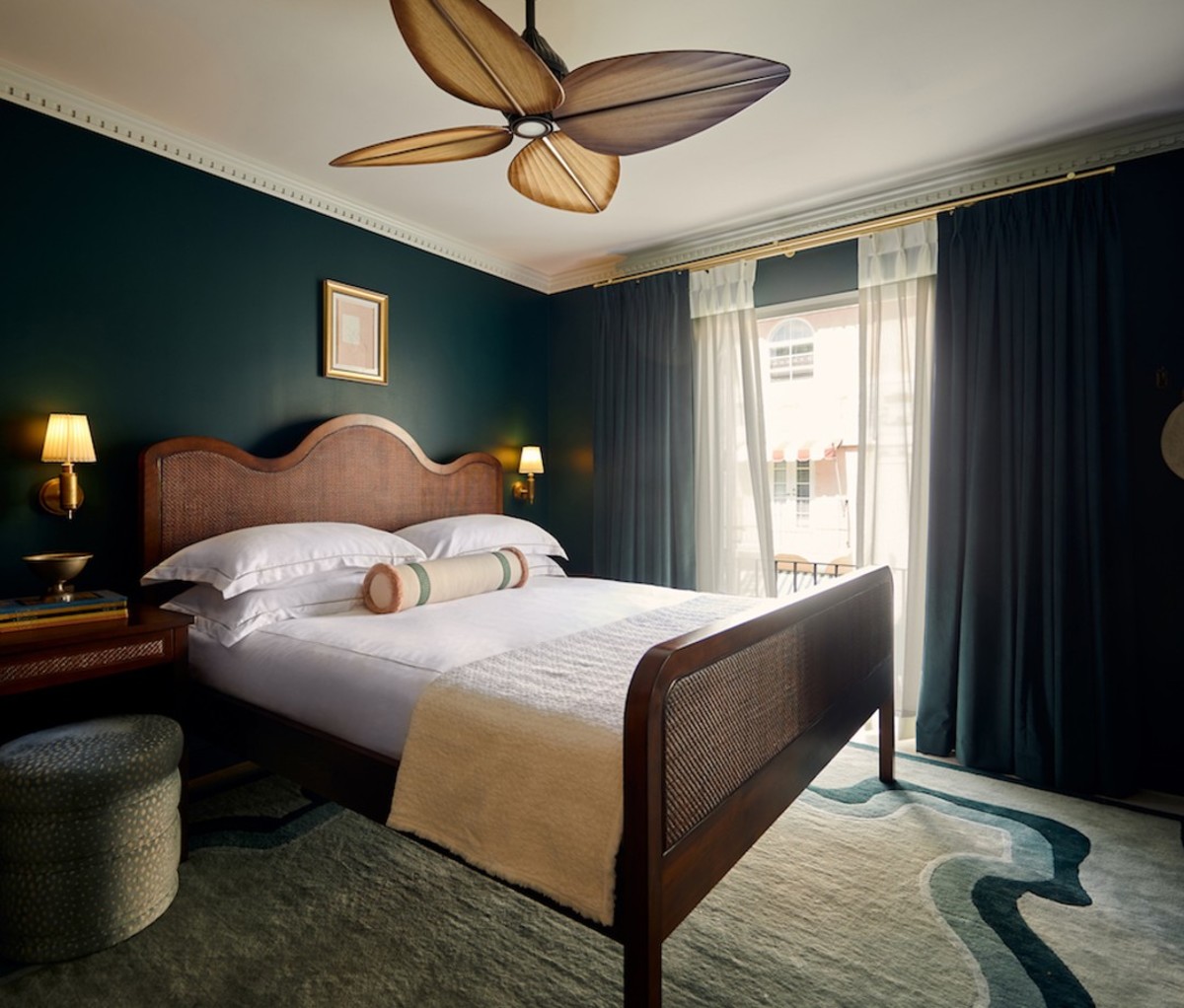 Rose and emerald are two recurring color themes throughout Esmé's Village Bedrooms. Courtesy ImageEsmé Village Rooms & Suites
Esmé Village is airy and luxe. Rose and emerald hues are the main color palate with sumptuous textures and wood elements paying homage to cosmopolitan heydays. You've got all the luxe creature comforts: Grown Alchemist toiletries in the shower, plush robes in the wardrobe, and Bellino linens hand-crafted from Italy on the bed. Corner suites have expansive living rooms ripe for a quick lounge or afternoon drink—though with so many bars to belly up to, it'd be a shame to hide out. A Village Balcony King or Española Suite offer private balconies overlooking Española Way and plaza (just note it remains bustling into the wee hours).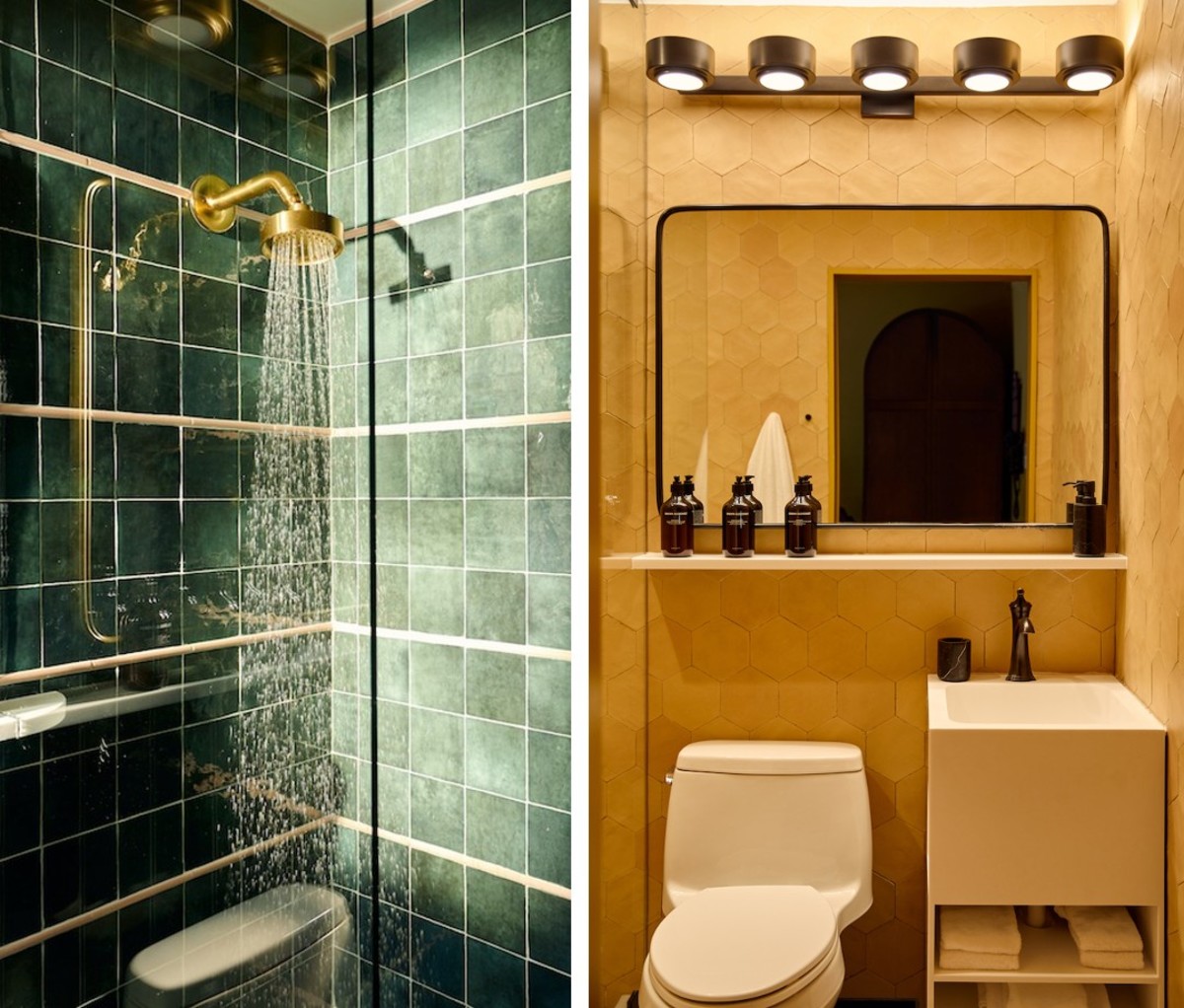 Courtesy Image
Corner suites like Louise Suite err on the peachier side of the spectrum with pink tile and ocean-themed prints adorning the walls; they boast French balconies, so you can get some fresh air even if you can't perch on your own walk-out terrace. And if it's space you need, a Village Deluxe King affords you more room to sprawl out.
Matanza Rooms & Suites
Moodier and with more panache, Matanza Rooms and Suites have an eclectic combination of colors (chartreuse, merlot, and gold), textures (velvet), and prints (florals and leopard print). We recommend these rooms if you want to have a finger on the pulse of the nightlife—but have the opportunity to remove yourself from it all. The Matanza Suite, Balcony King, and Capone Suite are sublime options (upgrading to a suite is well worth the extra cash so you don't feel confined). The same amenities apply; each room reinvents an era or locale, creating a playful, restful space for modern-day travelers just as Española Way created a safes pace for artists all those years ago.
Where to Eat
Jen Castro Bar Pintxo
Those paseos we mentioned before refer to the act of paseo, which loosely translates to "a leisurely usually evening stroll," a Spanish tradition in which locals walk around after work, frequenting plazas for tapas or a drink before a late dinner. Bar Pintxo is like your favorite hole-in-the-wall bar for a beer and a bite. On offer is a rotating smorgasbord of Basque-style tapas like boquerones, tortilla Española, croquetas, anchovies, and more. No reservations are needed. Just pop in, pick a handful of foodstuffs then get a frosty beer on tap and sit outside. It's the perfect outpost for an afternoon snack after shopping or sunbathing. If you're lucky, there will be live music.
El SalónEl Salón
A martini is always a good idea, whether you're starting or ending your night. At El Salón, mixologists have masterminded their own unique blend of spirits to bring you riffs on classic cocktails. All have been funneled into three categories: Traditional (highballs and 1:1 mixed drinks), Extraordinary (on the rocks or neat), and Versatile (strong or citrus-driven cocktails).
Try their takes on a traditional gibson, Manhattan, or vesper. Fancy something retro? Go for a Harvey Wallbanger (vodka, orange, yellow Italian herbal liqueur, and orange bitters), jungle bird (white rum, red Italian bitter, pineapple, and lime), or a hand-shaken piña colada (dark rum, versatile white rum, pineapple, and coconut).
You'd be remiss to skip the Latin-influenced small plates. Nosh on charred lobster tostada, pulled pork arepa, and short rib empanadas. Need something a bit more substantial? Try the crispy Creole snapper with Haitian pickled vegetable relish and New Orleans-style remoulade. The space is dimly lit and intimate, so you'll be dining among locals on dates as well as guests of the hotel.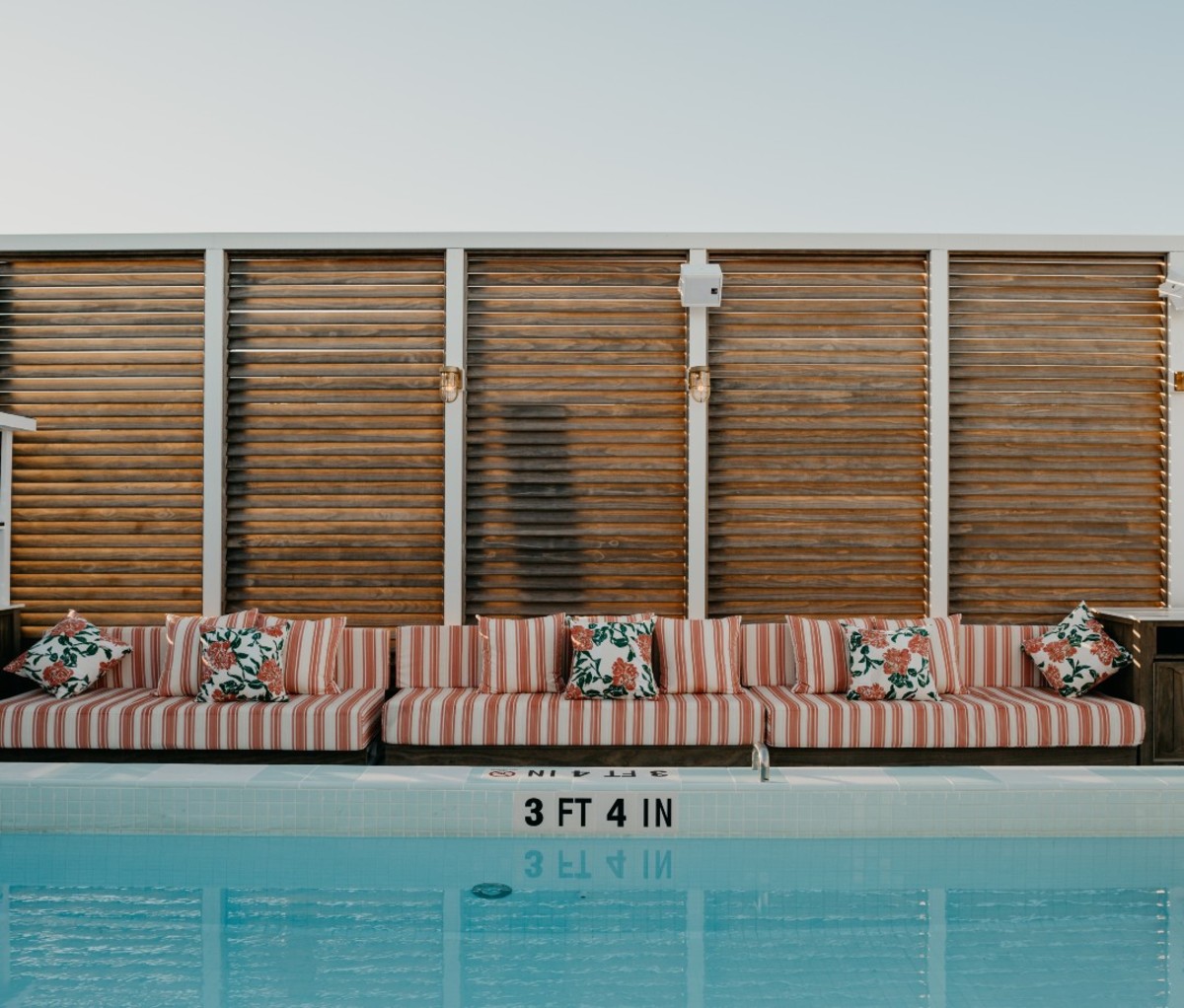 The Roof's pool is available only to guests, so there's ample room to sunbathe on loungers or soak in the pool. Jen CastroThe Roof
The Roof is the kind of space that makes you hard pressed to leave the property. While the hotel offers towels and chairs for the beach just a short walk away, there's something about being pampered on vacation, sprawling on a daybed, getting up only to take a dip in the pool. You don't even need to leave your perch; servers will bring your fare straight to you, even if you're in the pool.
The Esmé Burger stacks Wagyu A5 beef, sambal "animal sauce," fried and caramelized onions, smoked gouda, and bacon between a challah bun. From personal experience, we can tell you it pairs perfectly with a sunburn and a margarita. Come night, the space transforms into a buzzy nightclub of sorts. Dance under the stars or sip sangria on a sofa. The choice is yours, and there's no wrong one.
Note: While Esmé Miami pool is only available to guests, there are only five larger daybeds set along the pool, so get there early. If one's not free, don't sweat; there's a whole area of sofas between the pool and bar to camp out on.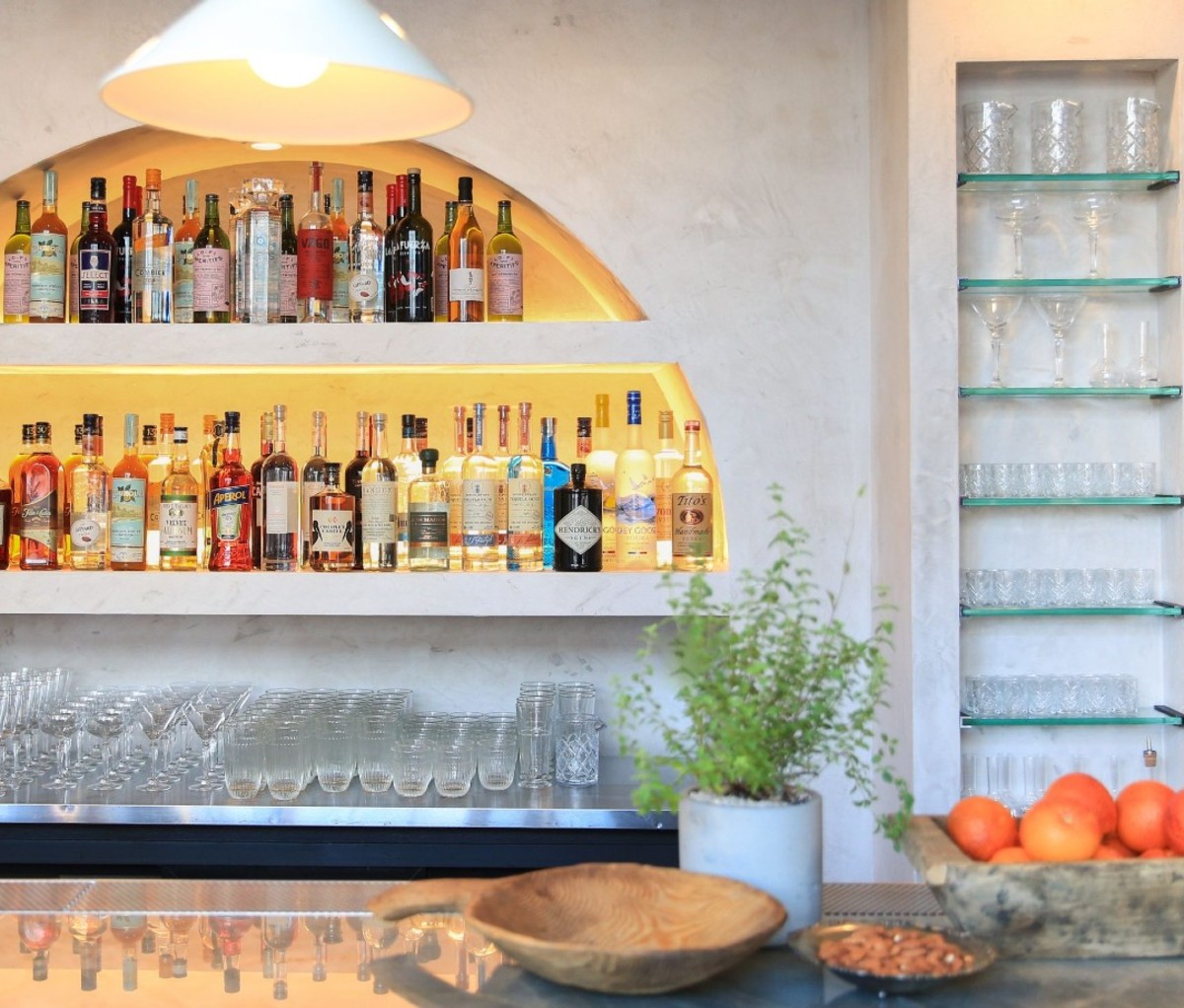 Courtesy Image The Drexel
Mediterranean fare awaits at this breezy spot. It's evocative of Europe's main summer haunts and coastal towns. As such, the menu is heavy on the seafood and has a whole section dedicated to vegetable dishes, as well as a bevy of pastas and pizzas, and ones made entirely in The Drexel's wood-fire oven and charcoal grill (think wild prawns, braised lamb shank, and roasted chicken with salsa verde).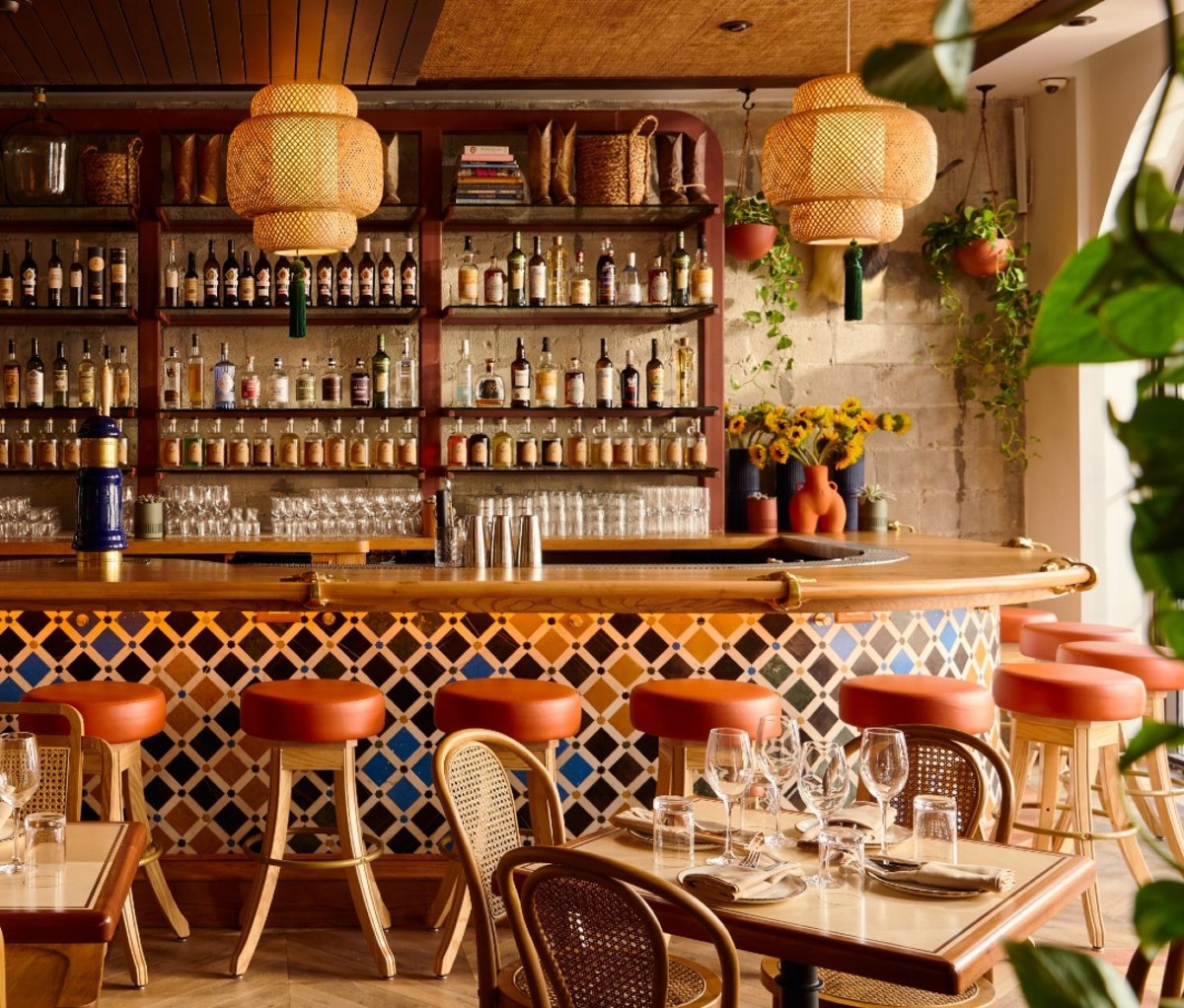 Courtesy ImageTropezón
Keep the tapas comin' at this Andalusian gin bar. Housemade gins infused with aromatics (e.g. Moroccan mint, blue matcha yuzu, and Egyptian lemongrass), fruits (e.g. sour cherry, nectarine, and backyard mango), nuts (Sri Lanka coconut or marcona almond), and even cured meat (bellota iberico or hojiblanca alive) are the main draw, but you can order any number of craft gins from the custom-tile bar. Go classic with a G&T or choose one of the spirits from the signature infusion program to reinvent your go-to libation.
Dishes are meant to be shared and feature traditional Spanish standbys like patatas bravas, jamon iberico, and tortilla española. Don't miss the Belgium endive salad and local fish bathed in an albarino-olive butter sauce with a side of Israeli couscous. Cap the meal with an espresso martini. It's made with Tropezón's housemade Madagascar vanilla gin and gets a dusting of chili powder for a touch of heat. It's a brilliant hangout whether you're able to squeeze in at the bar or nab a table.
Your first impression of Esmé remains a lasting one: This is not the typical Miami experience.
First time in Miami? Use our four-day weekend guide to build the perfect itinerary.