16 Delicious Meat-Free Vegetarian Mexican Recipes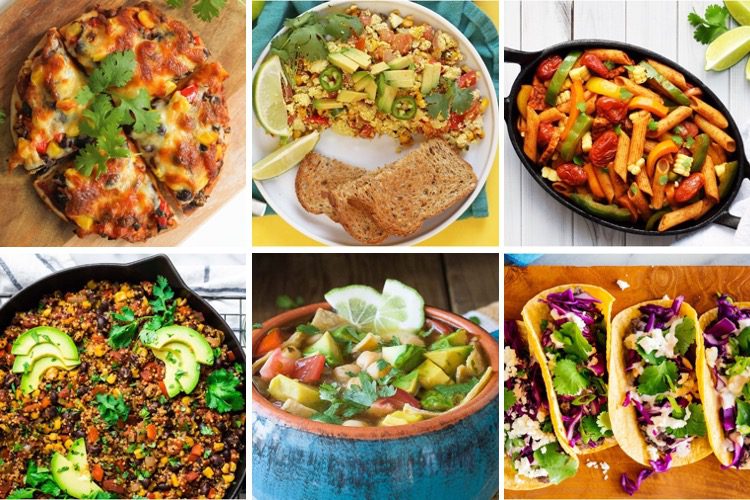 For our avid followers, you should know by now that we love anything Mexican when it comes to food. Aside from being delicious, Mexican dishes are always packed with flavour, herbs and spices and you can easily experiment in each recipe that you bump into without any problem. We've rounded up some of the best meat-free and vegetarian Mexican recipes that we can find just for you.
1. Healthy Vegetarian Mexican Casserole with Rice & Beans
via Piping Pot Curry
Casseroles are one of the best dishes ever invented since they are usually very easy to make and would always be delicious. This Vegetarian Mexican Casserole is exactly that! Oozing with cheesiness and packed with healthy veggies, this is a main dish that you can have anytime! Another thing to know is you can easily freeze leftovers.
2. Easy Black Bean Tacos
via Cookie and Kate
This won't be a "Mexican Recipe List" without any tacos, of course. Tacos are traditional Mexican food that are served with a tortilla and topped with any filling (usually meat) but this Easy Black Bean Tacos are just as good and filling! A very easy recipe to make and at the same time comes with different options on what you want to include.
3. Vegetarian Mexican Rice
This simple yet delicious vegetarian Mexican rice is truly filling and still packed with flavours. Perfect as a side dish or even as a main meal.
4. Vegetarian Taco Salad
This Taco Salad is something you should keep in mind. It's the prefect light vegetarian meal that you can have with family and friends. Another good thing about this is it's a high protein vegetarian meal.
5. Healthy Mexican Burrito
If you love burritos, you'll definitely enjoy this one too. This vegetarian Mexican recipe for burritos recipe is super easy to make and packed with brown rice and black beans with a delicious chipotle enchilada sauce! An all-around meal that you can have for breakfast, lunch or dinner.
6. Vegetarian Mexican Pizza
Here's a very simple pizza recipe that you can make at home the next time you're running out of ideas. Using just your pantry staples, this is a vegetarian pizza that you'll surely love and always remember.
7. Salsa Verdes Black Bean Enchilada Mexican Plant-Based Casserole
via Plants Rule
A mouthwatering recipe that you can easily make preserving the flavours of an authentic Green Salsa Verde Enchiladas! This plant-based casserole is a real treat and bursting with all the right Mexican flavours. You can also freeze leftovers!
8. Vegetarian Mexican Sopes
via Ole Rico
Sopes is probably one of the underrated Mexican foods out there. This is somewhat similar to tortilla but the main difference is the thickness. If you're looking for something new to try, you might love this one.
9. Healthy Mexican Casserole with Roasted Corn and Peppers
via Pinch of Yum
Here's another healthy take on a Mexican Casserole. Filled with roasted corn and peppers, oozing with cheese and with a delicious enchilada sauce, this is a perfect leftovers for lunches.
10. Mexican Quinoa
via Well Plated
In just about 30 minutes, you get to enjoy this delicious and healthy Mexican Quinoa! A very easy to make one-pan vegetarian dish that's complete with the right Tex-Mex flavours. This might be your next favorite!
11. Vegan Sweet Potato Fajitas
Fajitas are some of the most popular Mexican dishes and it's no wonder since it's easy to prepare and just amazingly delicious. This healthy take on fajitas uses sweet potatoes and mushrooms as a swap on your usual meat ingredient. Enjoy!
12. Mexican Tequila Lime Chickpea Soup
It's the perfect season for soups again and this chickpea soup is just a perfect choice! With just only 390kcal per serving, this would be your next Mexican favorite! Another plus is it's completely vegan and gluten-free.
13. Vegan Taquitos with Chipotle Sauce
via Vegan Heaven
Taquitos, anyone? This recipe is the ultimate comfort food! Paired with delicious chipotle sauce and such an easy recipe to make, you'll surely love this one.
14. Veggie Fajita Pasta
via Go Dairy Free
This gluten and dairy-free pasta recipe is something you must try! In under an hour, you get to enjoy this Veggie Fajita Pasta with your family and friends. Perfect as a lunch or dinner meal!
15. Mexican Tofu Scramble
via My Darling Vegan
Looking for a delicious and powerful breakfast meal? This Mexican Tofu Scramble is just the prefect one you're looking for! Not everyone's a fan of tofu but you might consider giving this a go and might just like having it in the future.
16. Slow Cooker Tortilla Soup
We all love slow cooker recipes since they are very easy to make. This Tortilla Soup is the perfect combination of our love for slow cookers and anything spicy! Perfect for the cold weather, this is another soup recipe that you should try.
The post 16 Delicious Meat-Free Vegetarian Mexican Recipes appeared first on Food For Fitness.