13 Tasty Filipino Recipes You Must Try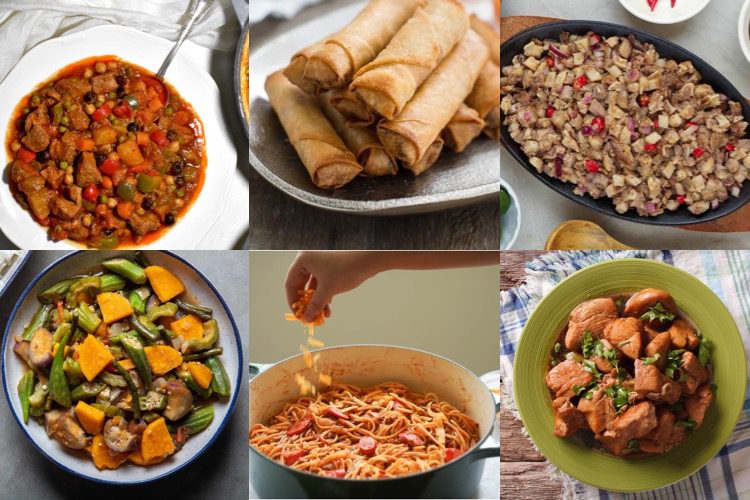 I've always thought of Filipino cuisine as a fusion of different flavours from all over the world. Our very own recipes are usually influenced by other Asian countries and of course, Spanish cuisine. If you haven't tried any Filipino dishes yet, better give the following popular recipes a go since they are definitely flavoursome! Aside from richness in flavour, you'll also notice that they are basically high in protein and can be easily tweaked to your preference.
1. Bicol Express
If like me, you LOVE spicy foods, this should be on your must-try list. Bicol Express is a local delicacy made of lean pork, coconut milk and cream, and LOTS AND LOTS of chillies. I grew up in Bicol and this is one of the recipes that I dearly miss since the Bicolanos make the best Bicol Express!
2. Chicken Adobo
Chicken Adobo from High Protein Handbook 4
Should there be a national Filipino food list, I'd say Adobo is at the top of that list. This is a popular dish loved by so many! It's typically made with pork or chicken and marinated in vinegar, soy sauce, garlic and bay leaves. This slow cooker version by Scott is definitely something that you should try.
3. Filipino Spaghetti
Filipino Spaghetti by Hungry Huy
It might seem like a "rebel recipe" if you compare it to how Italians make their spaghetti but this one is something that's loved by all Filipinos! As a kid, this is one of my favourites when there's a special occasion – it has beef mince, hotdogs, and sweet tomato sauce. You'll never go wrong with this sweet and meaty spaghetti recipe.
4. Pork Menudo
Pork Menudo is another tasty Filipino recipe that you'll often find served at home. This pork stew is basically made with pork, pork liver (which you can remove if you don't fancy it, but it's really good!), potatoes, carrots, bell peppers and tomato sauce. I seriously think you can make this one using a slow cooker.
5. Chicken Tinola
Chicken Tinola via Asian Food Network
Next on the list is the popular soup recipe among Filipino families. Tinola is best paired with rice and it's perfect for the cold weather (or if you're feeling a bit sick). This simple soup recipe is made with chicken, papaya and chilli leaves. I've always considered this one of the healthiest Filipino recipes out there – it's high in protein and high in fibre.
6. Arroz Caldo (Chicken Rice Porridge)
Growing up, this was the perfect meal whenever I'm sick. Arroz Caldo is a hearty rice porridge that's packed with protein from chicken and egg and made deliciously with chicken broth and glutinous rice.
7. Pinakbet
Let's talk veggies this time! Pinakbet is a popular vegetable stew made with a variety of vegetables like squash, string beans, and courgette. The secret to this recipe is the use of fermented vegetable broth and shrimp paste. It's best paired with grilled meat and some rice.
8. Kare-Kare
For people who love peanuts or peanut butter, this is the perfect dish for you. Kare-Kare is a stew made with either pork or beef or just plain veggies. The traditional recipe uses ox tail and veggies like courgette, bok choy, string beans, and banana blossom with rich peanut sauce. This is best paired with "bagoong" or shrimp paste.
9. Lumpiang Shanghai
Lumpiang Shanghai by Kitchen Confidante
Filipino spring rolls or popularly known as "lumpiang Shanghai" is a real hit on any occasion. And when I say a real hit, you'll always find this food served and guests would always put it on their plates. It's made with pork mince and veggies (sometimes with shrimp) wrapped in spring roll wrappers. It is best dipped into a sweet and sour sauce or just plain ketchup would do.
10. Sizzling Sisig
Sizzling Sisig by Kawaling Pinoy
This next recipe is something that's best enjoyed with a cold beer if you ask me! Sisig is traditionally made with grilled pig face or ears but you can easily use tofu, chicken or other cuts of meat if you want to. This is a perfect appetizer which you can also have as a main dinner meal paired with rice.
11. Filipino Chicken Curry
When it comes to curry, you'll find different variations out there. This Filipino-style Chicken Curry is something to consider if you're looking for a new curry recipe. You might find it handy for your next slow cooker recipe.
12. Sinigang na Hipon
Sinigang na Hipon by Kawaling Pinoy
A popular Filipino sour soup, this is such a comforting food. It's very easy to make and packed with veggies! Although you can cook this with pork, beef, or fish, the Sinigang with shrimp is my favourite. Perfect for cold or rainy weather.
13. Beef Caldereta
Beef Caldereta by Recipes by Nora
This is also one of my favourites when it comes to Filipino foods. Beef Caldereta is a tomato-based beef stew that's pretty easy to make. It's made of beef, tomato sauce and lots of veggies. The key to this recipe is making sure that the beef is tender and it's best paired with rice.
The post 13 Tasty Filipino Recipes You Must Try appeared first on Food For Fitness.