Will Smith, Jada Pinkett Smith Had 'Sex Room' to Escape From Kids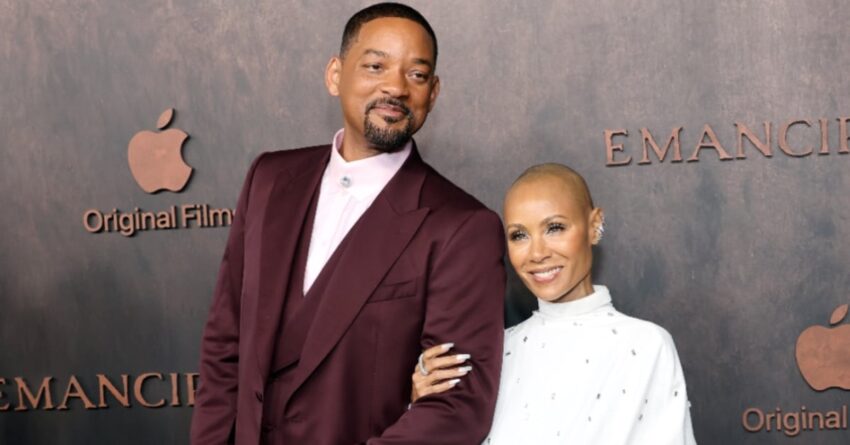 The world is learning way more about the marriage between Will Smith and Jada Pinkett Smith than any of us could have ever dreamed possible, thanks to Pinkett Smith's new memoir, Worthy, which hit shelves today on Tuesday, Oct, 17.
But in addition to bigger bombshells ahead of the book's release—first and foremost, that the couple have been separated since 2016 and living apart for the past seven years—some smaller tidbits are beginning to surface. One of the latest involves that the couple slept in the same bed as their shared children, Jaden, now 25, and Willow, now 22, and "continued to do so nightly for some years," until the situation became untenable.
As such, Pinkett Smith says she came up with a creative solution to get some alone time with her man.
"To give us our own space, I had even built a separate, beautiful love nest for us two grown-ups in our bedroom, complete with a domed ceiling full of twinkling stars," Pinkett Smith writes in her memoir, via Page Six. "But over time, the kids hijacked that room as well."
The sleeping arrangement only lasted until Jaden was about six, when the couple finally were able to encourage their children to start sleeping in their own beds. It's unclear if the "love nest" got any more action after that, as the 52-year-old admitted to feeling dissatisfaction with her role as the doting Hollywood wife well into their marriage in a previously released excerpt from the book.
"For two decades, I had been putting on a good face, going with the flow, telling everyone I was okay," the Girls Trip star explained. "Yet underneath, bouts of depression and overwhelming hopelessness had smoldered until they turned into raging hellfire in my broken heart. Unwelcome feelings—of not deserving love—made it harder to understand the disconnect between the so-called perfect life I had achieved and the well of loss I carried with me. Therapy helped up to a point. It got me to forty! But to what end?"
If nothing else, we now know that a sex room does not a happy marriage make, apparently.