Why Leonardo DiCaprio Views Martin Scorsese, Robert De Niro as 'Father Figures'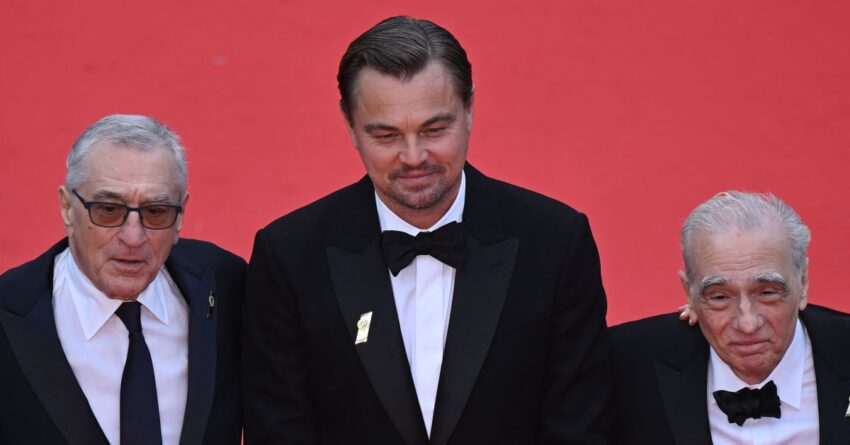 Killers of the Flower Moon marks the first time Martin Scorsese, Robert De Niro, and Leonardo DiCaprio have worked together on the same film, and for DiCaprio, it represents a full-circle moment in his career and in his life. 
The Titanic star reflected on his relationship with Scorsese and De Niro in a press conference on Nov. 15. 
"Well, in a lot of ways these two men that we're speaking to have been like cinematic father figures to me," he said honestly. "I got to do my first major starring role with Bob [in 1993's This Boy's Life], and he and I worked together. He told Marty about me, and I've gotten to do six films with him now. And here we are 30 years later." In addition to Killers of the Flower Moon, DiCaprio has been directed by Scorsese in 2002's Gangs of New York, 2004's The Aviator, 2006's The Departed, 2010's Shutter Island, and 2013's The Wolf of Wall Street. 
Related: 'Killers of the Flower Moon': Martin Scorsese's Next Film Is About One of the FBI's First Major Cases
Getting to see De Niro and Scorsese, who are both in their 80s, interact with each other on the Killers of the Flower Moon set was a true gift for DiCaprio. Sometimes, they wouldn't even use words to speak to each other. 
"It's been this amazing experience to be able to work with both of them together and watch their shorthand too," DiCaprio confessed of the experience. "The way that they sort of telepathically communicate things to one another on set by gestures and nods. And a whole scene can shift on a dime."
"I just remember fondly those rehearsals that we had together because it was an amazing creative process to get to that moment," he added. "And it could only happen with these two cinematic heroes of mine—they kept hammering home what is the truth of their dynamic over and over again."
DiCaprio is all grown up now from when he first worked with De Niro three decades ago. Now, he's De Niro and Scorsese's peer rather than their protégé, though DiCaprio would probably insist on their superior status.