WhistlePig Just Released Its Rarest Three Whiskeys Yet
Men's Journal aims to feature only the best products and services. We update when possible, but deals expire and prices can change. If you buy something via one of our links, we may earn a commission. Questions? Reach us at shop@mensjournal.com.
Each year, WhistlePig pushes the boundaries of its own production, dialing in more control with each passing bottling. The ultimate representation of this quest for excellence is found in its annual limited-edition, farm-to-table whiskey series, FarmStock Beyond Bonded. The 2023 range takes things even further, producing what's being called the brand's rarest release yet. 
The FarmStock Beyond Bonded series adheres to principles of Bonded-in Bond whiskeys—deriving from rules laid out by the Bottled-in-Bond Act of 1897. In order for a spirit to be bonded, it must undergo a full distillation season at a single U.S. distillery, must be aged in a bonded facility for a minimum of four years, and must be bottled at 100 proof (50 percent ABV). Additionally, a consumer must be able to identify the location of the distillery and bottling facility label of the spirit. While these rules date back to an earlier era in spirits, they're becomingly increasingly popular again in the U.S.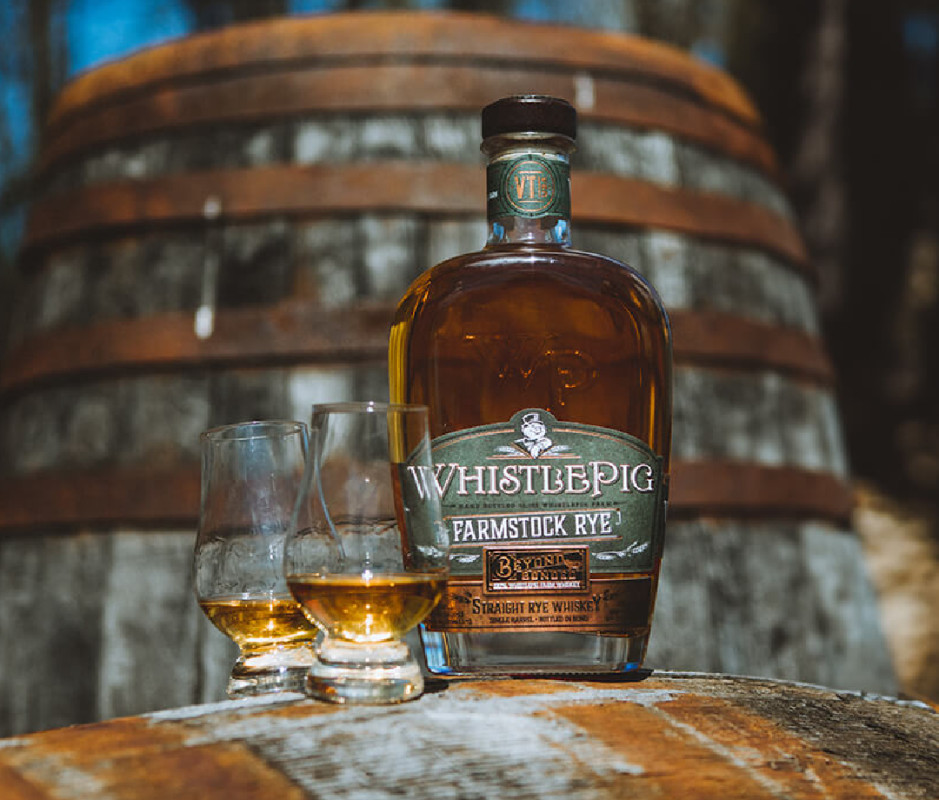 Rye is just one style in WhistlePig's latest boundary-pushing whiskey series, FarmStock Beyond Bonded.
Courtesy Image
For its Beyond Bonded series, WhistlePig takes its farm-to-table commitments even further. The grain, which comes from the brand's nine fields across 500 acres, is distilled at its facility in Shoreham, VT, in one season. Each bottle in the series has been distilled and proofed with the farm's own well water. The resulting liquid then matures for between (precisely) four years, one month and 30 days, and five years, two months, and 16 days in barrels made from WhistlePig's own estate-grown, sustainably harvested Vermont oak.
Related: WhistlePig Teams Up With Limavady to Create Single Barrel Irish Whiskey
The 2023 FarmStock Beyond Bonded series comes from just 23 barrels and features three whiskeys—FarmStock Rye, Beyond Bonded Bourbon and, for the first time, a straight wheat whiskey called Beyond Bonded Rye. Each has been bottled as a single barrel and is fully traceable at every step of the grain-to-glass journey via a QR code on the bottle.
"FarmStock Beyond Bonded is at the heart of our strongest commitments to the whiskey world," says Meghan Ireland, chief blender at WhistlePig. "Beyond Bonded is our greatest experiment in that we can control every detail of the process here on the farm, then turn that innovative spirit into whiskeys that are truly unique in quality and complexity. It started with rye, and we're having a grand time doing the same with bourbon, wheat, and other whiskeys."
Related: Los Magos Sotol and WhistlePig Whiskey Launch New Spirit
Some retailers have FarmStock Beyond Bond available online now—you can find the rye here—though its wheat whiskey release is especially scarce.
[Rye, $145; frootbat.com]