Westgate River Ranch & Rodeo: Florida's Authentic Dude Ranch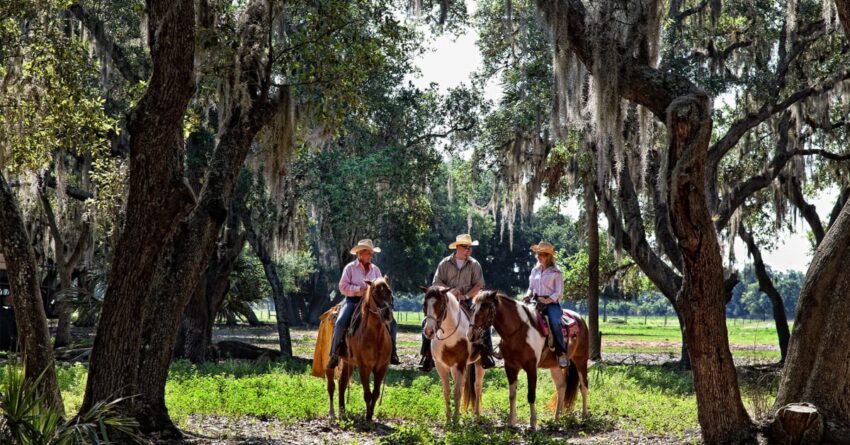 Adventure-seekers need not travel deep into the heart of Wyoming or Montana to visit a real-life dude ranch. Westgate River Ranch & Rodeo, located in Central Florida on the Kissimmee River, is a mere 90-minute drive south from Orlando International Airport, making it an accessible destination from just about anywhere in the United States.
But I already know what you're thinking—a dude ranch in Florida? Really? Well, as Ray Duncan, the resort's executive general manager will proudly tell you, Florida actually originated as the birthplace of the American cowboy (although Texans would argue otherwise). 
Back in the days before cowboys became synonymous with the American West, settlers known as "cracker cowboys"—named after the mini sonic boom their whips made in the air—migrated to the area to herd wild cattle that were first introduced to the area by Spanish colonists. Today, Westgate River Ranch sits on parts of the same land those first cowboys explored centuries ago.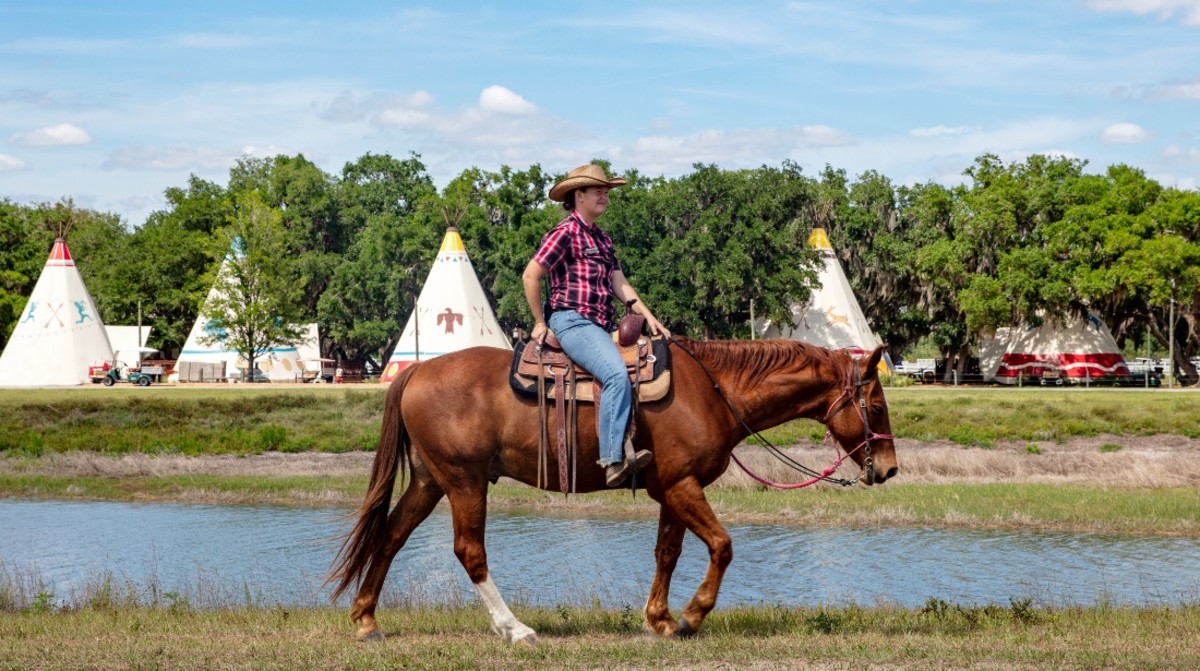 Horseback riding at Westgate River Ranch Resort & Rodeo.
Westgate River Ranch Resort & Rodeo
One of 22 Westgate properties across the country—with locations in states including Las Vegas, Montana, Tennessee, and Virginia—Westgate River Ranch is easily the most unique of the company's portfolio. Surrounded by 400,000 acres of protected land, the 1,700-acre resort offers a one-of-a-kind experience to break out of the humdrum of reality and live like a cowboy.
For this avowed city girl, this meant a lot of new experiences, such as my first time skeet shooting (or firing a gun in any capacity, for that matter), riding horseback, going on an airboat and swamp buggy tour, and getting ejected from the back of a mechanical bull. Oh, and it was also my first rodeo. 
Despite being entirely out of my element, it didn't take long to settle into ranch life, wearing a newly procured cowboy hat from the onsite Westgate River Ranch outfitter.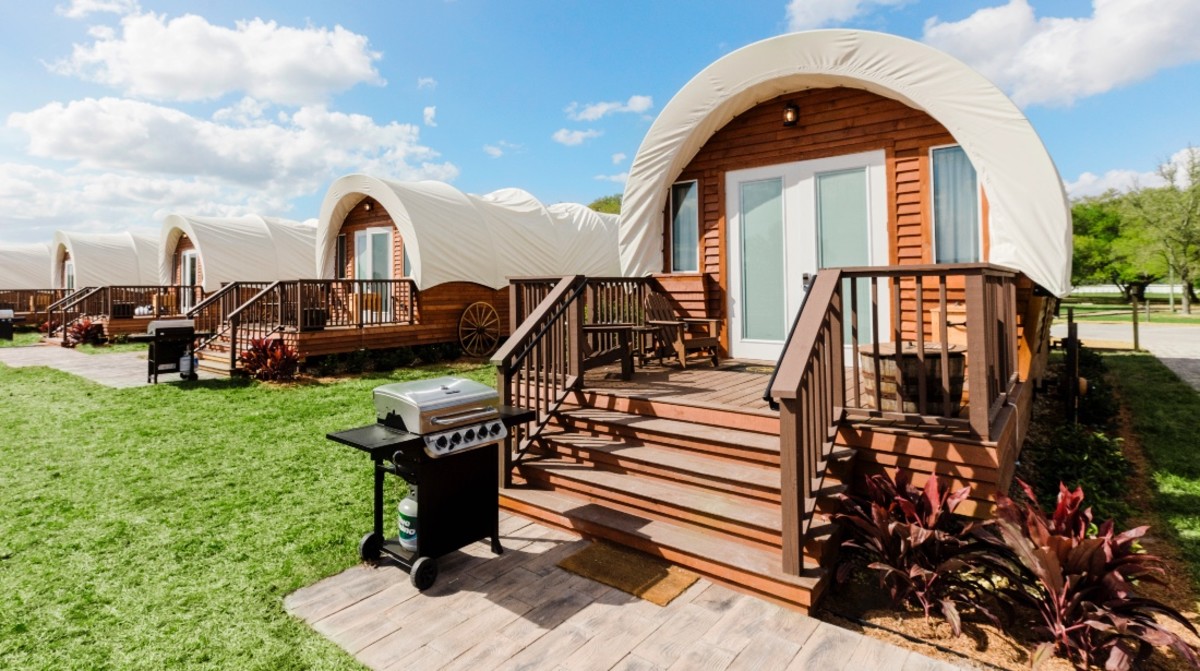 Luxe Conestoga wagon accommodations at Westgate River Ranch Resort & Rodeo.
Westgate River Ranch Resort & Rodeo
Westgate River Ranch Accommodations
Of course, it didn't hurt that I was being put up in one of the resort's luxe conestoga wagons, which helped Westgate recently earn the top glamping spot in the country, according to USA Today readers. These nearly 500-square-feet digs sleep up to six guests, are fully air conditioned in the summer and heated in the winter, boast a full bathroom and walk-in shower, and amenities such as luxury bedding, morning coffee, and glamping concierge service. They also come with access to a private golf cart to get around the expansive property, which I thoroughly enjoyed zipping around on.
However, those who don't want to drop over $700 per night for a VIP experience are certainly not left without options. The great thing about Westgate River Ranch is there are accommodations tailored to every budget and style, starting with camp and RV sites that start from $49, to glamping tents and luxury glamping tents, cabins and cottages, lodge suites, and even luxe glamping teepees, detailed with designs that were directly inspired by local tribes.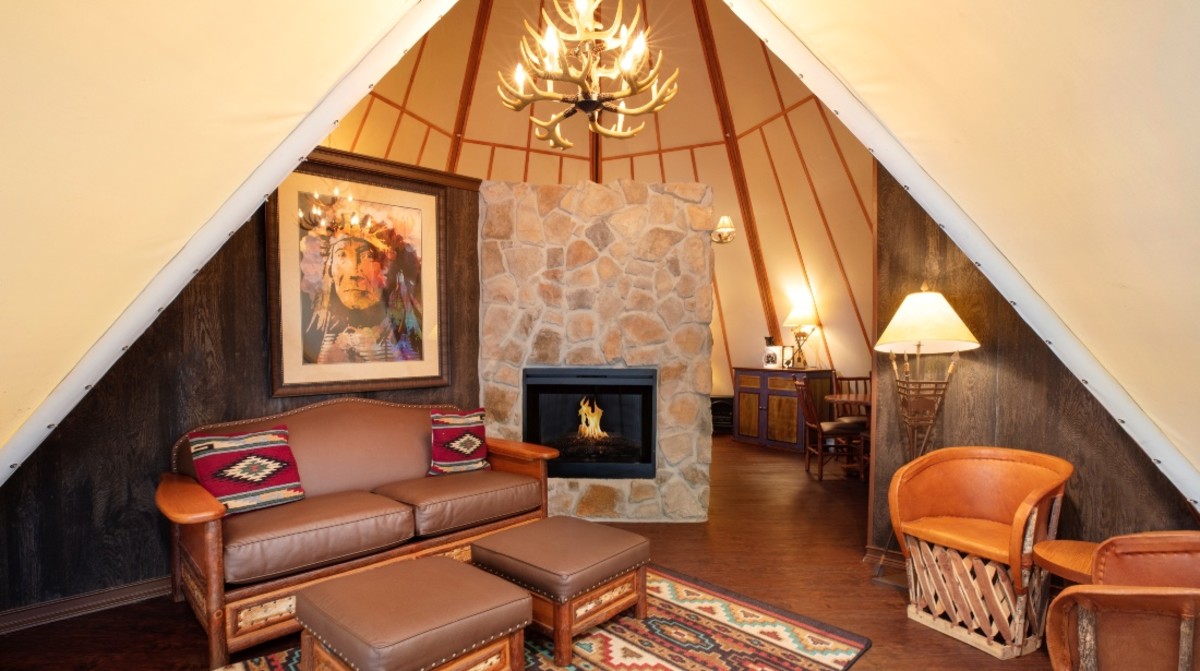 Luxe Teepee accommodations at Westgate River Ranch Resort & Rodeo.
Westgate River Ranch Resort & Rodeo
What to Do at Westgate River Ranch
But with so much to do, you'll definitely want to venture away from your camping or glamping site to explore everything the resort has to offer. In addition to the aforementioned activities I experienced over the course of my three-day trip, the ranch also offers an air rifle and archery range, catch and release pond, guided hunting excursions, mini golf, ziplining, and a full-service marina. Plans for a water park and a lazy river are also in the works.
To kick back after a long day of activities, guests can head to the onsite River Ranch Saloon, where a giant taxidermied, cowboy-hat wearing grizzly bear greets visitors at the door. On Friday nights, this boisterous drinkery hosts line dancing lessons, which attract dancers of all ages and experience levels. 
The saloon is also where the resort hosts its exclusive Nashville Singer Songwriter Series, which features some of the city's hottest up-and-coming acts. I was fortunate enough that my stay coincided with the final performance of the year. The intimate experience, which was peppered with jokes and banter between the musicians, felt more akin to getting a private performance in someone's living room rather than a music venue. For fans of country music, it would definitely be worth planning a stay around next year's events calendar.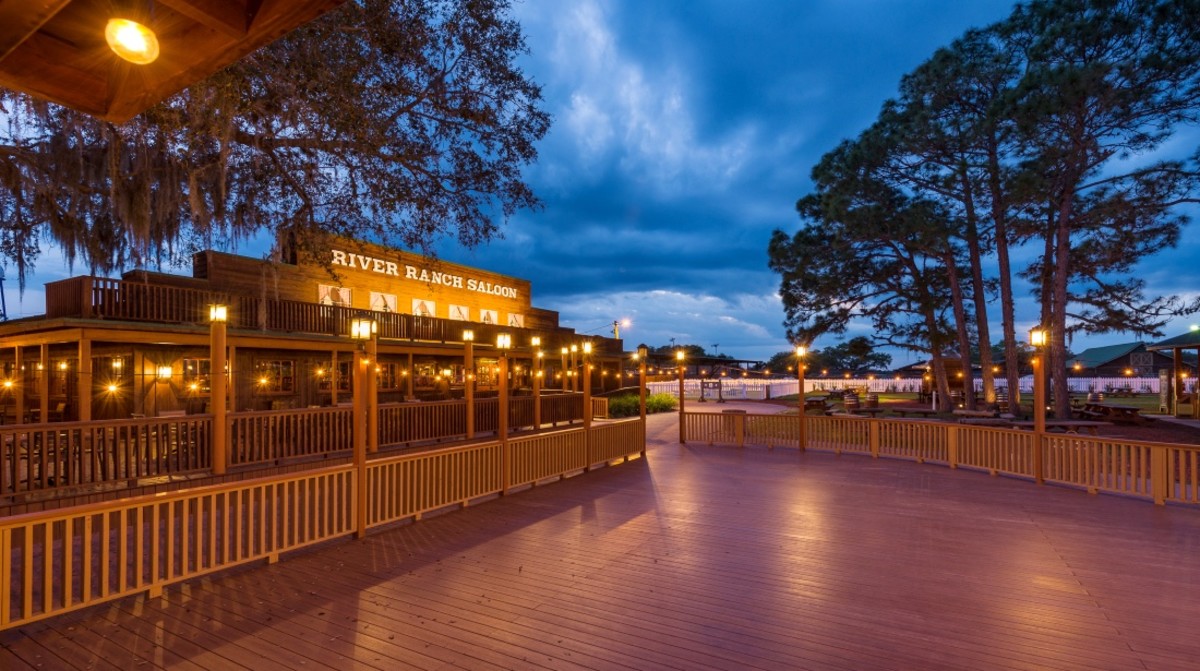 River Ranch Saloon at Westgate River Ranch Resort & Rodeo.
Westgate River Ranch Resort & Rodeo
Undoubtedly the main attraction of the Westgate River Ranch is the Saturday night rodeo, featuring real-life cowboys and stunt riders performing an array of trick riding, barrel racing, and bull riding. Make no mistake—these are seasoned riders but also dangerous, unpredictable animals. 
At one point, the crowd collectively held its breath for what felt like an eternity when one of the young riders got his foot caught in a stirrup, and was dragged around at the mercy of a galloping, bucking bronco, as ranch hands rushed in to intervene. Fortunately, he freed himself and walked out on his own accord, waving at the crowd to thunderous applause.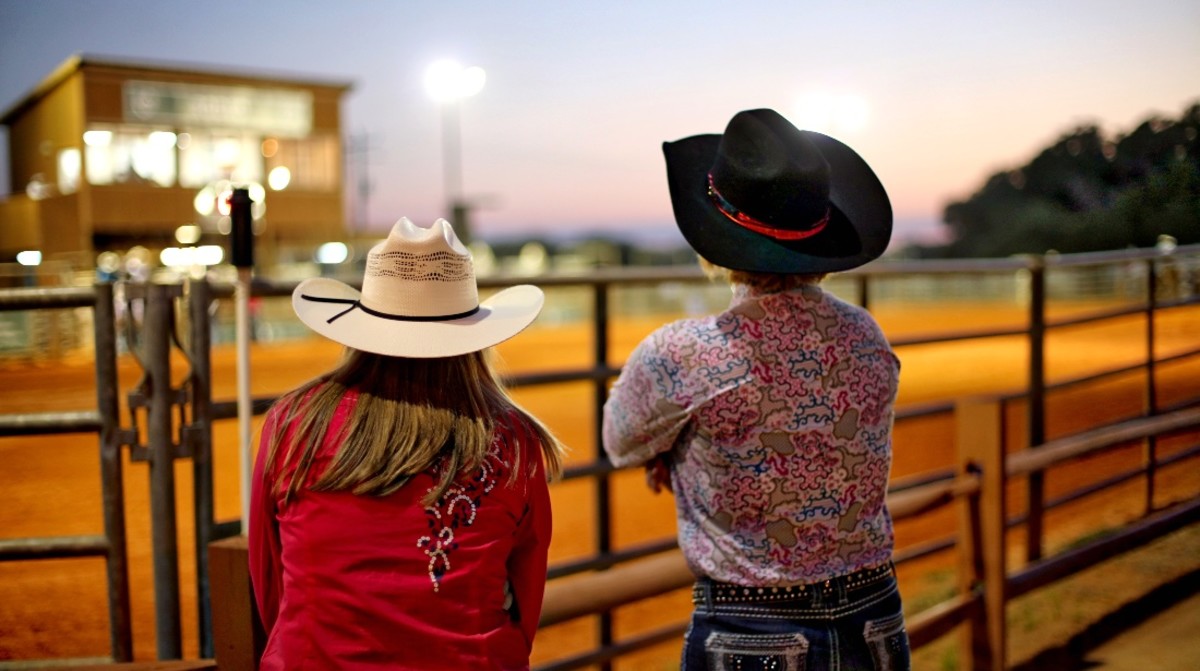 Saturday night at the Westgate Rodeo.
Westgate River Ranch Resort & Rodeo
And the Saturday night rodeo isn't just for guests of the resort either—the event is also quite the draw for locals. In fact, the rodeo is so popular that there are plans to expand the already impressive 1,200-person capacity stands with additional seating.
Duncan, the executive general manager, likewise serves as the rodeo's announcer. A former rodeo competitor himself with 15 years under his belt in the pro circuit, he first came to the resort in 2004 to announce the rodeo, as well as manage the stables and the trail ride program. But even while running the entire operation nearly 20 years later, Duncan still returns to his roots every Saturday night.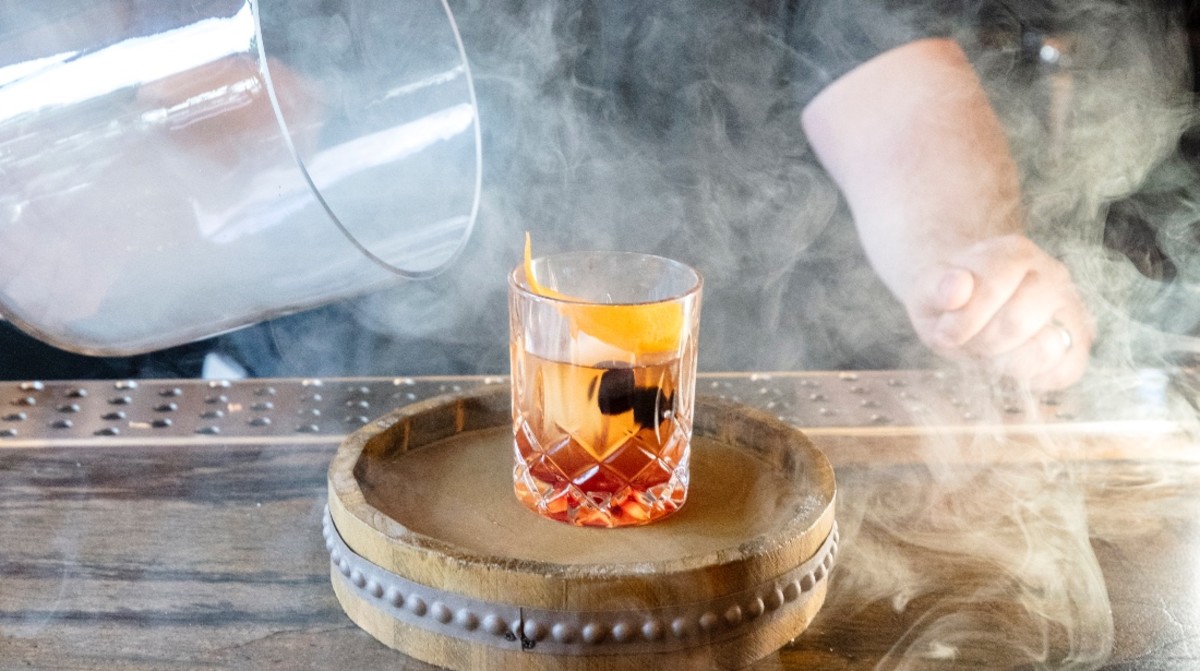 Smoked Old Fashioned at the River Ranch Cattle Company.
Westgate River Ranch Resort & Rodeo
Where to Eat and Drink Around Westgate River Ranch
As far as dining options at Westgate River Ranch go, newly opened on-site eatery River Ranch Cattle Company offers cowboy fare such as steaks, chicken, and ribs. If you're vegan or a vegetarian, options are slim. While there are a scant few plant-based sides and salads, even innocuous menu items like crispy deviled eggs and the wedge salad find creative ways to incorporate bacon or "bacon lardon." One menu item not to miss are the Loaded Rodeo Fries (waffle fries topped with mac and cheese, BBQ pulled pork, chipotle ranch dressing, and pickled red onions). It'll stick to your bones, for sure, but the greasy fodder is great to share and creates a strong foundation should you indulge in one too many whiskeys.
Speaking of which, the restaurant's signature cocktail is right on theme. The River Ranch Cattle Company Smoked Old Fashioned comprises Buffalo Trace bourbon, Luxardo cherries, and blood orange bitters, but that's not the main draw. It's delivered table-side in a decanter housing smoke from aromatic cherry wood.
Westgate Smokehouse Grill, the resort's other restaurant, overlooks the Kissimmee River. It was closed during my stay after suffering hurricane damage. But when it reopens, it'll serve as a casual barbecue joint. In the meantime, the onsite general store sells groceries and grab-and-go deli options.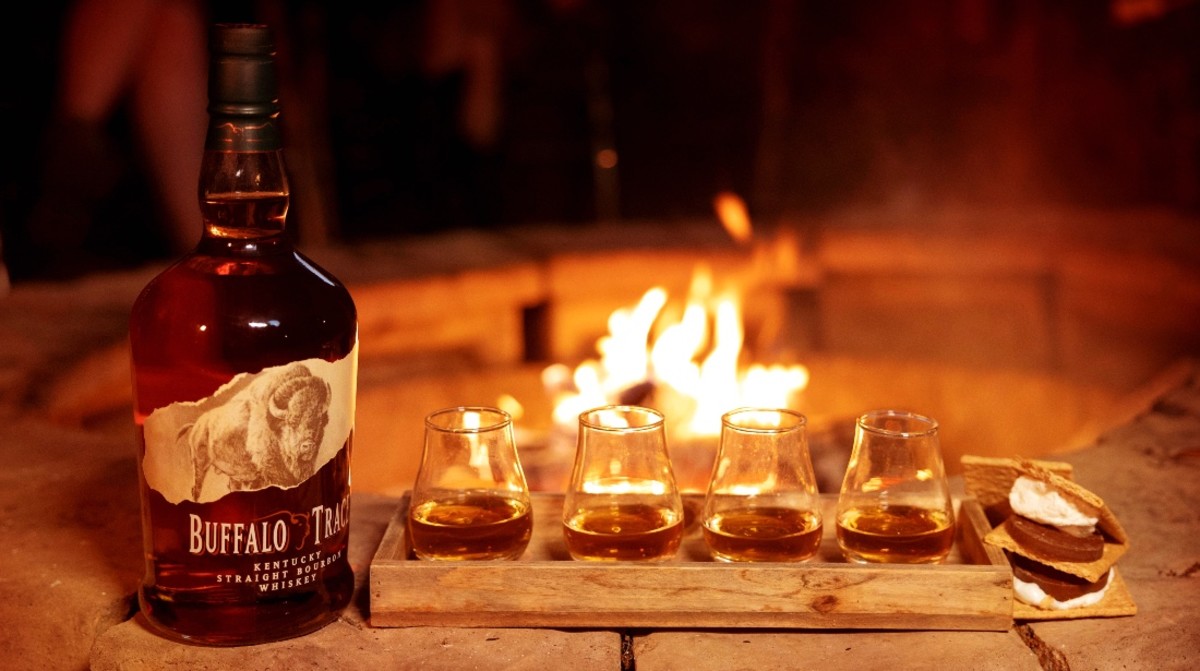 "S'mores N' Pours" package at Westgate River Ranch Resort & Rodeo
Westgate River Ranch Resort & Rodeo
The food and beverage program offers a popular S'mores 'n Pours add-on package, which provides guests with two s'mores kits and one bottle of Buffalo Trace (great campfire whiskey) to be enjoyed around a fire at their leisure.
For those traveling with groups—in addition to hosting weddings and events, the ranch is also a destination for everything from business meetings to bachelor parties and family reunions—full-service catering is also an option. Most of the meals our group enjoyed were creatively catered by the staff, such as a seafood boil one night and lunch options that included decadent brisket grilled cheese and Nashville hot chicken sliders.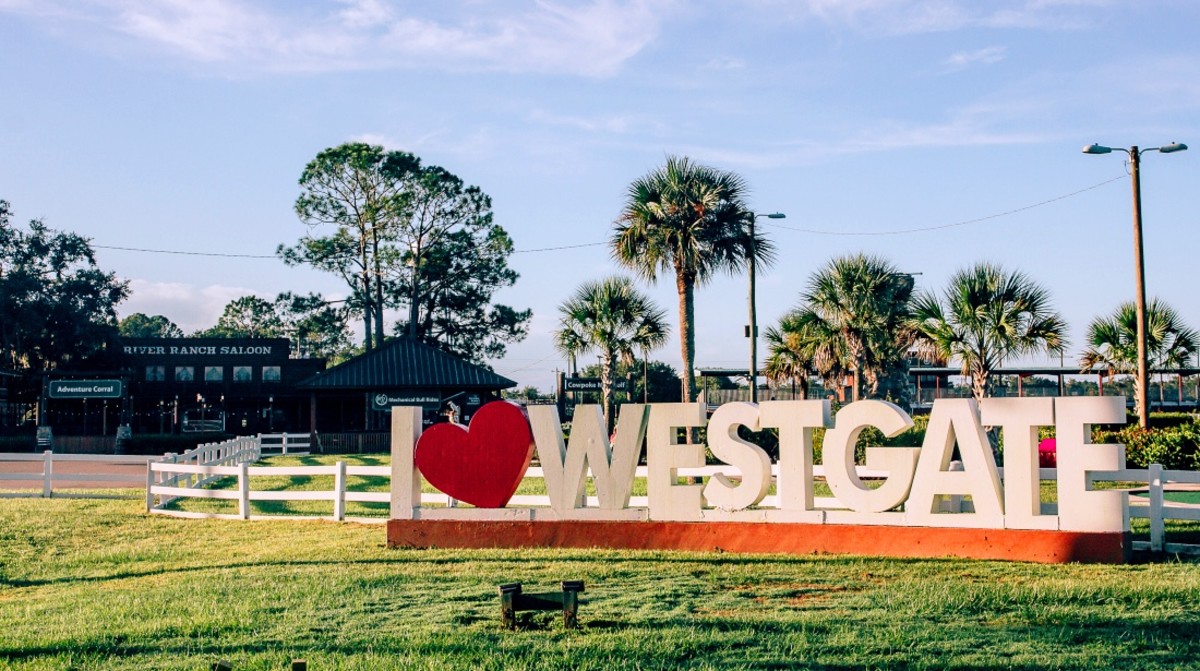 Westgate River Ranch Resort & Rodeo.
Westgate River Ranch Resort & Rodeo
When to Visit Westgate River Ranch
Peak visitor times at Westgate River Ranch are from September through March, so make sure to plan your trip accordingly. While the higher-end accommodations are air-conditioned, the hot Florida sun can make camping in the summer months far less enjoyable. As I can tell you from personal experience, wielding a skeet shooting rifle quickly becomes exhausting in the August heat, which was when I had the opportunity to visit.
And while a family could easily spend an entire week on the property, the proximity to Orlando also makes it a convenient diversion from some of the area's other tourist attractions. Just don't forget to pack your cowboy boots.