We Put the Monstrously Modded Lexus LX 600 to the Test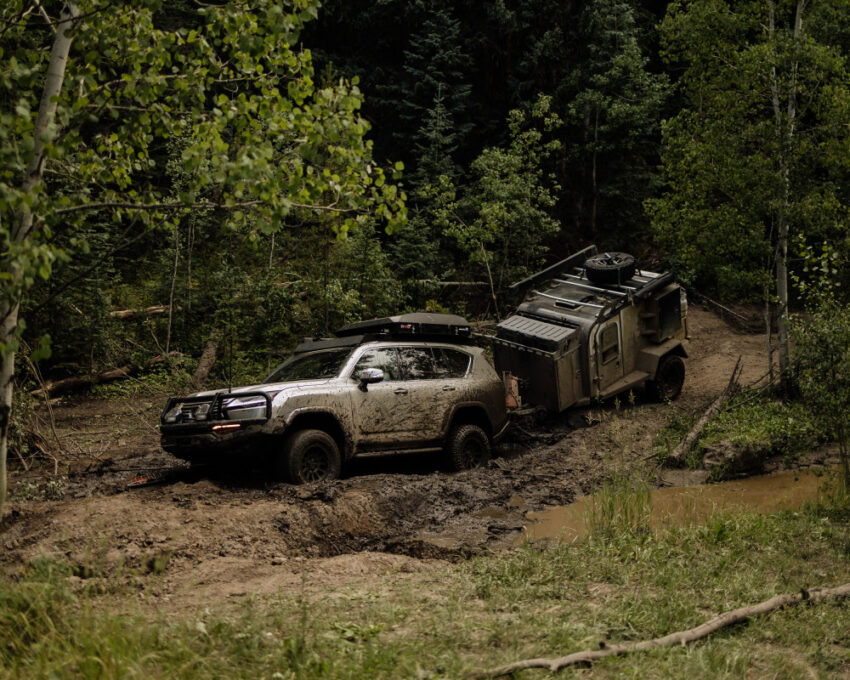 For the past three years, the organizers of Overland Expo have rounded up all the best gear from outfitters at the show and built the so-called "Ultimate Overland Vehicle" using a Lexus LX 600, boosted on beefy suspension, hauling an off-road-ready trailer. The past two iterations started with a Toyota 4Runner, then a GMC Sierra 1500 AT4X as platforms.
The Lexus LX 600 allowed Overlanding Expo (OE) to bolt on all the goodies that overlanders love, including a rooftop tent, awnings, bumpers, and two kitchen setups—while towing a queen-sized enclosed sleeping compartment with a hot shower and even a pizza oven. OE then made the dubious decision to invite me out for an off-road trip driving the Lexus through the Colorado Rockies on the way to the Mountain West show in Loveland, CO.
The trip notched a lot of firsts off my own to-do list: My first time seriously off-roading a Lexus; first time off-roading while towing a trailer; first time sleeping in a rooftop tent; first time mudding (not in a side-by-side); and first time needing to use a winch in a real-world scenario. When the trail turned out way gnarlier than expected, the Rockies delivered a true test of this kitted-out overlanding rig's complete capabilities.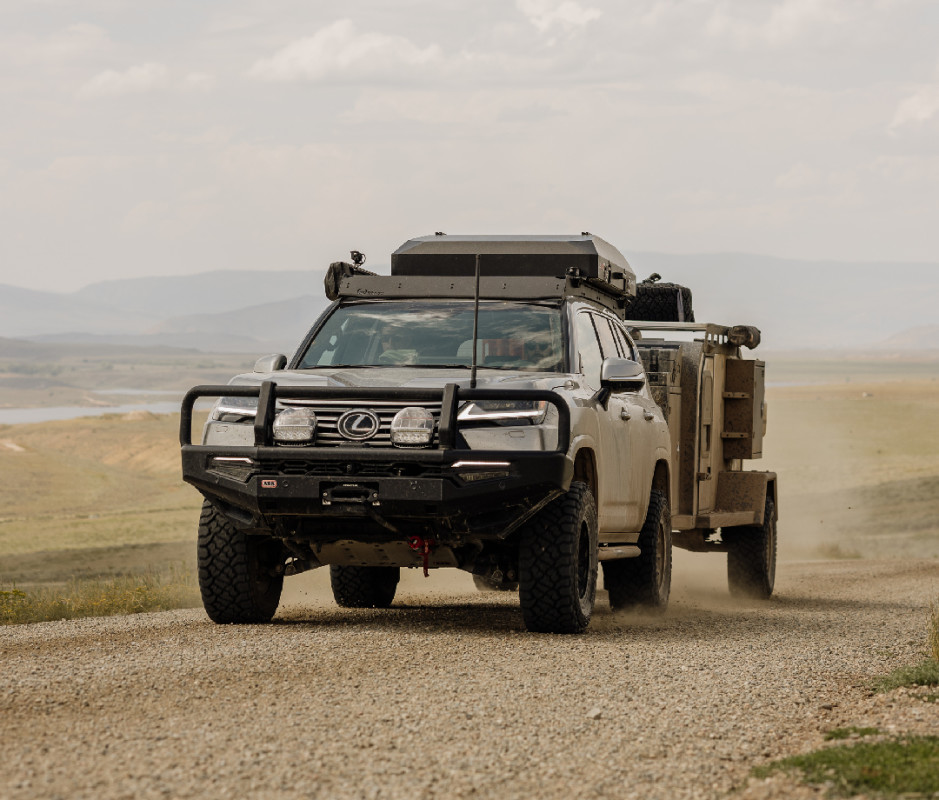 First Impressions of the Modded Lexus LX 600 Ultimate Overland Vehicle
The first night, we met up with Joe Risi of onX Offroad, who showed up in what I think of as the LX's predecessor: an FJ60-generation Toyota Land Cruiser, albeit completely restored by Proffitt's Resurrection to the tune of $200,000 (including a Corvette LS3 V8 swap). Risi served as our guide for the next 72 hours in the wild, as we left civilization behind and headed up into the hills north of Vail.
On the increasingly remote highways, Risi often pulled ahead with his V8 power. But the LX held up well, riding smooth and comfortable, thanks to a set of Total Chaos upper and lower control arms (plus rear links) and Radflo remote-reservoir coilovers. Off our tail, the Off Grid Trailers Pando 2.0 model boasted eight inches of independent wheel travel and a whopping 24 inches of ground clearance—all without sacrificing on-road dynamics.
The only hint that we were dragging a lightweight trailer behind at speeds up to 65 miles per hour came when the Lexus LX 600 10-speed auto downshifted up grades to keep the twin-turbo 3.5-liter V6 higher in the powerband. Well, that and an average fuel economy readout that hovered steadily in the high single digits.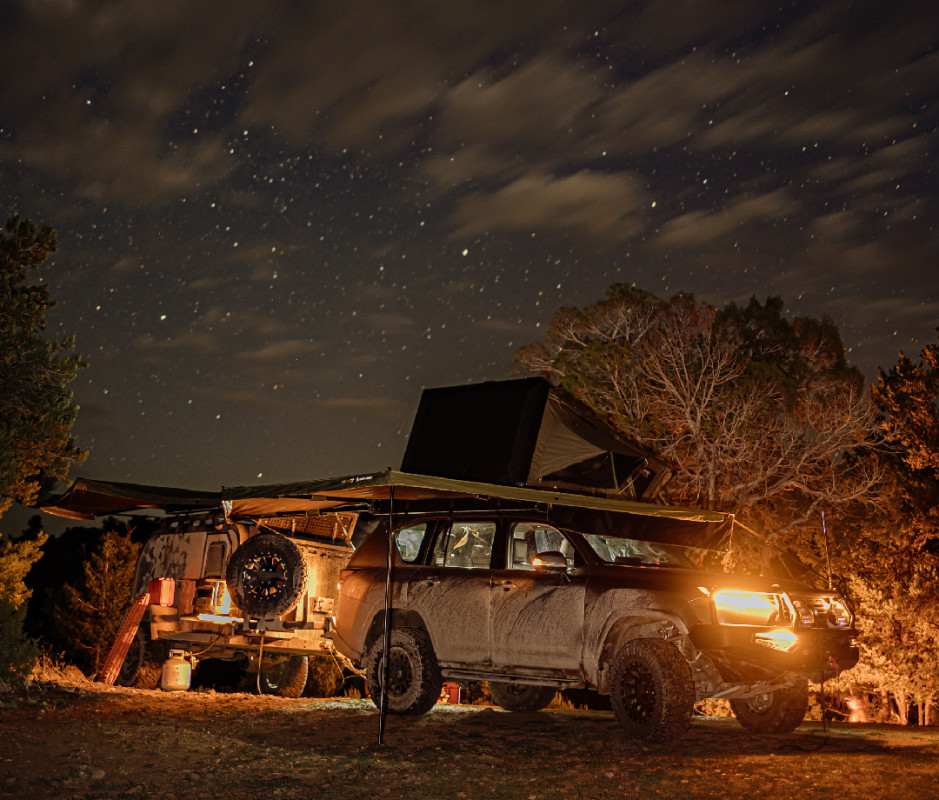 Risi's route took us down a long graded road toward the Colorado River, until we found a campsite and parked to set up for the night. A bit of light rain threatened as we unfolded awnings and the Armadillo A2 rooftop tent. Then the skies cleared up as we hiked down to the river for a frigid evening swim. A soak in some natural hot springs helped fight off the chill as the sun melted behind rocky cliffs.
Back at the rig, I pulled out a bottle of high-proof mezcal and poured a few glasses while the portable pizza oven warmed up. About 45 minutes later, and eight slices of piping-hot pizza deep, we sat by the fire and watched stars beginning to twinkle between whisps of cloud cover. 
The long day helped the trailer bed nail that sense of hygge Scandinavians crave. Hints of creeping cold meant I never needed to turn on the AC—instead just opening the screened windows to allow some cross breeze. Some might say I spent the night swathed in luxury, at least compared to my average night's sleep back in my Boy Scout days hating a deflated Thermarest "mattress" on the floor of a soggy one-person tent.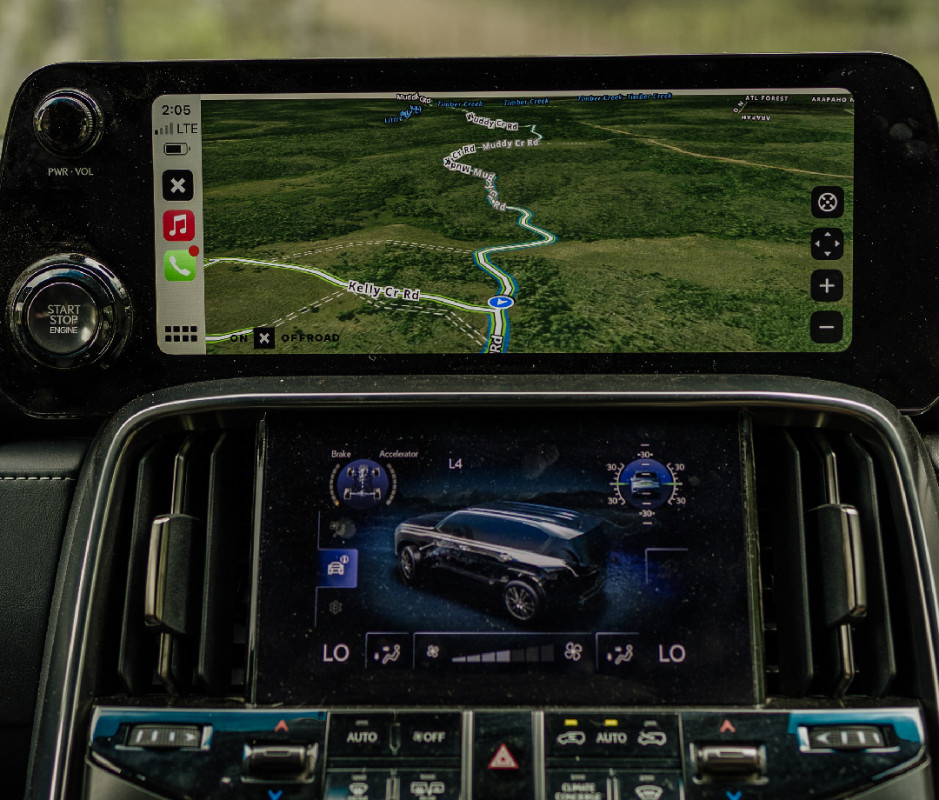 Modded Lexus LX 600 Off-Roading Specs
Risi warned us before bedtime that the real off-roading began the next morning. So, first thing after packing and cleaning up camp, we aired the Lexus LX 600's 33-inch Kenda Klever R/T tires down to 25 PSI, checked our winch line, and secured all the various Overland Expo accessories. 
Pulling away onto more of a rutted road versus the previous afternoon's graded gravel, I immediately noticed how well the trailer handled every bump and bash, simply popping up and over when I expected difficulties dragging us backward with every yank or lurch.
We wound higher up in the mountains, climbing up to 10,000 feet of elevation. I could spot the tree line and alpine meadows ahead, while keeping a close eye on trees tightening in on the trail—lest I cut a corner too tight and drag the trailer through a narrower radius directly into a tree trunk. 
Related: Mint 400: America's Most Accessible Off-road Race
At such elevations, my Mitsubishi Montero's naturally aspirated engine would start to bog down, but the modern twin-turbocharged Lexus LX 600 showed no signs of power loss—even if I spent most of the time in manual mode using the paddle shifters to prevent any mistimed shifts at the worst moments.
The Lexus LX 600's aftermarket suspension worked surprisingly well, too. I checked our manual adjustment knobs but decided to just leave the dampers set to the midrange, allowing as much flex without too much compression given the additional weight in the trunk and on the roof, not to mention the trailer weight.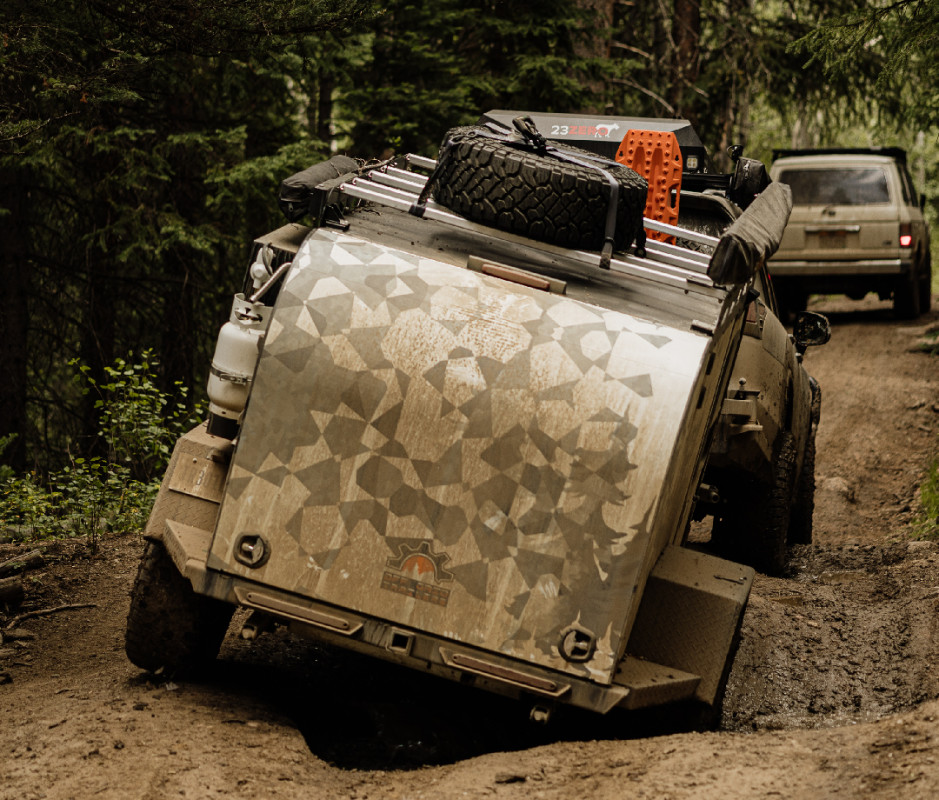 With tires aired down, the Radflo components absorbed all but the worst obstacles without problem, only enhancing the pros of a modern independent front suspension and solid rear axle—complemented by the additional ride height and articulation made possible by the Total Chaos parts. That Lexus LX 600 build quality shone on the interior, too, with almost zero rattles and not even many clunks reverberating from the rig's underbelly.
Behind the LX, I watched the trailer tracking well until the very tightest sections, where despite my growing confidence and best efforts, we often missed trees by quarter-inch gaps and occasionally took a branch or two along for the ride. Just a bit of nerves wheeling a rig that probably totals upwards of $180,000 all in.
Related: Ineos Grenadier First Drive: Don't Call It a Throwback
We only reached one point where downed trunks fully blocked the trail, but luckily found a nearby glade to easily spin the LX and trailer around in a stress-free three-point turn. Then the trail started to get a bit wet. After the previous evening's scattered showers, puddles started to turn into real mud. Nobody expected this kind of an outing, which quickly began to border on true mudding.
Risi pushed the Land Cruiser up ahead, its eight-inch narrower body and probably 4,000 fewer pounds allowing him to scope out the trail and call back on our radio. "Clear," he'd buzz in, or "Take it wide right." Then it came—the inevitable ominous warning to take a break and prep our winch line. Here we go.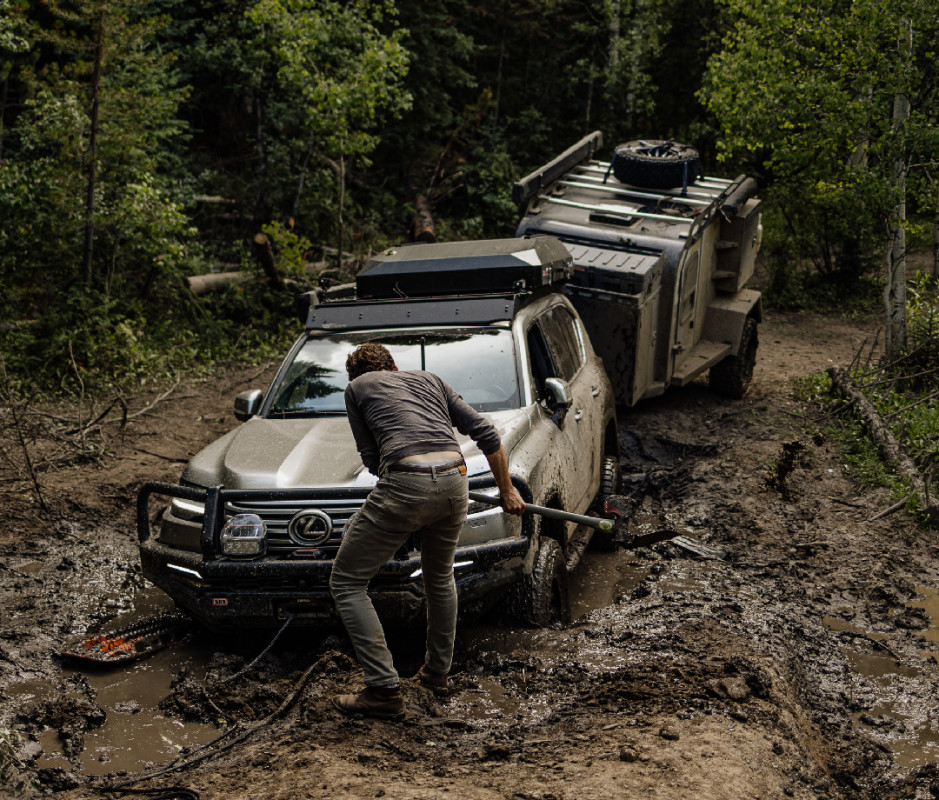 I hop out to run up a few hundred yards. Sure enough, a serious bog awaits—just after a steep, slippery shelf perched right after some nasty camber. I think the Lexus LX 600 can haul the trailer up just fine, but the resultant angle might lead to trouble about 10 feet further along. Back behind the wheel, I creep forward, spin and slide a bit up the ledge, and stop to think for a moment. Risi got through, so we decide to try the shorter section of mud rather than risk a longer, wide portion.
Classic mistake, I realize later while reminiscing about an ominous day at the Dakar Rally earlier this year when flash flooding forced an early end to the stage. There in the Saudi desert, everyone who chose the narrowest band of spontaneous river took a plunge into the deepest portion—wider water usually means shallower. Usually, at least.
Oh, well. I give the Lexus LX 600 some juice, trying to power down and through the mud pit. No luck. Remembering my snow training, I shift out of 4-Low and use the paddle shifters to keep us in second. Maybe less wheel torque will prevent slippage and let me just feather up and out of the quagmire. Not even close. Time to hop out and take stock of the situation.
Up front, I've buried the winch hook. Every tire looks about three-quarters below the dark watery surface. Out back, the trailer sits at an awkward cant with the hitch completely invisible. Not a great scenario but then again, we're in the Ultimate Overland Vehicle. Time to haul out all the gear.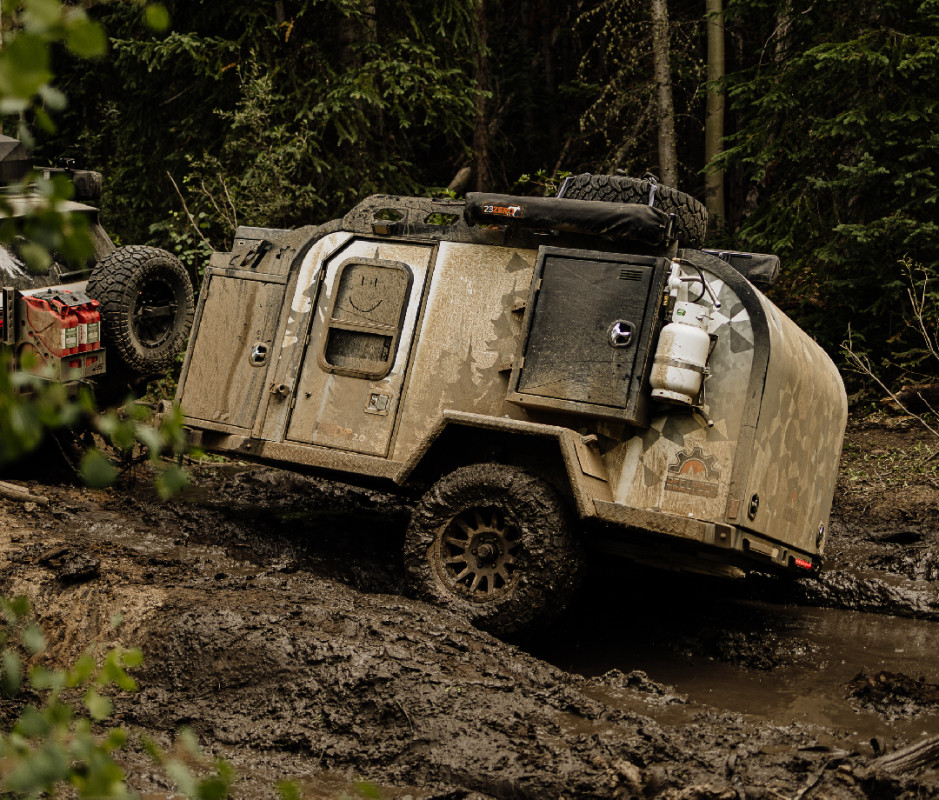 Everything You've Got and Then Some
The job ends up taking everything we've got: a shovel, four MaxTrax, a recovery rope, two soft shackles, and a 12,500-pound Comeup winch. First Risi tries to haul us out with the FJ60 and a strap, but he's got no front or rear lockers either, so he just spins out. Then we hook onto a tree, but we can't find the snatchblock amid all the cubbies and drawers, so concerns about the winch rope snapping enter the mix. 
Finally there's nothing to do but do it, and with a bit of light throttle in crawl mode, some branches jammed under the tires, and two MaxTrax boards lost so deep in the mud we can't even find them with the shovel (even after tying on ropes hoping to locate them in the case of this exact eventuality), the LX breaks free.
I feel bad for leaving orange plastic in nature but the sun is getting low. Someone will find them one day, an ancient artifact hearkening back to an era when someone thought plunging a Lexus LX 600 into some deep mud pits might be fun. Or next week, when the weather dries up enough to let some suction loose. 
I clean my hands in a nearby creek, then muddy them up again packing gear into the racks and trailer. After checking for damage and re-tensioning the winch line (in case of more mud), we keep lumbering up the hill, albeit a whole lot more physically exhausted.
Crossing a paved road, I notice the LX gas gauge down to one-eighth of a tank after the time spent towing, then revving and rollicking in the muck. We fill up both trucks and blast back out of town trying to put some distance between the lights and sounds and the peaceful campsite we hope to find. 
Tonight, we'll end up sleeping above 10,000 feet in a fire-ban area, limiting us to the rocket-hot Kovea kitchen stovetop squeezed into the Goose Gear Ultimate Chef Package at the rear of the Lexus LX 600. We cook up some burgers—legitimately two of the best burgers of my life.
I plan to try out a rooftop tent tonight. But, first, it's time to polish off that mezcal and test the trailer's shower. Pretty solid water pressure and at first yelp, way too much heat! Effectively steam-cleaned and buzzed from oxygen deprivation, I climb up another few feet into the rooftop tent and conk out.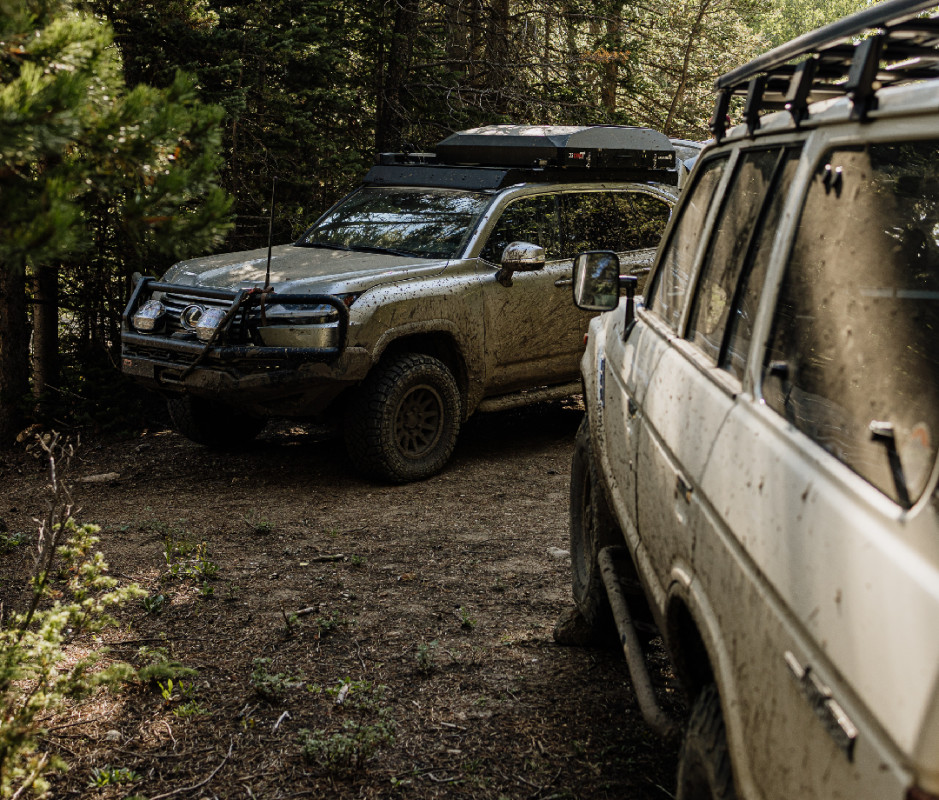 Proving the Capabilities of Man and Machine
Both the LX and the Land Cruiser look 1,000 percent legit in the morning sun, mud and muck and leaves and branches sprayed across every surface. Can we, men and machines, handle more of the same on our third day out? Well, the fact that Overland Expo needs to show the Lexus LX 600 at Mountain West means we need to get the rig cleaned up by this evening. Time to hit the trail bright and early.
I always feel some nerves creep in when firing up a truck after a night playing with lights, toys, and camera chargers, but even with temps in the low-40s, the Optima Yellowtop battery just cranks that twin-turbo V6 right over, no problem. No more mud, Risi promises. But we do find the rocks from which these mountains earn their name, which slow us down enough to require a few more hours climbing up and descending before the not-quite-so-inevitable-feeling return to civilization.
Again, I find myself entirely surprised by the LX's capability. Other than the mud pit, the lack of a front or rear locking differential never concerned me (OE built this truck on a base LX, rather than the range-topping model that comes with a rear locker). In fairness, I kept the center locked and traction control off most of the morning to help with throttle modulation given the additional weight. 
Related: Tips and Tricks for Overlanding on Sand
Magnaflow exhaust burbling, I just slowly haul that trailer up and over every obstacle, clearing about a foot of air under my tires at times but always landing nimbly for such a big and heavy vehicle.
A few more tight sections of trees, through a creek or two, and we finally break out into the bright sunlight of an alpine meadow. The creeks actually helped to clean off some of the mud, but we still need to rush into town and find a car wash ASAP. Down a high-paced gravel road, we link up to concrete again, air up, and blast toward Boulder.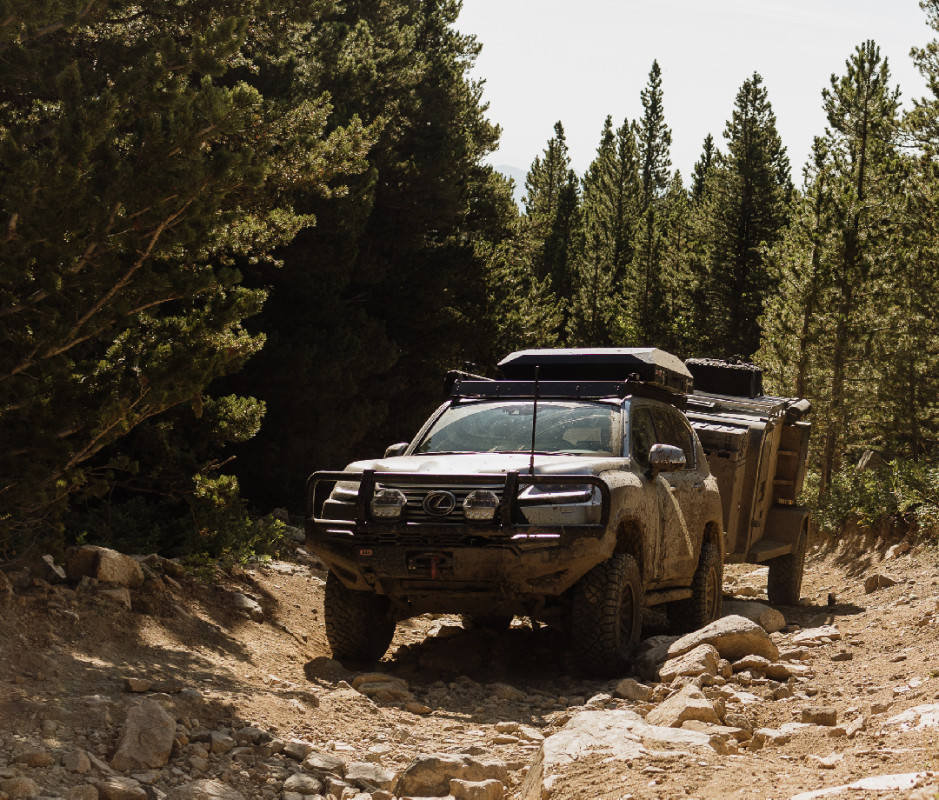 Lessons Learned in the Ultimate Overland Vehicle
My No. 1 takeaway from three days in the Ultimate Overland Vehicle might not crop up for anyone who builds their own rig. Mainly, I found the process of actually finding all the gear confusing. I always know where everything in my truck belongs and part of off-roading involves building the routines to keep the most important tools easily accessible at all time.
As with the 4Runner and Sierra, Overland Expo will auction the LX and trailer (separately) later in the year on bringatrailer.com, with 100 percent of the proceeds going to the Overland Expo Foundation. The lucky winner(s) will then need to acclimate to the builds, probably dropping some accessories and almost certainly finding others that will better serve specific needs or wants. But I can certainly attest to the immense capability of the LX 600 as an overlanding platform and, to an extent, wish I got the chance to drive the SUV without the trailer attached.
Hooking up a trailer for off-roading allows for far longer and much more comfortable adventures. But is it worth the effort, worry, cost, and reduced fuel economy? Not for the kind of short trips I take in my own vehicles, without a doubt, but then again I delved further and further into the world of lightweight camping as I worked up to the rank of Eagle Scout back in the day.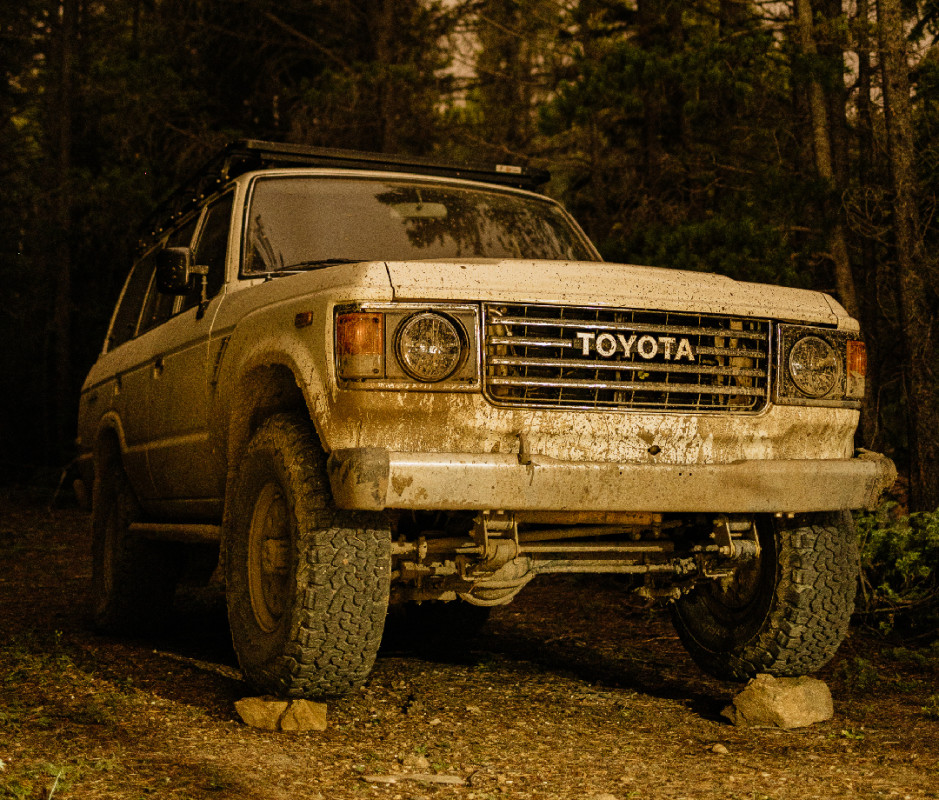 I might feel more comfortable with such a big rig given more time to acclimate. For now, the prospect of pulling a single bag of gear and a single cooler out from under the plywood sleeping platform in the back of my Montero sounds much more convenient.  
With more prep and planning, and a schedule that allowed me to stay off-grid for weeks at a time, all the more so. "Both trucks did all the stuff," we kept saying to each other incredulously after 205 miles total and nearly 19,000 feet of vertical climbing later.
Out on the trail, we occasionally heard some chatter tune into our radio frequency as Colorado locals discussed favorite gear, top routes, and whether anybody knew anybody else headed over to Loveland to spy any good deals among the outfitters. Risi parted ways before the show as I headed off to the airport, both of us missing out on Overland Expo proper. Personally, I almost prefer walking the parking lot and taking stock of what attendees arrive and camp in during the show. 
Bottom line, after three days in this year's Ultimate Overland Vehicle, I now understand what overlanding enthusiasts imagine while prepping rigs for dream nights looking up at the stars—after occasional late afternoons in the muck.