Watch Marshawn Lynch Take a Trip to Amish Country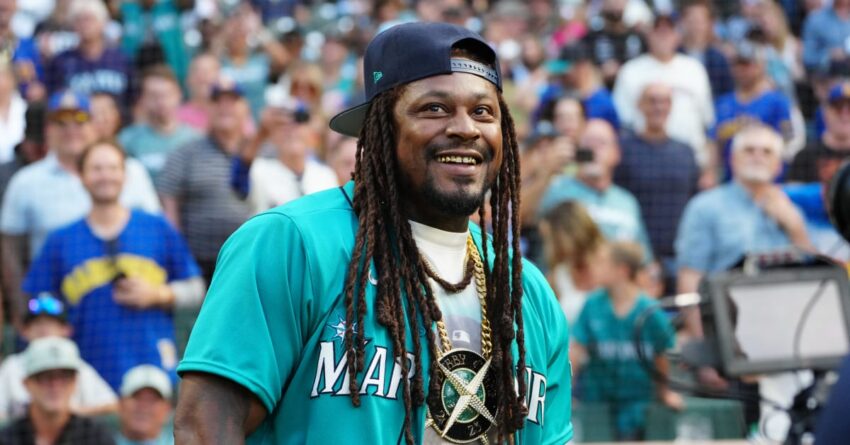 Marshawn Lynch made a memorable stopover in Amish country during Thursday Night Football.
The former Seahawks running back—and current screen star—is hosting a recurring bit this season called 'N Yo' City, which highlights where each Thursday's game is played. This week, which saw the Philadelphia Eagles play the Minnesota Vikings, Lynch traveled to Intercourse, Pennsylvania, colloquially known as "Amish country."
Throughout the three-minute montage, Lynch charms his way through a variety of quintessentially Amish tasks. When he first boards his host's buggy, he has trouble reconciling the culture's reputation with the vehicle's hydraulic wheel system. When he finds out that each buggy costs 15 grand, though, it makes even less sense. "15 bands for a buggy, and all you get is this? You can't even get no leisure going" Lynch marvels.
After showing his tour guides the video for Weird Al's "Amish Paradise," and getting a tutorial on what technology Amish people can and can't consume, the buggy arrives at a farm. Lynch is told he'll be milking cows, which doesn't sit well. 
"Hell no. This ain't the kinda place you go with your [sneakers] on," he protests. After taking some time to acclimate to the animal's aroma, Lynch finally sprints into the barn and immediately encounters what appears to be an electric lamp. "It's wireless," his host informs him, explaining that it's an LED bulb. "Man, you Amish people think y'all slick," Lynch responds. "[But] y'all be cuttin' corners."
So far this season, Lynch has searched for alligators, toured NASA's Mission Control, and recalled an iconic ESPN segment during a stopover in Buffalo. Next week, he'll be in Tampa Bay when the Giants face off against the Buccaneers.
Marshawn Lynch kickin it with Amish people is amazing ???

?: @MoneyLynch , @NFLonPrime pic.twitter.com/tu16KDG3VR

— Shannonnn sharpes Burner (PARODY Account) (@shannonsharpeee) September 15, 2023