Video: Get a Behind-the-Scenes Look at Lavish NBA Food Rooms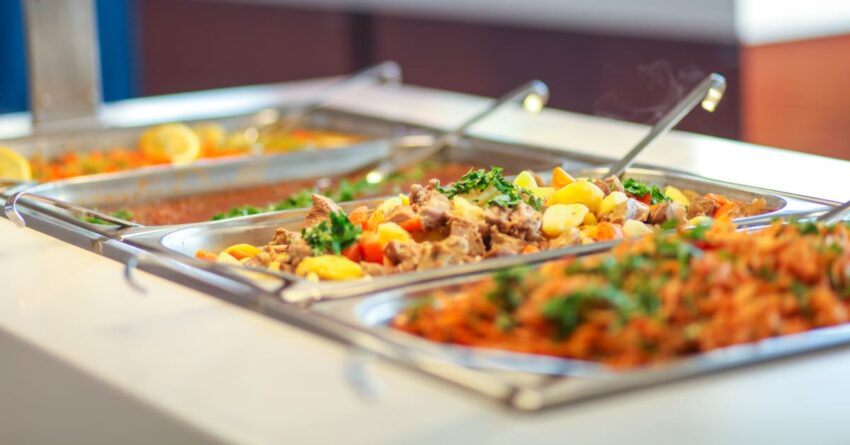 Michael Phelps made headlines back in his Olympic training days when he was rumored to have eaten upwards of 12,000 calories each day. It's not an uncommon reality for many working athletes; wolfing down thousands of calories' worth of food is often necessary to keep yourself sustained through practice sessions as well as games or competitions. 
That doesn't change for NBA teams whether they're at home or on the road. Denver-based reporter and analyst Katy Winge just gave an inside look at what mealtime looks like for the Denver Nuggets when they're traveling for a game, and if you think their options would be limited just because they aren't in their home city, think again. 
The brunch buffet is staffed by several chefs and features a variety of areas covering all the major food groups. There's a pasta station where players can choose how to customize their dishes and have them made to order, complete with proteins like shrimp or chicken and sauces like pesto. There's a variety of breakfast and lunch options like oatmeal, fruit, eggs, bacon, steak, fish, and vegetables. 
There's also an omelette station manned by a cook where players can create their own custom egg dishes using a wide array of toppings. And if you're looking for something easier on the stomach, there's a smoothie station where players can make their own custom smoothie using fruit and other ingredients provided. 
What brunch looks like ahead of a preseason game for the Denver Nuggets – food is fuel
Being a professional athlete obviously comes with lots of perks, and having a massive brunch buffet at your disposal when traveling is obviously a great plus.