Travis and Jason Kelce Collaborate on New Christmas Song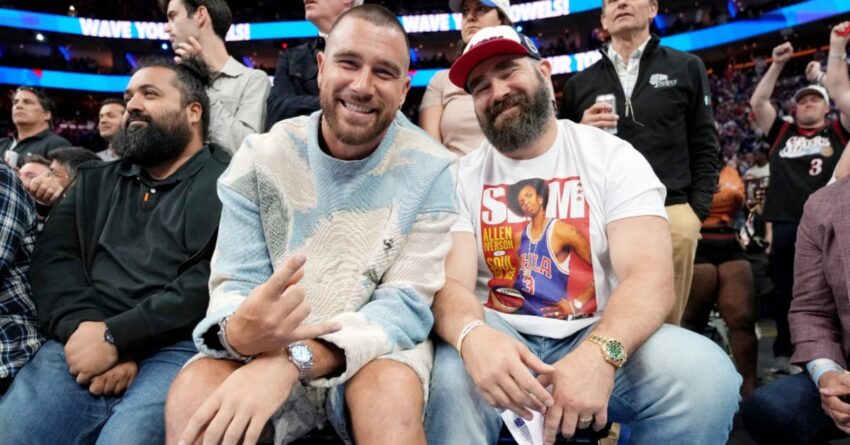 For the second year in a row, the Philadelphia Eagles have recorded a holiday album, A Philly Special Christmas, featuring several members of the team as well as a handful of prominent guest stars. And one of the guest stars appearing on the second volume is none other than Jason Kelce's brother and Taylor Swift's boyfriend, Kansas City Chiefs tight end Travis Kelce.
The Brothers Kelce have collaborated on one song in particular called "Fairytale of Philadelphia," with a preview dropping just days before the Eagles–Chiefs showdown on Monday, Nov. 20. 
The short clip, released to Instagram on Tuesday, features an animated Peanuts-style Jason and Travis decked on in their Christmas finest, singing the tune on stage while Eagles offensive tackles Jordan Mailata and Lane Johnson heckle from backstage.
"We're gonna let a Chief steal the show?" asks Johnson, to which Mailata fires back, "Hell no!"
The song is a spoof of The Pogues' "Fairytale of New York" with the lyrics specific to Philly, such as: "When you first took my hand on a cold Christmas Eve / You promised me Broad Street was waiting for me / You were handsome, you were pretty, you're the king of South Philly / When the band finished playing, they howled out for more."
The 11-song album also features a rendition of "All I Want for Christmas is You" featuring Jason Kelce, Johnson, and Mailata; a collaboration of "This Christmas" with Mailata and special guest Patti LaBelle; and an original, soon-to-be-classic Jason Kelce holiday tune called "Santa's Night."
The album, which is being released on Dec. 1, will be streaming on platforms such as Apple Music, Amazon Music, and Spotify. And all sales will go toward the Children's Crisis Treatment Center and Children's Hospital of Philadelphia.
The two brothers first revealed plans to collaborate on a holiday song together on their New Heights podcast back in October. You can listen to the full song (sans cute animation) below: