Tom Brady Responds to College Star Who Credited Him for Winning Play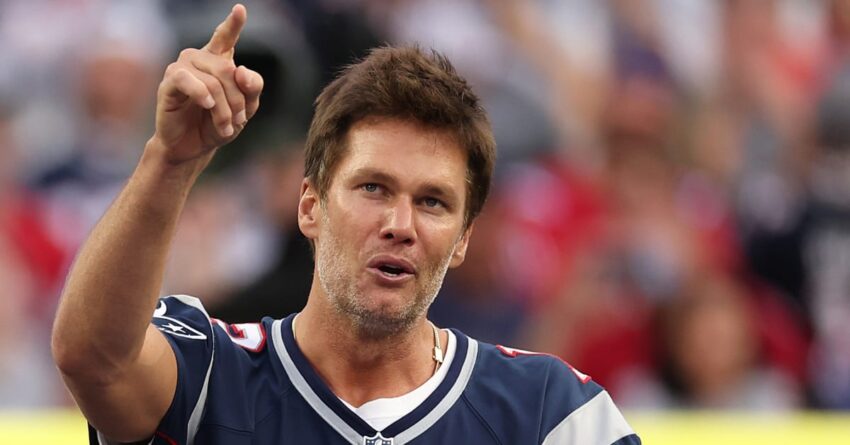 University of Colorado Quarterback Shedeur Sanders pulled off a last-minute, game-winning play over the weekend that he later said drew inspiration from none other than Tom Brady. His words got back to the NFL legend, who offered rare and well-deserved kudos.
With the Buffaloes behind 28–20 to Colorado State, and just two minutes left on the clock, Sanders led the offense to a 98-yard drive which tied the game. It was followed by a two-point conversion which led into double overtime. The surprise win saw the Buffaloes extend its undefeated streak under coach, and Shedeur's dad, Deion Sanders.
After the game, Shedeur told ESPN's SportsCenter he had just one thing on his mind during the pivotal play. "All I was thinking was 'Brady Mode,' that's it," he admitted. "You left too much time out there." 
Asked if Brady had been an inspiration to Sanders, he replied: "Of course. We talk after every game. I'm sure he's gonna text me any second. But that's all I was thinking is Brady mode, if he can do it, I can do it. We're just alike."
"All I was thinking was Brady mode." ?️

-Shedeur Sanders on his 98-yard game-tying TD drive pic.twitter.com/J94NCevgtK

— Bleacher Report (@BleacherReport) September 17, 2023
Shedeur's remark gained so much traction that Tom Brady himself ended up weighing in with some kind words for the college QB. "I just want to go Shedeur mode at some point in my life," the legend posted on his Instagram stories, alongside a screengrab of the interview.
Tom Brady's response to Shedeur Sanders saying he went "Brady mode." ?? pic.twitter.com/hr4N5Qar14

— Complex Sports (@ComplexSports) September 17, 2023
"We showed that we have no surrender or give-up in us," Deion Sanders said of his team after their win. "They never doubted themselves." Of his son's game-making run, Sanders didn't seem at all surprised. "This is who he is," the proud dad affirmed.
Father and son will next hit the field when the Buffaloes face off against Oregon on September 23.