The Best Hoka Running Shoes of 2023
Men's Journal aims to feature only the best products and services. We update when possible, but deals expire and prices can change. If you buy something via one of our links, we may earn a commission. Questions? Reach us at shop@mensjournal.com.
You've probably seen those distinct, chunky Hoka soles everywhere—on bike paths, hiking trails, and downtown districts, even restaurant back-of-houses and hospital wards. Hoka originated as a running shoe brand under the name Hoka One One but has been adopted by walkers, hikers, gym rats, and runners alike. Despite broadening its horizons, Hoka still makes some of the best running shoes around, maintaining immense popularity and high regard among casual joggers and elite athletes like Jim Walmsley, who broke the American 100K record in Hokas.
The best overall shoe on this list, the Hoka Mach X, is the perfect mix of performance and cushioning. That's thanks in part to the signature feature of Hoka running shoes—thick foam soles—which have been inherent since the company's founding in 2009. Back then, its trio of French founders sought a plusher, wider platform for running fast down steep mountain trails. At the time, maximalism was still a novel idea in running—that same year, Christopher McDougall's book Born to Run ignited a minimalist running craze. But Hoka quickly gained traction beyond niche circles of early adopters and helped thick soles secure their place as desirable running tech.
Today, Hoka makes hiking shoes, casual shoes, and recently launched a full line of apparel, but running shoes remain core to the brand's identity. Here's what makes its once-niche shoes so special, and which ones you should lace up in for your next run.
Related: The Best Running Shoes of 2023
What to Look for When Shopping for Hoka Running Shoes Maximalist Cushioning
Hoka's maximalist innovation remains a key characteristic of nearly every one of its running shoes. Most Hoka soles are made of EVA (ethylene-vinyl acetate) foam, which is commonly used across the running shoe industry. Hoka continues to rely on EVA in various forms because the material is light and can be tuned and stacked to create different levels of spring and durability. When looking at shoe specs, you might see compression-molded EVA, which adds durability and structure to the foam, as well as rubberized foam for extra durability. Or you might see sugarcane-based EVA, a more sustainable type of foam. Some newer high-performance shoes use PEBA (polyether block amide) foam, which is more resilient while still lightweight and bouncy.
Hoka classifies its cushioning levels as Plush (high-cushion, soft), Balanced (firmer, springier, stabler), and Responsive (lower stack height, bouncier). The brand does make shoes with lower stack heights, but every model comes with some amount of lightweight foam in the midsole. The Hoka Stinson 7 is the most cushioned shoe the company makes, with a 42-millimeter stack height in the heel of the men's version, while the Mach 5 has the least, with 29 millimeters in the heel of the men's model.
Meta Rocker
Every pair of Hoka shoes has a curved sole called the Meta Rocker. The curve helps roll runners from one stride to the next to prevent flat-footed landings while enabling and encouraging smoother transitions for better running efficiency. Hoka has two versions of Meta Rocker. The Late Stage Meta Rocker is designed for everyday running and curves from near the toe to the heel. On the other hand, the Early Stage Meta Rocker curves from the the ball of the foot to the heel, which is ideal for faster running.
Active Foot Frame
A high stack height can lead to instability in most shoes, but Hoka's Active Foot Frame tech prevents that tradeoff. Instead of sitting on top of all that foam, the system cradles the foot deeper in the shoe to prevent wobbling. Hoka shoes have either Rearfoot Active Foot Frame, which cradles the heel, or Midfoot Active Foot Frame, which holds the midfoot.
Some models have additional stability features to prevent overpronation, which is when the arch of your foot flattens while running or walking, causing the inside of your foot to roll too far inward (some pronation is normal). Overpronation can lead to instability and even injuries, so Hoka adds an extra-firm piece of foam to certain stability shoes to provide extra support.
Depending on how much you pronate, Hoka offers two types of stability tech. The first and more mild is the the J-Frame, a firm, J-shaped piece of foam that hooks around the heel to medial side of the foot. Meanwhile, the H-Frame is more stable a resembling the number '8' more than a capital 'H.' The firmer foam runs along the entire perimeter of the shoe's midsole, as well as between the forefoot and rearfoot. In both cases, the firmer foam absorbs more shock, preventing your arch from collapsing and foot from rolling in.
Extended Heel Geometry
Many recent Hoka models feature an extended heel, sometimes referred to as Swallow Tail, which debuted in trail models to assist with downhill running. The extended heel is designed to increase stability and encourage the rocker effects of rolling through one footfall to the next.
Low Heel-Toe Drop
Drop, sometimes referred to as "heel-toe drop", is the difference in stack height between the heel and forefoot of a shoe. While many shoe companies stick to a more traditional drop of around 10mm, Hoka shoes consistently have a drop between 4-6mm. Lower drops like these encourage a runner to shift their gait towards a midfoot or forefoot strike. If you're new to low-drop shoes, Hokas might feel odd at first, but it's something you can get used to over time.
How We Tested and Selected the Best Hokas of 2023
I've tested nearly every Hoka running shoe that's come out in the past few years, and for this guide, I checked out every model in the current lineup. To test each pair, I ran on a combination of paved roads, dirt roads, bike paths, farm trails, ski trails, and steep hiking trails in Vermont's Green Mountains and New Hampshire's White Mountains.
I've been running since 2007 and started running marathons in 2018. I typically run 25 to 30 miles a week, but have notched up to 60 miles per week during peak training. I completed the 2023 Tokyo Marathon in a personal best time of 2:56. I've been writing about running shoes, apparel, and tech—among other outdoor and fitness topics—for nearly a decade.
The Best Hoka Running Shoes of 2023 Best Overall: Mach X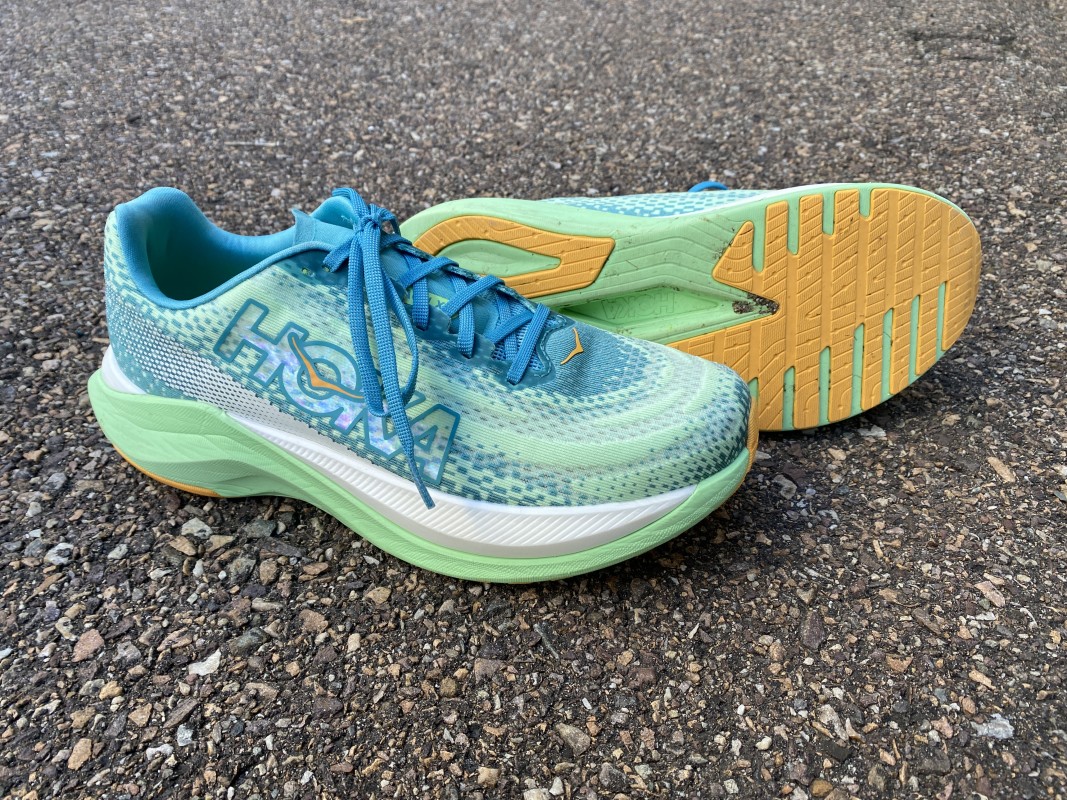 The Mach X is the perfect blend of springy and comfy for every run on your training schedule.
Tanner Bowden
The Mach X is the latest addition to Hoka's lineup, deftly occupying the space between the lightweight Mach and the race-focused Carbon and Rocket series, all of which are featured on our best-of list below. Like the Mach, it has a responsive feel (despite a high stack height; 42 millimeters in the heel and 37 millimeters in the forefoot), and like the Carbon and Rocket, it has the peppiness of a racer. This balance comes from the ingredients: PEBA foam, which is most often found in race shoes, and a Pebax plate that provides extra spring—like carbon fiber but much more forgiving. 
In testing, the Mach X did a great job handling intervals of race pace and recovery pace and felt well suited to both. It's not as snappy as the Carbon X or Rocket X, but versatility is the name of the game here. If you're looking for a training shoe that can handle recovery, easy, and tempo efforts—or don't want to spend on a three-shoe arsenal—try this.
Pros: Highly versatile, Pebax plate is more forgiving than carbon fiber, smooth transitions
Cons: Not as springy as other speed-oriented shoes
| Weight | Drop | Price |
| --- | --- | --- |
| 9.4 oz | 5 mm | $180 |


Best Everyday Runner: Hoka Clifton 9
The Hoka Clifton 9 is the company's most popular model.
Tanner Bowden
The Hoka Clifton 9 is a crowd-pleaser. If you're looking for a running shoe in the Hoka lineup that can handle a wide range of everyday runs and that has that signature plush feel, chances are it'll work for you. The shoe has a similar midsole stack as the plusher Bondi (and slightly more drop), but it's significantly lighter, which contributes to its overall nimble ride. It doesn't have the extended heel that Hoka has been bringing to many of its models, but it still has enough rocker where you'll feel that rolling propulsive effect. If you don't need a more specialized shoe, the Clifton is a great place to start, especially with a huge array of color options (and a nice $145 price tag). There is a version with Gore-Tex built in, too, if you need a waterproof option.
Pros: Affordable, nimble, comfortable, roomy toebox
Cons: None
| Weight | Drop | Price |
| --- | --- | --- |
| 8.7 oz | 5 mm | $145 |
Best Max Cushion: Hoka Bondi 8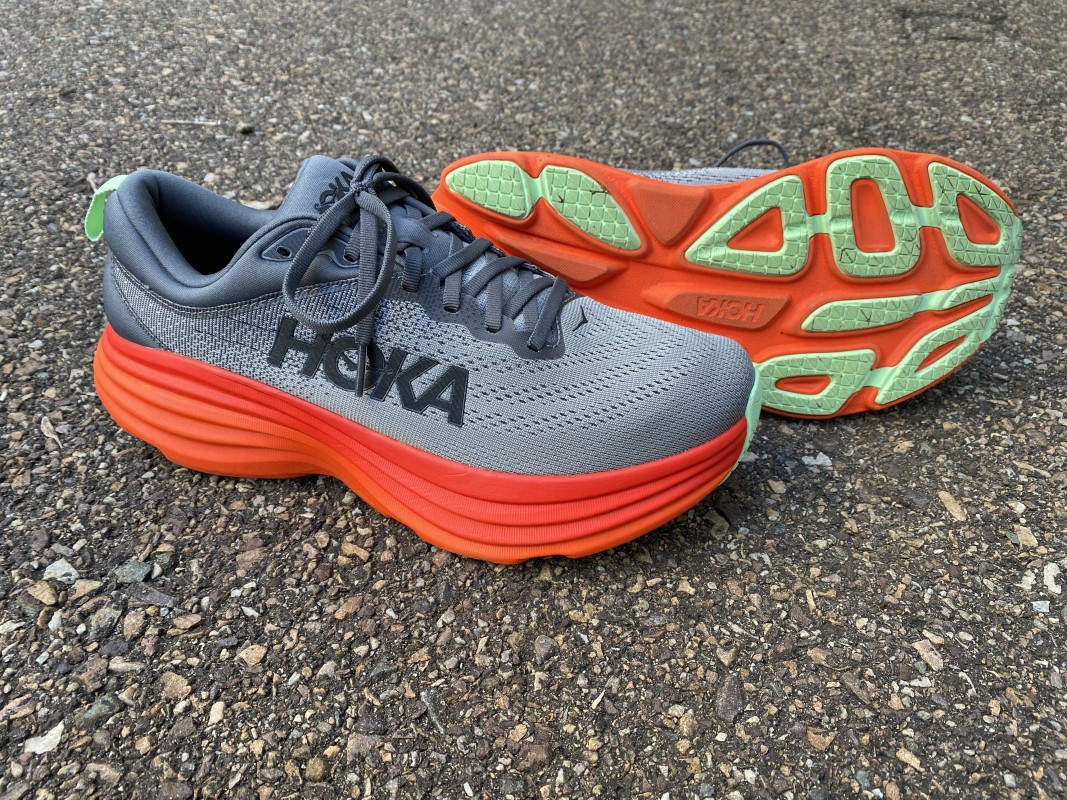 The Hoka Bondi 8 is the brand's best maximum cushion shoe.
Tanner Bowden
The Bondi has been a Hoka favorite for a long time, and it's done a lot to prop up the brand's rep for thick soles. For the eighth iteration, Hoka gave the shoe even lighter foam. Despite all that cushion, the shoe still feels lightweight, and don't worry about sinking into the midsole and losing energy, a issue with some shoes that use lots of foam. The Bondi 8 also dispels the other maximalist shoe drawback of instability, thanks to a wide platform that includes a new extended heel. All these traits make it a solid gateway shoe for those who are max-cushion-curious that's great for everyday runs, recovery runs, and walking, too.
Pros: Stable despite stack height, lightweight, comfortable
Cons: Narrow midfoot
| Weight | Drop | Price |
| --- | --- | --- |
| 10.8 oz | 4 mm | $165 |


Best Stability Shoe: Gaviota 5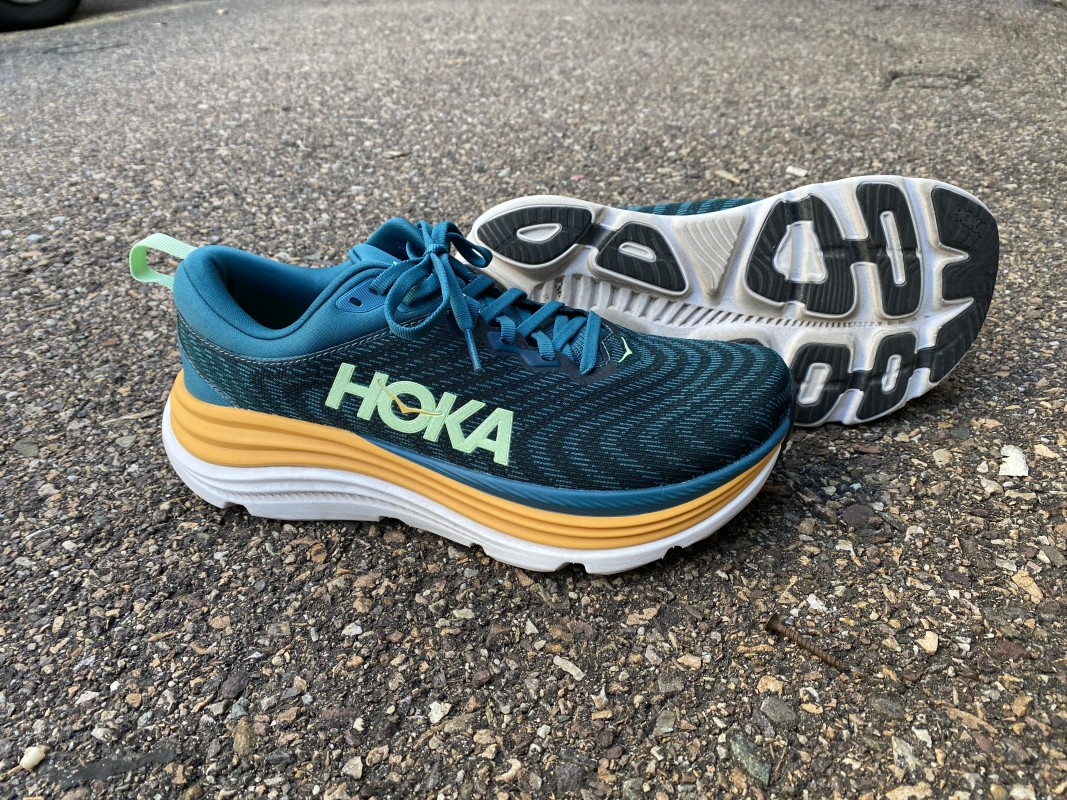 The Hoka Gaviota 9 is the go-to for stable running.
Tanner Bowden
Hoka doesn't offer as many stability-oriented running shoes as some other brands, but the Gaviota holds down the subcategory with a rare combo of structure and stack height. Running in the Gaviota doesn't feel like running in an overpronation-correcting shoe; the H-Frame that provides the extra structure is more subtle than the devices used by other stability models. With six millimeters of drop, the shoe edges toward a "traditional" construction, but it still has plenty of cushy EVA underneath, and some rocker, too, so it's definitely still a Hoka. The Gaviota's fit is roomier in the toebox so it's a good option for wider feet, and it is on the heavier end of the brand's scale, but the shoe doesn't feel like a boat.
Pros: Accommodating fit, extra support without losing plush feel
Cons: Slightly heavier than other Hoka models
| Weight | Drop | Price |
| --- | --- | --- |
| 10.9 oz | 6 mm | $175 |


Best Value: Mach 5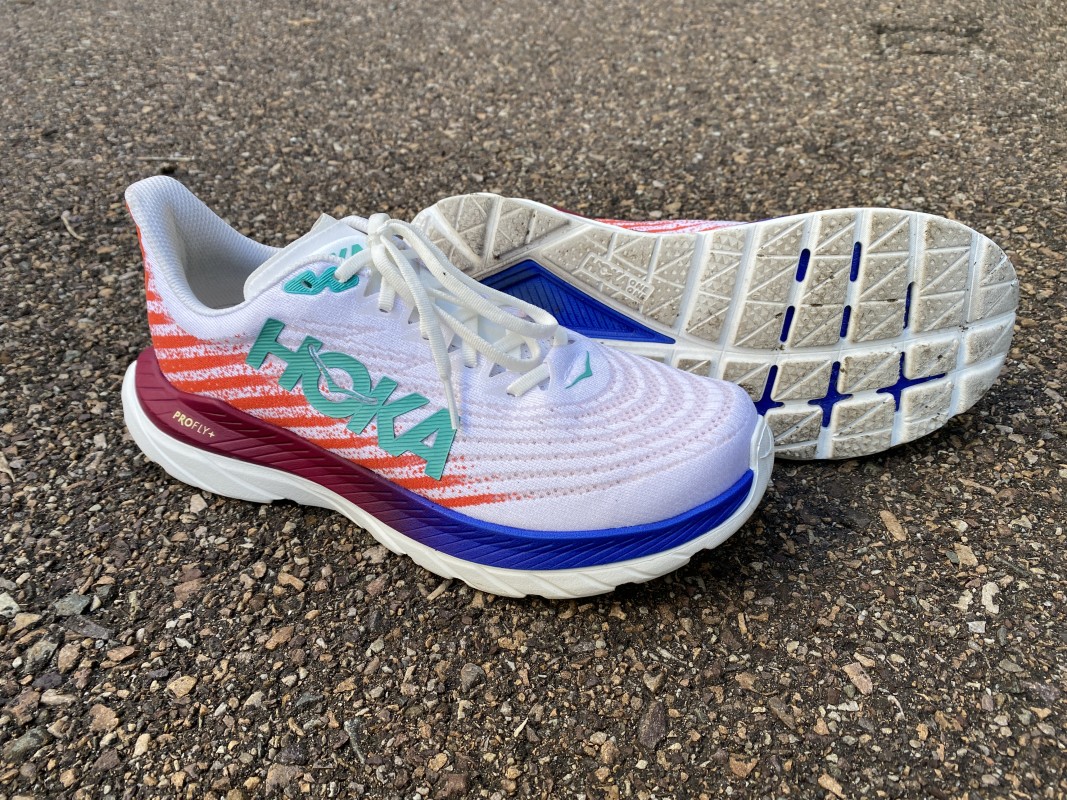 The Hoka Mach 5 provides the best bang for your buck.
Tanner Bowden
The Mach 5 bills itself as a racer—and it's definitely fit for a starting line—but it really shines as a versatile daily trainer. It has the least amount of cushion of any Hoka shoe, but it doesn't feel that way, with plenty of responsive squish that holds up to long, double-digit-mile runs. It handles pace changes with ease, too, with plenty of pop and smooth transitions from one footfall to the next. If you're just beginning to incorporate intervals or speed workouts into your running regimen or are simply curious about speed-oriented (versus everyday) running shoes, the Mach is an excellent place to start before spending big on something with a plate or pricier foam in it. At $140, it's also an absolute bargain (but buy based on fit and feel, not price).
Pros: Very responsive, lightweight, affordable
Cons: Not much support
| Weight | Drop | Price |
| --- | --- | --- |
| 8.2 oz | 5 mm | $140 |

Best Racing Shoe: Rocket X 2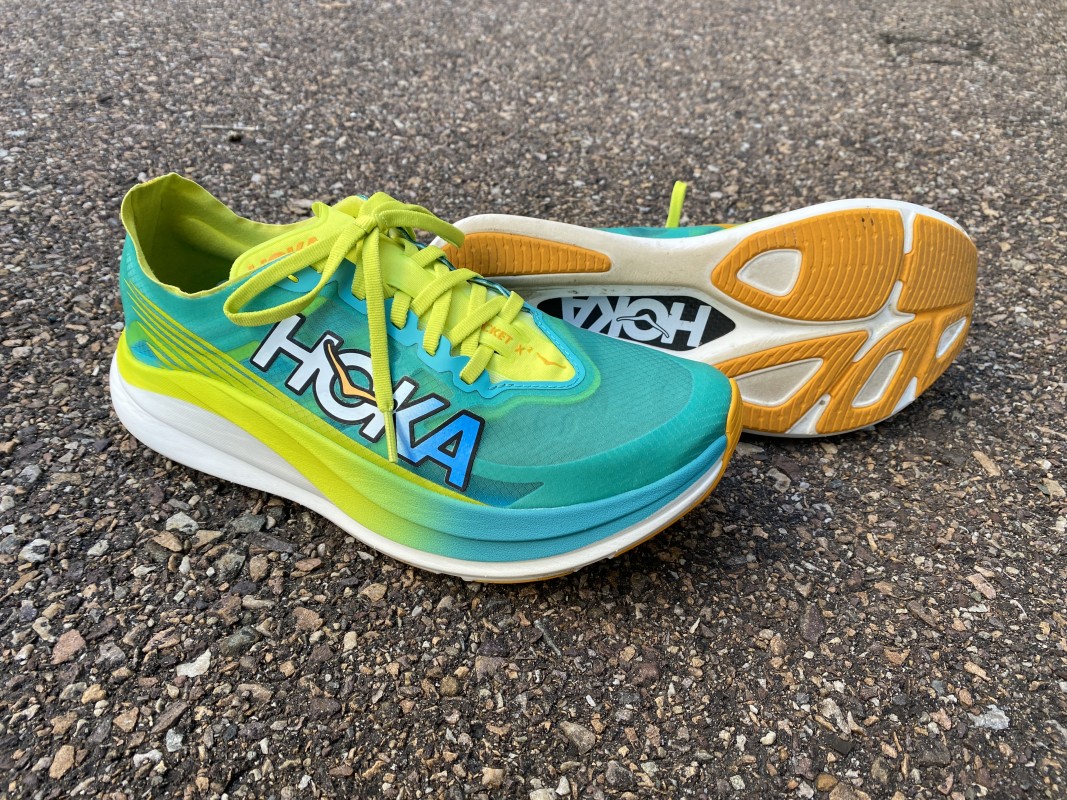 The Rocket X 2 is Hoka's best shoe for running a fast time.
Tanner Bowden
The Rocket X 2 is Hoka's answer to the Nike VaporFly, the ASICS Metaspeed Sky, and all the other carbon fiber-plated racers, but it still manages to find its markedly Hoka-typified niche in the mix with a plush and rockered foam base. The shoe differentiates itself with a welcome amount of stability compared to some of its competitors, and it's also pleasantly grippy, which helps inspire confidence when you're hauling. Like those other premium shoes, the Rocket X 2 uses a very minimal upper with a performance (as in, close and contouring) fit built upon a resilient PEBA midsole with a carbon fiber plate inside. If you've run in or read about the first Rocket X, know that number two is an entirely different shoe. In this case, that's a good thing, and the shoe has race results to back it up.
Pros: Solid propulsion for speed, great stability for a race shoe
Cons: Expensive, some might want more structure in the heel
| Weight | Drop | Price |
| --- | --- | --- |
| 8.3 oz | 5 mm | $250 |

Best Road to Trail Shoe: Stinson 7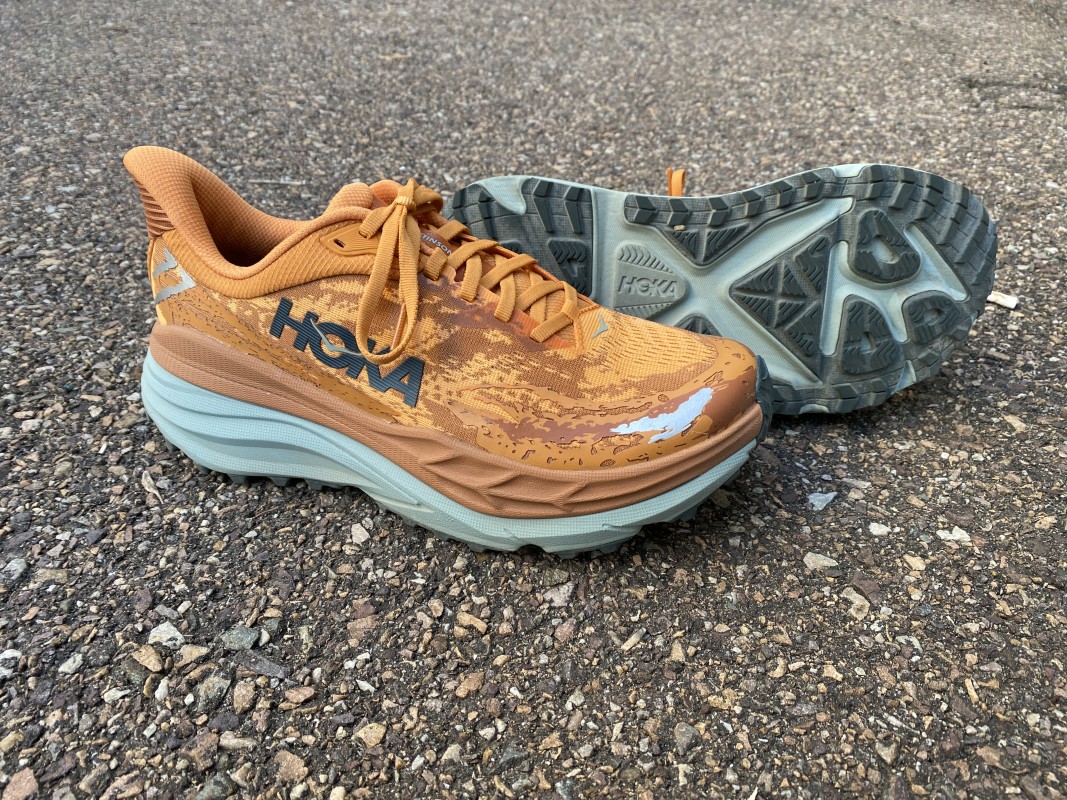 The stable Hoka Stinson 7 is good for the roads or the trails.
Tanner Bowden
The Stinson 7 packs the most cushion you'll find in a Hoka shoe with 42 millimeters of foam under the heel and 37 millimeters under the toe (40 and 35 millimeters for the women's). If you ran in it without knowing that though, you'd never guess, because stability is one of this shoe's top attributes, which helps it attain versatility between dirt and pavement despite four-millimeter lugs such that we found ourselves forgetting about the shoe on road approaches during testing (the same can't be said of other shoes in Hoka's trail lineup like the Speedgoat or Mafate). The upper is firmer and more supportive than others too (like the Speedgoat). All this combines to make it an ideal option for those just getting into trail running, too.
Pros: Very stable, rolls from one step to the next, versatile
Cons: Heavy
| Weight | Drop | Price |
| --- | --- | --- |
| 12.9 oz | 5 mm | $170 |


Most Versatile Trail Shoe: Speedgoat 5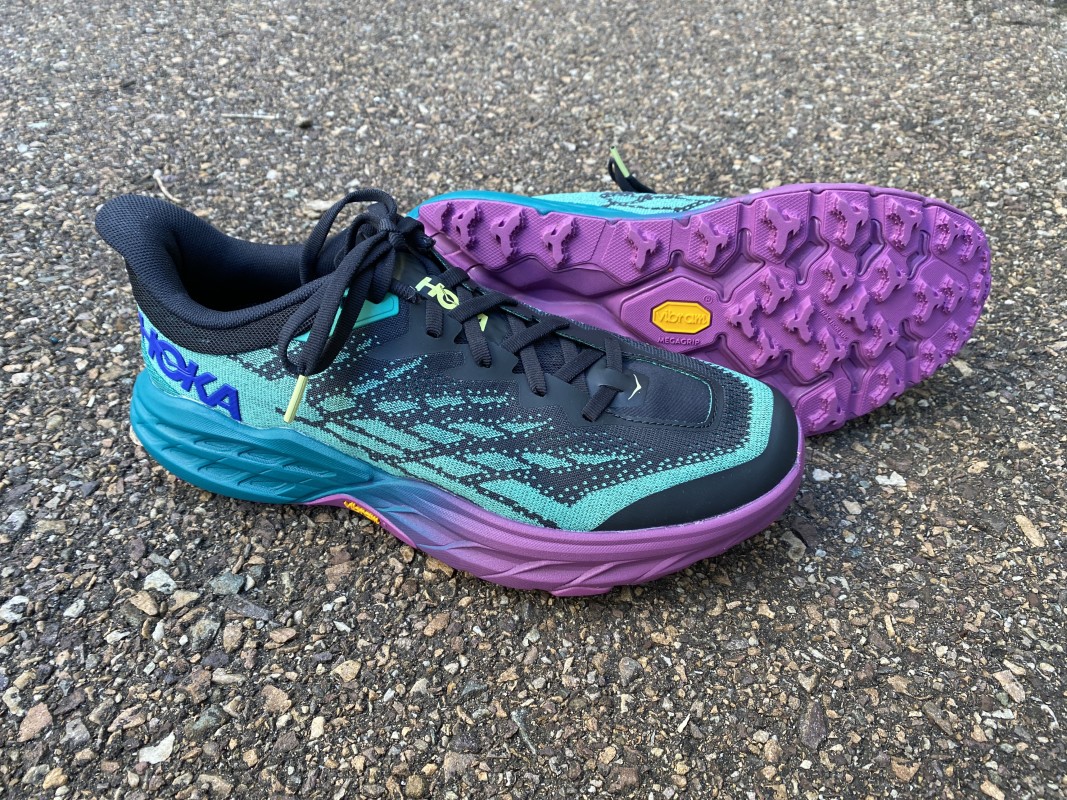 The Hoka Speedgoat 5 is a plush and forgiving trail shoe.
Tanner Bowden
The