The Best Emergency Meals for Any Disaster
Men's Journal aims to feature only the best products and services.  If you buy something via one of our links, we may earn a commission.
Given that most of us live in the safest age in human history, "survivalist" culture can often seem like an expensive exercise in overhyping uncertainty. In our busy lives, emergency preparation generally takes a back seat to our usual day-to-day demands. 
Yet "the new normal" of natural disasters has become a common refrain for a reason. From headlines of unseasonal hurricanes and wildfires that have quadrupled in size and tripled in frequency over the last two decades to policies now made around pandemic considerations, looming catastrophe seems ever present. Wherever you are, the key to remaining calm and carrying on, is preparation—including having a solid and reliable emergency food stash if and when you ever actually need it. If you had to just pick one to sustain you in a disaster or emergency, we like Backpacker's Pantry as our best overrall pick—it's tasty, will last at least 10 years, and has tons of flavorful options.
Why You Should Trust Me
I'm a writer for over two dozen publications across the Internet and newsstands. I'm also an outdoorsman, angler, bikepacker, and knife obsessive who's also usually the designated camp cook and bartender.
Related: 100 Healthiest Foods With the Highest Protein
Why You Should Get These Emergency Foods
Taking a few steps to be prepared doesn't need to be an exercise in indulging global anxiety. It can simply be a matter of keeping a few extra dehydrated meals on the basement shelves for backpacking trips and passing storms alike. Here are our picks for the best, most nutritious, easiest-to-use, and tastiest shelf-stable food options to keep on hand.
The Best Shelf-Stable Emergency Meals
Best Overall Emergency Food: Backpacker's Pantry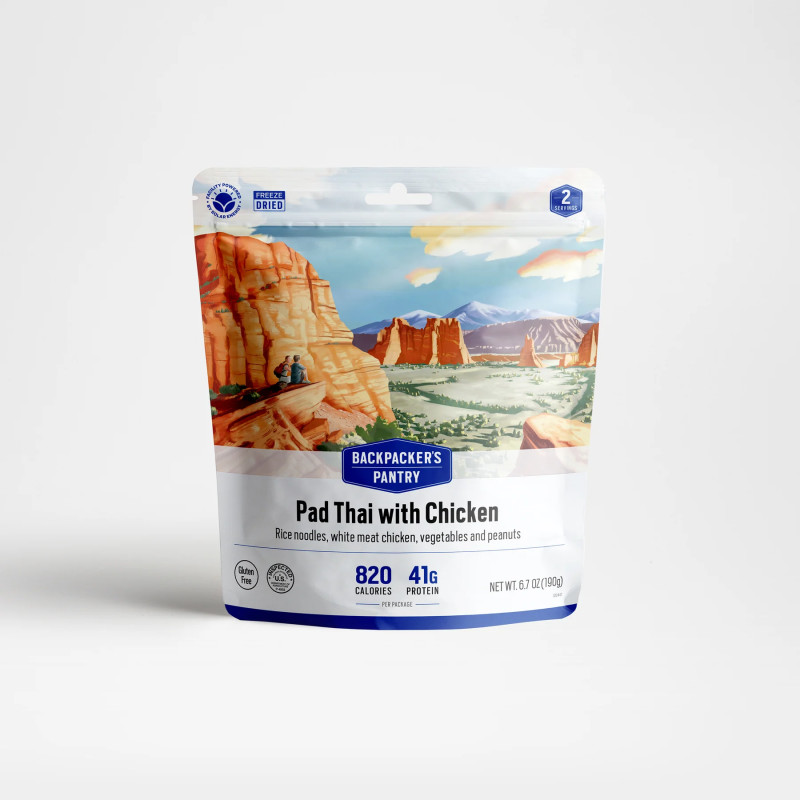 Courtesy Image
Whether freeze-dried or dehydrated, dried meals packaged in airtight packages will typically last at least 10 years—and up to 30 years if kept in cool, secure environments. From extreme shelf stability to weighing little and taking up limited space, dried meals are popular among backpackers for good reason. Most dried entrees do require boiling water, but typically only around one to two cups—easy for any camp stove, fireplace, or hot plate.
If you've ever walked into an REI, you may recognize Backpacker's Pantry. With 23 entrees, 9 breakfast meals, and 10 fruit and dessert options, the brand has one of the most diverse catalogs of freeze-dried and dehydrated meals out there. Importantly, it also offers some of the tastier dishes in this category, such as its Fettuccine Alfredo, Pad Thai with Chicken, and Rocky Mountain Scramble. All the meals can be rehydrated within 15 minutes (though, as with all dried meals, that time doubles for every 5,000 feet above sea level).
Backpacker's Pantry meals range widely in calorie count and serving size, so not every meal will hit quite the same. The brand's largest bundles are also only designed to last a single person seven days, but the ability to customize the entrees in a bundle lets you please your palate. Should you swipe a few meals from your stash to take camping, the brand's widespread availability at outdoor stores makes resupply easy.
Best Bulk Bet: Backpacker's Pantry Build Your Own Meal Kit
Pro Prepper Tip: The Fettuccine Alfredo and Pad Thai with Chicken are tied for taste, but at 820 calories for the latter, it's the best pick for impactful emergency nutrition.
[From $5; rei.com]
Best for Dietary Restrictions: RightOnTrek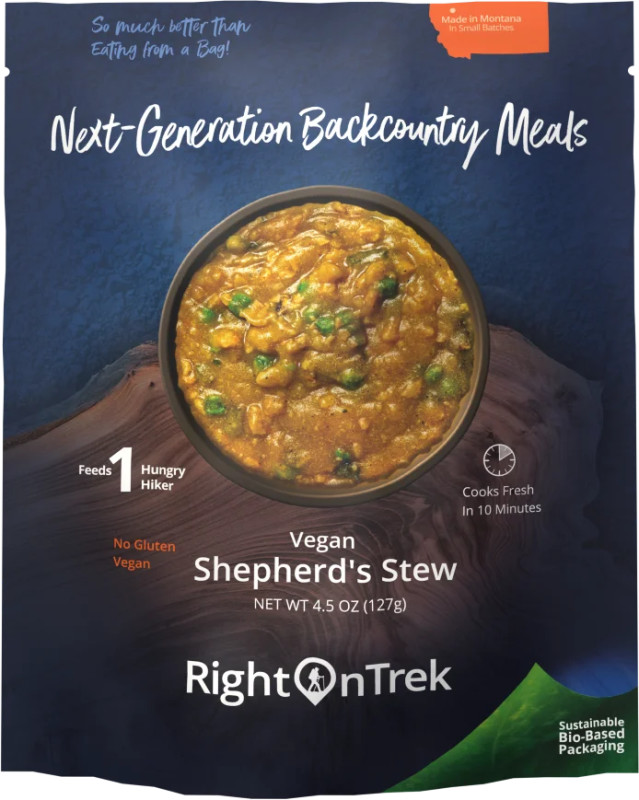 Courtesy Image
From allergies to ethical choices, many people have dietary restrictions that still matter even in an emergency. Most dried backpacking meal companies allow you to shop according to some restrictions—but few companies make it as easy as RightOnTrek.
The company's site allows you to select meals by nine preferences: keto, no dairy, no soy, gluten-free, no peanuts, vegan, vegetarian, kid-friendly, and spicy. The meals also clearly list on the front of the packaging some—though not all—of the dietary guidelines they follow.
RightOnTrek also allows you to choose among one-, two-, and (for the Pad Thai and Shepard's Stew) four-serving bags for each meal. For someone in an active situation, even two-serving entrees often come up short of a full meal. However, many of RightOnTrek's meals offer over 500 calories per serving, making these genuine meals.
In addition to the hefty sustenance, unlike most dehydrated or freeze-dried meals that often just call for adding boiling water, RightOnTrek's meals require actual cooking. A number of the meals even include addable seasonings and condiments. On the one hand, this does consume more time and fuel. On the other, being able to engage in regular rituals like cooking a meal can provide a sense of stability and normalcy in emergency situations—like a genuine home-cooked meal wrapped in sustainable, plant-based packaging.
Best Bulk Bet: None, but portion sizes are adjustable.
Pro Prepper Tip: In addition to one- and two-serving portion sizes, the Pad Thai and Shepherd's Stew are available in four-serving portions.
[From $7; rightontrek.com]
Best Emergency Grocery Store: Packit Gourmet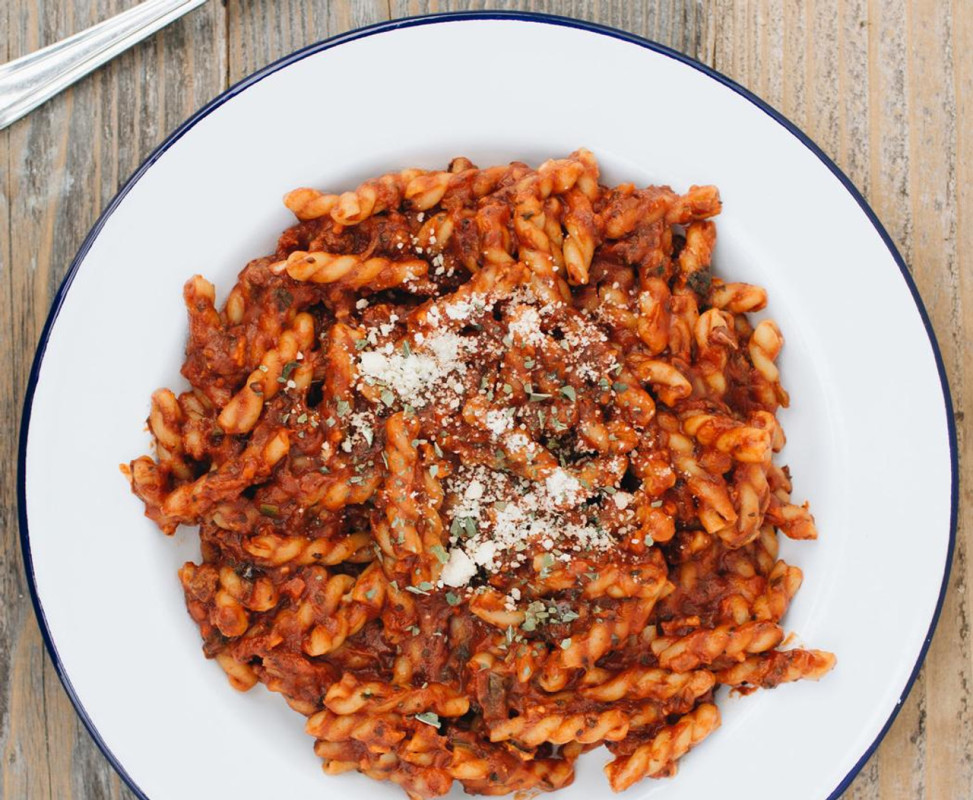 Courtesy Image
Prepackaged meals offer the easiest prep for emergency situations, but individual dried ingredients offer flexibility to incorporate other ingredients you have on hand. Packit Gourmet allows you to get a bit of both.
Like Right on Trek, many Packit Gourmet meals call for a more involved cooking process. The meals also range vastly in caloric content, from 60-calorie ramen to 800-calorie pasta Bolognese. What was consistent in our tests: quality. Packit boasted more consistently high marks for taste in this lineup. And while flavor may not be the most critical thing in an emergency, a good meal is always a boon for morale. That said, it comes at a premium, with these meals costing more for the calorie content provided.
What really sets Packit Gourmet apart is that, even as a small company, it maintains a digital grocery store of dozens of freeze-dried ingredients—from fruits, vegetables, and meats to sauces and seasonings. The individual ingredients offer nimbleness to mix and match, alongside the more perishable items in your pantry, to cook a multitude of potential meals. 
Best Bulk Bet: The Deluxe Camp Kitchen for flexibility, and the Car Camper for prepared meals.
Pro Prepper Tip: Keep in mind that most Packit entrees are lighter on calories compared to other dehydrated and freeze-dried meals.
[From $6; packitgourmet.com]
Best Emergency Noodles: Nongshim Black Ramen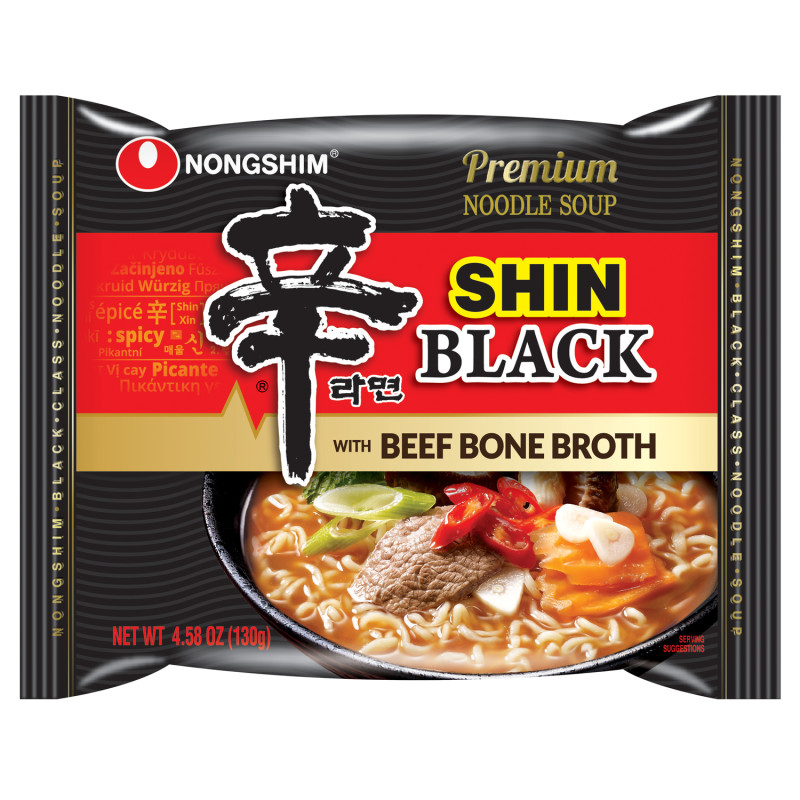 Courtesy Image
Instant ramen gets a bad rap. Granted, by itself, most instant ramen is light on calories, has a shelf life of only a few years, and is heavy on sodium—even compared to typically salt-heavy backpacking-style food. However, as a base, there's no denying that it's satisfying and cost-effective.
Many households already keep a few packs of backup ramen somewhere. And while the shelf life isn't as long as most freeze-dried meals, the fact that people more regularly eat instant ramen than backpacking-style meals means aging supplies tend to get cooked up and replaced.
You can throw any number of extras into your noodles: dried mushrooms in the pantry, eggs that will go bad soon with the power out, onions sitting on the counter, and all manner of shelf-stable meats and vegetables from services like Packit Gourmet. And this will help transform your dish into a full meal, far more cheaply than many of the other options listed here.
Nongshim Shin Ramyun Black, specifically, makes this easy with a beef bone broth flavor enhanced with garlic, green onion, and MSG. It's a sturdy template, whether you're in a real emergency or it's simply 2 a.m. and you need to eat.
Best Bulk Bet: Nongshim Shin Ramyun Black 10-pack
Pro Prepper Tip: Instant ramen might be a survival food for college students, but in real emergency situations, it requires some gussying up to provide proper nutrition.
[From $2; amazon.com]
Best Emergency Seafood: Patagonia Provisions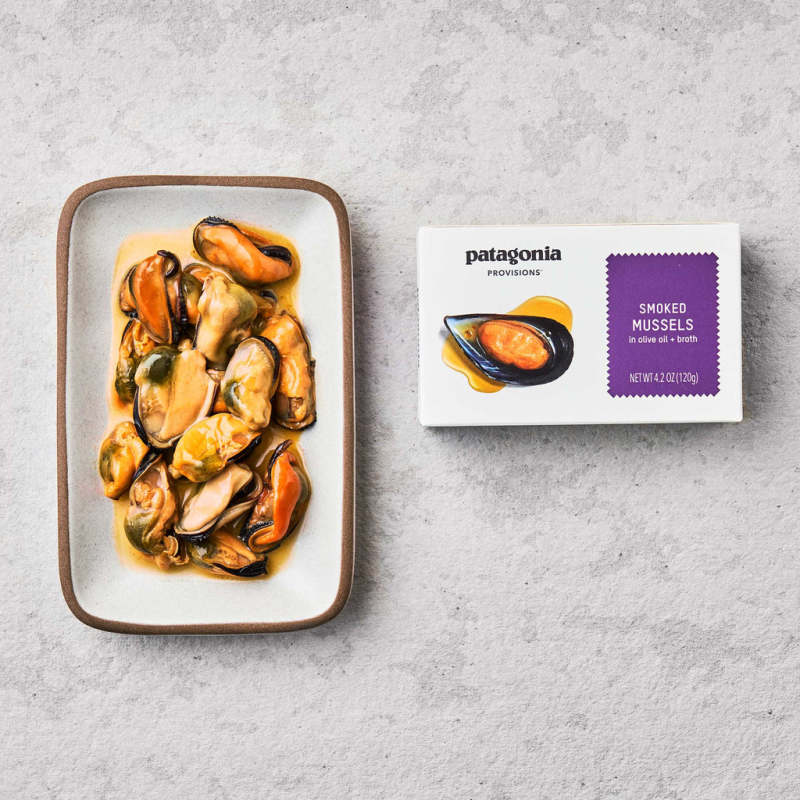 Courtesy Image
Tinned fish has the advantage of being one of the only options in this lineup that is edible without any heat or preparation. However, with a little effort, it can offer a meal just as filling as most backpacking-style entrees, with less sodium and more protein.
Patagonia Provisions aims to make this even easier, tastier, and more sustainable. The line offers a variety of tinned anchovies, mussels, mackerel, and smoked salmon with a shelf life of two to four years. Toss the mackerel into instant ramen. Mop up the anchovy oil with a tortilla. Stir the mussels into your Backpacker's Pantry Mac & Cheese. Simply pop open the salmon and eat it with rice. The result is dependably delicious, nutritious, portable, and shelf-stable.
Best Bulk Bet: Patagonia's Responsible Seafood Sampler
Pro Prepper Tip: Simply serving over rice can turn tinned fish into an easier and more filling meal than many dehydrated and freeze-dried meals.
[From $7.50; rei.com]
Best Pemmican: Frankie's Free Range Foods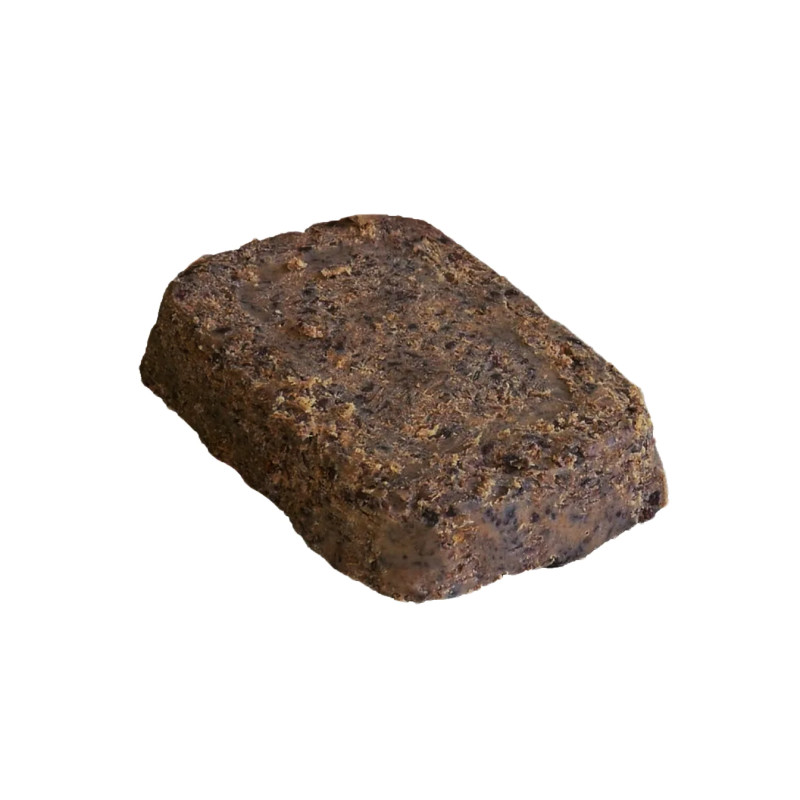 Courtesy Image
For many, pemmican might be the most obscure food on this list. Still, it has stood the test of time. Pemmican is an ancient, shelf-stable food made of tallow, dried meat, and often dried berries, honey, and nuts.
Typically lasting one to five years, depending on composition, pemmican is generally much higher in fat and protein than more modern sports bars. And while it can be made at home as a fun project, there are numerous modern vendors. The best in our test was Frankie's Free Range Foods, as it offered the most complete balance of carbs, fat, and protein, with lower sodium—great for offsetting all the salt typically found in dehydrated meals.
[From $4; frankiesfreerangefoods.com]
Best Meal Replacement Powder: Huel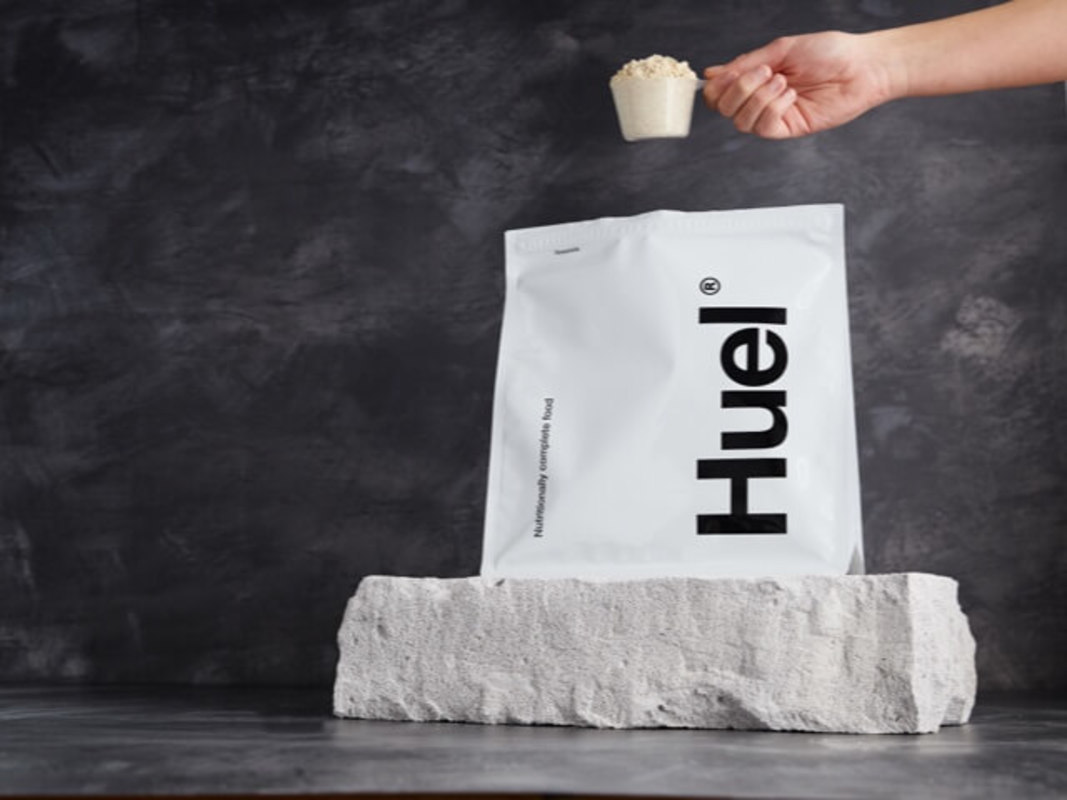 Huel
Meal replacement powders are often marketed as a dietary shortcut. Granted, no powders can yet substitute a well-rounded diet high in prebiotics and fiber, and limited in processed food. For emergency prep, meal replacement powders are heavier than freeze-dried meals, and don't come with the same morale boost as a hot meal.
That said, while we've mainly focused on overall calorie content, meal replacement powders offer an opportunity to look past just hitting calorie goals, to actually round out emergency nutrition. Overall, Huel is our powder pick for the greatest array of products, nutritional content, and variety of flavors. The Black and White editions of the brand's core meal replacement shake tend to be rather thick, relatively unsweet, and a bit of a slog to fully drink. Nevertheless, the broad range of flavors, options for dietary needs, and completeness of nutrition compared to regular whey powder still make Huel a utilitarian pick for crisis cuisine. 
Will a powder ever lift your spirits in a stormy blackout the way, say, hot ramen or chili will? Probably not. But it could help keep you well-fed, energized, and ready to move.
Best Bulk Bet: Huel Custom Bundle
Pro Prepper Tip: The vanilla and strawberry are the easiest flavors to get down by themselves. The cinnamon roll variation makes a great addition to oatmeal.
[$38; amazon.com] 
MREs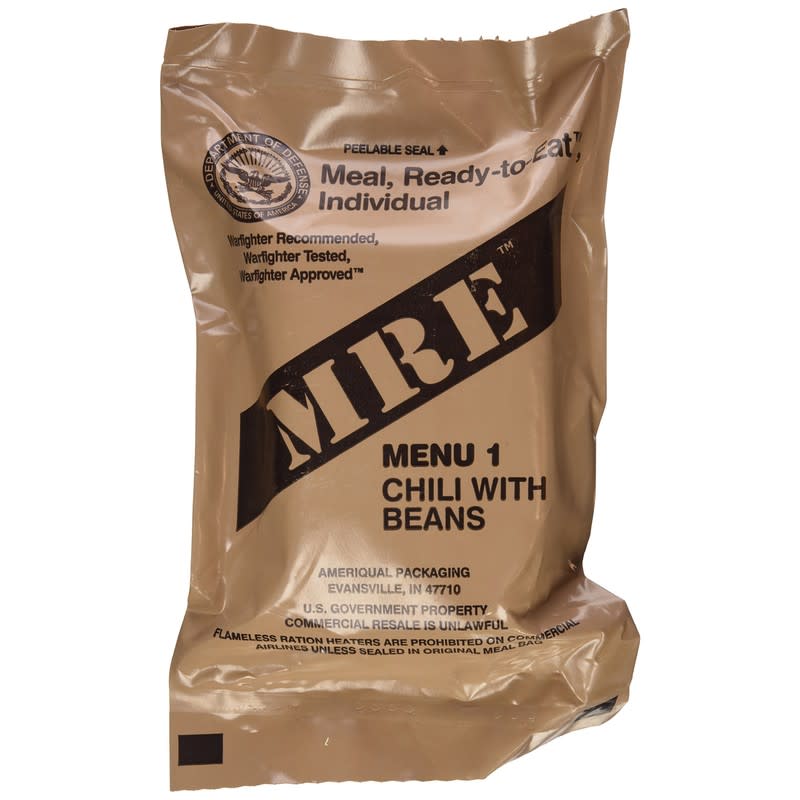 Courtesy Image
MREs might be the most overrated pick on this list, but they undeniably have their time and place. Unlike backpacking-style meals, MRE (Meal, Ready to Eat) foodstuffs aren't dried. This lowers their shelf life to around three to five years. Between the water weight and waterproof packaging, they're heavy and bulky—not ideal for emergencies that call for exfiltration. And take it from someone who ate enough MREs in the Army to last a lifetime: There are more misses than hits. (For the love of all that is dear to your taste buds and colon, do not get the Maple Sausage Pork Patty or the Asian Beef Strip.)
That said, the fact that MREs are designed with the mentality of "grab it, go, get the job done" can be useful in an emergency. While many meals marketed for camping and backpacking are too light on calories to sufficiently support those activities, your average MRE contains a little over 1,200 calories. Likewise, they are kept in durable packaging, and include multiple sides and a heating element. So, even if you don't have access to fuel, you can still have a hot, multi-course meal.
Best Bulk Bet: Try several MREs, and order the ones you..