The Best Bar in the World Is Just Two Years Old
Sips, the Barcelona cocktail joint from industry icons Simone Caporale and Marc Alvarez, was just named the best on the planet by the World's 50 Best, which ranks the very best bars and restaurants. The organization unveiled its annual list at an awards ceremony in Singapore on Wednesday, October 18.
Located in the hip, student-dominated L'Antiga Esquerra de l'Eixample in Barcelona, Spain, Sips offers meticulously crafted cocktails served in ornate, yet playful ways. The bar only opened in 2021, but its creative take on recognizable classics and signature serves helped its rise to third on last year's list. Following the 2022 announcement, Sips opened another bar, Esencia, within the bar, adding another unique twist to the watering hole and helping push it into the top slot.
"As the brainchild of cocktail-world icons Marc Álvarez and Simone Caporale, Sips was destined for greatness even before it rocketed into the list at number 37 just a few short months after opening in 2021," said 50 Best's Director of Content William Drew. "The bar seamlessly translates contemporary innovation and technical precision into a playful cocktail program, accompanied by the warmest hospitality, making it a worthy winner of The World's Best Bar 2023 title."
North America's top bar, New York City's Double Chicken Please, finished in second place, while Mexico City's Handshake Speakeasy rose eight places to number three. Last year's number one bar, Barcelona's Paradiso, and perennial favorite Connaught Bar in London rounded out the top five.
London remained the world's cocktail capital with five bars on the list, more than any other city, and a total of nine in the top 100. Last week the World's 50 Best revealed its extended list featuring bars ranked between 51 and 100. Four bars from Mexico City were named in the top 50, while three bars from New York, Singapore, Athens, and Buenos Aires each featured in the rankings. Check out the full list below.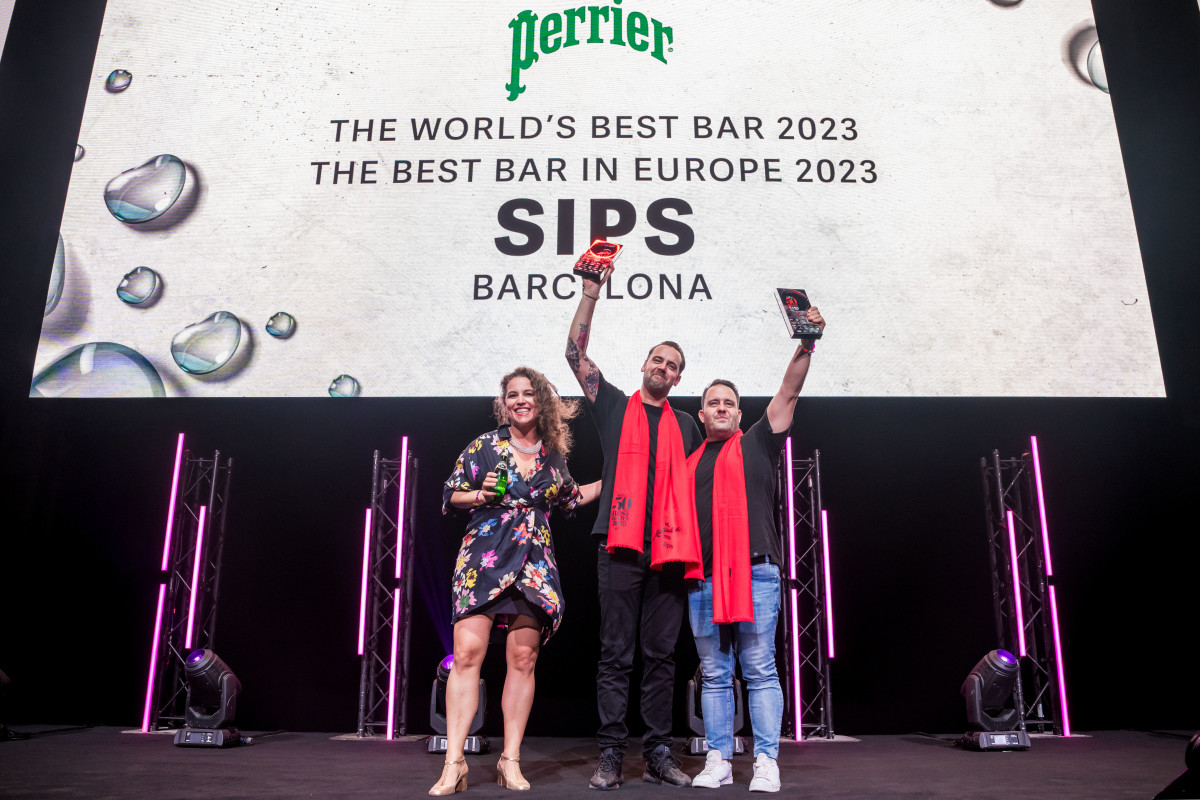 Sips' owners accept the award for the World's Best Bar 2023.
Courtesy Image
World's 50 Best Bars of 2023
1. Sips – Barcelona, Spain
2. Double Chicken Please – New York City
3. Handshake Speakeasy – Mexico City
4. Paradiso – Barcelona, Spain
5. Connaught Bar – London
6. Little Red Door – Paris
7. Licorería Limantour – Mexico City
8. Tayēr + Elementary – London
9. Alquímico – Cartagena, Colombia
10. Himkok – Oslo, Norway
11. Tres Monos – Buenos Aires, Argentina
12. Line – Athens, Greece
13. BKK Social Club – Bangkok
14. Jigger & Pony – Singapore
15. Maybe Sammy – Sydney
16. Salmon Guru – Madrid
17. Overstory – New York City
18. Zest – Seoul, South Korea
19. Mahaniyom Cocktail Bar – Bangkok
20. Coa – Hong Kong
21. Drink Kong – Rome
22. Hanky Panky – Mexico City
23. Caretaker's Cottage – Melbourne, Australia
24. Café La Trova – Miami
25. Baba au Rum – Athens, Greece
26. CoChinChina – Buenos Aires, Argentina
27. Katana Kitten – New York City
28. Satan's Whiskers – London
29. Wax On – Berlin
30. Florería Atlántico – Buenos Aires, Argentina
31. Röda Huset – Stockholm
32. Sago House – Singapore
33. Freni e Frizioni – Rome
34. Argo – Hong Kong
35. A Bar with Shapes for a Name – London
36. The SG Club – Tokyo
37. Bar Benfiddich – Tokyo
38. The Cambridge Public House – Paris
39. Panda & Sons – Edinburgh, Scotland, UK
40. Mimi Kakushi – Dubai, UAE
41. Scarfes Bar – London
42. 1930 – Milan
43. Carnaval – Lima, Peru
44. L'Antiquario – Naples, Italy
45. Baltra Bar – Mexico City
46. Locale Firenze – Florence, Italy
47. The Clumsies – Athens, Greece
48. Atlas – Singapore
49. Jewel of the South – New Orleans
50. Galaxy Bar – Dubai, UAE