The 23 Best Overwater Bungalows in the World
Anyone who's experienced an overwater bungalow knows that the tranquil ambience and coveted luxury of these pinch-me digs are unlike anything else in tropical vacationland. If you haven't yet had the pleasure, let's just add that it's a must-do for any discerning escape artist. As winter approaches and tropical vacations involving turquoise water and palm-fringed crescents of sand become all the seasonal rage, overwater bungalows take that whole paradise-on-earth experience to whole other level. These unique accommodations, also known as water villas, pair the best part of a glass-bottomed boat with the luxury of a high-end resort, creating perfect little oases of cloud-nine calm and contentment. 
"Overwater bungalows have become all the rage for vacationers, and it's not hard to see why," says Tricia Ragone, Dream Vacations travel advsior. "These cozy little huts right over the water offer a perfect blend of luxury and nature. They've been trending lately because they let you dive straight into clear blue waters and get up close with beautiful marine life, making for an unforgettable and truly peaceful escape."
Related: How to Visit the Caribbean's Best Kept Secret
Perched above shimmering sand bars or crystal-clear lagoons, most overwater bungalows feature a glass floor section so you can observe the sea life directly below your private suite. "There's just something incredibly romantic about that setting—especially since most of them are designed with privacy features," says Roger Wade, editor of Overwater Bungalows.
Already sold? Before searching for your perfect overwater pad below, be prepared for a price adjustment from what you may be used to. Overwater accommodation rates are naturally steeper—which explains why even our favorite "budget picks" in this opulent category can reach $500 per night—although at least one cabana here goes for a cool $100. Many of our featured resorts here offer standard suites for less. If you can swing the overwater rate bump, the splurge speaks for itself, and generally offers excellent value for all the added benefits.
"Overwater bungalows may appear very expensive at first glance," says Wade. "Keep in mind that nearly all of them are suite-sized and are more private than you may think. You actually get quite a bit for the price."
Read on for our favorite overwater bungalows from Florida and the Caribbean to Malaysia, the Maldives, and beyond. The most spectacular worldwide options are all here, plus several budget gems that will get you sleeping above the fish for less.
Best Overwater Bungalows in Mexico and the Caribbean
Some of the most stunning, convenient, and cost-effective bungalows (check out our budget bungalow section below) are scattered throughout the turquoise nirvanas of the Caribbean and Mexico. These spots offer quicker commutes and instant rapture.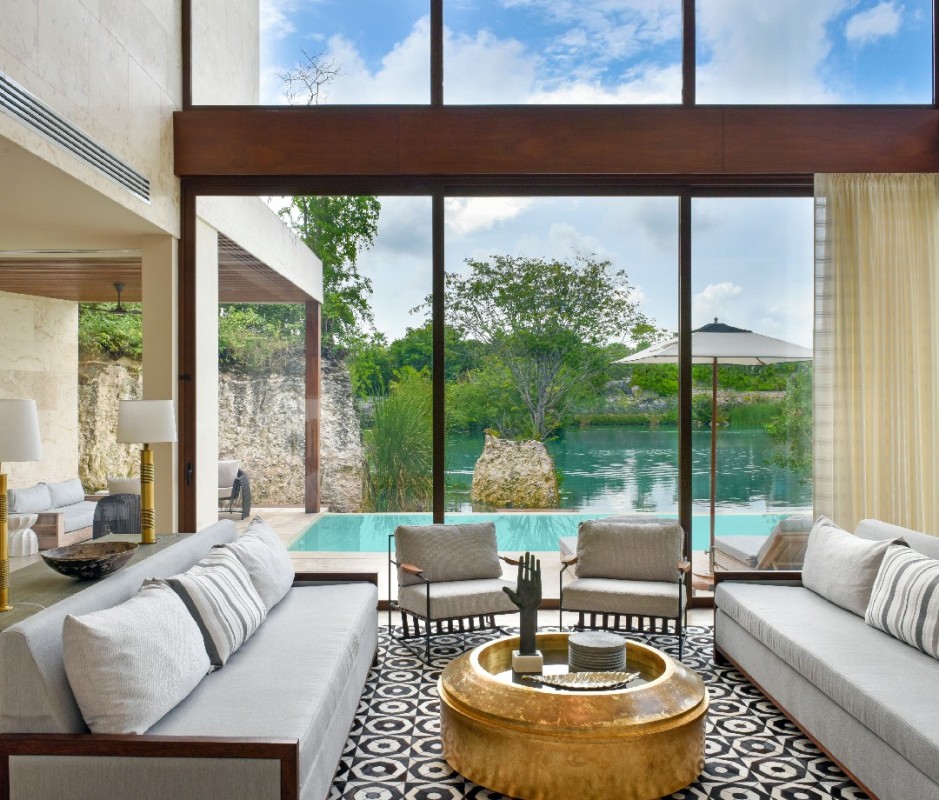 Courtesy image
For more nautical nirvana in this region of Mexico, book the Deluxe Overwater Lagoon Suite, situated directly above (you guessed it) a magnificent emerald lagoon. Well-appointed with an inviting lounge terrace and plunge pool, this unique Playa del Carmen abode also features a handsome bathroom with outdoor garden shower, a walk-in closet, a king bed, and divine views of the surrounding lagoon and mangroves. Before checking out, be sure to check into the top-notch spa here, Sense, a Rosewood Spa, to elevate your zen to new heights.
[From $1,110 per night; mayakoba.com]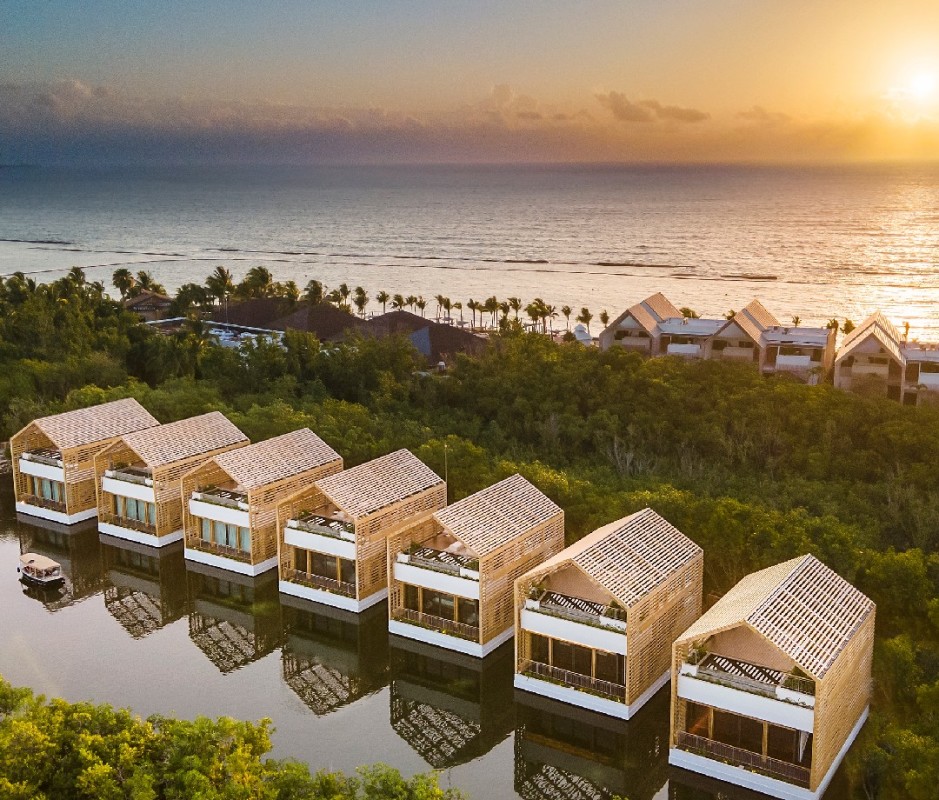 Banyan Tree Mayakoba
Check into Yucatán, Mexico, paradise in your very own overwater bungalow perched atop a private lagoon and a stone's throw away from the beach. The seven Banyan Tree Mayakoba's Lagoon & Sunset Rooftop Pool Villas are one-bedroom villas you'll hardly want to leave all vacation long. The airy and light-filled two-story layout invites many daily dips in the rooftop terrace's heated plunge pool—especially at sunset, when the views are epic. There's also an outdoor shower and whirlpool bathtub.
The accommodations are newcomers to this chic Mayakoba resort as of 2022, and the destination also underwent a larger $120 million renovation investment concluding in 2023. Mayakoba comprises nearly 600 acres, a tropical eden of lagoons and sand beaches designed by architects, biologists, geologists, and engineers to preserve the ecosystem of endemic species. Six miles of freshwater lagoons connect four hotels here: Andaz Mayakoba, Banyan Tree Mayakoba, Fairmont Mayakoba, and Rosewood Mayakoba.
[from $2,269 per night; mayakoba.com]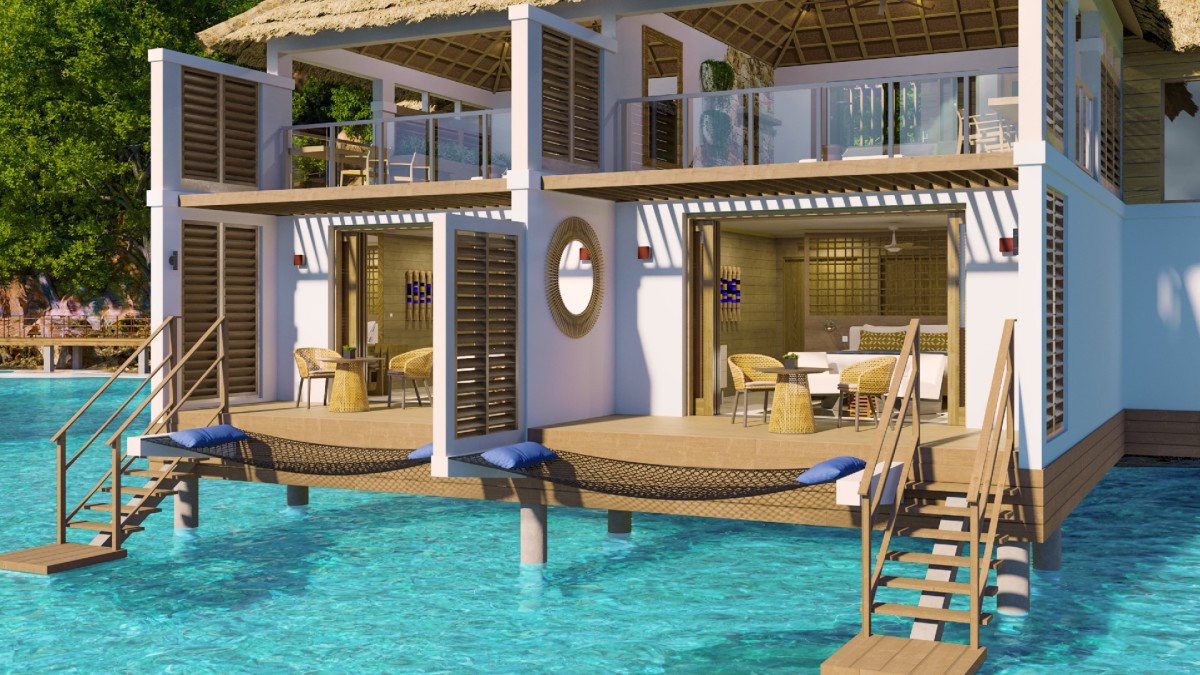 Courtesy of Sandals Resorts
10 overwater bungalows will be delighting guests at Sandals latest Caribbean stunner in St. Vincent—scheduled to open March 27, 2024. The Vincy Overwater Two-Story Villas, nestled in the resort's private cove, boast vistas of green rainforest behind you and an endless turquoise ocean in your front yard. Along with these crazy views, there's much to love about the bungalow interiors, which feature special biophilic elements and the warmth of local volcanic materials. Our favorite spot here is an overwater hammock, but close runners up include the outdoor soaking tub and rooftop outdoor lounge.
[from $1,570 per night per person; sandals.com]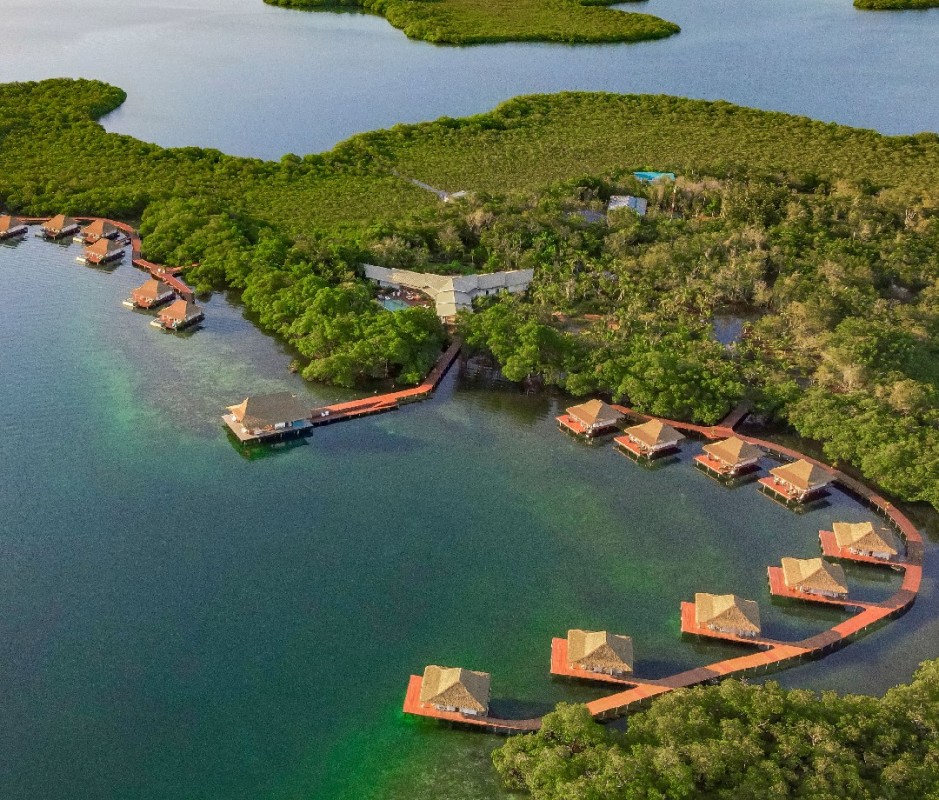 Courtesy of Nayara Resorts
Located on a private island off Panama's Caribbean coast, Nayara Bocas del Toro is an adults-only resort with 16 overwater villas suspended above turquoise waters, many of them featuring glass panels for scoping out the aquatic creatures beneath you. Some of the villas also offer private saltwater pools, while others have outdoor fire pits. All have four-poster king beds with Balinese "Tumpang Sari" canopies.
Snorkeling from these stunning pads instantly surrounds you with three miles of coral reefs—part of the largest reef of its kind in the northern hemisphere. Another cool feature here is what has been dubbed the "world's first overwater beach"—created on stilts and spanning 90 feet by 20 feet. If living in a forest canopy is your preference, the property also has treehouses. These digs are crafted with locally harvested bamboo and hardwoods from the bottom of the Panama Canal—all outfitted with a Javanese hand-hammered copper bathtub.
[From $1,158 per night; nayarabocasdeltoro.com]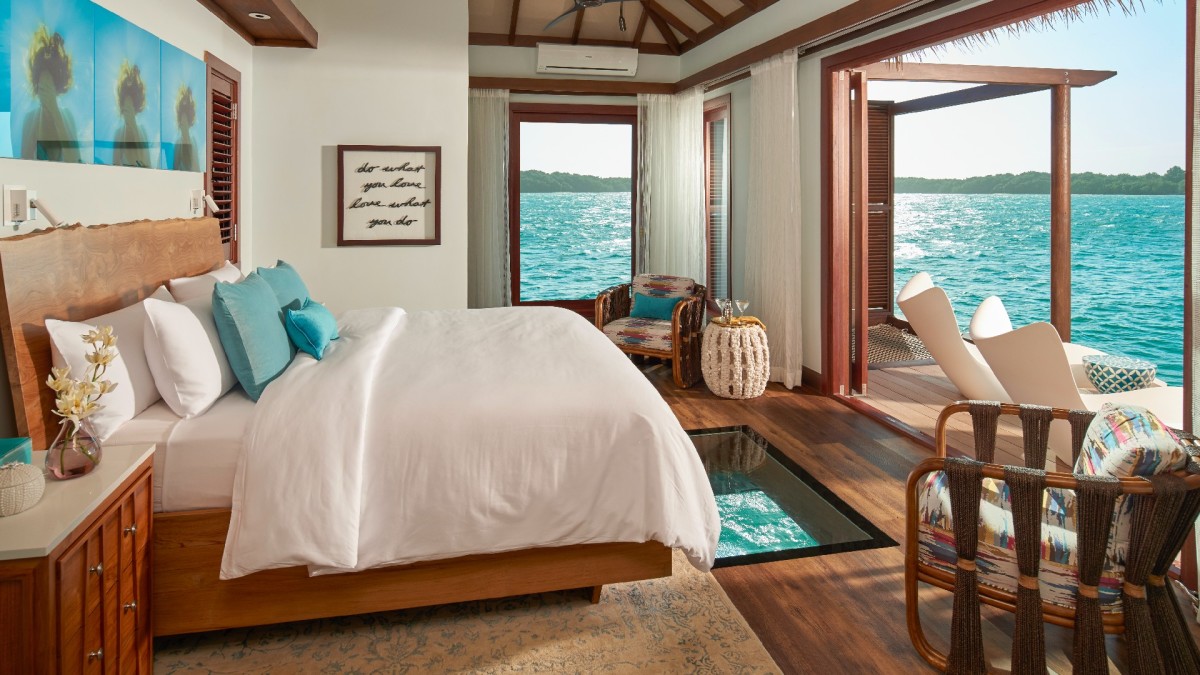 Courtesy image
Located on Crab Pond Bay on the southwestern coast of Jamaica, the adults-only Sandals South Coast delivers incredible views of the Caribbean Sea. Designed with luxury in mind, each of the resort's overwater bungalows has hardwood floors, vaulted ceilings, a king-size bed, a walk-in rain shower, an extended sun deck, and an outdoor shower. Bungalow guests also receive butler service, 24-hour room service, private car transfers from the airport, and a welcome gift. Should you choose to venture from your bungalow, the resort offers nine restaurants, a spa, a state-of-the-art fitness center, and a wide range of land activities and local adventure tours.
[From $1,665 per night; sandals.com]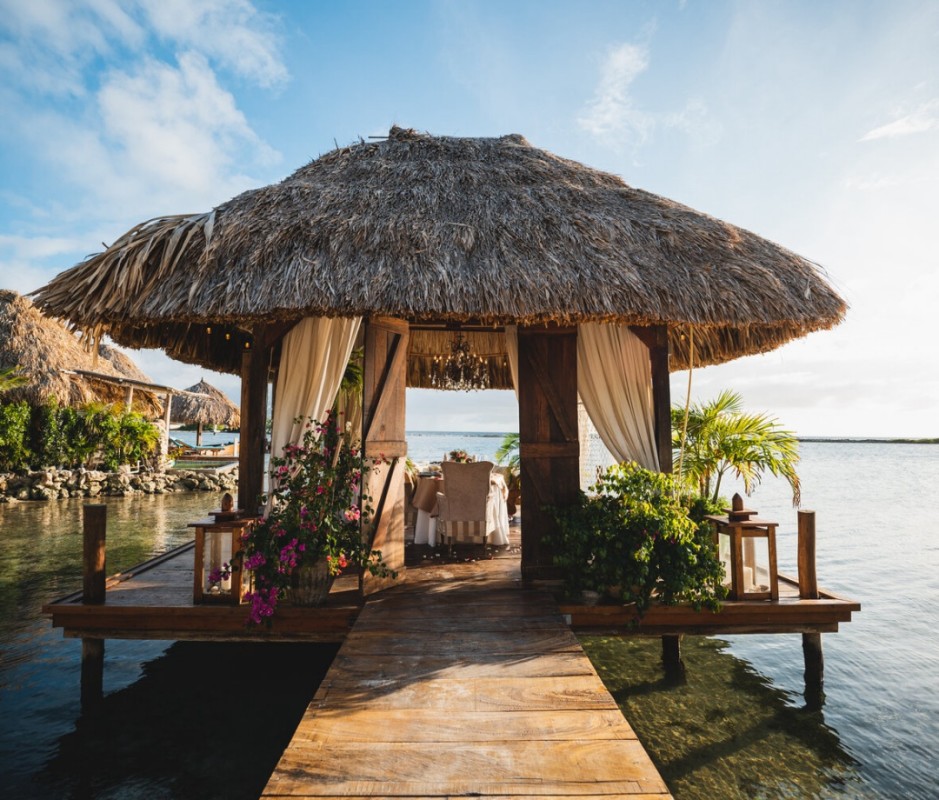 Designed as an oasis for those looking to connect with nature, Aruba Ocean Villas is an adults-only, locally-owned resort with ten unique villas. Depending on which one you choose, standout features include an open-air shower, a covered jacuzzi, a lounge, and a personalized dining area. In-house experiences include massage treatments, overwater dining, kayaking, snorkeling, Sunday barbecues, and live entertainment—as well as plenty of off-site activities to choose from.
[From $2,374 per night; arubaoceanvillas.com]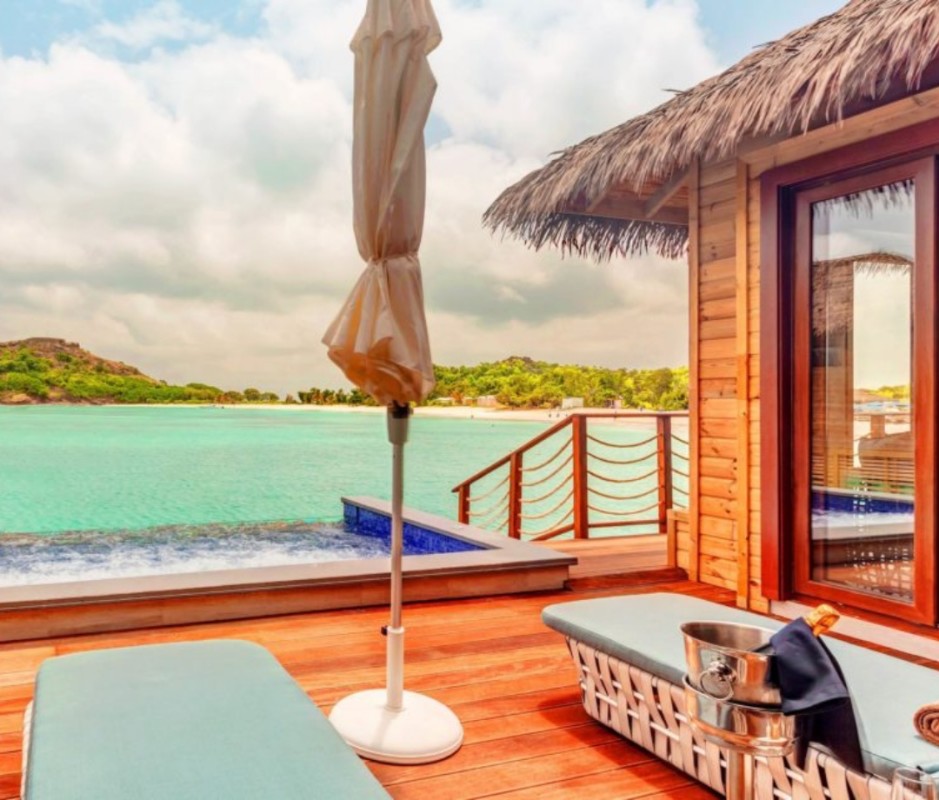 The Royalton Antigua Resort & Spa is a luxurious, all-inclusive escape tucked away on a private beach. Offering fine dining, crystal clear waters, exceptional service, and stunning beaches, the resort lets you choose from several types of accommodations—but nothing beats the overwater bungalows, which offer plenty of privacy and unparalleled panoramic Caribbean views.
Each bungalow features a king-sized bed, an infinity plunge pool, an overwater hammock, and exclusive amenities such as butler service, golf cart shuttle service, and snorkeling equipment. Additionally, the resort offers multiple bars and restaurants, a kids program, a spa and fitness center, a refreshing pool area, and special events and entertainment.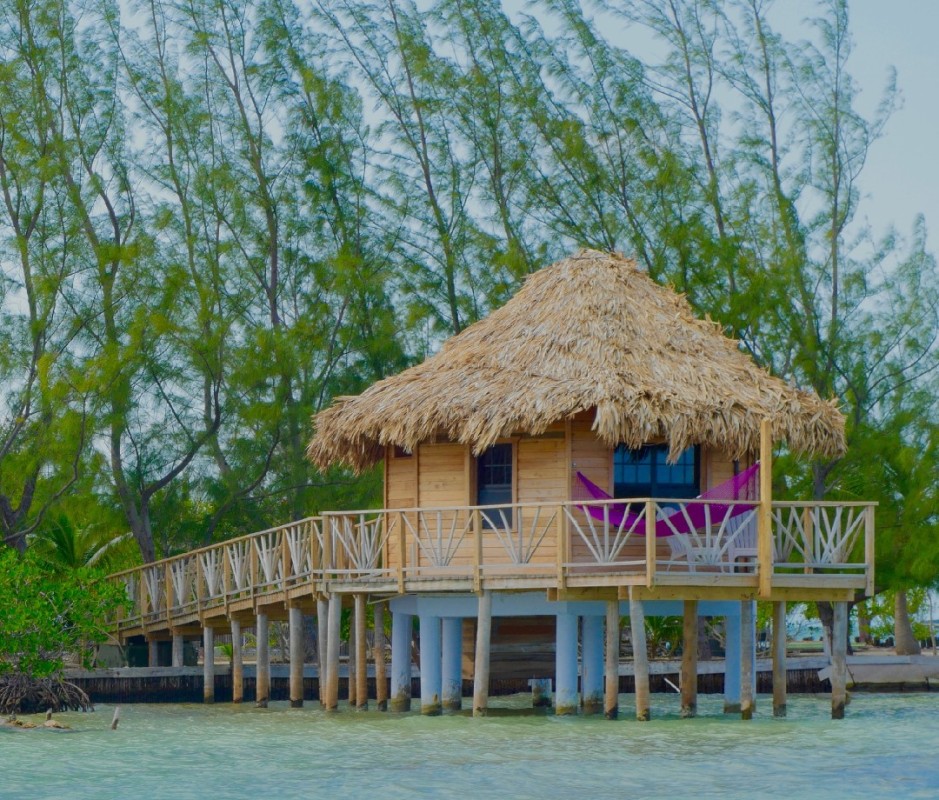 Courtesy of Muy'Ono Resorts
For a dreamy, all-inclusive island resort, set your sights on Thatch Caye. Eight of the 15 suites are overwater bungalows on this idyllic retreat off the coast of Dangriga along the Belize Barrier Reef. Of course, you'll spend plenty of time idling away the afternoon hammock-side, but we also recommend barefoot beach walks, swimming in the natural saltwater pool, and booking a massage on your balcony or rooftop deck.
[from $719 per night; thatchcayebelize.com]
Best Overwater Bungalows in Polynesia
From the Tahitian isles of Moorea and Bora Bora where the whole concept of overwater bungalows was first introduced to Fiji's finest, these Polynesian idylls define otherworldly luxury.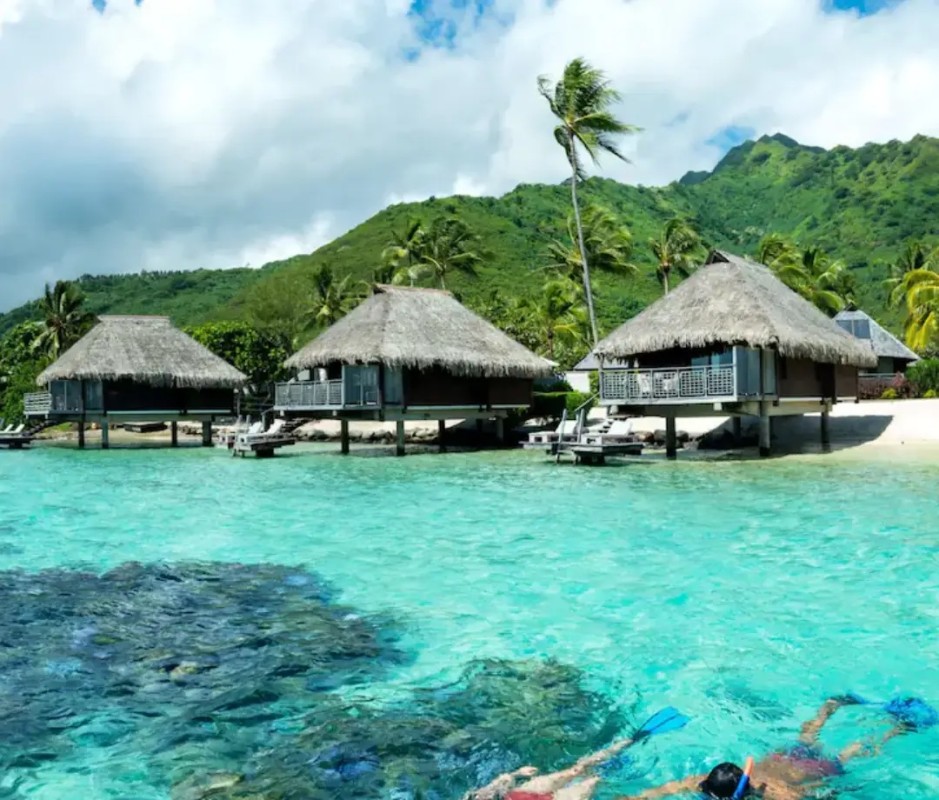 "I always dreamed of staying in an overwater room, so on our honeymoon, my husband and I got a panoramic bungalow at the Hilton Moorea," says Moon Guides and Fodor's author Margot Bigg. "My favorite part was being able to swim and kayak straight from our deck out into the lagoon. My husband loved watching the fish—and even small sharks—swimming below us through a glass floor section below our coffee table."
According to Wade, the idyllic Tahitian island of Moorea—an easy hop from Tahiti's capital, Papeete—offers the best value for the honeymoon crowd in the South Pacific. The Hilton is the top resort choice, he adds, commending the spectacular resort's large overwater bungalows and unbeatable island views.
[From $1,049 per night; hilton.com]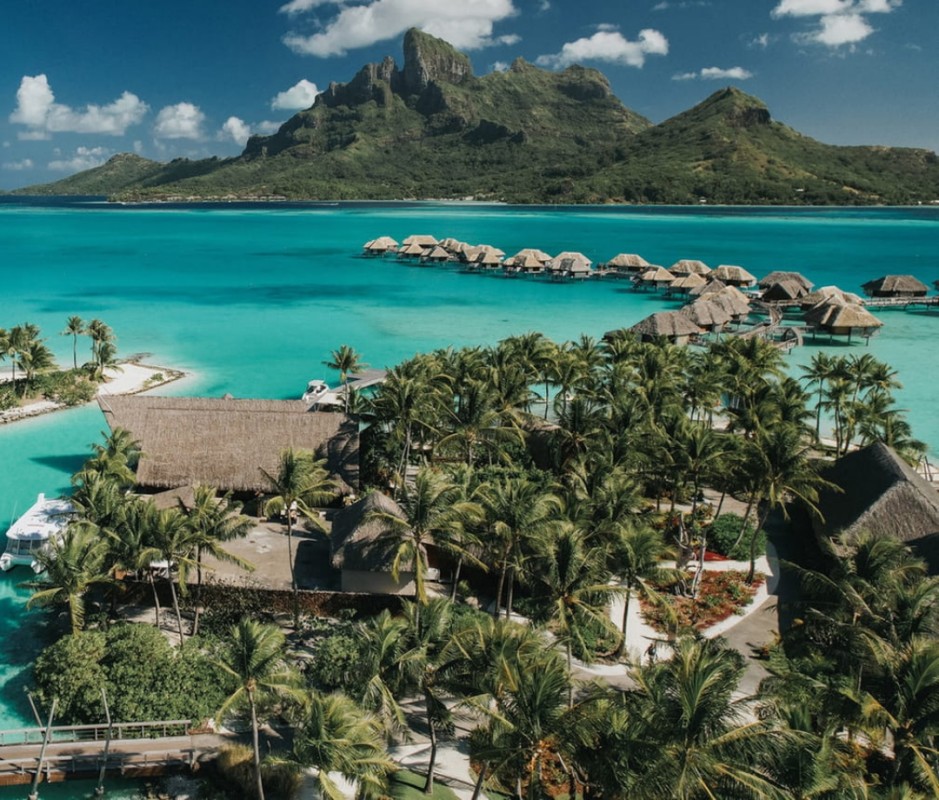 "The overwater bungalows at the Four Seasons Bora Bora are among the finest in the world. This is a pure five-star experience in every way, with a five-star price tag to match," Wade says.
While the bungalows are perfect for couples, the Four Seasons also offers larger spaces that are great for families, too.
[From $2,715 per night; fourseasons.com]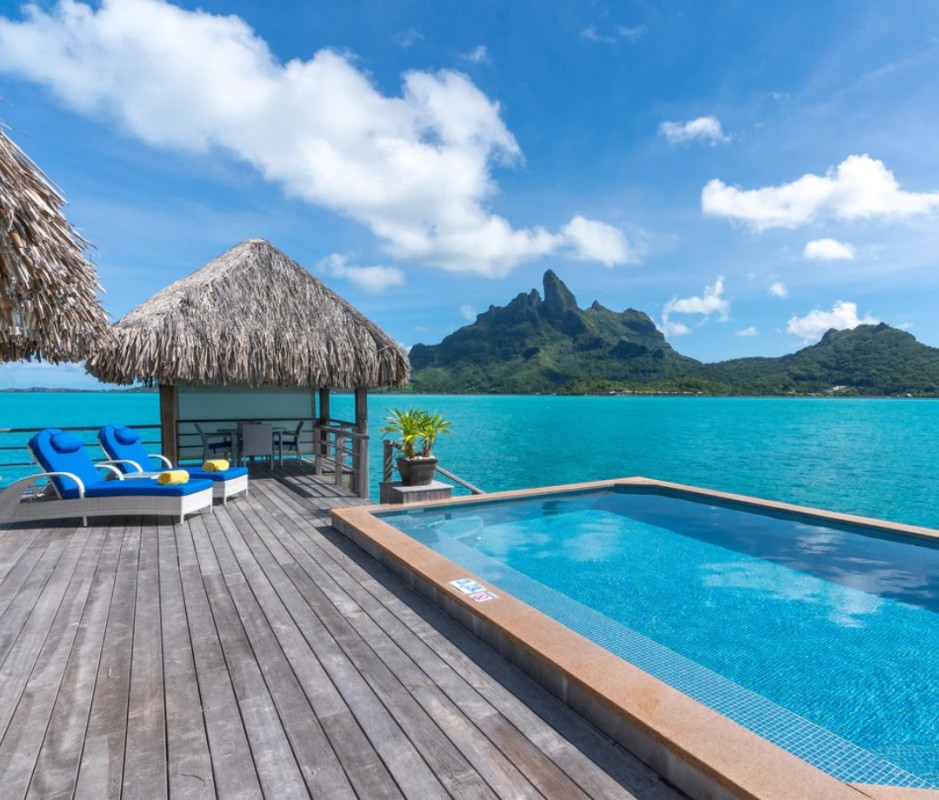 "The St. Regis Bora Bora is flush with otherworldly overwater bungalows. "It's the only serious competitor to the Four Seasons' luxury crown in Bora Bora," says Wade. Featuring several multi-bedroom pool villas that are among the largest in the South Pacific, the resort also offers some of Bora Bora's finest dining options as well.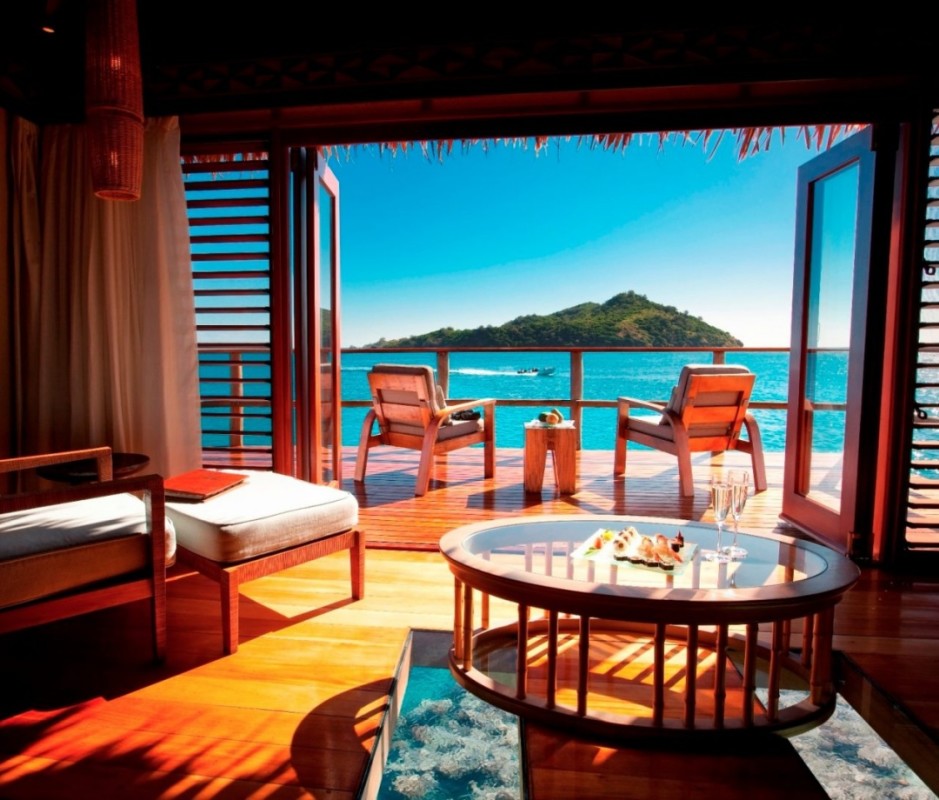 Smaller than many of the other options on the list, Likuliku Lagoon Resort offers one of the most intimate and stunning vacation environments in Fiji. "The overwater bungalows at the Liku Liku Lagoon Resort are the best in the South Pacific that aren't on Bora Bora," says Wade. "They even give the top resorts there a run for their money."
[From $1,674 per night; likulikulagoon.com]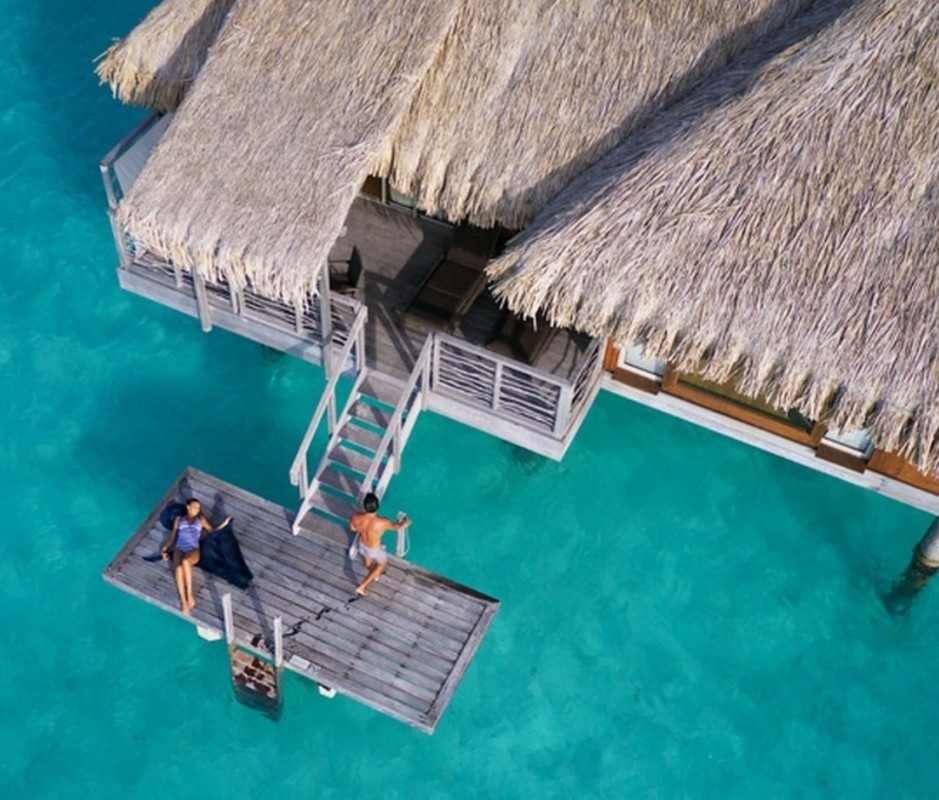 Located on an island adjacent to Bora Bora, the Intercontinental Thalasso Bora Bora is set against the backdrop of Mount Otemanu—surrounded by turquoise waters as far as the eye can see. The hotel's spacious overwater bungalows blend contemporary decor with traditional Polynesian design, which gives them a fun aesthetic. Designed to maximize the views, the bungalows feature large picture windows that overlook the lagoon, a glass coffee table looking down on crystalline waters, bathtubs with picture windows, and private villa terraces.
Foodies will appreciate the resort's excellent restaurants—and an option to book a canoe breakfast. Additionally, the resort includes a spa and wellness center, shops, watersports, and excursions. To increase its sustainability, Intercontinental Thalasso Bora Bora pioneered the world's first private Sea Water Air Conditioning (SWAC) system, a sustainable technology that uses sea water to cool the resort.
[From $1,966 per night; thalasso.intercontinental.com]
Best Overwater Bungalows in Asia
The Maldives have a lock on the most beautiful bungalow digs in the Indian Ocean, but don't rule out spectacular Southeast Asian hideouts in Cambodia, Malaysia (see budget bungalows), and Indonesia.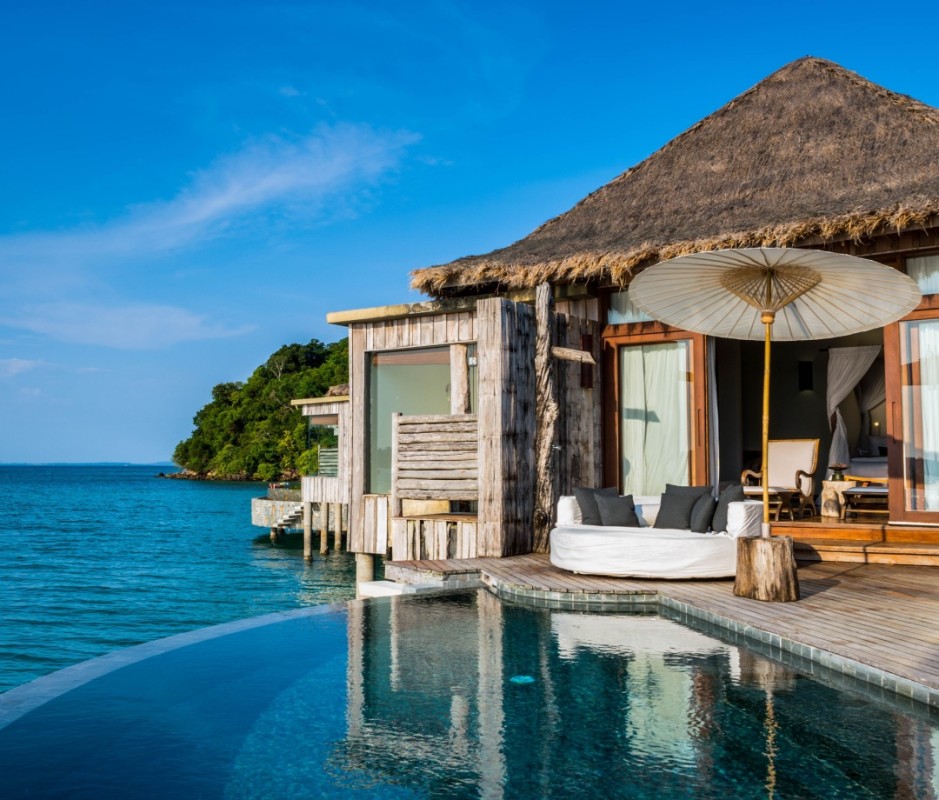 Song Saa specializes in personalized spa experiences that extend far beyond the traditional resort offerings. Treatments include everything from ayurvedic therapy to menus designed to compliment your personal wellness program. The private island resort offers several one- and two-bedroom overwater villas, each with a private pool. "The area is known for floating villages with huts on stilts," adds Wade, "but this international-class five-star resort takes the concept to a whole different level."
[From $2,059 per night; songsaa-privateisland.com]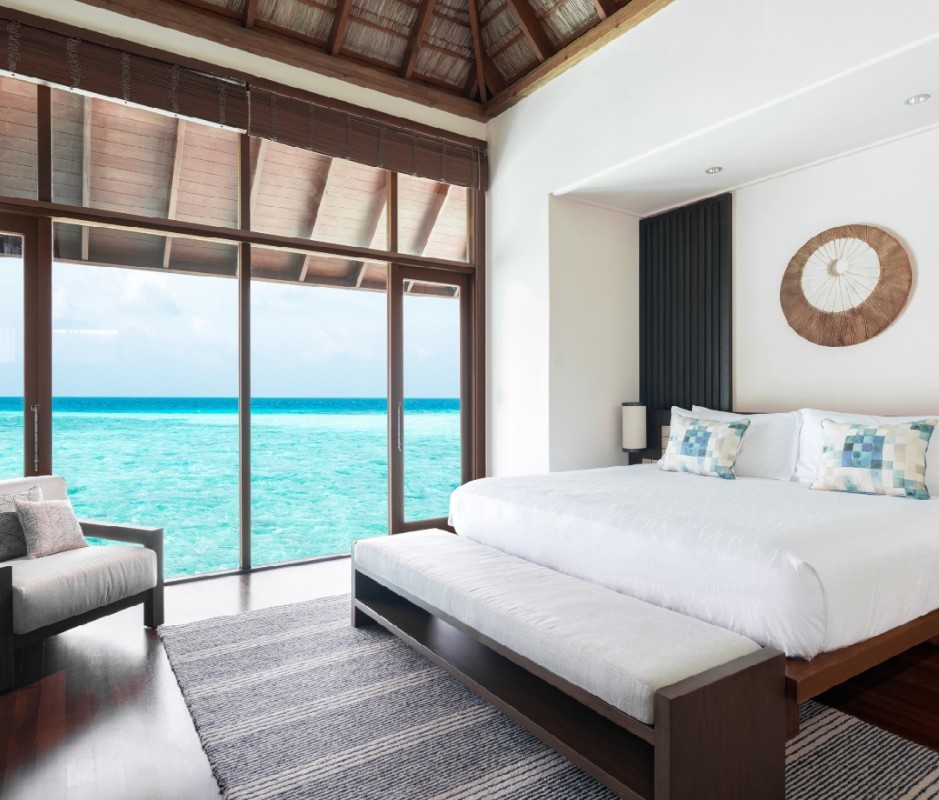 Courtesy of Conrad Maldives Rangali Island
Aquatic elegance is yours for the taking in any of the 72 overwater villas and suites at Conrad Maldives Rangali Island in the South Ari Atoll, spread over two islands where relaxation reigns..