The 2023 Ducati Diavel V4: Italy's Answer to the American V-Twin Cruiser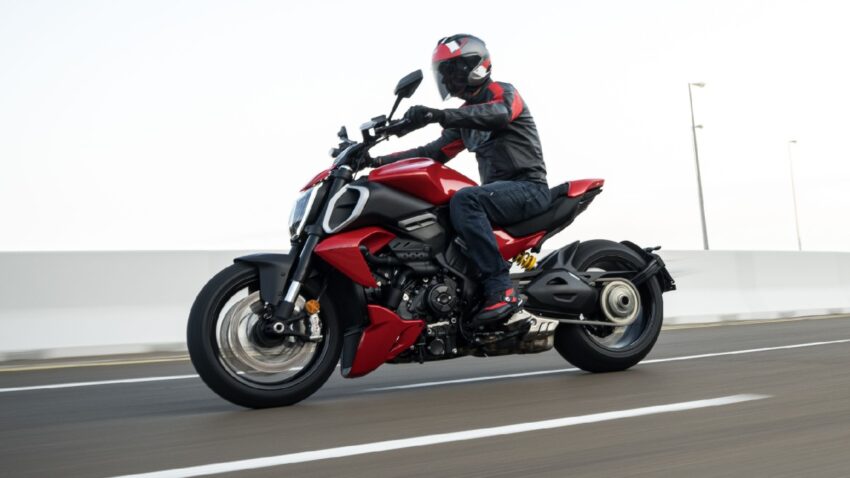 Conventional cruiser design follows the same wisdom behind good BBQ: It's best enjoyed when done low and slow. A low-slung chassis with a rumbling American V-twin is in its element while soaking up the sights and sounds; it's the two-wheeled equivalent of soul-satisfying fall-off-the-bone brisket. There's a comfortable harmony in that. 
Yet, Italian motorsport culture stands as the antithesis: Paint it red and make it blindingly fast. So, when Ducati approached the cruiser conundrum, it answered the only way it knows how: Genre-defining performance and pure attitude via its Diavel V4.
The Anti-Cruiser
In truth, the Diavel is not a cruiser in the traditional sense and never has been. I'd imagine there are a few Bologna-based engineers who'd become queasy at the notion of their work lumped in with Harley-Davidson or Indian Motorcycle offerings. I can almost feel the emphatic gesturing from here. 
Let's not mince words: Punishing suspension, limited lean angles, and squatty-potty seating positions are dime-a-dozen in that segment. Think I'm being harsh? Ride any H-D Sportster S over less-than-perfect pavement and get back to me. I'll wait for you at the chiropractor's office. To be fair, Japanese brands also know how to build a perfectly functional cruiser, but they have all the charm of kitchen appliance and sex appeal of a plastic-wrapped couch.
What the new Diavel V4 does lean into is the rowdy, ostentatious nature of American V-twins, with an unapologetically burly stance and wild design elements—including four-barrel Gatling gun exhaust, enormous 240-series rear tire, and honeycomb taillight. Stuff, in other words, that borders on the ridiculous, yet it works. None of that would carry any weight, though, unless backed by a massively powerful 1158cc Granturismo V4 engine.
A Superbike's Spirit
We first met Ducati's Diavel 11 years ago, when L-twin engines ruled the roost. True to form for the Italian firm, performance demands were satisfied by utilizing one of its superbike engines or a subtle variation of it. That hasn't changed, either. 
We started with the 1198cc mill and moved to the 1260 DVT (Desmodromic Variable Timing), bringing us to the current V4. The 168 horsepower and 93 foot-pound torque hand-me-down comes to us from the Multistrada V4 range by way of the Panigale V4 superbikes.
The perfunctory model-specific internal changes differentiate it from the Multi family, such as new camshafts and a shorter first gear, giving the masculine bruiser a punchier character. Happily, it's also retained the spring valvetrain, which boasts Ducati's industry-leading 37,000-mile valve service. 
If that isn't enough, oil changes are cited every 9,000 miles. That means more time on the road and less time at the dealership, which should ease the sting of this exquisitely appointed $26,689 machine.
Related: Kickstart Your Year: The Best New Motorcycles of 2023
The mighty mill has lovely low-rpm manners, happily plodding along in traffic. In that sense, it offers the kind of versatility and refinement that the L-twin power plants simply couldn't match. It pulls from the rpm depths with a silky tug, where a massively broad midrange steals the spotlight and helps riders lunge from apex to apex. Those who feel the need to yank wild hairs still have wicked top-end power, delivered in an authentic, unbridled, superbike manner. 
Sure, a Panigale V4 will achieve higher paint-peeling top speeds, though who's counting when deep diving into triple digits is done in an instant. Shifting is slick, tidy, and sporting as you'd like with the bi-directional quickshifter, meaning you'll only need to feather the somewhat heavy hydraulic clutch unless you're setting off or stopping.
The Tech That Binds This Beast
Clever tech has become part and parcel of Ducati in recent years, with cornering ABS, lean-angle-aware traction control, wheelie control, cruise control, launch control, and damn-near-perfect throttle maps becoming staple features on the manufacturer's sporting models. All these nannies work quietly in the background, never needlessly interjecting and can be dialed in from the full-color TFT display. 
That tech-minded way of thinking applies to the V4 engine in this configuration—one that adopted rear-cylinder bank deactivation long ago, saving fuel and aiding with radiating heat. Yep, it's a spicy meatball on a hot summer day. 
New to the fold is an "extended" rear-cylinder cut, wherein the rear bank deactivates when operating below 4,000 rpm, except when in first gear. Raise the revs a bit, and it transforms seamlessly back into a snarling V4 powerhouse, and the only giveaway is a mild change in the exhaust note. It's that smooth, and the first motorcycle to ever boast such tech.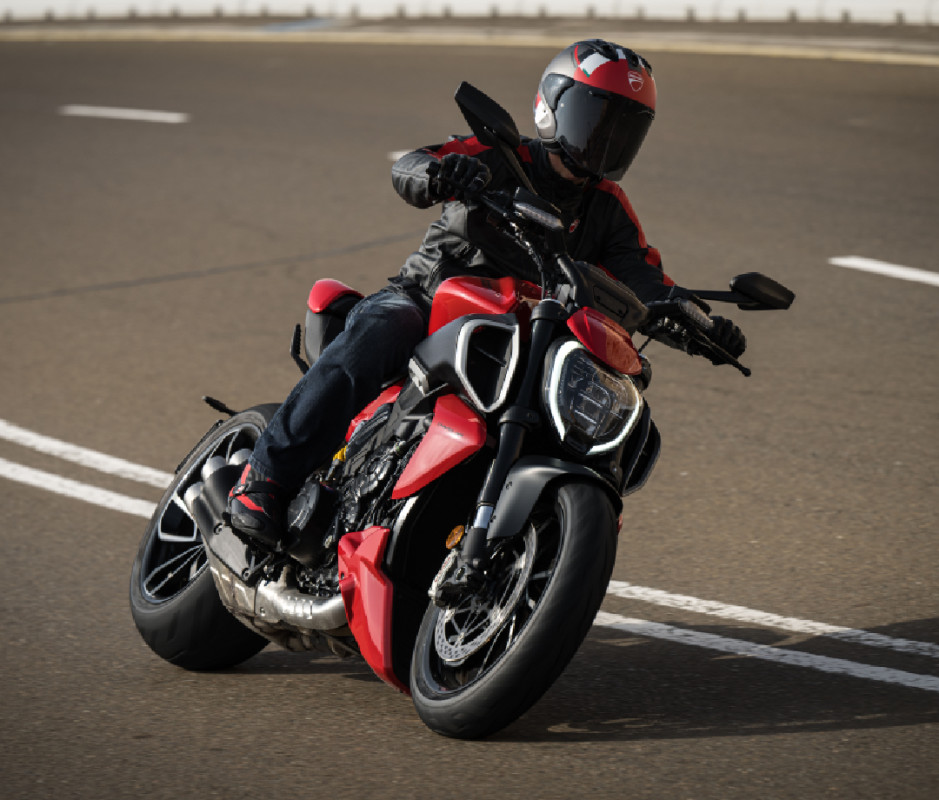 The Diavel Is in the Details
What separates the Diavel from, well, any other cruiser on the market is its decidedly comfortable riding position. A positively girthy seat greets your backside, while the handlebars are brought in 20mm closer on the latest V4 to encourage a more upright riding position. 
Finally, mid-mount controls allow ample legroom and better weight distribution. This isn't your average coccyx-crushing clam-shell cruiser position, where your knees are held uncomfortably high and visions of medical stirrups uncomfortably flash through your mind; the Diavel V4 is generously roomy.
Of course, the elephant in the room is whether it can whip through with the veracity that Ducati has built its brand. To answer that question directly—yes, it does. On paper, the lengthy wheelbase, long rake, and fat rear tire shouldn't allow anything of the sort, making for a pleasant surprise. 
A few things are in play here: First, it is said to have lost 29 pounds compared to the outgoing Diavel 1260. Then, we must factor in the counter-rotating crankshaft within the V4 engine, which spins in the opposite direction of the wheels and reduces their gyroscopic forces.
Related: 2023 Ducati Scrambler Review: A Bike for the Next-gen Rider
All that nerd-speak amounts to is a bike that gleefully tips into corners and flatters its 520-pound claimed curb weight. The Diavel V4 will coax you through twisty bits of road, flicking from side to side as if you were on a more conventionally sporty steed. 
Now, as it is lower than Ducati's Monster or Streetfighter V2 and V4, the peg feelers will sneak up on you much faster, and part of the fun is grinding them into oblivion. That's about the only cruiser aspect that's on display. Naturally, top-tier Brembo Stylema calipers adorn the Ducati, and they're flawlessly paired up with its well-sorted cornering ABS algorithms.
The fully adjustable Marzocchi suspension keeps the monocoque chassis aimed in the right direction while delivering excellent ride quality. Despite that praise, it's only in this area where I feel that Diavel is leaving a little something on the table. Semi-active Öhlins seem befitting on the Diavel V4 and may be reserved for an up-spec "S" model in the future.
Changing the Game
When the Ducati Diavel platform rolled out of Ducati's Borgo Panigale factory a little over a decade ago, it didn't merely follow typical conventions. The brand made a cruiser exactly in its image, where overall performance is paramount and there are no compromises in the name of style. 
Now, as the V4 engine continues to pepper its other models, we can see that Ducati has pushed the ball forward once again. In a sense, comparing a machine as vibrant as Diavel V4 to your average cruiser isn't entirely fair. 
Or maybe its high time we admit that the rest of the manufacturers must finally get their collective asses off the bench. Whatever labels you want to assign is up to you, because the Diavel V4 will put a grin on your face as quickly as it'll plant your backside in the seat.
[From $26,695; ducati.com]