Slow Cooker Thai Peanut Butter Chicken Quinoa Bowls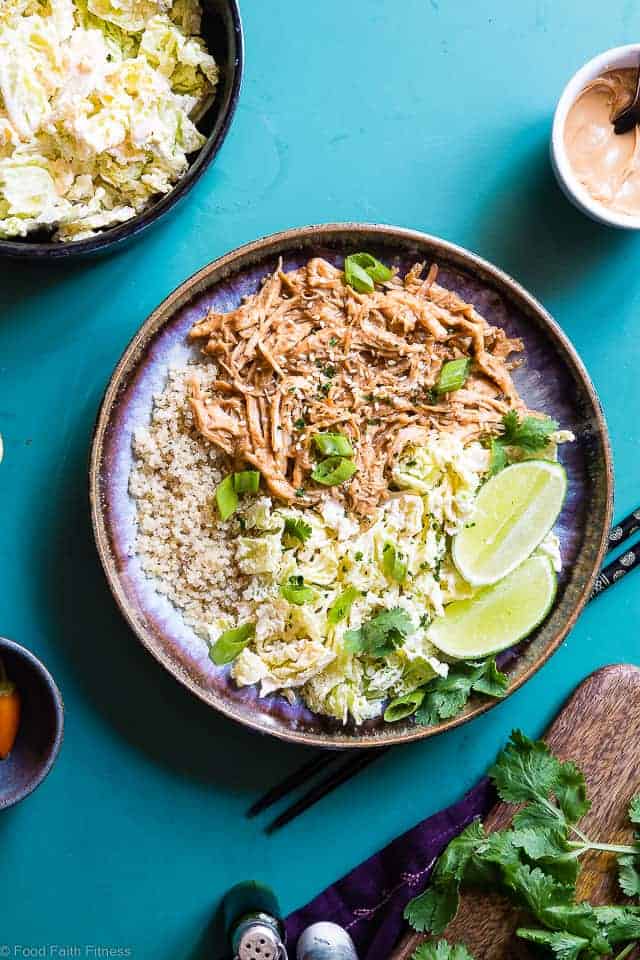 This CREAMY Slow Cooker Thai Peanut Butter Chicken is mixed with quinoa and a spicy cabbage slaw to make a family friendly, gluten free and healthy meal! 
There are things that my mother did growing up that I never understood.
Things like telling me about "The Mommy Handbook."
This was the elusive book that I somehow never got to see, yet she referred to it every time she made up a new rule that I didn't like. "I promise Taylor, the Mommy Handbook says that you can't do that."
I still don't understand that one. I have my suspicious that it doesn't exist though.
Things like making us eat our roasted cauliflower AND doing it before we could eat our hazelnut paleo brownies.
I KIND OF understand that one because, well, healthy. But, I would be much happier in a world where paleo brownies were the NEW cauliflower.
You too? We can stay friends.
And things like making ALL THE DINNERS in her crockpot. ESPECIALLY some Crock Pot BBQ Chicken Quinoa. Or crockpot Thai peanut butter chicken curry.
And, now that I don't live at home and have a man that gets hungry all the time, I GET that one.
Who does not love throwing a bunch of stuff into one pot, turning a little knob and PRESTO! There's a delicious dinner waiting for you when you get home.
I don't know what kind of wizardry happens in those crockpots but… me likey.
ESPECIALLY when the end result are these slow cooker Thai peanut butter chicken quinoa bowls that taste like I went out to my favorite Thai chicken from the restaurant down the street…except I don't have to wear real pants to eat it.
Personally, I don't think I need to wear real pants to go out to eat, as I think pajamas are a total acceptable option anytime of the day. However, the hubs? He says no and that he would pretend he didn't know who I was if I did that.
Rude.
Anyway. THIS SAUCE THOUGH.
I mean this in the most normal way possible but, I am totally jealous that this peanut butter chicken  gets to bathe in it for 5 hours. This is one of those VRY VRY rare times that I long to be a tiny little bird in a crockpot.
It doesn't happen often, so don't seek help. Yet.
How to make peanut butter chicken
Step one is to make that CREAMY dreamy sauce of envy that we just discussed by microwaving peanut butter, soy sauce and honey until smooth and creamy. Then, add in your CREAMY coconut milk and your aromatic and FLAVORFUL garlic and ginger and give it a stir.
Lay your chicken breasts in the bottom of your slow cooker and DOUSE them in the peanut butter sauce, really covering the tops of the breasts with the sauce!
Cook them on LOW for 4 hours and then stir in some cornstarch to make the sauce nice and THICK.
One more hour and you're ready to shred that slow cooker Thai peanut butter chicken up and EAT!
This peanut butter chicken recipe has got a little bit of sweet honey, creamy coconut milk, soy for the salty factor and then this rich and TOASTY peanut butter PUNCH. Because peanut butter makes everything better.
You know I speak TRUTH.
I also feel this way about tahini and if you do too, then you gotta try keto slow cooker chicken thighs. Just a side note.
Pair all that goodness with some tender chicken breast, fluffy quinoa and some spicy-smooth-crunchy-healthy cabbage slaw. I bet it would even be good with Thai Inspired Creamy Coleslaw from Vegetarian Mama! Then, you've got a dinner that, well…
cROCKS.
You know I had to.
Crockpot Thai Peanut Chicken Quinoa Bowls Recipe
Crockpot Thai Peanut Chicken Quinoa Bowls sound fancier than they are. They're super delicious, and so easy to make, thanks to your…
Ingredients
For the Chicken:
1/4

cup

Low Sodium Soy Sauce

1/4

cup

Natural Peanut Butter

2

tablespoons

Honey

1/2

cup

Light Coconut Milk

1

teaspoon

Fresh Ginger

1/2

teaspoon

Garlic

minced

1

pound

Chicken Breast

trimmed of fat

1

teaspoon

Cornstarch
For the Bowls:
2

cups

Water

1

cup

Quinoa

uncooked

1/2

cup

Plain Greek Non Fat Yogurt

(or dairy-free yogurt)

1

tablespoon

Sriracha Chili Sauce

plus more for garnish

1

head Napa Cabbage

roughly chopped (about 4 cups chopped)

1/2

cup

Fresh Cilantro

roughly chopped, plus more for garnish

Salt
Instructions
In a large, microwave safe bowl combine the soy sauce, peanut butter and honey. Microwave for 1 minute, until peanut butter begins to melt. Whisk together until well mixed.

Whisk the in coconut milk, ginger and garlic. Place your chicken breasts into the slow cooker and pour the sauce on top. Cook on low for 4 hours.

Once the chicken has been cooking for 4 hours, remove 2 tsps of the sauce and place into a small bowl. Add the 1 tsp of cornstarch into the bowl and whisk until smooth. Pour the cornstarch mixture into the slower cooker, whisking well to incorporate it into the sauce. Cook for another 45 mins to an hour to thicken the sauce.

While the sauce is thickening, bring the 2 cups of water to a boil. Add in the quinoa, turn down the heat to low and cover the pot. Cook until the water is absorbed, about 15 mins.

While the quinoa cooks, stir the Greek yogurt and 1 Tbsp of Sriracha together in a small bowl. Set aside.

In a large bowl mix together the chopped Nappa cabbage, and ½ cup of chopped cilantro. Add in the Greek yogurt and stir until the cabbage is evenly coated. Season with a little bit of salt.

Remove the chicken from the slow cooker and shred with two forks.

Divide the quinoa and cabbage mixture between 4 bowls. Top with chicken, toasted peanuts, and additional cilantro and sriracha, if desired. Drizzle on the remaining peanut sauce and DEVOUR.
Nutrition
Calories:
451
kcal
|
Carbohydrates:
45
g
|
Protein:
38
g
|
Fat:
13
g
|
Saturated Fat:
4
g
|
Polyunsaturated Fat:
3
g
|
Monounsaturated Fat:
4
g
|
Trans Fat:
0.02
g
|
Cholesterol:
74
mg
|
Sodium:
918
mg
|
Potassium:
899
mg
|
Fiber:
4
g
|
Sugar:
11
g
|
Vitamin A:
203
IU
|
Vitamin C:
6
mg
|
Calcium:
76
mg
|
Iron:
3
mg
The post Slow Cooker Thai Peanut Butter Chicken Quinoa Bowls appeared first on Food Faith Fitness.