Simu Liu Recalls How He Accidentally Got His Parents High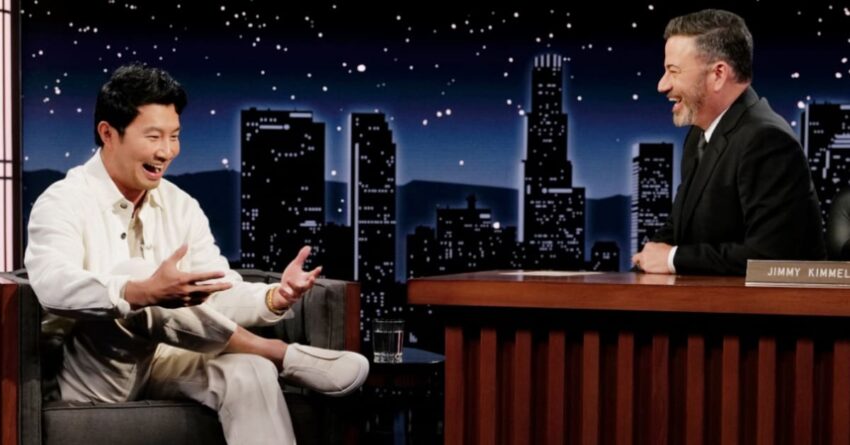 Shang-Chi and the Legend of the Ten Rings star Simu Liu recently became involved with MìLà, a Bellevue, WA-based direct-to-consumer company that ships authentic soup dumplings, chinese noodles and chef crafted sauces to doors nationwide. And while it's hardly headline-grabbing for an actor to partner up with a brand, the story of how Liu got involved with the company certainly isn't for the faint of heart.
During an appearance on Jimmy Kimmel Live this week, the 34-year-old explained that his parents, working-class Chinese immigrants who emigrated with him to Canada when he was a child, came to house sit for him earlier this year. Because Liu had recently purchased and moved into the home, the cupboards were bare. Instead, he left money for them to order food from delivery apps such as Uber Eats and Postmates.
"There's really nothing in this house other than some like very basic furniture, some clothes, and like, some, um, some—some edibles and things that I consume recreationally, infrequently, to help me relax," Liu explained.
"He means weed, Guillermo," Kimmel interjected to his sidekick on the side of the stage.
However, Liu explained that because of his parents frugal, working-class background, they had never really paid for delivery "in their entire lives," and likewise didn't understand how to use the apps. So instead, Liu says that his mother resorted to "foraging around the house for things to eat."
"And she's looking and she's looking and she finds her way into my walk-in closet, where she finds what she thinks are gummy bears and trail mix with dried mushrooms inside," Liu recalled, to immediate groans from the studio audience. "She's like, 'these are snacks,' so she takes them to my dad and they start popping them like Skittles."
It doesn't take an after-school special to know what happened next, as Liu's parents proceeded to get high out of their minds. But because of the cannabis gummies, they also had the munchies, and again, there was no food in the house aside from the drugs they had already consumed. At that point, they made the decision to go to the grocery store, but neither could drive a vehicle in their state.
"And so it's nighttime, they get into my car, immediately crash it," he continued. "They crash it in my driveway into like the shrubs. They're so high at this point. They're freaking out, they don't know what else to do." 
The couple recruited a neighbor to help with the car, but by the next morning, Liu says that they were still high and starving when, at that moment, the PR package from MìLà showed up at the house.
"So, I get home many days later and the car is totaled, my shrubs are wrecked, and my drugs are gone," Liu recalls. "And I looked at my parents and I'm like, 'OK, first of all, I am never leaving you unsupervised in my house ever again."
"They didn't know what had happened to them for many months after because they didn't understand the concept of hallucinogenics, and then they were like, 'Well one thing I do know for sure is you gotta get involved with that company because those dumplings were so good,'" he added. "And so I bought a piece of the company and I became their chief content officer."
Well, that's one way of getting involved with a brand. You can watch Liu recount the tale, below.