Phillies Fan Gets Hammered by Security Running Onto Field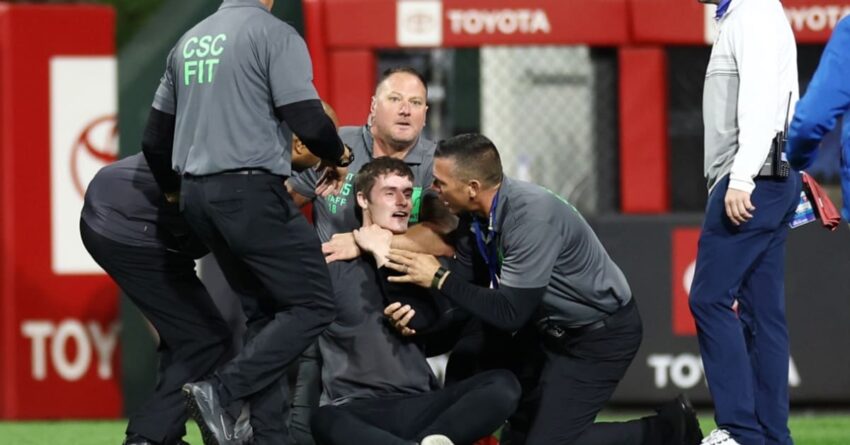 There was plenty of cause for celebration at Philadelphia's Citizen's Bank Park on Tuesday night, after the Phillies took a 2–0 lead against the Arizona Diamondbacks in the NLCS with a savage 10–0 beating. But the Diamondbacks weren't the only ones who got brutalized on the field that night, after one unruly fan took the festivities too far and paid the price with a succinct tackle by security.  
As you can see in the short video which was captured by a fan in attendance, the runner didn't get far, getting slammed down onto the ground just seconds after taking off across the field. 
PHILS IN 4!!! pic.twitter.com/yLT3ilICw9

— Dunphy215 (@dunphy215) October 18, 2023
Naturally, his fellow Philadelphians provided color commentary, yelling "BOOM" in unison at the moment of impact. The team's pitchers, who had likewise just come out onto the field to celebrate, witnessed the incident go down from just feet away, as Jose Alvarado clasped his hands over his head in shock and another fell to the ground.
The loose fan provided yet another wild moment in a postseason for the Phillies that has been full of them, from emotional support alligators to mechanical bull rides.
Now just two wins away from another go at the World Series for the second year in a row, the team started out in the top wild-card spot, going on to defeat the Miami Marlins in a best-of-three National League Wild Card Series. From there, they took down the Atlanta Braves, who were widely considered to be the best MLB team in the 2023 season.
If the Phillies continue to dominate the Diamondbacks for the rest of the NLCS, it's looking increasingly likely that history will repeat itself and they will face off against the Houston Astros in the World Series, as they did in 2022. Let's just hope the Phils are less unstoppable than their fans, apparently, this time around.