Paleo Whipped Gluten Free Shortbread Cookies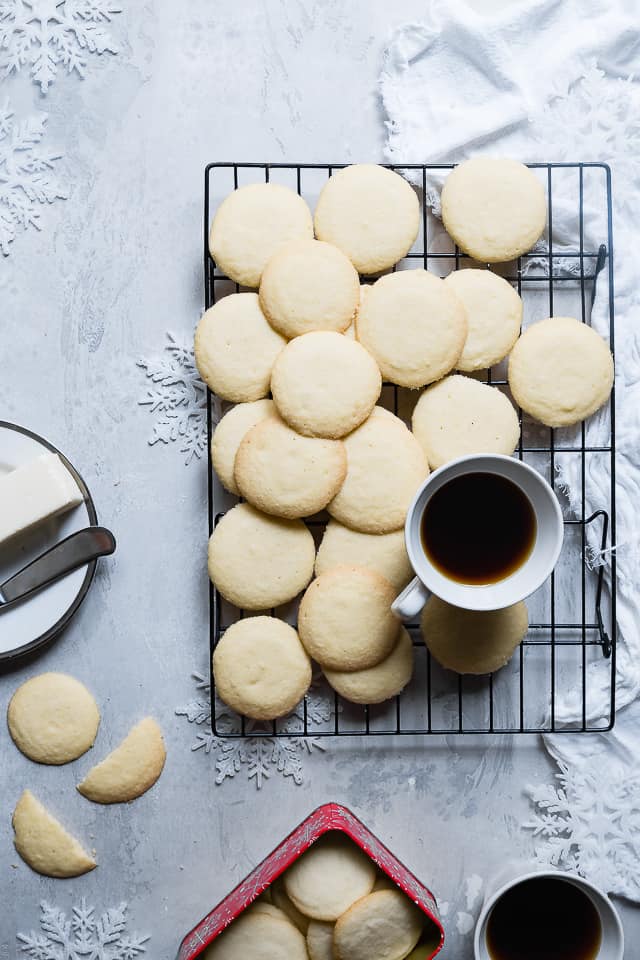 These Paleo Whipped Gluten Free Shortbread Cookies melt in your mouth and are only 60 calories! They're secretly sugar free, healthy and keto friendly too!
YOU. GUYS. This is a MELT in your MOUTH shortbread cookies recipe.
No "ifs."  No "ands." NO "BUTS."
Just pure, light-as-air, WHIPPY and BUTTERY deliciousness for your shortbread-loving SOULS.
I don't know what it is about shortbread cookies, but they are my ULTIMATE favorite. I can easily have just 1 of a cutesty decorated gluten free chewy sugar cookie or one healthy ginger snap. But, stick a plate of whipped shortbread cookies in front of my eyeballs?
INHALE. EXHALE. THEY'RE ALL GONE.
Poof. JUST LIKE THAT.
I think the reason that I love gluten free shortbread cookies is because the classic recipe is just stupid-simple-idiot proof.
Thing you need to make shortbread cookies 101:
You only need THREE simple ingredients if you're going to make the classic holiday cookie a real thing in your real-person-cookie-baking life:
Butter
Flour
Sugar
BOOM! Pantry essential ingredients that you PROBABLY already have. Whiiiich means you could be eating cookies in only a FEW MINUTES if you get up RIGHT NOW. <– Hold up though, you don't know what to do with those 3 ingredients. YET.
How to make shortbread cookies 101:
Step 1. Whip the butter and sugar until SUPPPPER light in color and supremely fluffy and basically perfect. Trust me, you'll know when you get there.
Step 2: Mix in the flour. Resist the urge to eat all the dough because you KNOW that something that is just butter and sugar has to be NEXT LEVEL delicious
Step 3. BAKE.
That's the jist of it. EXCEPT, these are paleo WHIPPED gluten free shortbread cookies. IMO, this is the only kind of cookie to eat ever because the light and melty factor? OFF THE CHARTS.
The secret to making melt in your mouth shortbread cookies is USUALLY cornstarch. It's so light and delicate that it gives your baked good those SAME addictive qualities.
Except, in usual Taylor fashion, I decided to mix up this recipe for gluten free shortbread cookies and give "grain free" a go and attempt to swap in tapioca starch to make whipped shortbread cookies WITHOUT cornstarch.
Or flour. HI gluten free almond flour shortbread cookies!
OR actual butter. Ghee, I love that you are lactose-free. Will you marry me?
And Z-E-R-O SUGAR.
We are making our own POWDERED monkfruit, which is SO much easier than it sounds. You just have to GRIND IT up for AWHILE in a food processor. Side note: be patient with it, you're gonna think it's going nowhere and then – suddenly – it's powdery-perfect!
Sugar free powdered sugar is a real thing that exists on this planet we call Earth and you are welcome for the discovery. Also sugar free shortbread cookies are a thing.
You are welcome, TIMES TWO.
Swirls of nutty almond extract dance around each and every melty bite of these paleo whipped gluten free shortbread cookies, as it combines with almond flour to create a DOUBLE dose of almond flavor profiles and coats your tongue in rich, velvety-smooth, LUSCIOUS buttery goodness.
Then just like MAGIC, the cookie is gone. Melting into your VERY cookie loving SOUL.
I don't know about you, but I've got a serious feeling that the true meaning of Christmas is not the giving of gifts to loved ones out of the goodness of your heart.
I'm voting for "giving yourself the gift of cookies out of the HUNGRINESS of your belly."
Low Carb Shortbread Recipe
Low carb shortbread cookies let you enjoy holiday cookies with less guilt! They're so good with a cup of coffee or tea.
Ingredients
5

tablespoons

Monkfruit Sweetener

1/2

cup

Ghee

at room temperature, the consistency of softened butter

2 1/2

teaspoons

Pure Almond Extract

1

teaspoon

Pure Vanilla Extract

3/4

cup

Almond Flour

73g

1/2

cup

Tapioca Starch

plus 1 Tablespoon, 73g

pinch

of Salt
Instructions
Preheat your oven to 350°F and line 2 cookie sheets with parchment paper or silpats.

Place the monkfruit into a SMALL food processor (mine is 3 cups) and process for about 3-4 minutes until fine and the consistency of powdered sugar.

Add the monkfruit, along with the Ghee and both extracts into a large bowl. Using an electric hand mixer, beat on high speed until very pale yellow in color, about 3 minutes.

Add in the flour, starch and salt and beat again for another 3 minutes, stopping to scrape the sides as needed.

Scoop into a piping back and pipe onto the prepared cookie sheet in ¾-inch-high mounds. These do spread a lot so leave room between them – I put 16 on one cookie sheet. Do not press them down.

Bake until the edges JUST begin to turn golden brown, about 11-13 minutes. If you can't fit both sheets in at once, leave the other sheet out at room temperature until the first batch of cookies are done.

Once cooked, cool on the pan for 10 minutes. Then, gently transfer to a wire rack to cool COMPLETELY
Notes
I have also tried this with normal butter too, and it works great! Or, vegan butter for vegan alternative.
As with all gluten free baking, please weigh your flour to ensure accurate results.
I have also done this with cornstarch. However, 73g is only about 1/2 cup. Again, please weigh.
Nutrition
Serving:
1
g
|
Calories:
63
kcal
|
Carbohydrates:
6
g
|
Protein:
1
g
|
Fat:
5
g
|
Saturated Fat:
2
g
|
Polyunsaturated Fat:
0.1
g
|
Monounsaturated Fat:
1
g
|
Cholesterol:
10
mg
|
Sodium:
0.1
mg
|
Potassium:
1
mg
|
Fiber:
0.4
g
|
Sugar:
0.2
g
|
Calcium:
7
mg
|
Iron:
0.2
mg
The post Paleo Whipped Gluten Free Shortbread Cookies appeared first on Food Faith Fitness.