Omega Brand Ambassador Andrew Garfield Explains Why Watches Are 'Hot'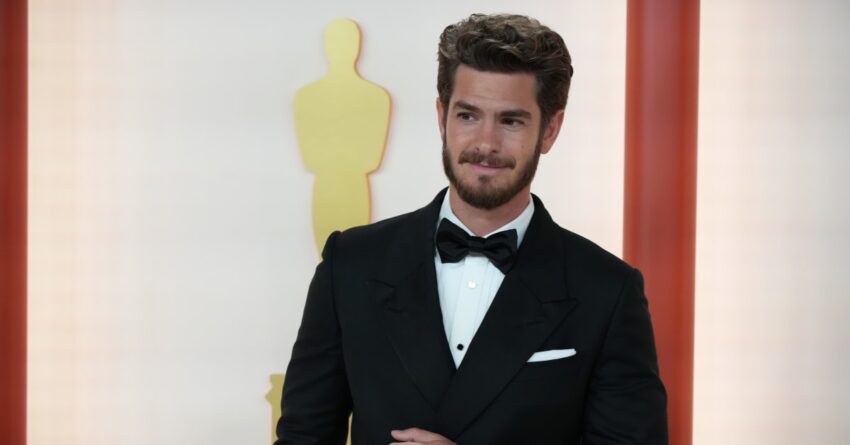 Andrew Garfield has high praise for timepieces. The Omega brand ambassador was present at a preview of the luxury watchmaker's Chelsea Factory exhibit in Manhattan on Wednesday. The star spoke with Interview Magazine about why he thinks fellow watch experts are "hot," and his feelings about leaving a timepiece on during intercourse.
Though Garfield is still "relatively new to understanding the depth and breadth of [watches]," the Hacksaw Ridge Oscar nominee has nothing but respect for people who consider themselves experts.
"I love anything that has a nerdy quality to it. It seems to me that people who are into watches and timepieces are some of the nerdiest people I've met," Garfield said admiringly. "It's hot, and it's nerdy, and it's intellectual. I really appreciate it, imbuing something with meaning and story. I really find that kind of beautiful."
The actor, who recently turned 40, reflected that his very first watch was a Velcro Back to the Future number stamped with the Universal Studios logo. As he got older, though, he began to appreciate them less as a novelty item and more for their intended purpose. As Omega's brand ambassador, he now has his selection of the brand's timepieces. Luckily, that means he can avoid scams which have recently embroiled Rolex and other luxury watch brands.
Admitting that "it doesn't take a lot for me to get into existential issues," Garfield segued from discussing first watches to the frailty of time itself. Becoming a father and celebrating his fourth decade were major turning points in the actor's life which, coupled with the loss of older family members, drove home the "finite nature" of life.
"My body and my bones are on a slow decline. I think about the nature of time all the time," Garfield reflected. "Hitting that midlife period and having lost a few very important people to me, it's made the sacredness, shortness, and finite nature of our time on this earth so apparent."
He continued: "A great watch that's passed down from generation to generation can be, for me, a reminder of the shortness and the sacredness of our little brief visit on this spinning orb."
Though he may wax lyrical about them, Garfield assured readers his newfound passion for watches doesn't stretch to the bedroom. "Off, 100 percent," he said, without hesitation, when asked if his timepiece remains affixed during amorous moments. "Everything else on," Garfield joked, "but watch off."
Omega ranked again and again on Men's Journal's list of the best men's watches of 2023. The brand's Omega Speedmaster Professional was our pick for the best overall watch. :It's an investment piece you could leave to your kids, or bribe your way out of a war zone in a pinch."