Old Forester Releases Rarest Bourbon Ever to Commemorate 150th Anniversary
Old Forester just released a rare whiskey for its 150th anniversary. Even though the distillery hit that milestone back in 2020, it's just now releasing a limited run of 150 bottles to commemorate the occasion—which just so happens to be the rarest bottle the distillery has ever made available. 
Old Forester has been around since 1870. As one of six Kentucky distilleries the U.S. government granted a license to produce "medical whiskey," it didn't even close for Prohibition. So, despite what appears to be a delayed celebration, this rare release has actually been in the works long before any of us heard the term COVID-19.
Master Distiller Chris Morris hand-selected six barrels for this special decanter back on April 18, 2008. It was bottled 150 months later in 2020, making this bottling 12-and-a-half years old—the rarest Old Forester ever released. The barrels were matured in Warehouse J, top floor 8, Rick 44, tier 1.
Related: 10 Best Bourbons to Drink in 2023
Five hundred bottles were originally crafted for key partners of the brand and members of the Brown family, the owners of parent company Brown-Forman. One hundred and fifty others, meanwhile, were set aside for special tastings and events. But the 2020 global pandemic had other plans, leaving those 150 bottles in storage. Now, instead of keeping them around for other special events, Old Forester is kindly releasing those bottles into the wild—for a pretty penny, of course.
"Old Forester is the only bourbon to exist before, during, and after Prohibition—and what better way to celebrate that legacy than offering to the public this rare decanter," says Old Forester Master Taster Melissa Rift.
The whiskey comes in an impressive glass decanter, a nod to the brand's historic holiday decanters conceived by industrial designer Raymond Loewy from the 1950s and 60s. It's presented in a custom handmade wooden box made from wood recovered from the fire at Old Forester on Kentucky's Whiskey Row in 2015.
The Old Forester 150th Anniversary decanter is priced at $2,500 and is only available via the brand's official website. No bottles will be sold at the distillery itself. People who purchase the bottle can only pick them up on December 5, the anniversary of the repeal of Prohibition. The bottle purchase includes a private VIP tour of the Old Forester distillery, along with cocktails and appetizers with members of the Brown family.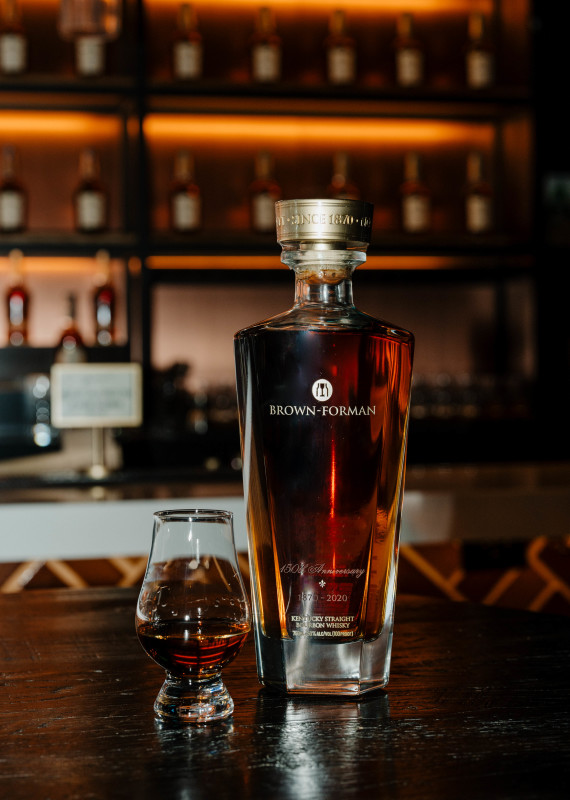 Old Forester 150th Anniversary Bourbon
Courtesy Image