My Favorite Running Shirt is Also My Favorite Date Night Shirt
Men's Journal aims to feature only the best products and services.  If you buy something via one of our links, we may earn a commission.
I'm not a guy who wears sweat pants out of the house. I say that to let you know that I care about how I look. Am I vain? Maybe. I enjoy dressing well and believe wholeheartedly in the power of the right sweater in the right situation. I think about what the socks I wear say about me as an individual. 
So, when I tell you that my favorite technical running shirt is also my favorite date night shirt, I want you to know that it's not a haphazard comment from someone who's simply too lazy to change clothes between activities. I consider my running layers and my dating layers with equal fervor, and I'm ready to announce to the world that Roark's Bless Up Trail Shirt is the best running shirt I own and the best date night shirt I own. Period.
The Bless Up Trail is part of Roark's fashion-forward Run Amok collection; think technical tie-dye shirts, running shorts with bold rooster graphics, and interesting collaborations with bands like Motörhead and Black Sabbath. Even in this group of funky couture, the Bless Up Trail stands out. Instead of a pullover T-shirt, like most technical tops, this is a button down with a collar—because trail runners deserve to dress well too! We don't all want to wear neon yellow shirts that are brighter than signal flares. We want to look sporty and a little sophisticated. 
Why You Should Trust Me
I'm by no means a fast or competitive runner, but I've burned through countless shoes training for races over the last 30 years. I've completed multi-day stage runs, planned and executed adventure runs that looked fun on a map but were grueling in real life, completed a number of half marathons and survived one ultra. I feel my best after a long trail run, and I'm picky about the clothes I wear for those sorts of adventures—testing everything from minuscule racing singlets to wool hoodies over the years. In that time, I've written about running and running gear for Runner's World, Outside, Blue Ridge Outdoors, REI Co-op, and Men's Journal.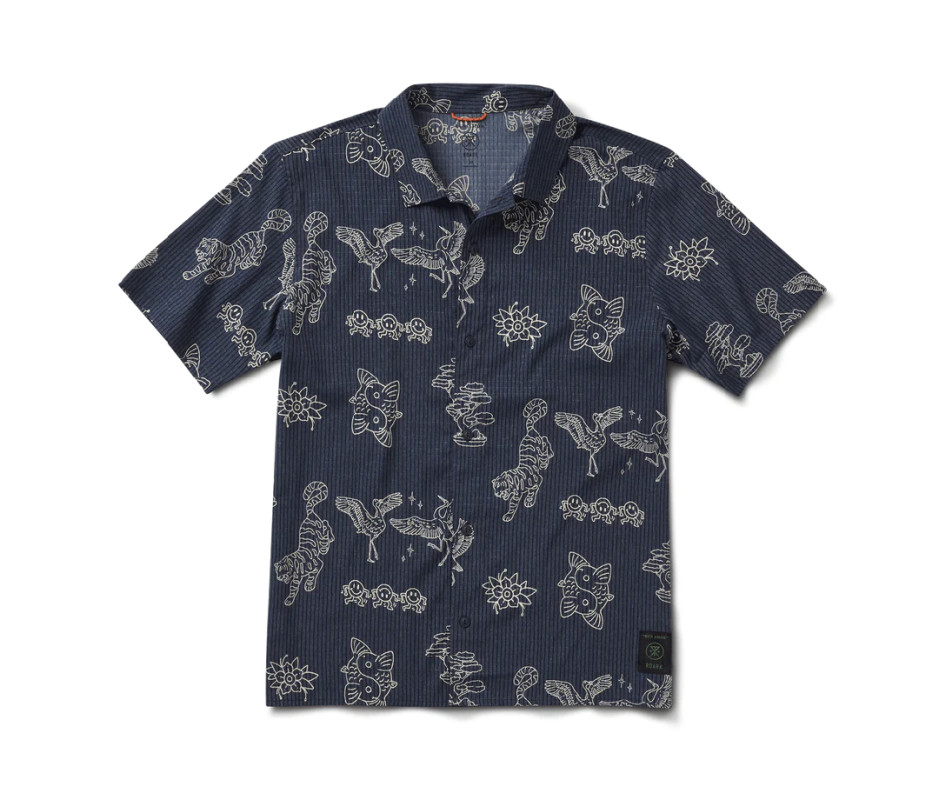 Roark's Bless Up shirt includes intriguing prints that make it a great fit for running and date night.
Courtesy Image
Solid Performer 
The version of the Bless Up Trail that I have has a vibrant, striking floral pattern that stops short of being a full-on Hawaiian shirt. I like to think it's channeling peak '80s Magnum P.I.: It's a little rakish, but knows how to operate in polite society. Other versions are more subdued, but still have intriguing prints—tigers and cranes on one, alligators and palm trees on another. But don't let the aesthetics fool you, the Bless Up Trail is built for performance.
Made from a nylon/polyester blend with mechanical 4-way stretch, its feather-weight build has a barely-there feel that's enhanced by micro-perforation (fancy word for "tiny holes"), allowing it to breathe like a Wim Hof devotee. All of this makes for a great technical layer that allows for a full range of mobility, never clings, and dries super fast. 
Related: 25 Benefits of Running You Need to Know
I've been testing this shirt for six months, wearing it mostly on long mountain bike rides and trail runs. Because of the collar, it's even golf club appropriate, so I've knocked out countless rounds of golf in the Bless Up Trail. Over the months, it has become my go-to active shirt on hot days. I live in the Southern Appalachians and tend to soak through most of my layers, but the Bless Up breathes so well and dries so fast, I can keep it on as I move from the course or trail to the bar.
Technical layers that are built to transition from trail to town aren't new. I have plenty of them. But in my experience, most of these layers tend to be best for just one situation or the other. I have some great flannels with mechanical stretch that were made for cycling, but they don't breathe well enough if you're really hammering, so I only wear them around town. I have some expensive merino wool shirts that perform well on the trail, but don't fit well enough to be considered for town duty.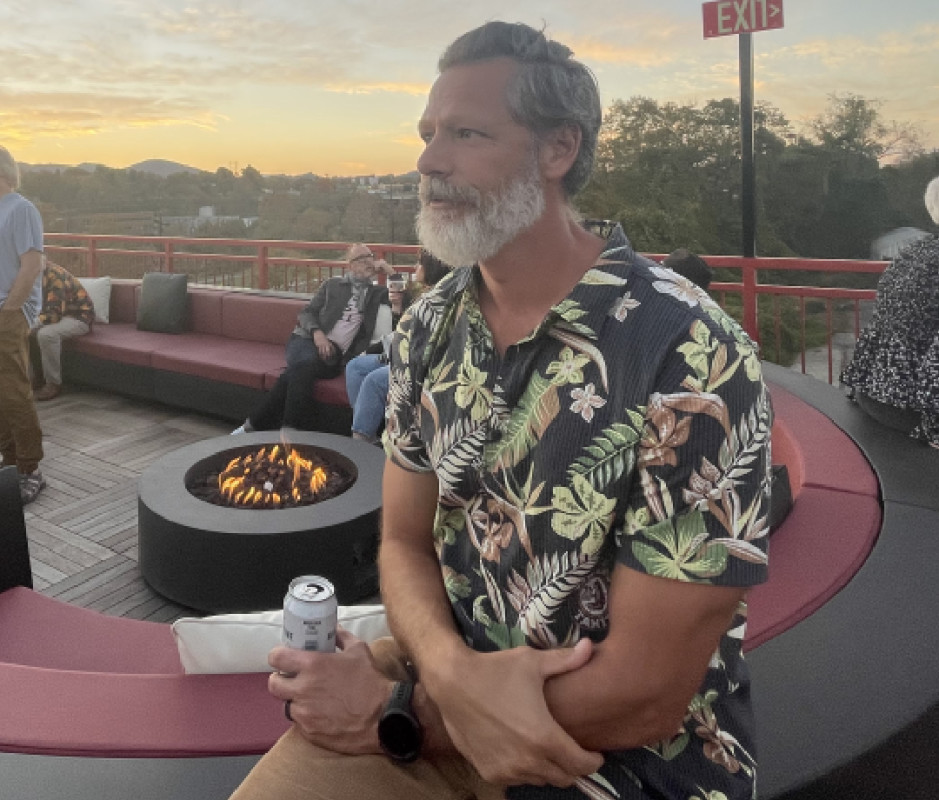 My favorite Bless Up Trail has a vibrant, striking floral pattern that stops short of being a full-on Hawaiian shirt.
Graham Averill
A Multi-Faceted Shirt 
The Bless Up Trail truly thrives in both worlds. Not only does it transition well from the course to the club, or the trailhead to the pub, but I choose to wear this shirt on date night because it fits so well and is so striking. I've worn it to fancy dinners and my wife's work parties. I've worn it out to the bar, on airplanes, and to the movies. I think I could even wear this shirt to a casual wedding if I pair it with the right blazer and crisp jeans.
As for the fit, it's not a super-svelte, athletic cut, but it's not old-school baggy either. It fits well, but there's plenty of room for movement. And the hem hits at just the right spot to go untucked. The shirt says "I'm here to party, but I'm not gonna break your lamps." It's fun, but classy, to the point where I've received multiple compliments on this thing. One nice lady at a bar even offered to buy it right off my back for her husband.
Related: The Complete Guide to the First 30 Days of Dating
But I could never part with this shirt, no matter how enticing the offer. If anything, I need more of them. One Bless Up Trail isn't enough. Ideally, I'd have one for every day of the week! No, it would be insane to wear a different version of the same shirt every day. I'll take it down a notch and just get three more. One for every other day of the week. That's not insane. That's perfectly reasonable. Right?