Maker's Mark Has Launched Its Oldest Whiskey Ever
Men's Journal aims to feature only the best products and services. We update when possible, but deals expire and prices can change. If you buy something via one of our links, we may earn a commission. Questions? Reach us at shop@mensjournal.com.
If you've ever wondered just how much it matters where a whiskey ages, Maker's Mark's latest release, Maker's Mark Cellar Aged Bourbon, is now here to show that it's a whole heck of a lot. 
The Loretto, KY-based, Beam Suntory-owned, small-batch bourbon producer doesn't roll out a ton of new products. They're not the type of distiller to throw gimmicky "limited-edition" bottles into their core lineup in an effort to boost novelty sales, only to inevitably cut them a year or two later due to lack of sustained interest. Not only hasn't Maker's Mark added a new whiskey to its core lineup since 2010, but the brand has also never released a bourbon this old until now. That alone is saying something—and worth looking into. 
Related: 26 Best Tequila Brands of 2023, Tested and Reviewed
A standard bottle of Maker's is aged for approximately six years. That's a good amount of time for bourbon, but nothing that would excite an enthusiast. Maker's Mark Cellar Aged Bourbon, however, is made from a blend of 12-year-old (87 percent ABV) and 11-year-old (13 percent ABV) bourbons, which is several tads more titillating to those with a brown liquor fetish. Why has it taken this long for the brand to age its whiskey north of the decade mark, unlike so many other distillers? 
Apparently, when Maker's Mark bourbons age past that sixth year, they pick up a harsher tannic quality that strays from the "smooth, soft, and creamy" essence the distiller says they're known for.
"For more than 65 years, aging our whiskey for a decade-plus wasn't something we did," says eighth-generation whiskeymaker Rob Samuels. "It's not that we didn't believe in it. We simply hadn't found a way to do it that didn't compromise on our taste vision—until now."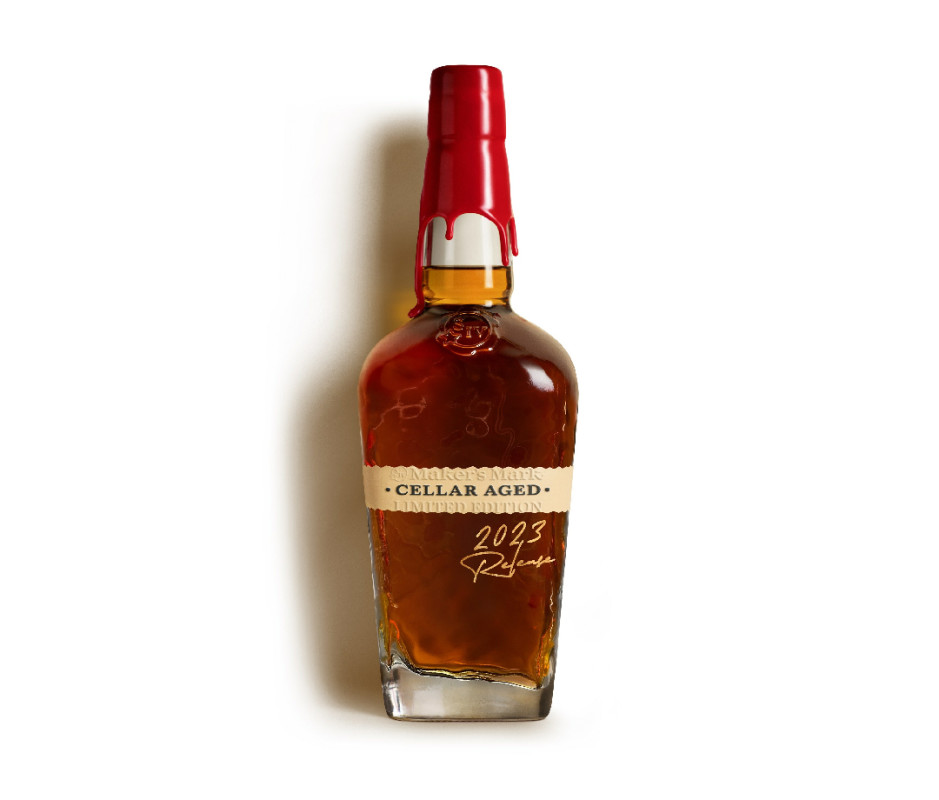 Maker's Mark Cellar Aged Bourbon
Courtesy Image
Maker's Mark got over the hump back in 2016 by building a limestone warehouse directly into the shelf of the Kentucky hills. The cellar's constantly cool environment slows down the tannic impact of maturation, allowing the bourbon to develop a deeper, darker flavor without the bitterness.
That means Maker's Mark Cellar Aged first spends about six years aging in traditional bourbon warehouses, where it endures the Kentucky climate and its temperature swings season after season until reaching full maturity. It's then moved to the gentler climes of the limestone cellar for about half a decade or longer.
Related: 50 Best Whiskeys in the World 2023
Cellar Aged will be an annual, limited release available in specific markets around the world. The unique maturation approach of Cellar Aged will be consistent every year, but the specific blend of aged bourbon will vary based on which barrels are ready. 
The 2023 version is bottled at a cask strength of 115.7 proof and will be available for a suggested retail price of $150—though we can't guarantee you'll find it for that price at your local liquor store. It dropped in the United States in September and will roll out in London, Munich, and select Global Travel Retail accounts in October; and then in Tokyo and Singapore in early 2024.
[$170; totalwine.com]