Luxury Brand Unveils Diamond-Encrusted Apple Product Set
As if the new iPhone 15 Pro Max wasn't already Apple's most expensive iPhone to date, a luxury brand has unveiled a custom device encrusted in diamonds for the discerning one percenter.
The new iPhone is part of a package aptly called the "Billionaire's Gadgets" box from the Swedish luxury lifestyle brand Golden Concept, described as a "bespoke collection of Apple's latest products" customized with a total of 7,586 hand-set diamonds. With fans including Cristiano Ronaldo, DJ Khaled, and some of the Kardashians, Golden Concept has become known for creating ultra-high-quality iPhone and Apple Watch cases made with precious metals and gemstones.
And with a price tag of $250,000, the Billionaire's Gadgets collection will surely attract high-profile clients. Each set includes custom, platinum-plated and diamond-set versions of Apple's iPhone 15 Pro Max, AirPod Max, and Apple Watch Ultra 2; as well as the brand's first Swiss-made automatic watch, built to match the dimensions of the Apple Watch Series 9. It also features a diamond-encrusted version of Golden Concept's Royal Edition Apple Watch case.
Each set takes over 500 hours to customize, and comes delivered in a handcrafted black oak box with a white leather interior. The boxes can also be tailor-made to suit the preferences of the customer, with multiple customization options available.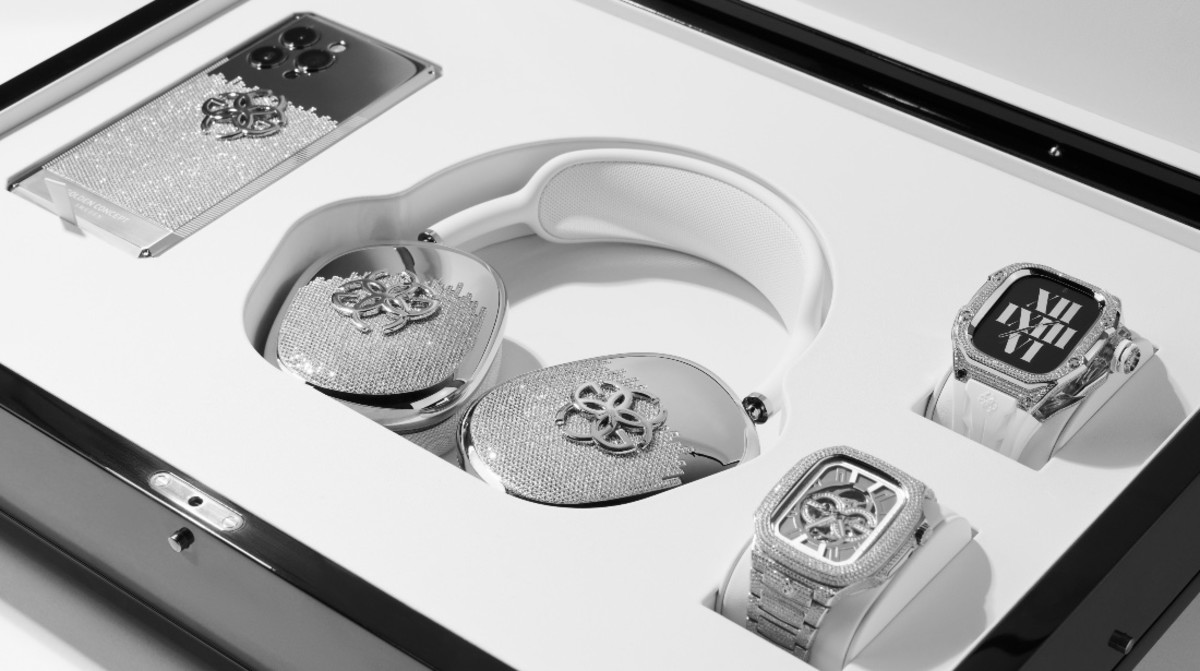 Golden Concept's Billionaire's Gadgets Box.
"In an increasingly saturated luxury market, it takes something extraordinary to create prestige; the Billionaire's Gadgets collection is precisely that," said Golden Concept CEO and founder Puia Shamsossadati in a statement. "The price point is certainly exclusive but reflects the painstaking labor and artisanal excellence that has gone into creating these four unique pieces, the value of which will only increase with time. At Golden Concept, we don't only create luxury goods, we create a luxury lifestyle, and this collection is certainly our most exclusive offering to date."
It's unclear how the set's value will increase when there's always new models of Apple products just on the horizon, or what happens to the diamond-encrusted iPhone 15 when the iPhone 16 comes out next year. But for anyone who has a quarter-million dollars to drop on the latest tech encased in diamonds and platinum, that's probably the least of their concerns.