Lakers Fan Attempts Big Shot Jackpot, Promptly Injures Himself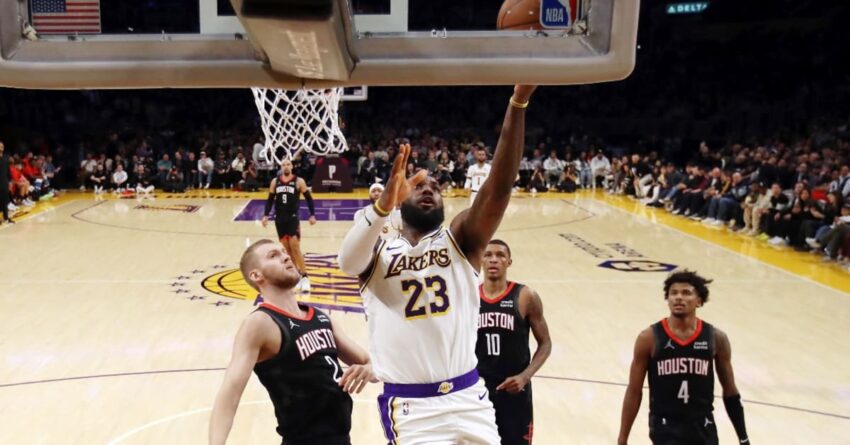 Since the team's 2006–2007 season, the Los Angeles Lakers have been giving fans a chance to try their luck at sinking a half-court shot for its the MGM Rewards Big Shot Jackpot promotion. The feat has only been accomplished just over a dozen times, and suffice to say it didn't go down the way one fan was likely hoping who managed to injure himself while making the attempt on Sunday night.
The fan, identified only by his first name, Anthony, was up for a shot at $55,000. However, just after shooting the ball he stumbled off the side of the court, before clutching his ankle and falling to the ground. "Oh, you had the distance—you had the distance, Anthony, come back Anthony," the announcer said, before adding a succinct, "Uh oh," and helping him back up onto his feet.
"No way this Lakers fan injured himself on the half-court shot," posted X user KingCharge, along with the clip of the unfortunate incident.
No way this Lakers fan injured himself on the halfcourt shot ?? pic.twitter.com/hhWz6Wxy8y

— KingCharge (@KingCharge) November 20, 2023
As the clip quickly went viral, many users speculated that Anthony had injured his Achilles. "I know a ruptured Achilles when I see it," wrote one user. "Someone get this guy to Aaron Rodgers achilles doc asap. Lakers need him back for the playoffs," quipped another.
The last time a fan nailed the half-court shot was back in January 2023 during a game between the Lakers and the Sacramento Kings, when David Metcalf of Valencia, CA landed the shot to win $70,000. While there haven't been many winners, an injury is surely a first.