KFF Health News' 'What the Health?': The Open Enrollment Mixing Bowl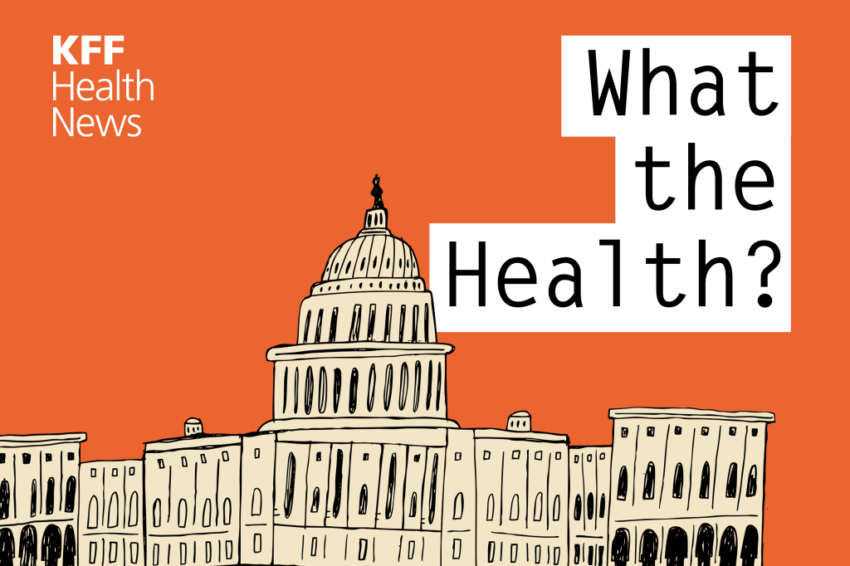 The Host
Julie Rovner KFF Health News @jrovner Read Julie's stories. Julie Rovner is chief Washington correspondent and host of KFF Health News' weekly health policy news podcast, "What the Health?" A noted expert on health policy issues, Julie is the author of the critically praised reference book "Health Care Politics and Policy A to Z," now in its third edition.
Autumn is for pumpkins and raking leaves — and open enrollment for health plans. Medicare's annual open enrollment began Oct. 1 and runs through Dec. 15. It will be followed shortly by the Affordable Care Act's annual open enrollment, which starts Nov. 1 and runs until Jan. 15 in most states. But what used to be a fairly simple annual task — renewing an existing health plan or choosing a new one — has become a confusing, time-consuming mess for many, due to our convoluted health care system.
Meanwhile, Ohio will be the next state where voters will decide whether to protect abortion rights. Those on both sides of the debate are gearing up for the November vote, with anti-abortion forces hoping to break a losing streak of state ballot measures related to abortion since the 2022 overturn of Roe v. Wade.
This week's panelists are Julie Rovner of KFF Health News, Joanne Kenen of the Johns Hopkins Bloomberg School of Public Health and Politico, Alice Miranda Ollstein of Politico, and Lauren Weber of The Washington Post.
Panelists
Joanne Kenen Johns Hopkins Bloomberg School of Public Health and Politico @JoanneKenen Read Joanne's stories
Alice Miranda Ollstein Politico @AliceOllstein Read Alice's stories
Lauren Weber The Washington Post @LaurenWeberHP Read Lauren's stories
Among the takeaways from this week's episode:
The U.S. House of Representatives has been without an elected speaker since Oct. 4. That means lawmakers cannot conduct any legislative business, with several important health bills pending — including renewal of the popular international HIV/AIDS program, PEPFAR.
Open enrollment is not just for people looking to change health insurance plans. Plans themselves change, and those who do nothing risk continuing in a plan that no longer meets their needs.
A new round of lawsuits has sprung up related to "abortion reversals," a controversial practice in which a patient, having taken the first dose of a two-dose abortion medication regimen, takes a high dose of the hormone progesterone rather than the second medication that completes the abortion. In Colorado, a Catholic-affiliated health clinic says a state law banning the practice violates its religious rights, while in California, the state attorney general is suing two faith-based chains that operate pregnancy "crisis centers," alleging that by advertising the procedure they are making "fraudulent and misleading" claims.
The latest survey of employer health insurance by KFF shows annual family premiums are again escalating rapidly — up an average of 7% from 2022 to 2023, with even larger increases expected for 2024. It's not clear whether the already high cost of providing insurance to workers — an annual family policy now averages just under $24,000 — will dampen companies' enthusiasm for providing the benefit.
Also this week, Rovner interviews KFF Health News' Arielle Zionts, who reported and wrote the latest KFF Health News-NPR "Bill of the Month" feature about the wide cost variation of chemotherapy from state to state. If you have an outrageous or inscrutable medical you'd like to send us, you can do that here.
Plus, for "extra credit," the panelists suggest health policy stories they read this week they think you should read, too:
Julie Rovner: NPR's "How Gas Utilities Used Tobacco Tactics to Avoid Gas Stove Regulations," by Jeff Brady.
Lauren Weber: KFF Health News' "Doctors Abandon a Diagnosis Used to Justify Police Custody Deaths. It Might Live On, Anyway," by Markian Hawryluk and Renuka Rayasam.
Joanne Kenen: The Washington Post's "How Lunchables Ended Up on School Lunch Trays," by Lenny Bernstein, Lauren Weber, and Dan Keating.
Alice Miranda Ollstein: KFF Health News' "Pregnant and Addicted: Homeless Women See Hope in Street Medicine," by Angela Hart.
Also mentioned in this week's episode:
Credits Francis Ying Audio producer Stephanie Stapleton Editor
To hear all our podcasts, click here.
And subscribe to KFF Health News' "What the Health?" on Spotify, Apple Podcasts, Pocket Casts, or wherever you listen to podcasts.
KFF Health News is a national newsroom that produces in-depth journalism about health issues and is one of the core operating programs at KFF—an independent source of health policy research, polling, and journalism. Learn more about KFF.
USE OUR CONTENT
This story can be republished for free (details).