I Chased the Ghosts of the Army's Forgotten Black Bicycle Troop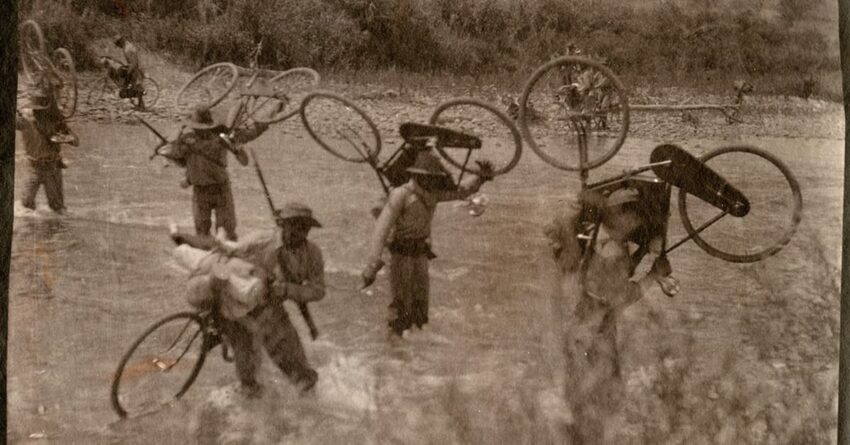 Last summer, I cycled 1,900 miles from western Montana to eastern Missouri. The solo ride was inspired by a 19th-century troop of 20 Black infantryman ordered by the U.S. Army to cycle through frigid mountain passes and scorching plains from Fort Missoula, MT, to St. Louis, MO, in order to gauge the viability of an army bicycle corps. That remarkable 1897 journey has been all but lost to history. I felt it deserved to be honored, retraced, and commemorated to give those "Buffalo Soldiers" their rightful place in history. Here's my story—and theirs.
Somewhere in the prairies of western Nebraska, I roll to a sudden, wobbling stop. I'm in an area called the Sand Hills—and as the name might suggest to a lone bicycle nomad on a history-resurrecting solo journey in July, the area is big, bone dry, and blazing hot. Those streams and rivers I'd relied upon back in Montana and Wyoming are now hundreds of hard-won miles behind me. The intense heat is pushing 105 degrees. I'm running low on water. Having logged a good 60 miles today (ten above my average daily quota), it looks like my luck for the day has run out. Flat tire. Another one.
Related: Yosemite Park Ranger Shelton Johnson Shares Forgotten Stories of African Americans in National Parks
I've cycled all this way with sealant in my tires to prevent exactly this situation, and it's happened again anyway. I'm now down to my last tire tube, and Nebraska's minefield of roadside thorns are itching to complete the countdown. I get off my bike and walk it through the scorching Sand Hills to the next town, Crawford, where I'll learn that the nearest bike shop is 92 miles away in neighboring Scottsbluff.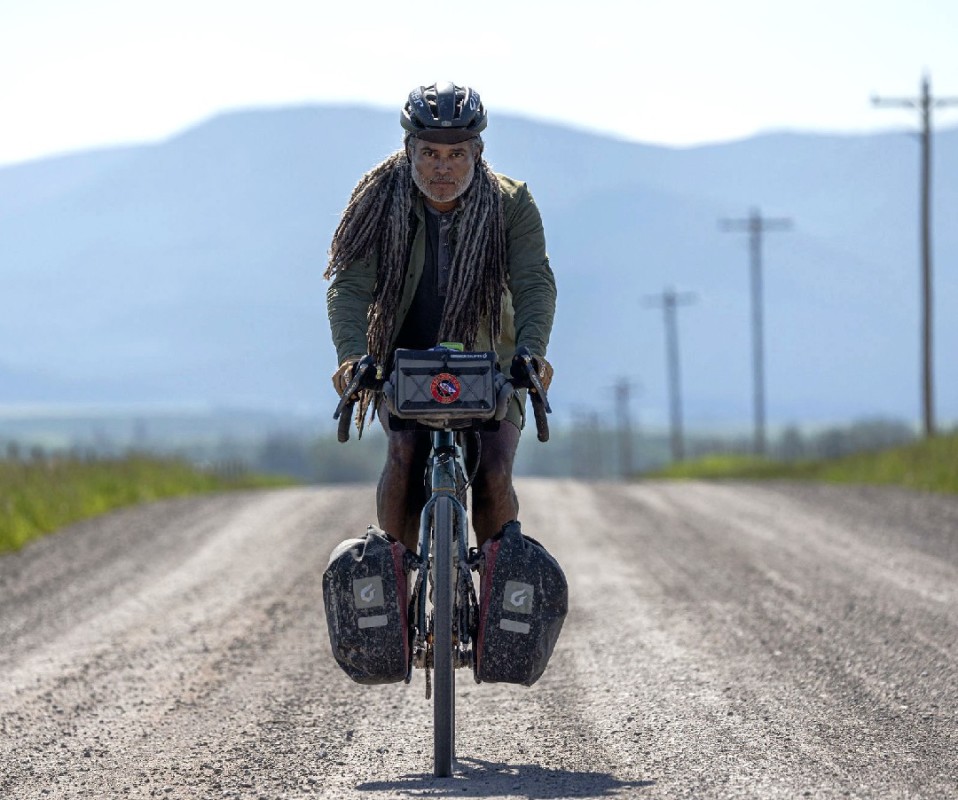 No one said it would be easy retracing the 1,900-mile route of the 25th Infantry Bicycle Corps. In fact, very few know about it.
Josh Caffrey
I call up Valley Bicycle. The shop's mechanic, Daniel Quijas, recognizes my mission and wants to help—offering to drive 92 miles and personally deliver extra tubes, tune up my bike, and fortify my tires with added protection which, he promises, will see me through to the end of my journey.
Good on his word, he arrives in Crawford, does the work, and assures me that I won't see another flat for the remainder of my ride to the far side of Missouri. Then he wishes me luck and drives off, just like that—92 miles back to Scottsbluff.
Such are the up and downs, lows and highs, dispiriting setbacks and timely moments of awesome fellow human intervention that tend to follow you around on a 1,900-mile, solo bicycle journey from western Montana to St. Louis.
No one said it would be easy retracing the historic route of the 25th Infantry Bicycle Corps. Very few even know about this late 19th-century troop of 20 Black infantrymen ordered by the military to cycle across four massive states—through frigid mountain passes and scorching plains—from Fort Missoula, MT, to St. Louis, MO. Their mission: to gauge the feasibility of an army "bicycle corps." It would be the only bicycle corps the U.S. Army has ever (briefly) authorized. That unimaginable journey, performed in 1897 (on 1897-era bikes) has been all but lost to history. In honoring and retracing the long-faded tire tracks of the 25th Infantry Bicycle Corps—aka the "Buffalo Soldiers" as they were colloquially known—I aim to change that.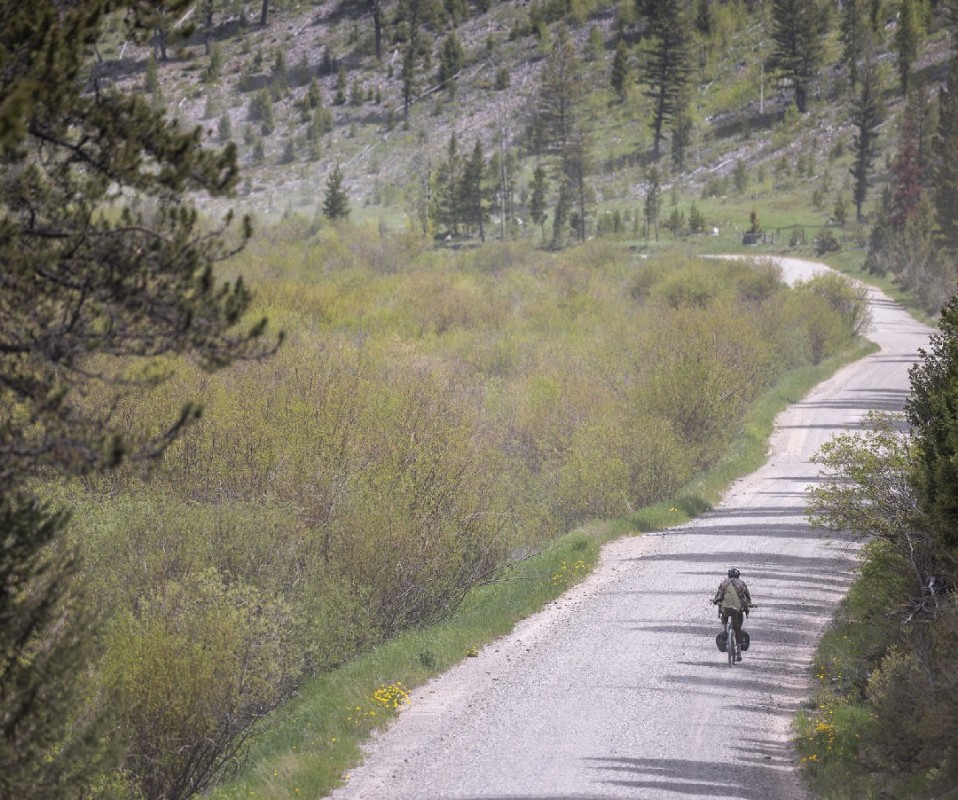 Over the years, my journeys have evolved from point-to-point travels to revisiting epochal routes. I consider myself a storyteller on wheels.
Josh Caffrey
The Lost Ride Is Found
Since 2011, I've dedicated much of my life to long-distance cycling, having logged over 50,000 miles on my road bike. I've covered solo rides from Miami to Key West and over 2,000 miles from Vancouver to Tijuana. Twice, I've pedaled the Underground Railroad—a 2,200-mile route from Mobile, AL, to Niagara Falls, NY. Many of these journeys are like time travel. They're slow, intimate rides through history at all levels.
Over the years, my journeys have evolved from point-to-point travels to revisiting epochal routes. I consider myself a storyteller on wheels, equally comfortable in front of a camera or capturing remote legs of the trip with GoPro footage. My latest, 41-day effort retracing the route of the 25th Infantry Bicycle Corps has been compiled into the documentary Truth and Dignity.
The roots of this journey for me date back to 2013 while studying the history of bikepacking. During my research, I came upon a Black cyclists' story that truly amazed me: a 1,900-mile ride from Fort Missoula, MT, to St. Louis, MO, roughly along the path of the Northern Pacific and Burlington Railroads undertaken by the 25th Infantry Bicycle Corps. Captivated by photos of the original expedition, I also found journals. The U.S. Army-devised mission had been dutifully documented by the expedition's lieutenant. Plus, an embedded journalist and bike-enthusiast named Eddie Boos (the son of an editor at the Missoulian, Montana's oldest continuously operating newspaper) accompanied the 20 infantrymen, providing first-hand media coverage.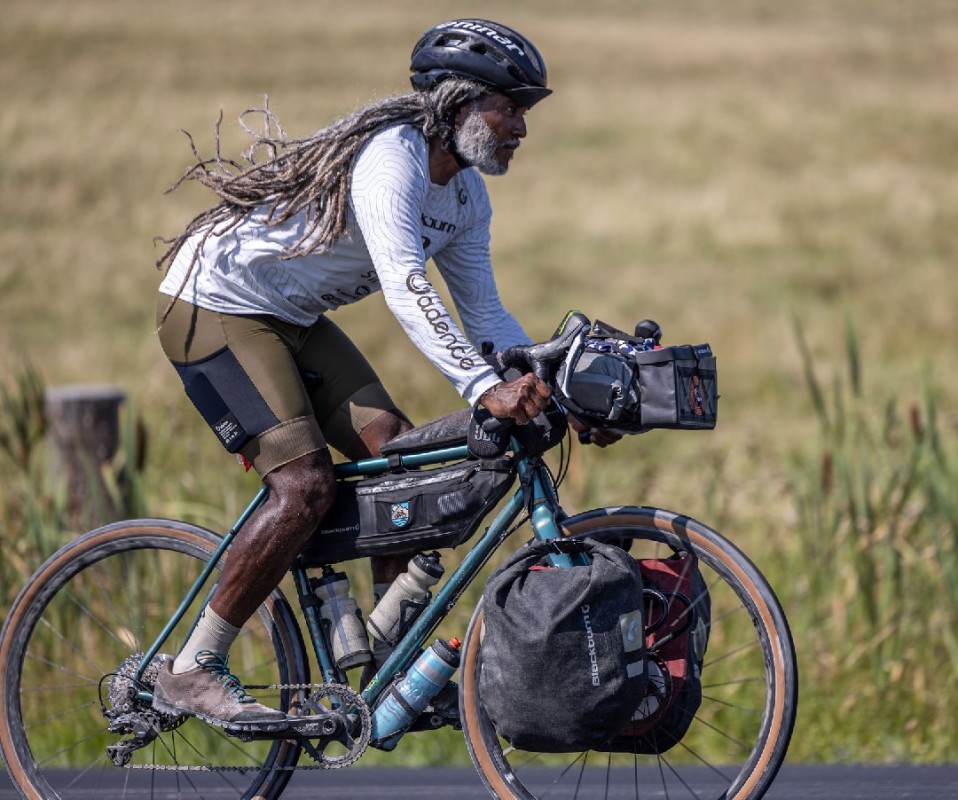 Josh Caffrey
Soon, I'm hooked on this buried, 125-year-old journey. Online research leads me to hidden YouTube finds like The Bicycle Corps: America's Black Army on Wheels. I dig up unlikely books on the subject, including George Niels Sorensen's Iron Riders: Story of the 1890s Fort Missoula Buffalo Soldier Bicycle Corps. This 1897 expedition performed on Spalding Military issue, single-speed bikes—top of the line at the time, but onerous antiques by today's standards—becomes my armchair passion. And then my active one.
I decide I need to experience this ride for myself.
The goal is to cycle the 1,900-mile route of their journey as authentically as possible. I'll take the same amount of time as them—41 days. I'll travel the same average daily distance—50 miles. And I'll retrace their precise path as closely as possible solo, on a Niner RLT 9 steel gravel bike—24 pounds bare, 60 full-loaded. No picnic, but a far sweeter ride than what they'd pedaled.
After setting up a GoFundMe campaign to cover two months of rent and other out-of-pocket expenses, it takes months of added planning and four flights to Fort Missoula for research and working with historians. I visit the National Archives Museum in Washington, D.C., and work with museum curators. I clear the journey with my wife, Antoinette, who'll be caring for our 13-month-old son alone while I'm gone. Leaving both of them will be a huge sacrifice from both sides, but her undivided support spurs me on. Even before I finish telling her about the project, she says, "You must do this." As a Black woman, she feels it's just as important to her that proper homage be paid to the men of the 25th Infantry Bicycle Corps.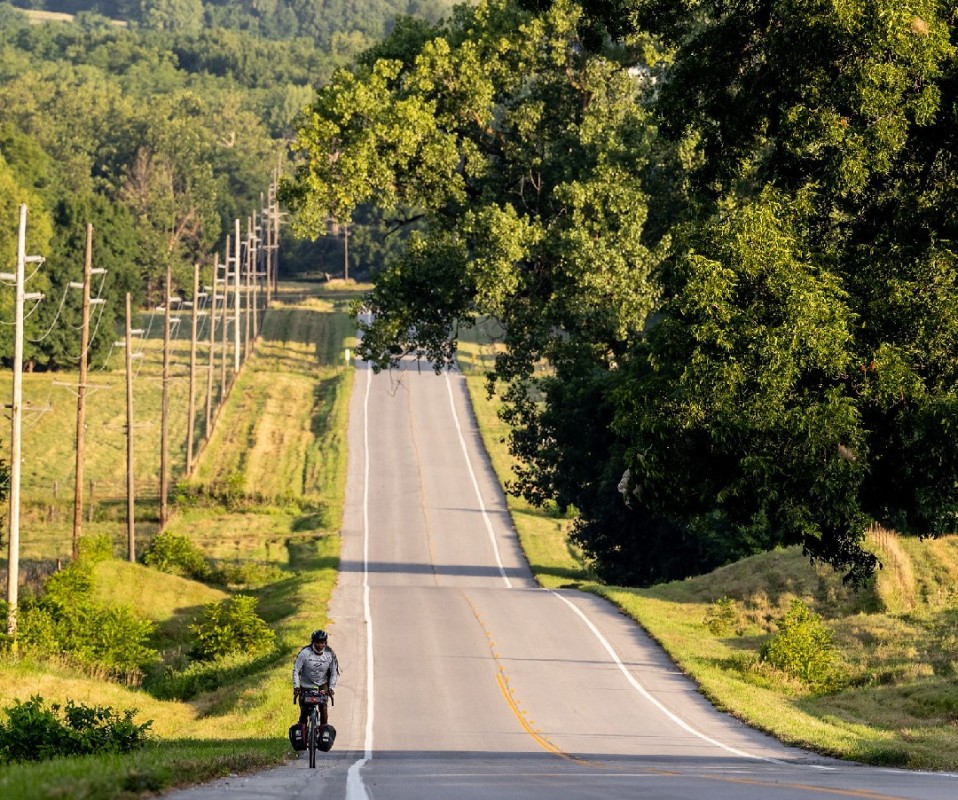 Josh Caffrey
On June 14, 2022, I set off from Missoula at dawn on a crisp, 44-degree morning.
Traveling light, I've equipped my bike with front panniers that hold a compact tent, a stove for brewing morning coffee, and a variety of cameras. I'll be sustaining myself on a vegan diet, relying on portable and convenient foods like peanut butter sandwiches, pre-packaged Indian dishes, and whatever other options I can drum up along the way.
Related: Hard Lessons Learned From Bikepacking Oregon Timber Trail
On a bike, you're always exposed. I'm from Panama. I'm a person of many races, with a sandy beard and salt-and-pepper dreadlocks extending to my waist. During the journey through so many remote parts of the West and Midwest, people will be welcoming—but also more than just a little curious. Their faces, if not their voices, clearly say, Who are you, and what are you doing?
At the outset, several National Association of Buffalo Soldiers members join me for the first few miles, alongside townspeople who are excited about my journey. It feels good to have others riding along. But, soon enough, it's just be me—retracing the bike route of a 19th-century U.S. Army map as faithfully as possible. The real journey has begun.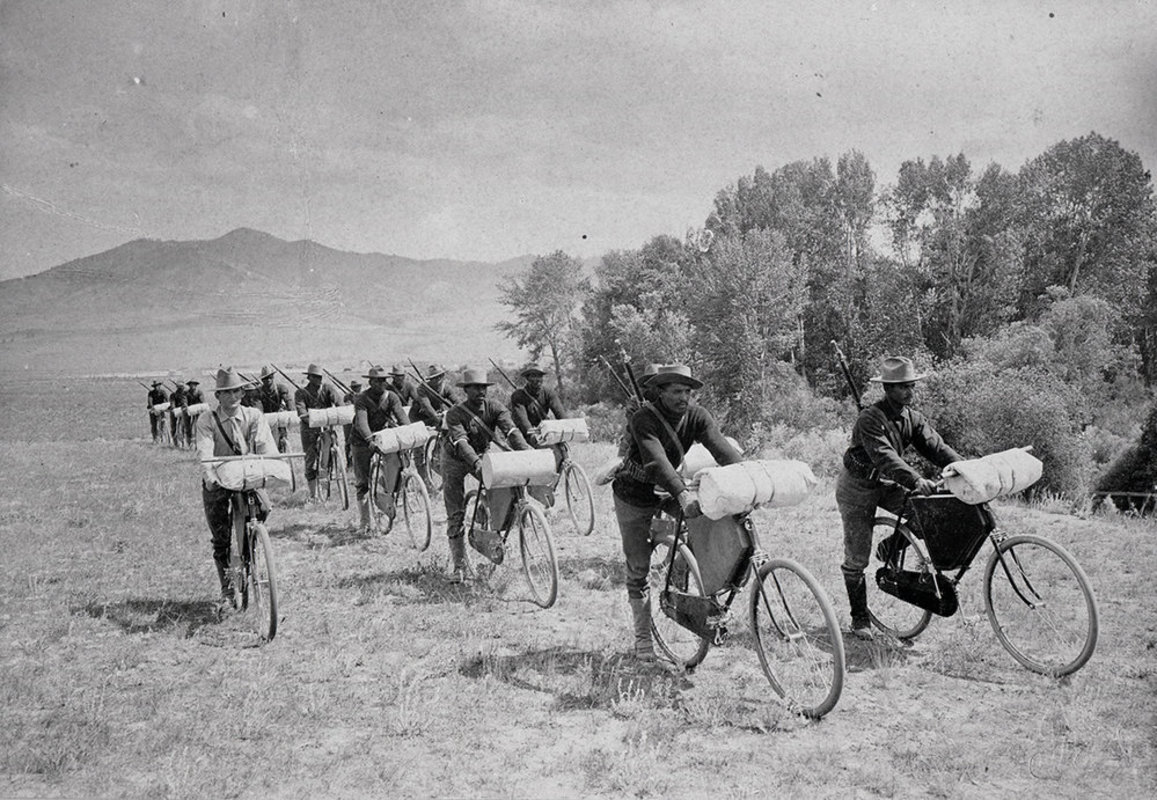 Field test: The 25th Infantry Bicycle Corps push east out of Montana, led by Lt. James A. Moss (left). 
Archives & Special Collections, Mansfield Library, University of Montana
1897: The Greatest U.S. Army Mission Ever Cycled
In the late 19th-century, long before the advent of military jeeps and Humvees, trains and horses were the standard mode of conveyance. And, increasingly, bikes. During America's first bicycle craze—when some of the world's most popular athletes were now racing on them in packed velodromes, and thousands were pedaling them around town—the U.S. government sought to use bikes in the military, or at least see if it made any sense. 
Their test subjects were 20 U.S. Army Black troops led by a 25-year-old white officer, Lieutenant James Moss, who'd graduated at the bottom of his West Point class. That's how Moss had fatefully landed up at Montana's Fort Missoula—the last post available. No West Point grad back then would have actually chosen this remote backwater, much less volunteered to lead a troop of segregated African-American soldiers on a series of brutal, trial-run cycling expeditions across hundreds of miles of wild backcountry.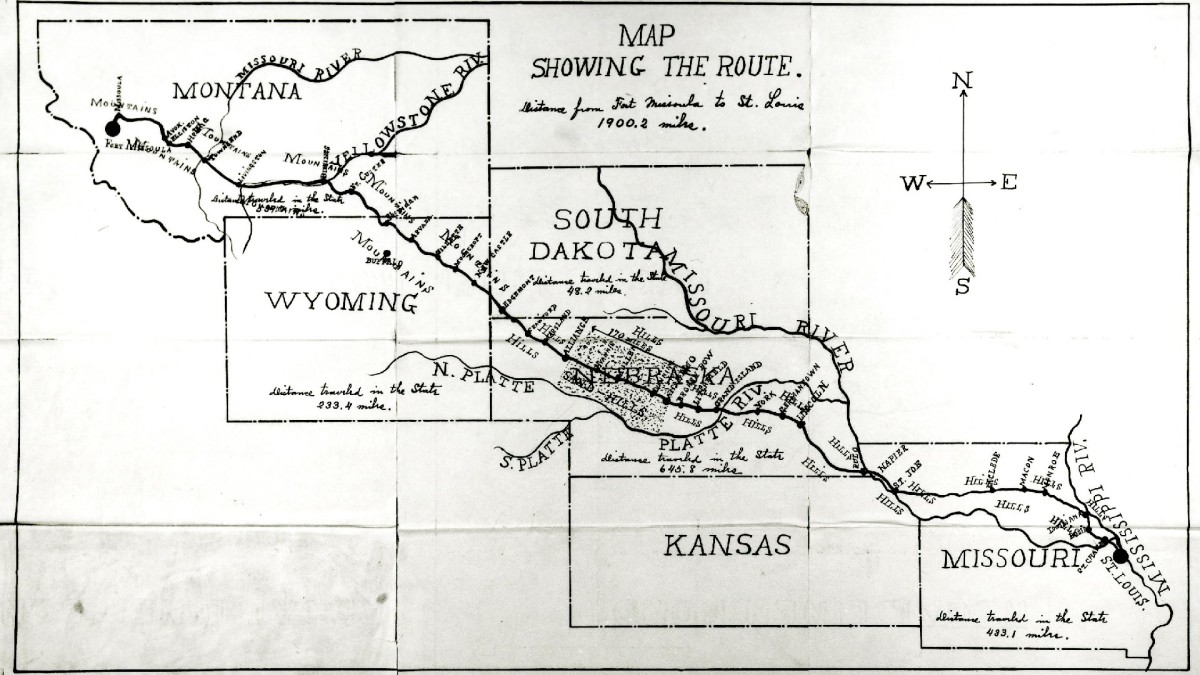 Lieutenant Moss's original map, tracing the Corps' 1900-mile cycling route from Fort Missoula, MT, to St. Louis, MO.
Courtesy of National Archives and Historical Museum at Fort Missoula
The 25th Infantry Bicycle Corps would undertake three significant rides out of Fort Missoula, according to the National Museum of African American History and Culture. Their first, in 1896, was a 125-mile, roundtrip cycle to Lake McDonald on bikes with wooden wheels. Graduating to steel wheels the following year, their second expedition was an arduous 797-mile journey to Yellowstone. Navigating deep rivers, mountain passes, dense fields, and miles of roadless terrain, the soldiers were often on their feet, walking long distances while carrying or pushing their heavy vehicles. Along the way, they were generally treated with extreme racial prejudice.
The third and final cycling expedition was the behemoth—1,900 miles across four states, following the Northern Pacific Railroad, with food and equipment drops made every 100 miles along the tracks. Accompanying them would be Lt. Moss, an army surgeon, and the teenage Missoulian reporter, Eddie Boos.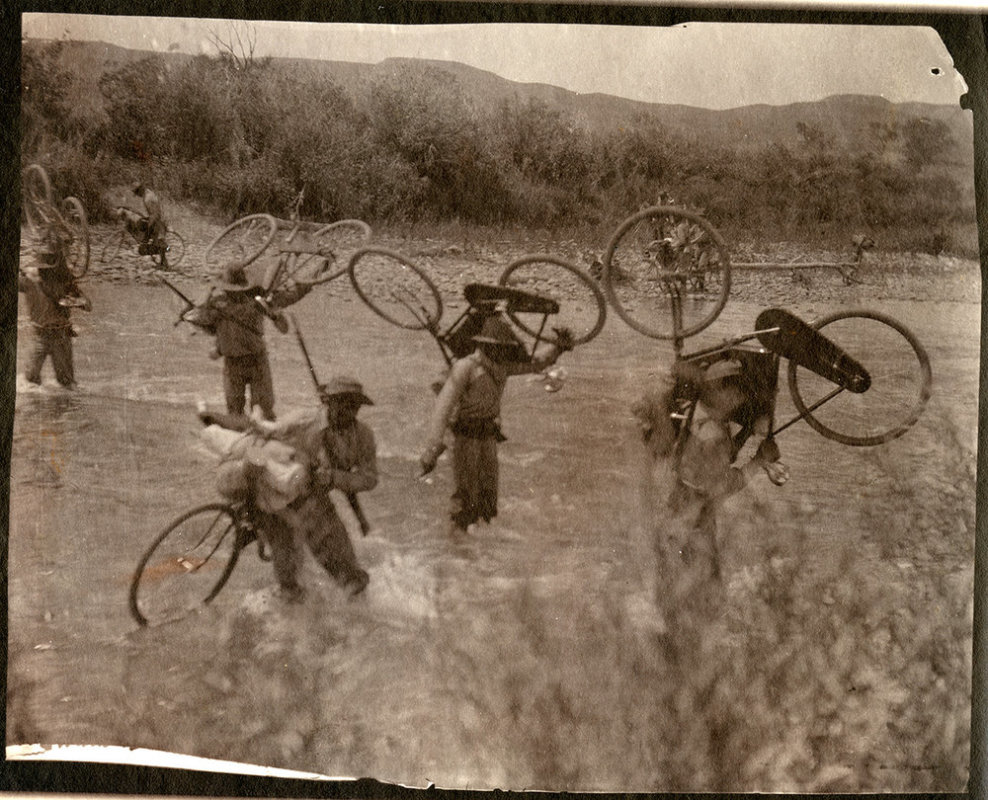 Navigating deep rivers and mountain passes, the soldiers were often on their feet, walking long distances while carrying or pushing their heavy vehicles.
Archives & Special Collections, Mansfield Library, University of Montana
This path would lead them over the rocky terrain of Montana and the Continental Divide, where loaded-down steel bikes would be hauled over various obstacles, restrained during steep descents, and shouldered (along with heavy packs and ten-pound guns) during river crossings—where, inevitably, glued-on tires would get wet and come apart. When the water wasn't assailing their bikes, the mud would take over. Near Moorcroft, WY, reporter Eddie Boos wrote, "We looked at our bicycles but hardly recognized them. The mud covered every part of the machine. Not a spoke was to be seen. The wheels were simply disks of gumbo."
Battling relentless, roadless terrain and punishing conditions of all kinds—storms, illness from tainted water, exhausting all-night rides where weapons would often need to be fired to signal each other's strayed locations—the Buffalo Soldiers pressed on.
Related: Inside Full Circle Expedition's Summit: First All-Black Team to Conquer Everest
Bike breakdowns were constant, hill climbs interminable, forests dense and unsparing. Through all that, Moss drove the troops rain or shine, mud or sand, setting a 50-mile daily quota—the benchmark distance for horses pulling wheeled vehicles and carrying men and equipment. In other words, the goal on rudimentary bicycles in the backcountry was to outperform horses. Fully loaded, the men's bikes weighed 80 pounds.
The journey's rugged slopes of Wyoming led to the stifling Sand Hills of Nebraska, marked by scarce water, slow travel, minimal shade, and relentless heat. Ahead lay Missouri's unforgiving clay terrain and a long final leg along the Missouri River to the endpoint, St. Louis—where a cheering crowd of thousands welcomed the cyclists at the finish line, thanks in part to the spirited dispatches of their young newspaper stringer, Boos.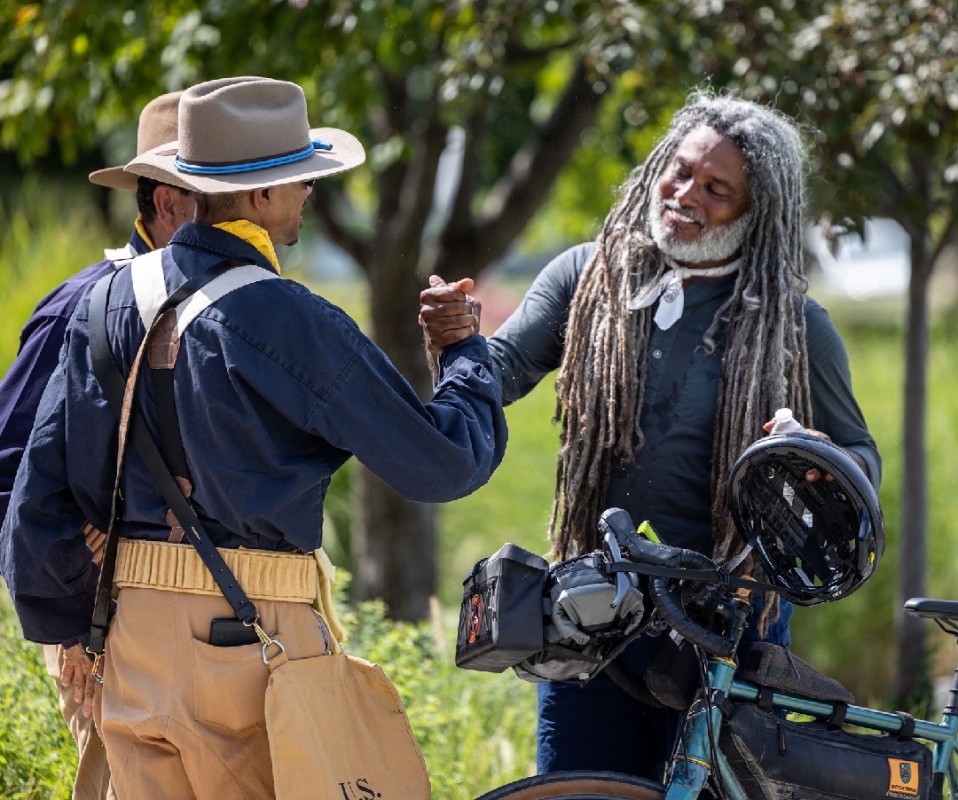 Trading greetings and kudos with reenactors of the Buffalo Soldiers National Association (BSNA).
Josh Caffrey
Traversing the wilder half of a giant continent on bicycles, the Buffalo Soldiers were briefly celebrated as the heroes of—what remains to this day—the greatest military cycling experiment in American history.
Concluding that bicycles were not viable for troop travel, the government promptly terminated the program. Soon enough, the automobile took over, leading the military to go with four motorized wheels instead of two man-powered ones.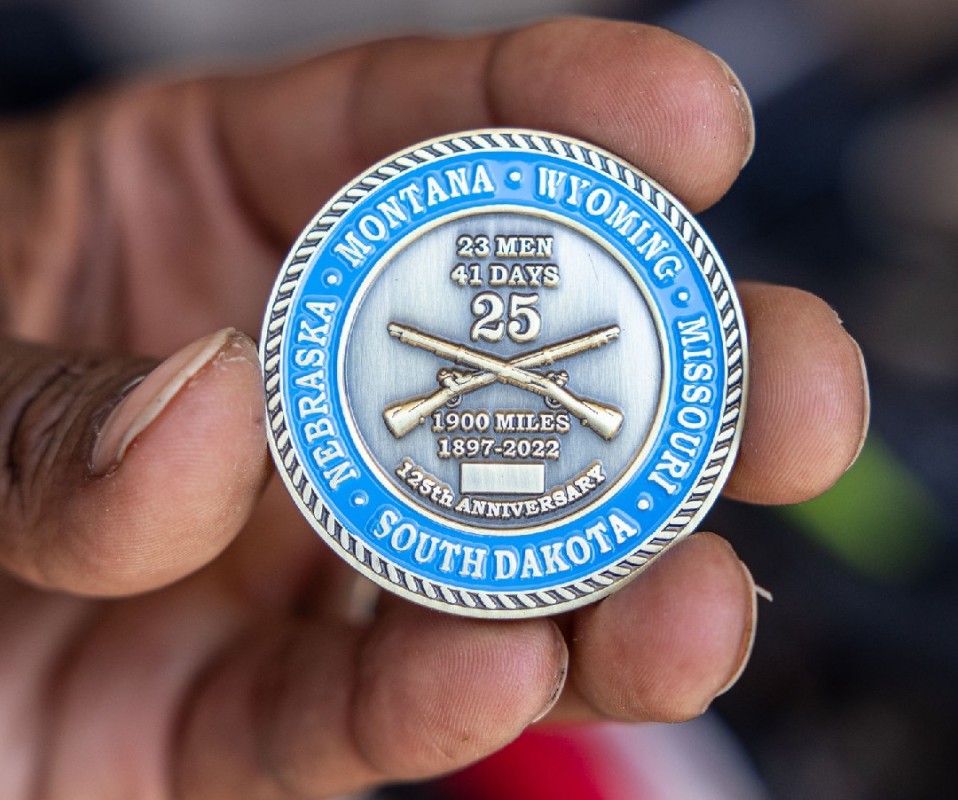 Josh Caffrey
The tremendous feat of the 25th Infantry Bicycle Corps faded accordingly—as did the 20 names of the soldiers. Here they are. 
Lieutenant Corporal Abram Martin
Travis Bridges
Francis Button
John Cook
Hiram L. B. Dingman
John Findley (bike mechanic)
Elwood Forman
William Haynes
Elias Johnson (musician)
Frank L. Johnson
Sam Johnson
Eugene Jones
William Proctor
Samuel Reid
Richard Rout
Sergeant Mingo Sanders
George Scott
Sam Williamson
William Williamson
John H. Wilson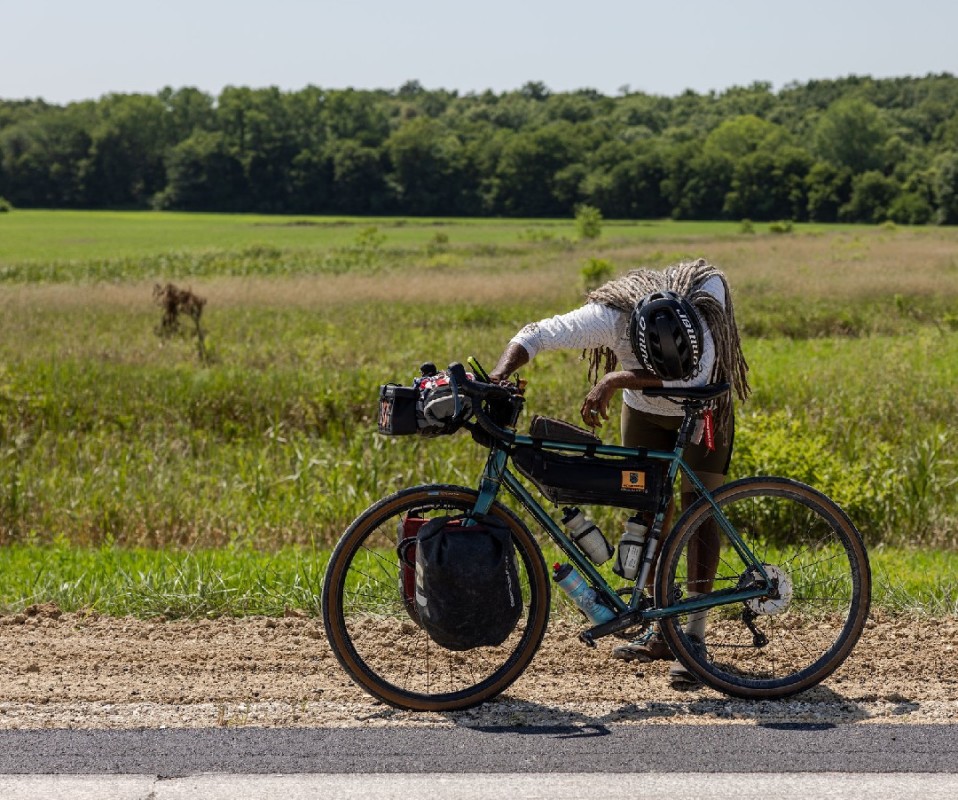 Two days before completing the journey in St. Louis, it's hot to the point that I don't know if I have it in me to continue. I'm thirsty, overheating, running out of water, and there's nowhere to restock. At one point, a worker at a construction site trots over and hands me a Gatorade.
Josh Caffrey
When the Rolling Gets Tough
Those 19th-century soldiers on bikes who looked like me have inspired me and given me a story as well as a purpose—to give them some justice over a century later. Now retracing their eastward route, up in the mountains of Montana, into Wyoming and beyond, I'm documenting their experience day by day on social media. I'm not so much posting about my own experience, but what I've read from their journals.
Fifty miles a day is still a very tough clip along this path. Documenting and checking the route, taking photos and videos, examining every move (it's not always so obvious) adds more hours. Did they go here? Does it make sense that they were there? I want to ensure that this route is based on Lt. Moss's map from 1897. Sometimes, I ride 30 miles and then stop. Other times it's 20 miles, if that.
Driving a vehicle, my friend and cameraman Josh Caffrey is joining me for nine days on this journey—seven at the beginning and two at the end. Turning the pedals every day, on grueling backroads and in intense heat and humidity, the temptations of entering an air-conditioned car loom large at times. I forge on.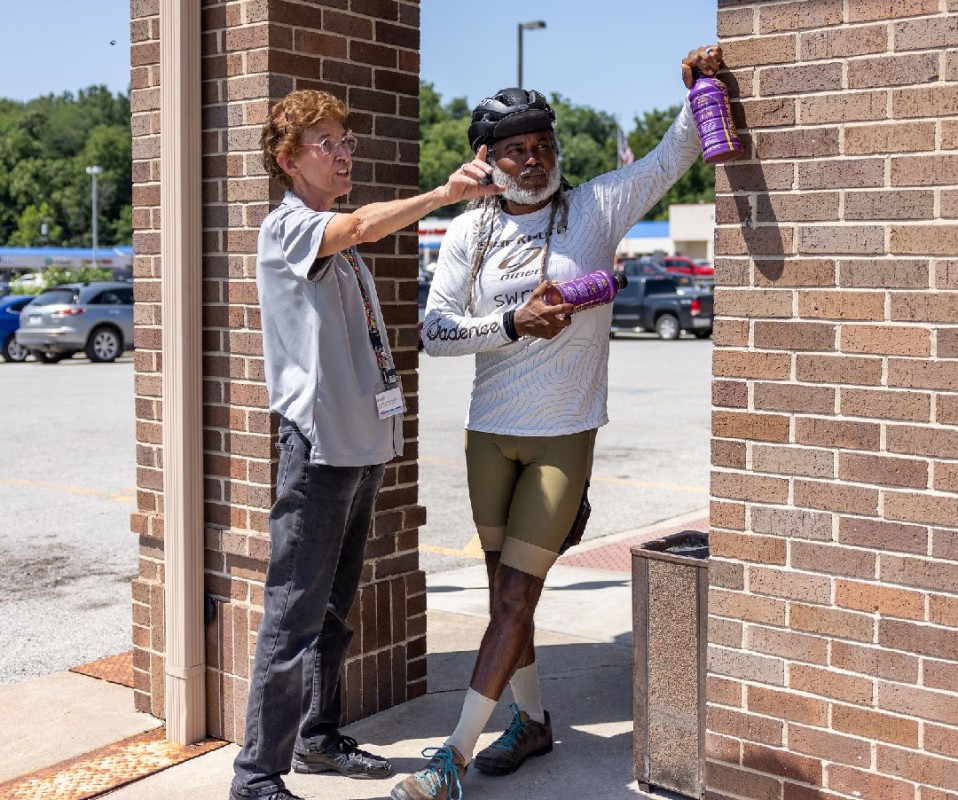 Hannibal, MO: cold drinks and directions at Wallgreens.
Josh Caffrey
The first serious challenge happens on Day 3 when I climb 10,000 vertical feet to reach the top of the Continental Divide. It was an area that proved extremely challenging for the Buffalo Soldiers, who had no gears on their bikes and were severely loaded down with equipment and supplies—with no road to follow. Here's one of their dispatches from that time.
Pushing bicycles up this muddy, slippery grade for several miles was hard work. About noon the corps reached the summit of the Main Divide of the Rocky Mountains, in an awful sleet storm, with two inches of snow on the ground. So cold was it that they would stop every now and then to strike their hands and rub their ears. The descent on the Atlantic slope was as difficult as the up-grade work on the Pacific side, as the slope was very steep and great exertion was necessary to prevent their bicycles from running away.
Thankfully, the temperatures are mild for me up here—but the challenge of the endless climb takes a toll. I need to stop and rest, drink water, and also just look around and take in these views. Mountain passes fill my eyes, peppered with dots of cattle on the distant hillsides. I know that in many places where I'm riding, the Buffalo Soldiers had walked because their bikes simply couldn't handle the terrain.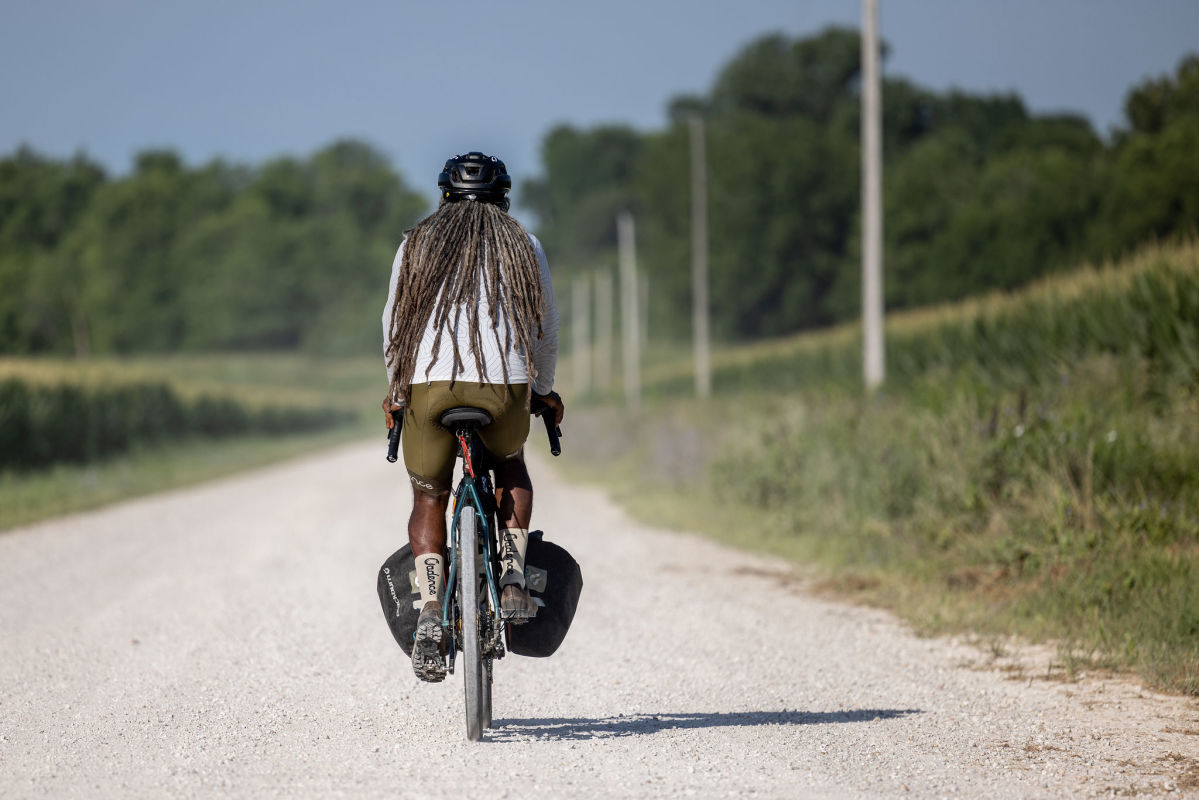 Josh Caffrey
The day they climbed the Divide (in heavy rain), they rode from Elliston to Fort Harrison in Helena—half their daily goal—briefly resting to get their energy back and dry out their gear the next day. Catching my own breath near 10,000 feet, I reflect on the Buffalo Soldiers' challenges, which are hard to imagine even from up here. Descending the Divide, this becomes increasingly unfathomable. Clasping my modern brakes is seriously challenging in this uneven, severely rocky terrain. How in the world did they navigate this place on those primitive bikes?
During other challenges early on in my ride through Montana and Wyoming, I wonder whether I'll actually make it. While trying to stay true to the original route, I find myself literally blocked or pushed back at times. Pedaling through eastern Montana toward Bozeman along a quiet gravel road, I'm suddenly stopped by a security guard in the middle of nowhere who tells me I'm trespassing and need to turn around. I'm literally less than a mile away from connecting to another road, and hope that explaining this to him will win some sympathy. "Yeah, this is a private road," he says. "You have to get out."
I backtrack, which costs me at least ten miles plus extra time navigating a new route to Bozeman. Taking a frontage road off I-90 will add over 20 extra miles to my trip just to advance a single mile closer. Checking into a hotel that evening, I eat, rest, regroup, do some more route research online, and push on by sunrise the next day. Beyond the physical toll, this sort of constant troubleshooting takes a mental one. Man, I am tired.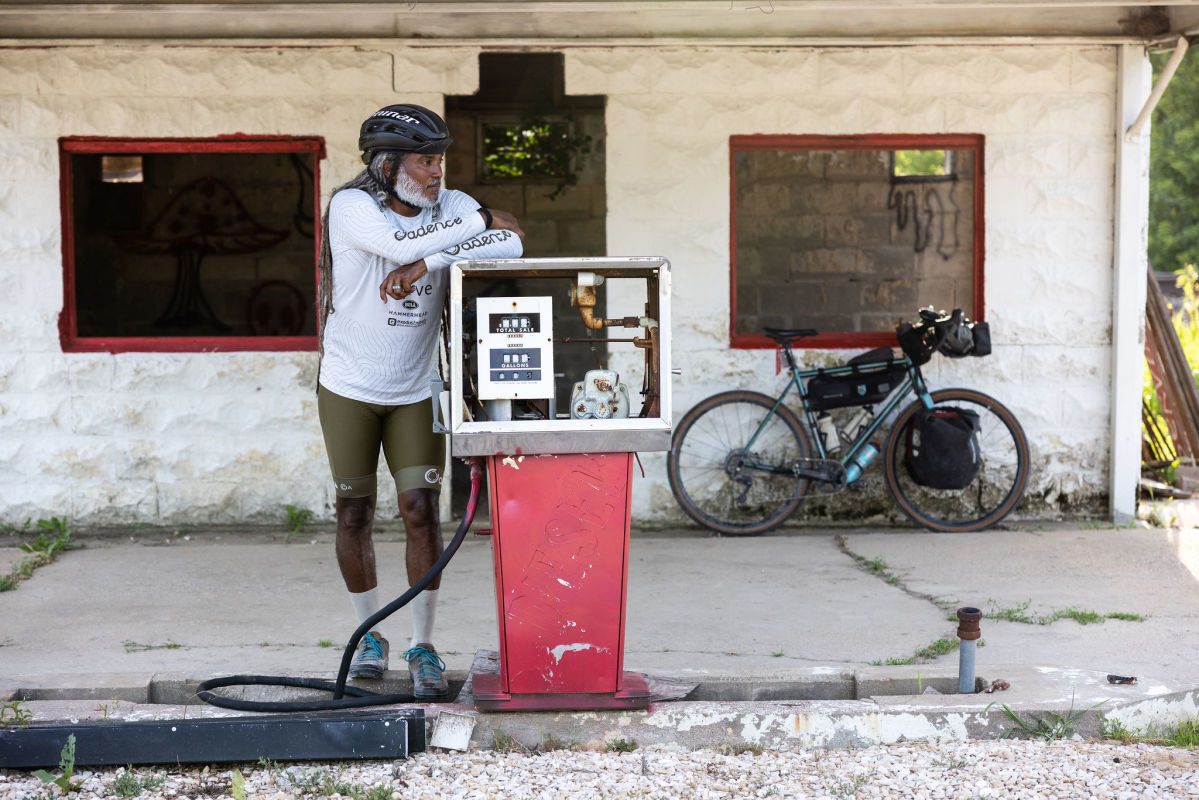 Josh Caffrey
Before entering Wyoming, I attempt to cross a one-mile railroad bridge used by the Buffalo Soldiers near Three Forks, MT. I'm so obsessed with sticking to the actual route that I nearly convince myself I can make it by waiting for the last train to go by. Spotting me mulling this over, a county employee firmly advises me against it. "If a train comes, you'll have to jump," he says. As in, jump into the raging Missouri River below.
Years ago, I might well have actually risked my life at this juncture. With my family and broader responsibilities in mind, I make the right choice and opt for another way.
Other times, I don't turn back, and just go for it. Hitting a fenced-off area near Table Rock, NE, on a sizzling afternoon on Day 32—a day riddled with setbacks since the route the soldiers took wasn't available—I'm hot and tired, with miles to go and precious daylight fading. Turning back will cost me at least another 15 miles of backtracking, partially through an overgrown field likely full of ticks. Instead, I hop the fence, push my bike onwards, and hope not to be spotted or upset any landowners. Reaching my camp at 10:30 pm (instead of long after midnight if I'd gone the other way), I quickly set up my tent and pass out.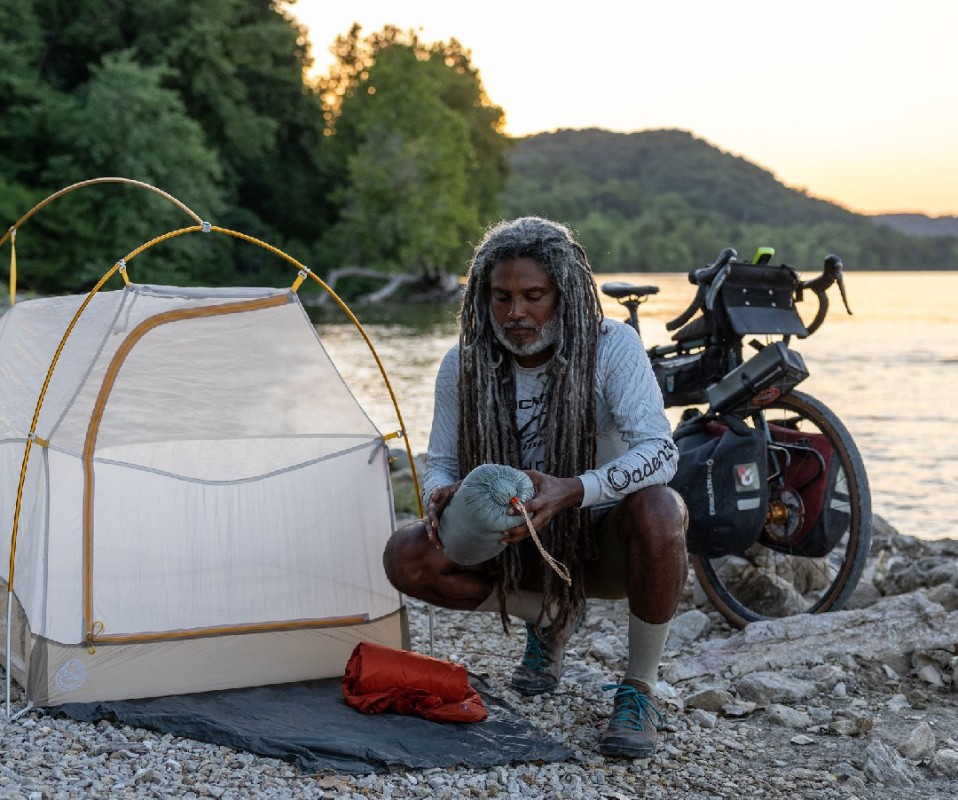 Camping by the Mississippi River, near Clarksville, MO.
Josh Caffrey
Honoring the Journey
In Nebraska, I'm faced with my toughest challenge yet—heat. The main challenge is staying hydrated with the vast distances between towns. 
The Buffalo Soldiers had crossed this section during a 4th of July parade—which they were invited to join. Coincidentally, when I reach this area, I'm invited into a parade as well, before riding onward to nearby Fort Robinson where I stay for the night in barracks with old pictures of the Buffalo Soldiers on the walls.
Nebraska is a rough ride—and that much tougher when it hits 105 degrees. It will take over ten days to cycle across it, with frequent convenience store stops every 12 or 15 miles to briefly hide from the scorching heat and stock up on fluids.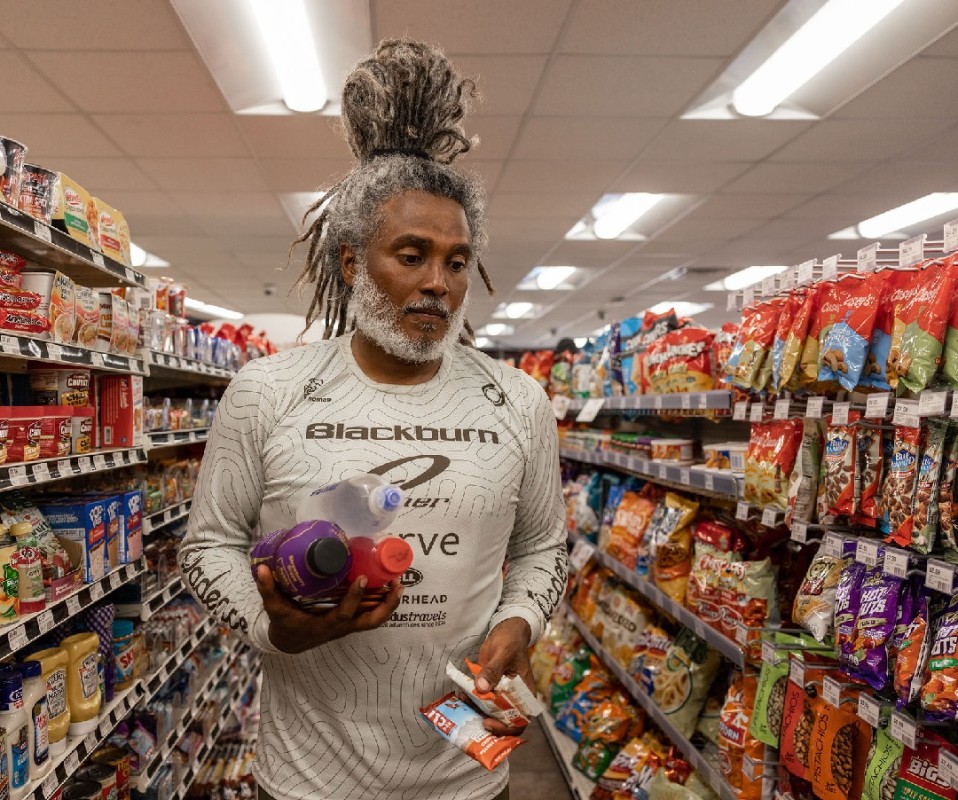 Josh Caffrey
At this point though, my sense of purpose blazes even more intensely. I know I'm a lot closer than when I started. I know what I'm doing here. I know I'm telling the story of soldiers who went through a similar situation—without the godsend of air-conditioned convenience stores. When they went through Nebraska, it was up to 110 degrees.
Entering eastern Missouri with just two days left to my final destination in St. Louis, I have a memorable encounter with a 10-year-old boy standing by the edge of the Mississippi River in Clarksville. He's with his family and has just finished boating. As his parents load the boat into a trailer, he wanders over to me, curious. I see it in his face—and then, because he's a kid, he just says it. "What are you doing?"
We talk about the weather, what I ate, the mud, and the terrain that I've crossed during this whole experience, while his parents watch from afar.
"Did you have a good..