How To Build Muscle With Turkesterone
What Is TurkesteroneIs It Legal |  How Does It WorkHow To Cycle | Popular ProductsStacks | Warnings And Side EffectsReferences | Disclaimer
When it comes improving in the gym, there are tons of factors that can come into play, but recovery is a big one. That's one reason why getting enough protein and sleep are essential for getting results. Luckily there are other ways to boost recovery and get results. Dietary and herbal supplements can become really beneficial in this way and one plant-based supplement has been in the spotlight in 2022, Turkesterone. But, there are tons of questions on what this supplement is and how it can help. In this post, we will be going through common questions about Turkesterone and review popular products.
What Is Turkesterone
Turkesterone, AKA Ajuga Turkestanica Extract, is a type of ecdysteroids. This particular ecdysteroid may be effective at building muscle and improving performance. Yet, there isn't a ton of research on it. A lot of the hype for it came from anecdotal experiences.
Some of the potential benefits experienced include:
Increased Lean Muscle Mass
Enhanced Muscle Recovery
Boosted Strength
Is It Legal
Yes! Turkesterone is sourced naturally from ecdysteroid derived from plants. It's also found in many sources of food, like quinoa, spinach, and chestnuts. When it comes to sports, currently turkesterone is not banned in almost all sports. But this could change, so we recommend contacting or referencing your governing body before trying it.
There are some stack combination we mention later on that feature ingredients on the WADA Prohibited List.
This includes:
Myostatin Inhibitors
Growth Hormone Releasing Factors
How Does It Work
Turkesterone may help with building muscle mass through increasing muscle protein synthesis (MPS). This increase in MPS also can support faster recover times and improving endurance/strength.† But it won't do all the work. You'll still need to train hard and eat well towards your goal to see benefits.
Unlike prohormones or steroids, ecdysteroids do not bind to androgen receptors and therefore are not androgenic.† This means both men and women can try turkesterone.† This is a benefit in its own because it can be safer for many users while still being anabolic.†
Should You Cycle Turkesterone
While turkesterone is not a prohormone or steroid, we do still recommend users cycle it for the best results. Because there isn't a ton of research on this ingredient yet, dosages will vary. We see manufacturers using dosages that range from 250-650mg. As always, if it's your first time using turkesterone, you may want to opt for a lower dosage.
Cycle lengths will depend on the user and their individual goals. Generally we see cycles range from 6 weeks to 12 weeks. You should keep in mind, your time on-cycle should equal your time off-cycle. However, turkesterone does not require post cycle therapy (PCT).
Popular Products
In this section, we're going to introduce some of our popular turkesterone products and their formulas!
Hi-Tech Pharmaceutical's Turkesterone 650
Serving Size: 1 Tablets
Servings Per Container: 60
Uzbekistan Ajuga Turkestanica Extract  650mg
How To Take Turkesterone 650:
According to Hi-Tech Pharmaceuticals, you should take one (1) tablet twice daily. Needs to be taken with meals. Do not exceed 4 tablets daily.
Customer Review By Big Tony: "Two weeks in and can't complain. Strength has gone up." Posted on 12/16/21
Blackstone Labs Myo Stack with Turkesterone 
Serving Size: 1 Tablets
Servings Per Container: 60
Rhaponticum Carthamoides 100:1 extract (Root) & Ajuga Turkestanica Extract (whole plant) – 250mg
(25 R)-5alpha-spirostan-2alpha, 3beta, 5alpha-triol-6-OH – 50mg
How To Take Myo Stack:
According to Blackstone Labs, you should take one (1) tablet two to three (2-3) times per day with food. Do not exceed four (4) tablets per day.
Customer Review By Harrison C: "Thought this might be another silly plant based supplement but I was wrong. After a month I've noticed some decent recomp effects and my strength has increased. Been running this with the SSTs and I'm impressed!" Posted on 9/23/21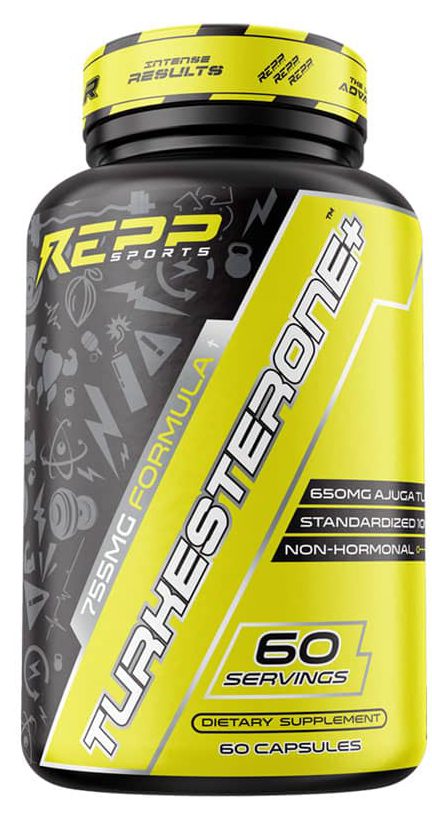 Serving Size: 1 Capsule
Servings Per Container: 60
Ajuga Turkestanica Extract (Std. 10% Turkesterone) 650mg
Ashwagandha Extract – 100mg
Black Pepper Extract – 5mg
How To Take Turkesterone+:
According to Repp Sports, you should take 1 serving (1 Capsule) with your beverage of choice in the morning. Never consume more than 1 serving (1 Capsule) in a 24 hour period.
Customer Review By Joey: "I was skeptical at first when this stuff started trending, but after taking it for 2 weeks I can feel a difference. I feel like I recover between workouts faster and have been lifting more. Looking forward to seeing more results." Posted on 2/11/22
Stacks
Because turkesterone is a natural anabolic compound, there are ton of options for stacking. The first step in deciding what to take with it is to decide what your goals are. After that, we've already done work and created stacks for you. Make sure you check them out below, and if you think there's a better stack combination we're missing out on, let us know!
If your goals are to increase muscle mass and improve recovery:
The combination of Turkesterone and Laxogenin is a great natural option for men and women looking to increase muscle mass and improve recovery. Laxogenin is another type of plant steroid  stemming from a class of plant hormones called brassinosteroids. In plants, brassinosteroids are essential for the growth and development. In human studies, research indicates that some brassinosteroids exhibited anabolic effects. 
Anecdotal experiences indicate laxogenin have similar benefits, including:
Aiding In Muscle Recovery†
Promoting An Increase In Protein Synthesis †
May Relieve Inflammation And Pain†
Also checkout:
For enhancing endurance and strength: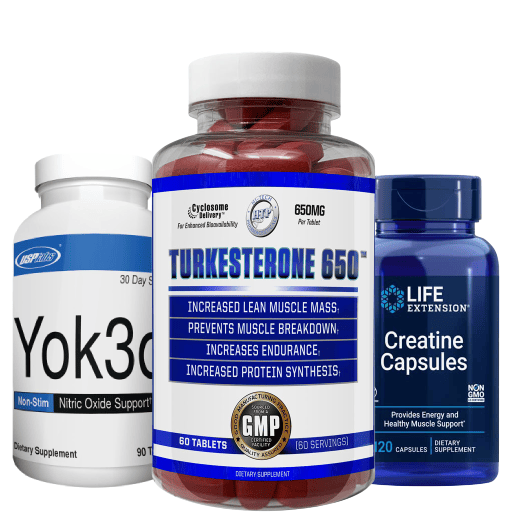 If your goals are more oriented to the gym, you'll want to look for supplements that can improve hydration, increase nitrates, and promote ATP. That can include a combination of things like pre workouts or pump products and even amino acids. But this stack option is great for getting the edge you need in the gym. Yok3d will be the nitric oxide-based supplement. This can help improve endurance†, increase blood flow†, and promote pumps†. Likewise, Hydromax can help support the muscular and cellular hydration†, while assisting with pumps†. And finally there's creatine to assist with improving ATP†,  hydration†,  and recovery†.
Check out:
To help promote weight loss:
This stack is optimal for individuals looking to lean out without stimulants. Fat burners typically are full of stimulants in order to promote energy, thermogenesis, and appetite suppression. However, if you're goals are to increase lean muscle mass, eating enough protein is going to be essential. Recomp RX can help your body exchange fat cells for muscle† and through this helps build muscle mass† and prevent catabolism†. We just listed Epicatechin as itself but there are two great options from Blackstone Labs, EpiCat or EpiSmash. EpiCat features green tea and epicatechins to promote inhibiting myostatin in the body, which can lead to muscle growth. † While EpiSmash features epicatechins and laxogenin!
Looking to support sleep and GH:
Finally we have Protropin. Protropin is a new supplement that may help increase HGH or Human Growth Hormone. This can assist with recovery as well as promote sleep†. 
Wrapping Up!
This wraps up our post on Turkesterone. Thank you for reading! And as always, if there was something that wasn't clear, another question you want addressed, or if you have another idea for a blog,
Looking for more to read? Checkout some of our other blogs!
Warnings And Side Effects Hi-Tech Pharmaceuticals Turkesterone
This product is only intended to be consumed by healthy adults 18 years of age or older. Pregnant or nursing (breastfeeding) women should not use this product. Some users have reported an upset stomach after taking. If you have any adverse reactions discontinue use and contact your physician.
Hi-Tech Pharmaceuticals Laxogenin
Keep out of reach of children. Do not use this product if you are at risk for or are being treated for high blood pressure, heart, kidney, thyroid or psychiatric disease, anxiety, depression, seizure disorders, strokes or any other medical conditions.
Do not take this product if you are using anti-depressant, MAO/MAOI inhibitors or any other prescription drugs. Not for use by women or by any person under the age of 21.
Keep away from children. This product may elevate serum hormone levels which could produce positive results if you are subject to NCAA testing. For use by healthy individuals only. Do not use if seal is damaged or missing. Store in a cool, dry place.
Protropin
This product is only intended to be consumed by health adults 18 years of age or older. Pregnant or nursing women should not use this product. Consult with your health care provider before using this product, especially if you are taking any prescription, over the counter medication, or if you have any pre-existing medical condition. Discontinue use and immediately consult your health care professional if you experience any adverse reaction to this product. Do not exceed recommended serving. Keep out of reach of children.
This product may contain ingredients that are banned by some sports organizations and/or increase risk of false positive on a drug test. Please consult with your sport organization or physician before taking this product.
Creatine Capsules
KEEP OUT OF REACH OF CHILDREN. DO NOT EXCEED RECOMMENDED DOSE. Do not purchase if outer seal is broken or damaged. When using nutritional supplements, please consult with your physician if you are undergoing treatment for a medical condition or if you are pregnant or lactating.
HydroMax
Do not use this product if you are pregnant or nursing or have a medical condition. Not recommended for use by individual under 18 years of age…