Erin Andrews Reacts to Taylor Swift Wearing Her Apparel Line at Game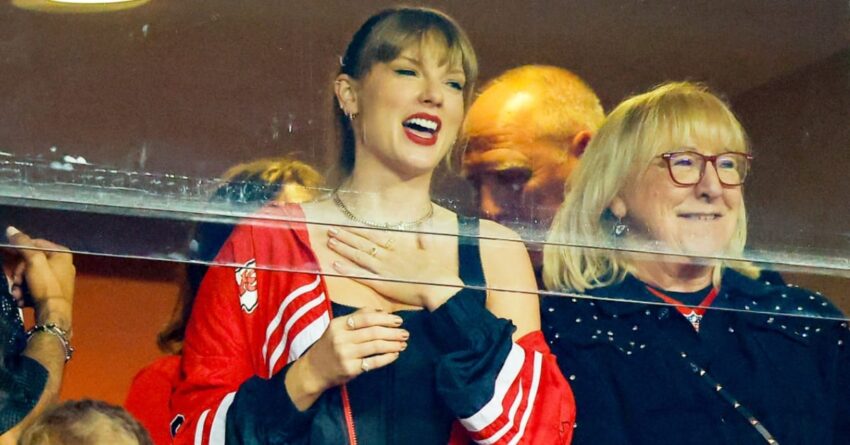 Taylor Swift fans have no doubt been stoked to see the singer making appearances at Kansas City Chiefs games to support her new boyfriend, Travis Kelce. But perhaps no one was more excited to see Swift at last Thursday's showdown against the Denver Broncos than sportscaster Erin Andrews, as she attended the game wearing a Chiefs windbreaker from Andrews's athletic clothing line, WEAR by Erin Andrews.
Andrews discussed the surreal moment on this week's Calm Down with Erin and Charissa podcast, which she hosts with her longtime friend, fellow sports commentator Charissa Thompson.
"The first shot we had of her, the first thought that went through my head, is, 'Oh my god, is that WEAR?' Because I know that you had sent her a package," Thompson recalled. "When you saw her, did you know right away, obviously its your clothing line?"
"No!" exclaimed Andrews. "People scrolls up on my Instagram, and she's so cute … And then I was like, 'Wait, is that—I don't know.' And then my assistant Courtney was there, and I said said, 'Courtney! Is this—is this—' and she goes, 'I think it is. I think it is.' We finally confirm, we finally see it, we finally figure it out, I'm screaming my brains out."
"[San Francisco 49ers defensive end] Nick Bosa calls me and he's like, 'Hey Erin how are you?'" she continued. "And I said, 'You know, Nick, when Taylor Swift shows up to the Thursday night game in your windbreaker, you're great.' I mean, I couldn't be better."
. @ErinAndrews reaction to @taylorswift13 rockin @WEARbyEA ??❤️#TaylorSwift #taylornation #Swiftie pic.twitter.com/YF1cIYysyg

— Calm Down with Erin and Charissa (@calmdownpodcast) October 17, 2023
Back in August, when Kelce first made his interest in Swift public knowledge, the podcast hosts put out a public call to get her to take a chance on their friend.
"Taylor, I don't know what you are doing in your life righty now besides rocking the world," Andrews quipped at the time. "Please try our friend Travis. He is fantastic. This is one, Taylor, I know we're not the best of friends, we're not even friends, but I consider you one. Take us up on this. Go on a date with this guy. Do it for America."
Andrews continued her victory lap with appearances on Late Night with Seth Meyers on Monday night and Today on Tuesday morning. Speaking with Meyers, she elaborated on both Swift wearing her gear—which immediately sold out and has since been restocked—as well as her and Thompson's apparent role in getting the couple together.
"This was big, man," she told the host, of the windbreaker moment. "If you have anything and she puts it on, if you have a Kleenex company she wipes her—it's like, 'Oh my god!' Yes, this was a huge moment."
"And yeah, in August, Travis was very open about not getting to meet her, and so we were just being really candid because we love him, we're good friends of his," she explained of her matchmaking skills. "And we were just like, 'Taylor, date this guy. I mean, he's good looking… He's such a great, great guy. And so we threw it out there, they got together."
"Of course, we're getting all the credit now on the Calm Down podcast," Andrews added. "We hope to officiate the wedding, we hope to be there when he proposes, all the things. But yeah, she put my jacket on!"
You can watch this clip below: