Chicken and Zucchini Noodle Salad with Peanut Sauce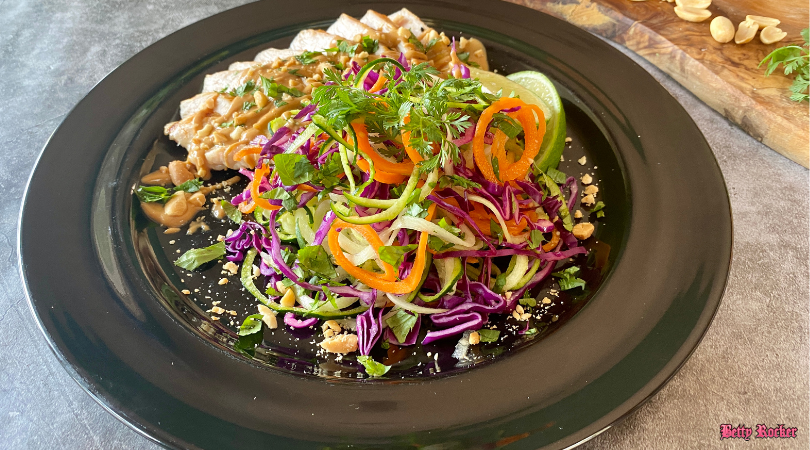 This healthy and delicious chicken and zucchini noodle salad with peanut sauce is just the perfect fast and easy dinner recipe!
The protein-rich seared chicken is the perfect compliment to the fresh flavors from the carrots, cabbage and peanut sauce. You can easily customize this by adding in veggies of choice, red chili flakes to spice it up or alternate toppings.
You can also make it vegetarian by swapping out the chicken for tempeh (instructions included in the recipe).
One of the things I love about this salad are the vibrant colors of the different veggies. These pigments from the colors indicate the special disease-fighting phytonutrients found inside (1).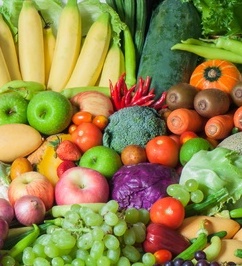 Phytonutrients, such as carotenoids which can be found in carrots (2), and anthocyanins which are found in purple cabbage (3), are plant nutrients with bioactive food components. These play an important role in supporting our immune system and have been shown to be anti-microbial, anti-inflammatory and anti-oxidant (4).
Eating more vegetables – and eating a VARIETY of them can support your immune system and protect against heart disease, osteoporosis, cancer, diabetes and much more (2). This recipe contains several servings to help boost your daily intake.
This salad is super easy to put together and there are endless variations you can try depending on your preferences and what's in season. Let me know how you like it!
Zucchini Noodle Salad
Yield: 2 servings
You will need: measuring cups and spoons, large mixing bowl, small mixing bowl, whisk, large skillet, tongs, cutting board and knife, vegetable spiralizer or peeler
Key: T = Tablespoon; tsp = teaspoon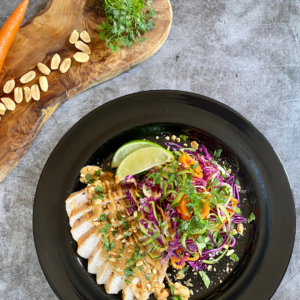 Ingredients
2 (5-6 oz) boneless skinless chicken breasts (or 12 oz tempeh for a vegetarian version)
1/4 tsp sea salt
1/8 tsp black pepper
1 zucchini, spiralized
2 carrots, spiralized
1/2 cup cabbage thinly sliced
1/4 cup green onion, thinly sliced
For the Sauce
2 T smooth peanut butter (or nut/seed butter of choice)
2 T tamari
1 lime, juice of
2 tsp honey
2 T fresh cilantro, chopped
2 T roasted peanuts, chopped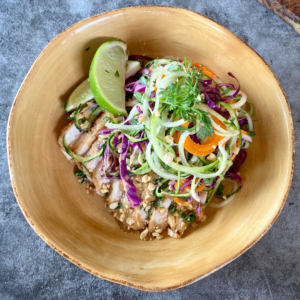 Directions
Heat a large skillet over medium heat and coat it with oil.
Add chicken breasts or tempeh to the pan and season with salt and pepper.
Sear breasts for 3-5 minutes on each side, until cooked through. Set aside to cool. Once cooled, slice crosswise into 1/2" strips.
Add the peanut butter, tamari, lime juice, and honey to a small mixing bowl. Whisk together until well combined.
Place spiralized zucchini and carrots, cabbage, green onions and chicken in a large mixing bowl.
Drizzle on the peanut sauce and toss until well combined.
Serve topped with fresh cilantro and roasted peanuts.
Nutrition Facts
Serving Size: 1
Servings per Recipe: 2
Calories per Serving: 416
Protein: 44 grams
Carbohydrates: 24 grams
Fat: 18 grams
I hope you enjoy this recipe! Let me know in the comments below if you make it and how it turns out.
For time-saving healthy eating, check out the Body Fuel System!

The Body Fuel System uses my simple, proven Eating Types to make it easy to stay on track. It also gives you healthy, fat-burning recipes and foods you can eat to look and feel your BEST every day!
Recipes like….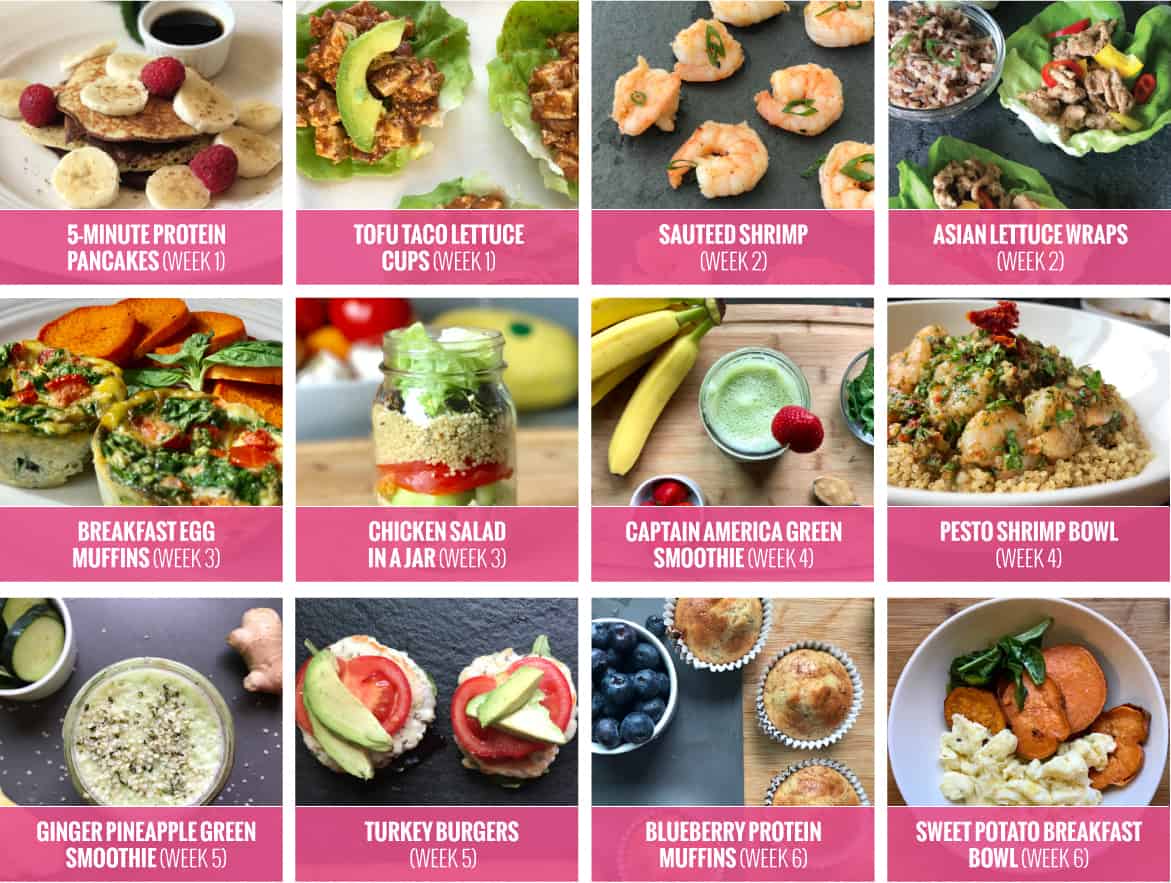 This is my signature eating system and it contains 6 weeks of done-for-you meal planning and recipe guides! You will not only learn the strategies that have given me long-term success, but also enjoy the time-saving benefits of having it all planned out for you!
Learn more right here, and find out why people love this program so much!
The post Chicken and Zucchini Noodle Salad with Peanut Sauce appeared first on The Betty Rocker.