Celebs Auction Themselves for Fundraiser, Get Relentlessly Memed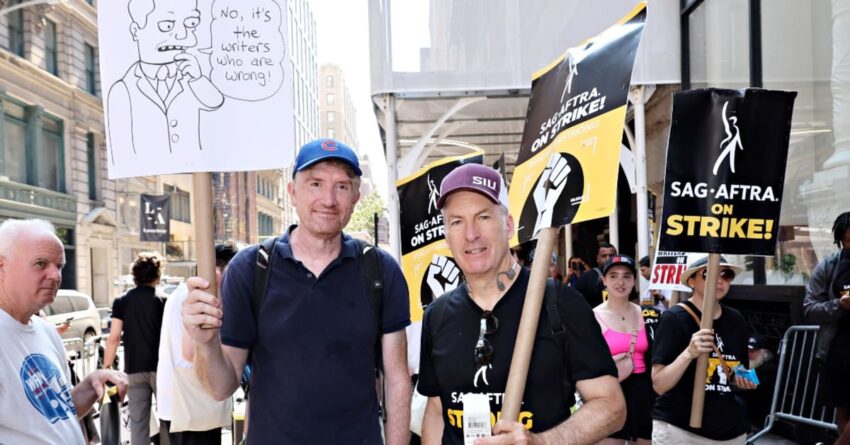 Hollywood is currently embroiled in tandem strikes that have forced most film and television projects currently in production to come to a screeching halt; the Writers Guild of America strike began on May 2, and the SAG-AFTRA strike started on July 14. Until a new contract is ratified, many staff and crew members are left in the lurch.
To help financially support crew members who have lost their health insurance, a group of writers and directors have formed the Union Solidarity Coalition, which launched an eBay auction site this week offering personalized celebrity experiences with net proceeds to benefit the crew healthcare fund. But while the intentions may be noble, it didn't take long for people to turn it into a meme online.
Among the celebrity experiences people can bid on include Natasha Lyonne helping you solve the New York Times Sunday Crossword, John Lithgow painting a watercolor portrait of your dog, dinner with Bob Odenkirk and David Cross, and having Lena Dunham paint a mural in your home. Some of these auctions are getting more attention than others. We'll let you guess which ones.
don't upset me or I swear to god I will send her to your house pic.twitter.com/i4hPLWDww9

— paige (@BonerWizard) September 13, 2023
Why does this sound like a threat pic.twitter.com/gSBtGJAEiO

— Sam Stryker (@sbstryker) September 14, 2023
One user on the platform formerly known as Twitter took the opportunity to poke fun at Cross's complicated relationship with the Alvin and the Chipmunks movies.
Only talking to David Cross about Alvin and the Chipmunks & shushing Bob Odenkirk if he tries to say anything pic.twitter.com/QyP4JBIo5j

— ember (#1 sofia coppola fan) (@emberlmao) September 13, 2023
But as the auction listings continued to go viral—and perhaps because having Lena Dunham paint a mural in your home sounds like a meme to begin with—others began to make up their own joke or dream listings. Other examples included a staring contest with Cillian Murphy, sitting in silence with Nathan Fielder, getting screamed at by Toni Collette across a dinner table, smoking a bowl with John Carpenter and playing Sonic the Hedgehog, and so on.
oh my fucking god https://t.co/Z8rI7dYsTm pic.twitter.com/oKksePsOhG

— ere (@cilleon) September 14, 2023
need pic.twitter.com/mz7742vu9V

— Men For Fielder (@MenForFieIder) September 14, 2023
If they had this one it would've gotten me to empty my savings account https://t.co/FZWYfZfNeW pic.twitter.com/1leFNMg59m

— Tom Zohar (@TomZohar) September 13, 2023
Someone make this happen pic.twitter.com/wnBhNQxM7B

— John Frankensteiner (@JFrankensteiner) September 14, 2023
Mama let's research https://t.co/7zzO8quCzf pic.twitter.com/v8M1nteLio

— boo joey (@joeyonline_) September 13, 2023
please no one outbid me on this pic.twitter.com/kjJVxrfhNi

— Dave Itzkoff (@ditzkoff) September 13, 2023
omg someone please help me get this https://t.co/kt3g8lbINz pic.twitter.com/yKHcAHqj7H

— james spader stan account (@wambhead) September 13, 2023
There were also some television-specific auction memes, such as getting to the bottom of the years-long feud rumors between The Good Wife co-stars Julianna Margulies and Archie Panjabi and being insulted by the cast of It's Always Sunny in Philadelphia in character.
Oh, my god!?!?!! pic.twitter.com/rH8L4K0NUF

— Mike (@michaelcollado) September 14, 2023
would go into credit card debt if they had this one https://t.co/NkYtcL94gp pic.twitter.com/pWPTIUF5wa

— lissy (@babeygirlmac) September 14, 2023
But again, while most of these auctions are fabrications of the internet's collective imagination—with no end to either strike in sight, perhaps there's still a chance for some of them to come to fruition. It never hurts to put your dreams out into the world.