Arby's Announces a 'Good Burger'-Inspired Meal as Sequel Nears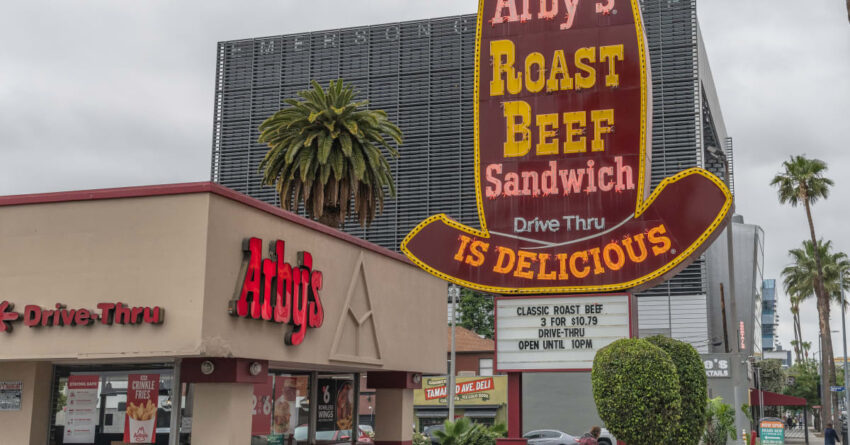 Arby's is cashing in on the Good Burger craze. The fast food joint has introduced their Good Burger 2 Meal ahead of the film's November 22 release on Paramount+. Arby's announced the news in a statement when the meal hit locations on Monday.
The combo consists of Arby's Deluxe Wagyu Steakhouse Burger, which is made from 51 percent Wagyu and 49 percent ground beef. It's served on a toasted Brioche roll and topped with American cheese, lettuce, tomatoes, pickles, red onion, and Arby's signature sauce. The meal, which costs $12.99, also comes with a strawberry shake topped with whipped cream, and crispy french fries.
Welcome to Arby's, home of the Good Burger 2 Meal. Can we take your order?

Good Burger 2 Meal available now at Arby's. Good Burger 2 streams on @paramountplus November 22. pic.twitter.com/otFN8SvnAY

— Arby's (@Arbys) November 13, 2023
"Many of our guests have such fond memories of watching Good Burger when they were younger, and in many ways, Arby's evokes a similar sense of nostalgia as a place they grew up going to with family and friends," Arby's Chief Marketing Officer, Ellen Rose, said in the statement.
"Partnering with Paramount+ to offer the Good Burger 2 Meal lets us connect with our audience in a relevant yet unexpected way—and also showcase our Deluxe Wagyu Steakhouse Burger, which is a really good burger, to new fans."
Good Burger aficionados can also get some sweet cross-collaboration merch at Arbyshop.com. There, you'll find an assortment of branded shirts and hoodies which feature the iconic Good Burger burger, as well as the Arby's logo.
"Paramount Brand Studio is thrilled to collaborate with Arby's through a multifaceted campaign that will immerse fans in the iconic world of Good Burger 2," Michelle Zoni, senior VP of Activation for Paramount Brand Studio, said in the statement.
The original Good Burger was released in 1997. Its sequel reunites stars Kenan Thompson and Kel Mitchell in the present day as their characters return to Good Burger and try to stop an evil corporation from replacing their beloved co-workers with robots. Good Burger 2 begins streaming November 22 on Paramount+. You can watch the trailer below.